Do you want to know the best celebrity summer bikinis of 2022, so far? We've gathered the most fashionable celebrities who donned swimwear outfit. Let's talk about it.
Alessandra Ambrosio and Anja Ambrosio Mazur Gorgeous Look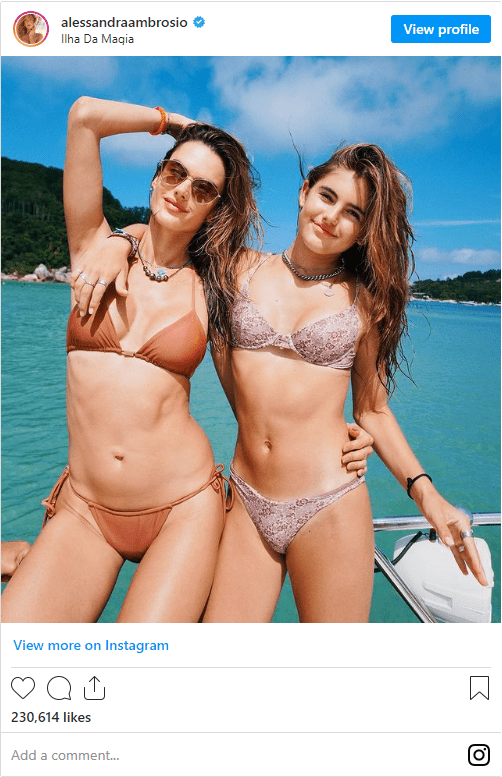 We think Alessandra Ambrosio is a fashion goddess. She looked fashionable in all her outfits, especially those for red carpet gatherings. However, she also sizzles in her summer bikinis.
One of these opportunities is being with her daughter in Brazil, wearing gorgeous swimwear outfits.
On January 4, 2022, the mother-and-daughter duo enjoyed a day aboard a luxury yacht with their friends in Brazil. The 40-year-old supermodel donned a tiny tan bikini from NUA Swim.
She perched on the boat rails with her arm around her eldest child, the 13-year-old Anja Ambrosio Mazur.
Kendall Jenner's Dramatic Bikini Outfit
Aside from Alessandra Ambrosio, Kendall Jenner also made waves in the fashion industry. She has walked in prestigious runway shows for years.
In January 2022, she was spotted playing around in the snow wearing a tiny black bikini while on holiday in Aspen, Colorado. Besides, the reality star showed off her incredible figure wearing a daring two-piece number.
She looked carefree as she prodded around the powdery white snow, wearing a pair of knee-high furry boots. Kendall opted for a couple of thick rectangular frames and wore her brunette tresses stuck straight down her shoulders.
The look was famous then as she was seen in faux boots by Miu Miu in Aspen, Colorado.
Salma Hayek's Animal Print Bikini
Salma Hayek is one of the fashionable actresses in Hollywood that we genuinely admire these days. The 55-year-old celebrity rocked the fashion world earlier this year, too.
Salma opted for an eye-popping leopard-print swimsuit as she kicked back for a poolside coffee. She just showcased her killer curves in a Saint Laurent leopard-print swimsuit.
The sleek leopard print is a one-piece swimsuit by Saint Laurent that features a halter design, plunging neckline, and asymmetric detailing.
Besides, she protected her eyes from the sun with oversized shades and kept accessories and makeup minimal. She also posted the look on her Instagram account.
The look is one of the trends this year. After all, animal print rules the runways in 2022. Of course, Salma Hayek doesn't want to get behind in her fashion display opportunities.
Emma Roberts Opted for Pink Bikini
Are you a fan of Emma Roberts's fashion? She is one of our favorites when it comes to showcasing stylish outfits. Her wardrobe is also enviable.
In February 2022, Emma donned chic swimwear. It happened weeks after the split from Garrett Hedlund and his public intoxication arrest. Emma wants to enjoy soaking up the sun.
The lovely celebrity flashed her abs in a hot pink bikini top with longer bikini bottoms that provided quite a bit of coverage. Besides, Emma held Orwell's Roses, a book by Rebecca Solnit, in her hand.
As seen in the photo, she turned her head to the sky with her eyes covered in dark sunglasses to protect herself from the bright tropical sun.
An insider told "People" about their post-breakup dynamic. It said: "'It's sad, and they are trying their best to co-parent. It's been hard."
Kim Kardashian's Brown Bikini
Well, Kim Kardashian isn't new in the fashion industry. She's even considered a leader of many fashion icons. The entrepreneur is also well-known for her gorgeous swimwear looks.
In March 2022, Kim announced the launch of her newest SKIMS line. Perhaps, she wants her mind off of all the drama with her estranged husband, Kanye West. In addition, Kim's ex and beau at that time, Pete Davidson, was in a public spat due to the fashion icon.
Kim finally dropped her first swimwear collection at that time, after months of begging from devoted fans.
Then, she slipped her curves into slinky pieces from the collection. She showed off her perfect physique in high-waisted bikini cut and string cut bottoms in blues and browns and posted these looks on her Instagram account.
In her IG story, she said: "I am so excited for you guys to see you swim, it's so insane. So if you want to cover up and use a sarong to cover your arms, you can, if you want a triangle top or to fully cover your chest, different kinds of bottoms — you pick and choose."
She added, "It's like Lego pieces. You can hide the pieces you want to hide and accentuate the ones you want to accentuate."
Gigi Hadid Chose Yellow Bikini
Now, let's talk about Gigi Hadid. I know that she's been one of our favorite topics, and we talk about her sartorial adventures often, but I find her fashion looks worthwhile as a topic.
Since she's into entrepreneurship, too, we think it's fun to discuss one of her style ventures. Recently, Gigi Hadid promoted the second drop of the American collection with Frankies Bikinis.
Gigi is the ambassador for Frankies Bikini's latest collection, which has been named Americana. With that, they released images of the supermodel on social media featuring the swimwear collection.
Her IG caption stated, "It has been a dream to see so many of you love this collection. Thank you."
One of her adorable snaps is where she was photographed wearing a yellow two-piece bikini. She's in a fantastic location with an incredible backdrop.
In April 2022, Gigi debuted as the Frankies girl. Besides, the brand's spokesperson showcased the line, including pieces featuring ruffles, bows, plaid, floral, and toilet patterns.
Gigi Hadid worked on the project with Frankies Bikinis founder and creative director Francesca Aiello. She's been helping to design the pieces, choosing the fabric, prints, and styles of the bikinis, tops, leggings, and one-piece swimwear.
The Americana collection first dropped online on May 11, 2022, and then on June 2, 2022. There are 98 pieces in the Americana collection from Frankies Bikinis x Gigi Hadid.
Jennifer Lopez's Black Swimwear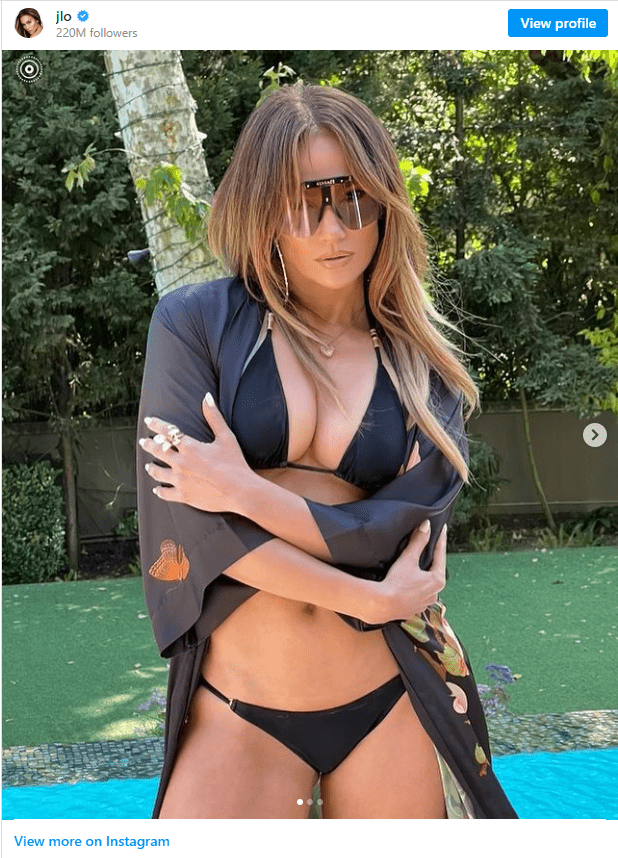 Have you seen Jennifer Lopez's Vix bikini this year? There are tons of photos online, and you're expected to be enamored with each one. Head on to Instagram to read what's on her mind by reading the caption.
The singer is wearing a sleek black bikini by Vix that features a halter design and gold hardware. In addition, she didn't disappoint, showing off her timeless look.
She donned a printed robe by KIM+ONO, Versace shades, and sandals from her collection to complete the look.
Jennifer's caption was "Summer mode: activated." Her IG slideshow featured a video of her flashing her famous booty in her barely-there bottoms that barely cover her backside. Besides, her Goldendoodle, Tyson, could be seen running past her at one point as she did a twirl.
Sharon Stone's Trendy Bikini Outfit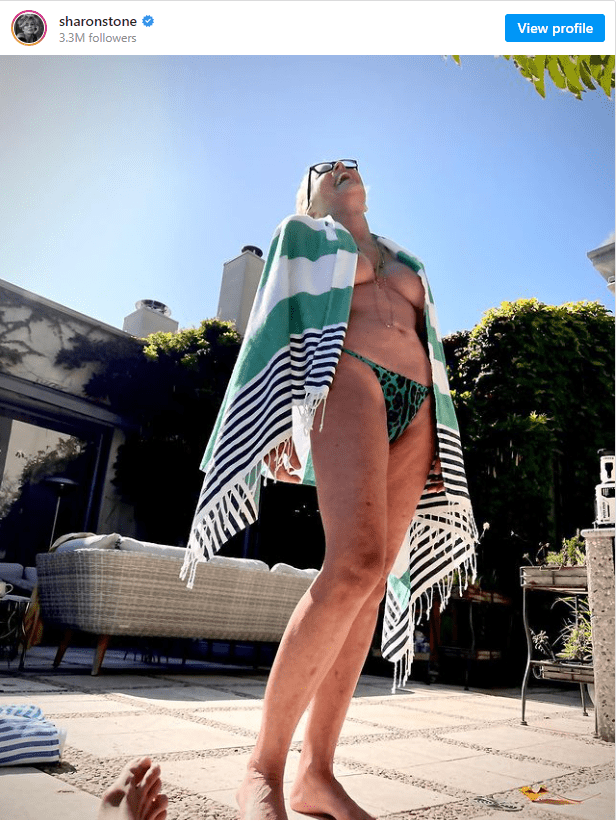 In July 2022, Sharon Stone was seen wearing gorgeous swimwear outfits. One of her unique beach looks was when she donned a leopard print swimsuit.
Then, on July 13, 2022, she was spotted again wearing a leopard print bikini top as she topped up her tan during her European break and enjoyed a snack on board.
That happened in Sicily this year, where she paired her swimwear with a couple of floaty patterned blue and white trousers, which showed off her chic summer style.
She opted for her blonde tresses swept back. Sharon went makeup-free to show off her naturally pretty features and donned a pair of brown sunglasses.
At that time, Sharon Stone shared her miscarriage heartbreak. She wrote: "'We, as females, don't have a forum to discuss the profundity of this loss. I lost nine children by miscarriage."
She added, "Female health and wellness left to the care of the male ideology has become lax at best, ignorant in fact, and violently oppressive in the effort."
Camila Cabello's Black Swimwear Look
On January 10, 2022, Camila Cabello connected with her fans. The "Señorita" singer treated fans to a few sunset snaps of herself in a Filippa K two-piece. It happened following a trip to the Dominican Republic.
She posted the throwback photo on her Instagram account. She wore a black bikini to enjoy a getaway to the Dominican Republic.
The singer was photographed soaking up the sea breeze while enjoying a boat ride in her swimsuit. Besides, Camila was the picture of relaxation as she basked in the sunshine with one hand playing with her windswept hair.
She captioned her IG photos: "I posted no pics because I was hashtag living life, but I was in the Republica Dominicana  baby vamo a un teteo."
We remember Shawn and Camila announcing their breakup with a joint statement on Instagram. The statement read: "Hey guys, we've decided to end our romantic relationship, but our love for one another as humans is stronger than ever."
Further explanation stated, "We started our relationship as best friends and will continue to be best friends. We appreciate your support from the beginning and moving forward."
Despite what happened, Camila never slowed down in being fashionable these days. Her positive take on things made her more attractive.
Molly Sims's Chic Bikini Ensemble
Molly Sims brought severe heat to the slopes on February 16, 2022, stripping down to a tiny scalloped bikini, a furry hat, and winter boots to pose in the snow.
The said look is riveting, with numerous style enthusiasts checking it immediately. Hence, the 48-year-old model has attracted much attention by wearing sultry swimwear.
Molly was spotted showcasing her defined abs on display as she frolicked in the snow in her swimsuit. As seen on her IG picture, she shot her index finger into the air as she posed before a majestic view of a snow-capped mountain.
Molly captioned the photo and a snowflake emoji, "Ski week I'm coming for you."
Jessica Simpson's Pink Bikini
Let's discuss Jessica Simpson's distinctive look at our eleventh favorite bikini snap this year.
In an Instagram post, she showered an inspiring vibe to her fans by posting a gorgeous photo. She looked stunning in a pink paisley two-piece after losing 100 pounds for the third time in her life.
Her caption is: "'I have gained and lost 100lbs 3x, so I never thought this moment could happen, but I'm finally spring breaking wearing a bikini."
Then, one fan wrote in the comments section, "Amazing accomplishment-not just the weight but the self-confidence. I love to see it! And you look great!"
Khloe Kardashian and Her Two-Piece Pink Swimwear
Lastly, we're ecstatic to talk about Khloe Kardashian's bikini ensemble.
On May 14, 2022, the reality TV star showcased a show-stopping display of her perky cleavage and washboard abs by wearing a pink two-piece bikini. It was for her fashion line, "Good American."
The attire included a bikini top with an underwire, scoop bottoms, and a matching button-up long-sleeved shirt. It is made of sparkly fabric that picks up the light. Besides, it's also available in green and silver.
She chose considerably longer hair for her look as seen in the photo. In an Instagram photo caption, she said, "When I have short hair, I miss my long hair. When I have long hair, I miss my short hair. Me in a nutshell."
These are our favorite best celebrity summer bikinis of 2022 so far. I'm enamored with Khloe Kardashian's choice of a bikini this year, especially the one she posted on Instagram on May 14, 2022. How about you? Let's talk about your favored look in the comments below.