A new charter season in the Greek Isles has begun on Below Deck Mediterranean Season 4. The crew from the previous season (Season 3), Captain Sandy Yawn, Hanna Ferrier, Joao Franco, and Chef Ben Robinson are joined by eight new crew members.
Cast of Below Deck Mediterranean Season 4
Sandy Yawn – Captain
Mila Kolomeitseva – Chef 
Ben Robinson – Chef 
Hannah Ferrier – Chief Stewardess
Aesha Scott – 2nd Stewardess
Anastasia Surmava – 3rd Stewardess 
June Foster – 3rd Stewardess 
Joao Franco – Bosun
Travis Michalzik – Lead Deckhand
Colin Macy-O'Toole – Deckhand
Jack Stirrup – Deckhand
Episode 1 - Pardon Your French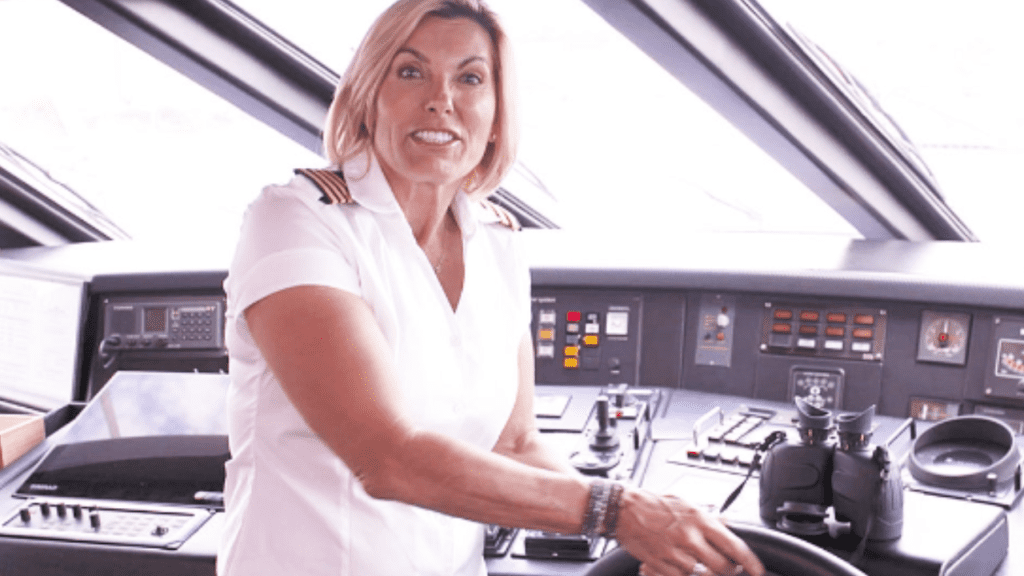 Out of the renowned yachting mecca known as the French Riviera, Captain Sandy Yawn sets sail for another season in the Mediterranean. As a chief stew, Hannah Ferrier is back and ready to get to work, pay attention to her job, and concentrate on her friendship with Captain Sandy.
Joao Franco, who had previously experienced heartbreak, has been promoted to the position of bosun. He convinced Captain Sandy that he could manage a deck crew that included Colin Macy-O'Toole, his closest friend and co-defendant. 
Mila Kolomeitseva, a Cordon Bleu-trained chef, assumes control of the kitchen but becomes unwell on day one, causing the crew to come together and get the yacht in shape in time for the first charter.Sandy and the staff are unsure if chef Mila, a department of one, will be able to carry out even the most fundamental tasks when the first customers arrive because she is still battling illness.
Episode 2 - Recipe for Disaster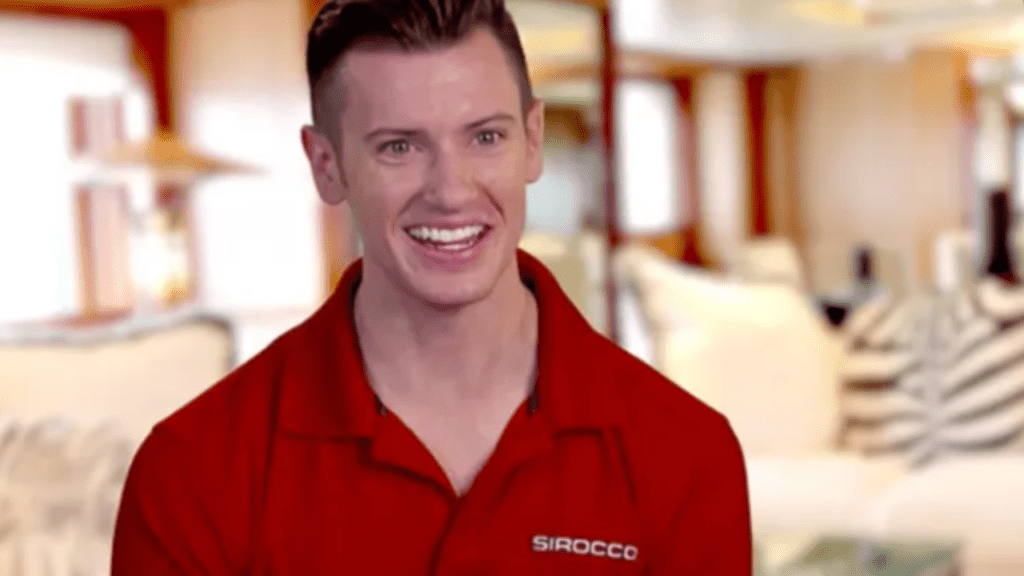 Colin is finally left broken and empty-handed after the crew's first beach picnic of the season gets off to a terrible start. Chef Mila is currently dealing with her hardest difficulty to date: baking. Hannah also understands Mila might not live up to her expectations.
As he works to discipline his deckhand Jack Stirrup, Joao experiences growing pains in his new leadership role. The crew heads for their first night out after surviving their first charter when one crew member makes a surprising disclosure that sticks with them. In their bunks, Jack, Travis Michalzik, and the other deck crew members sip beers while discussing Mila's potential street style when her hair is free.
Episode 3 - Cannes You Cook?
The Sirocco crew adjusts to Mila's divisive opinions. Dr. Jennifer Berman, a close friend of Captain Sandy, comes back with the hope of finally leaving the pier this year. Hannah keeps an eye out for Sandy's friends and ensures Sandy's toast is made without butter.
Joao is still having a hard time inspiring Jack. Chef Mila's atonement charter gets off to a rocky start. Colin worries whether this new crew might be too raunchy for him. Sandy is forced to devise a novel solution.
Episode 4 - Too Many Cooks in the Kitchen
Joao tells Captain Sandy about his heartache and vows not to let his feelings interfere with his profession. Sandy, the Captain, has to temporarily alter the plan because Chef Mila is still having trouble in the kitchen. As Hannah works two jobs while attempting to appease disgruntled charter passengers, she finds herself back on familiar ground.
The visitors learn an essential lesson from Travis-that there are no pants in the South of France-and lose more than just their patience. When Mila awakens, Anastasia is already in the galley, having settled into her new position there. While Joao maneuvers the yacht from its anchored position, she prepares Russian pancakes.
Episode 5 - 99 Problems but a Chef Ain't One
To film a music video, a recording artist charters Sirocco with her family and uses the crew as her production helpers. After getting closer to the dance floor, Jack feels something for Aesha Scott, and Joao notices the workload increases. The fight Colin has with the anchor chain may leave Sirocco stranded.
Everyone except Jack on anchor watch is asleep by one in the morning. He awakens Captain Sandy, who calls for Joao, and she decides to move the boat in the middle of the night with him and Jack in complete darkness. Now that Colin is awake, he is doing his first solo anchor drop under Captain Sandy's guidance.
Episode 6 - Knot Today, Anchors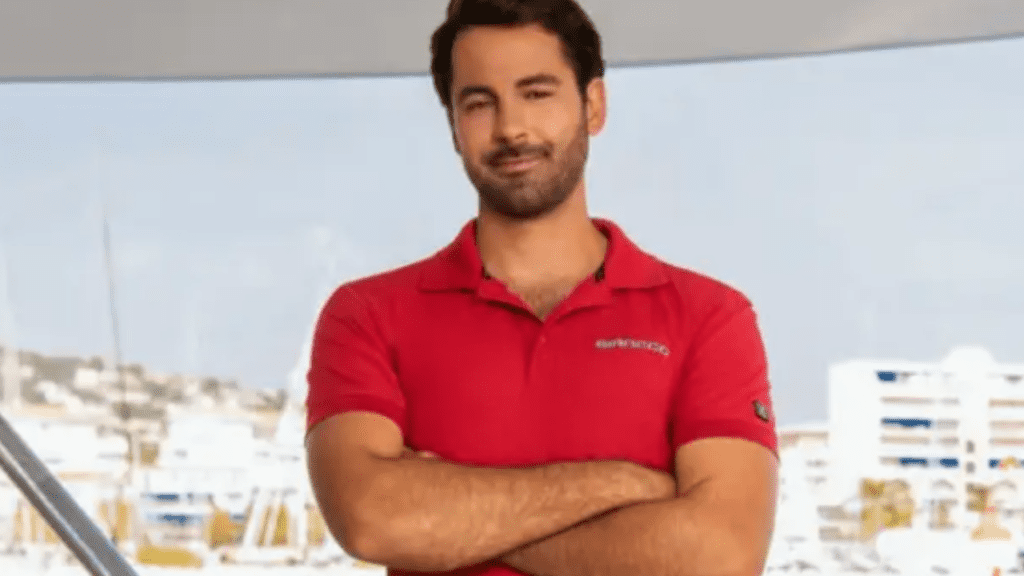 The worn-out crew works one person in each department, with Lead Deckhand Travis serving as Anastasia's sous cook and filling in as Temporary Chef. Aspiring teenage popstar, Ashley is having a great morning as she wraps up filming for her brand-new music video. Joao responds swiftly to a troublesome circumstance involving the Sirocco anchors, Captain Sandy's archenemy.
Travis is not pleased with Joao's treatment of Jack; he thinks it would be more effective to list what needs to be done. He should start working from the bridge forward rather than just shouting it.
Episode 7 - All Hail the Queen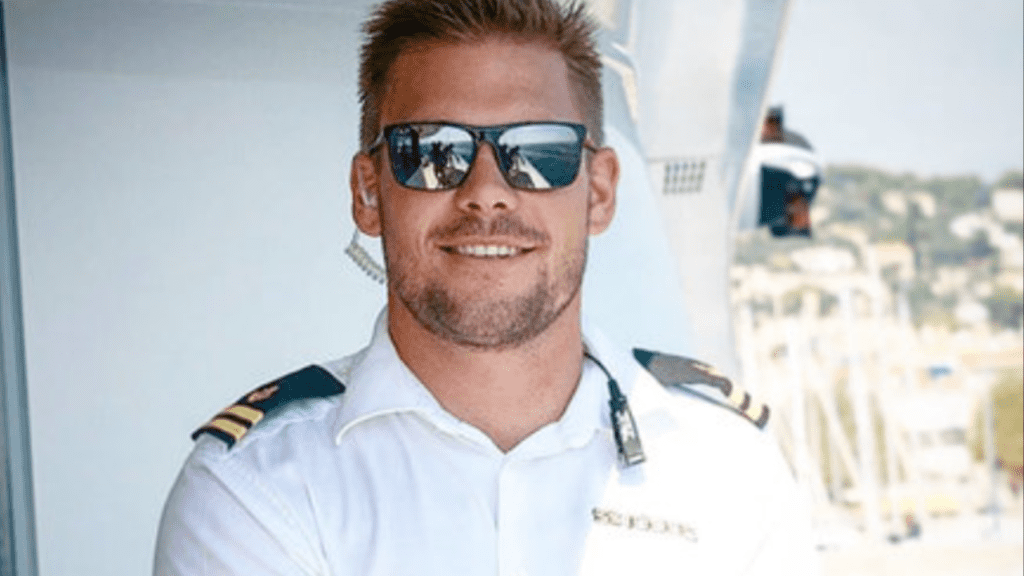 The Queen of Versailles will be the motor yacht Sirocco's most exclusive charter guest. After a wild night out, Joao must battle his old demons and an increasingly obstinate deck crew. Hannah is hopeful she can fill Anastasia's shoes when a new third stew joins the boat, which has Colin swooning.
Captain Sandy supervises, and the internal staff makes every effort to set up for this picnic on top of a huge hill. The deck crew unpacks every single water toy they own. Hannah sends her crew off with everything they need and describes the journey as a little stroll.
Episode 8 - What Eze the Problem?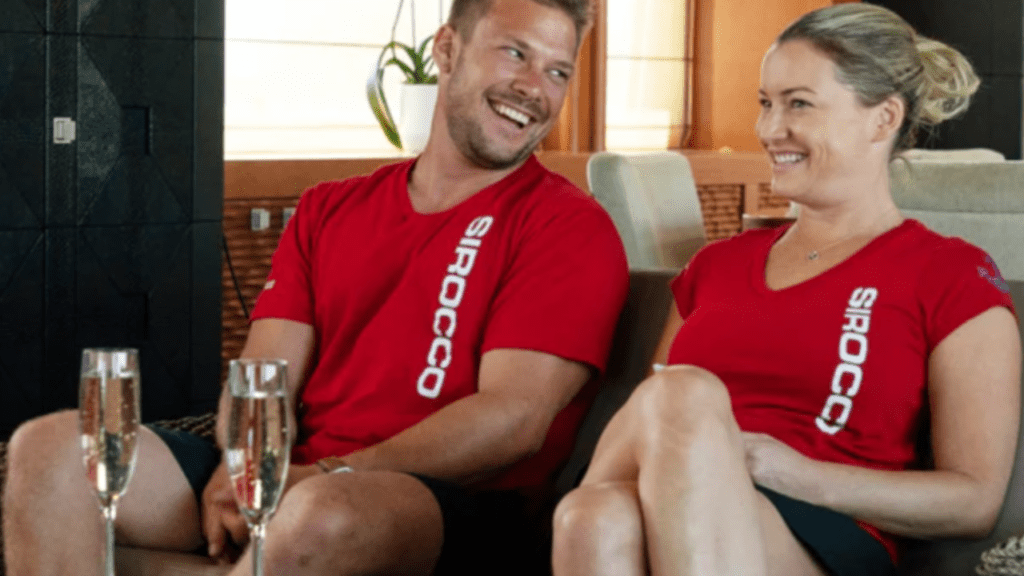 In regards to a guest vacation, Hannah and Joao encounter a misunderstanding. To appease the charter guest, the "Queen of Versailles," Anastasia is compelled to make delicacies that are incompatible with her vegan diet in the galley. June Foster keeps failing to win Hannah over, making her uneasy throughout the crew night out.
Hannah makes amends with Joao by saying she's sorry and promising to do more research in the future. Captain Sandy Yawn gives Joao some leadership advice as he gives him a pep talk about motivating his men as he hurries to the bridge. Such an odd transition, Colin and June discuss West Side Story.
Episode 9 - A Whole Different Ball Game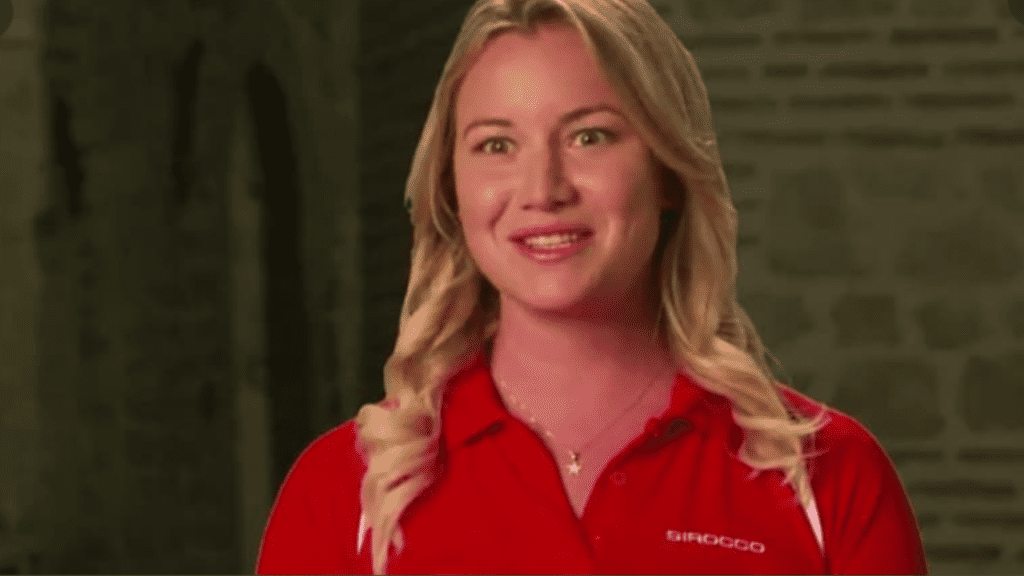 The crew has to work extra hard when baseball legend Johnny Damon and a gang of his rowdiest friends join the project. Hannah becomes annoyed when June has trouble keeping her radio on. When Jack and Travis ignore an alarm, Captain Sandy gets upset with them.
One of the diners insisted on bringing up the circumcision at the dinner, stopping Hannah to inquire about her opinion. When Anastasia urges them to be quiet while she plates, Jack and Aesha start talking about his foreskin.
Episode 10 - Docked and Loaded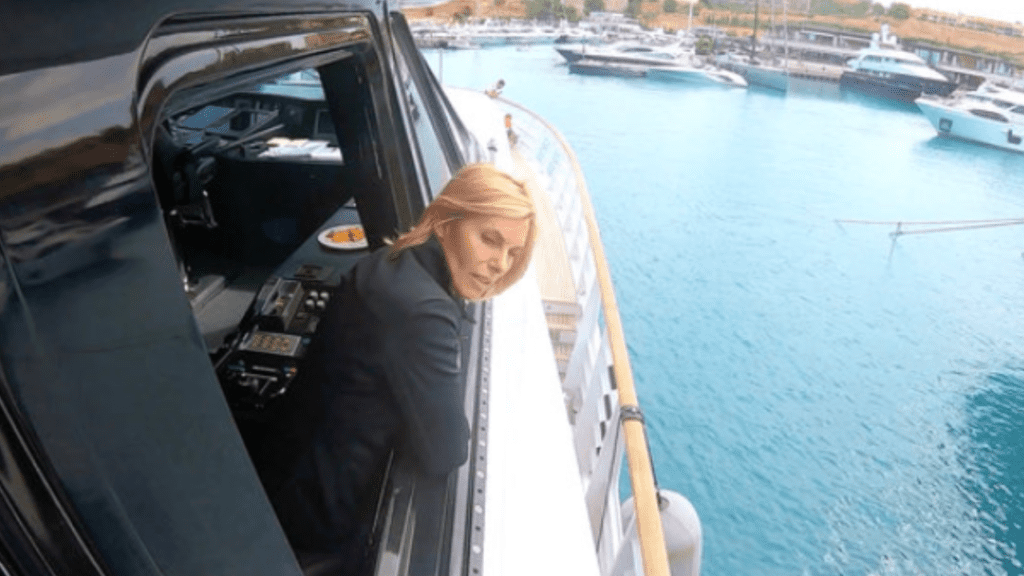 While Joao and Travis continue their deep dive to free the anchors, Captain Sandy continues her ongoing struggle with Sirocco's anchors. Along with his family and friends, baseball great Johnny Damon battles not just the inclement weather but also a tenacious yacht owner next door. 
The guests eat inside due to the wind and even serve themselves as Hannah makes Bloody Marys. There is unquestionably an issue with the food on this charter. The passengers have simply been eating whatever Anastasia serves them because they were unaware they could request à la carte.
Episode 11 - Monte Car-loco
The team takes a day off at a posh Monte Carlo resort. Still, several of them find themselves in more complicated situations than anticipated. Hannah and Joao have a heart-to-heart as June attempts to be vulnerable with Hannah but doesn't have the best luck. Travis criticizes Joao for how he handled Aesha.
Captain Sandy dispatches Joao to track down the unwanted visitors, but it's too late-the police have already been summoned. They managed to calm down the guests and get them inside, but they didn't explain why they couldn't be near the boats and other people. 
Episode 12 - Don't Cry For Me, Sirocco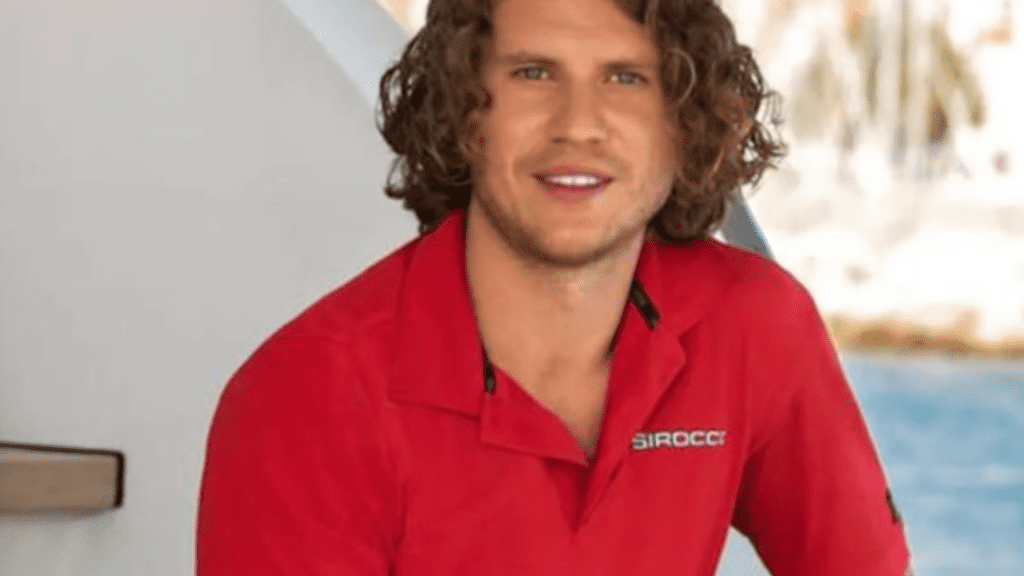 According to Captain Sandy, one of the crew's positions is unnecessary. Finally confronting Jack about his poor work ethic, Joao issues a warning. In the galley, an exhausted Anastasia is at her breaking point. When Colin discovers someone may have to leave the yacht, he takes a risky action.
As Travis enters the room again, Anastasia appears to be asleep next to him, so he slaps her in the face. Travis is attempting to contain his laughter as everyone else tries to decide what to do with the intoxicated man who has injured two women, albeit somewhat unintentionally. 
Episode 13 - It's Ben a Long Time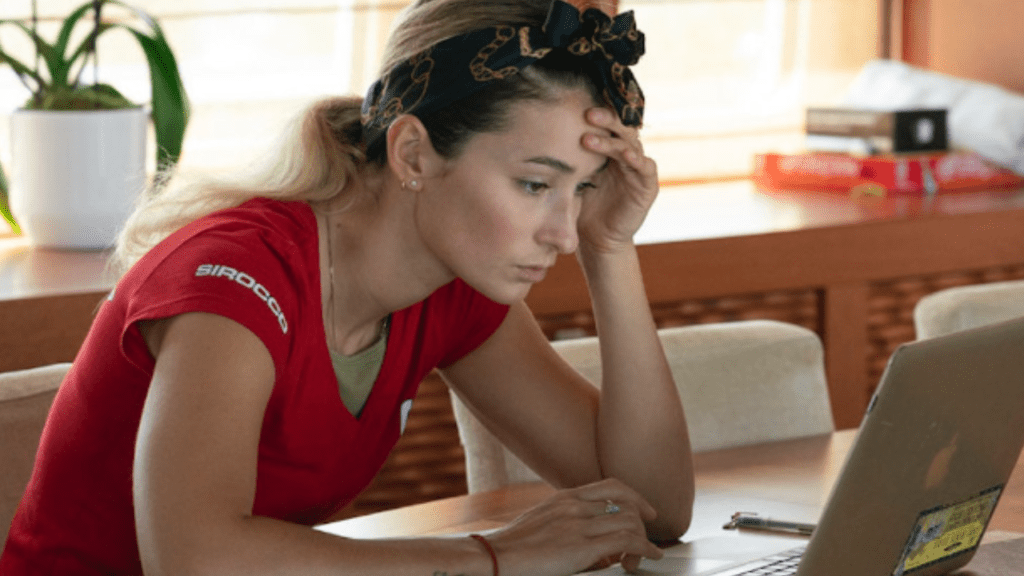 Sandy questions whether Anastasia is now taking her work for granted while Colin must make a difficult choice. Anastasia also accepts her new position. A bunch of women only board the ship and make an effort to flirt with the deck crew.
While avoiding inquiries about his nationality and status, Travis assists in clearing the table's plates. Ben Robinson is disappointed to see full vessels returning to the galley.
Episode 14 - Nauti Girls Need Love Too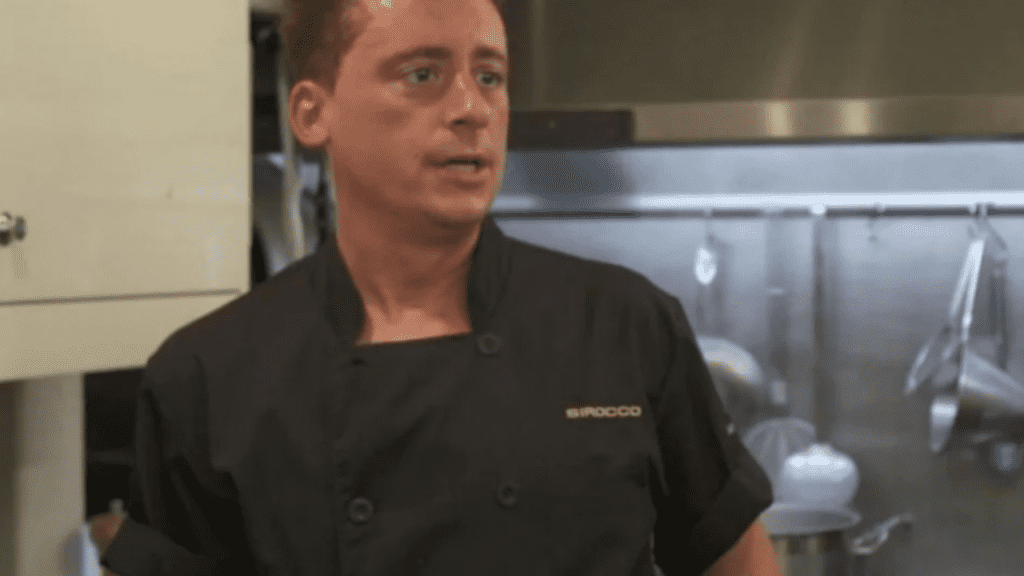 Ben wonders if he still has his sea legs when his first supper fails to wow the guests as much as he had intended. Anastasia struggles to get used to playing the third stew again. Travis finds it more challenging to let Aesha have Jack.
When a wind gust of 20 knots occurs, the deck team scrambles to secure the ship, placing Colin in a position that might terminate his season. Joao calls on Jack to push the boat away. Captain Sandy leads him while they are at sea and regrettably not far from a vast odd Russian boat.
Ben wants to get back on his feet at sea, but the Sirocco's malfunctioning galley has other ideas. Sandy is at her wits' end because of Travis' most recent intoxicated night. Jack ups the ante on the love front by penning poetry for Aesha.
Hannah's life is becoming more challenging due to Anastasia's disinterest in her previous position. Before dinner, the guests indulge in shots while Travis is summoned to the bridge. Although Captain Sandy admits that the Interior crew treats the deckhands like dickies.
Episode 16 - Sweet White Glove O' Mine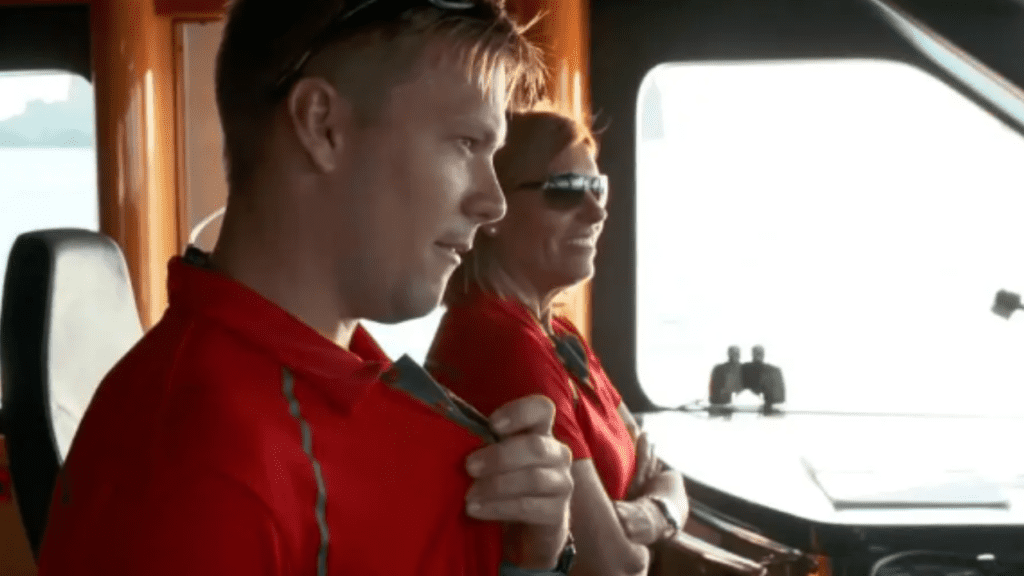 The charter passengers ask for a White Party for their farewell meal. Ben works hard to create a menu for the theme. Joao gets into trouble with Captain Sandy because of his ego.
Jack asks the crew to assist him in proposing to Aesha. After Sandy criticizes the inside staff for providing mediocre service, Hannah's leadership abilities are questioned. Joao's fever keeps Colin awake most of the night.
Episode 17 - Love, Love Me Stew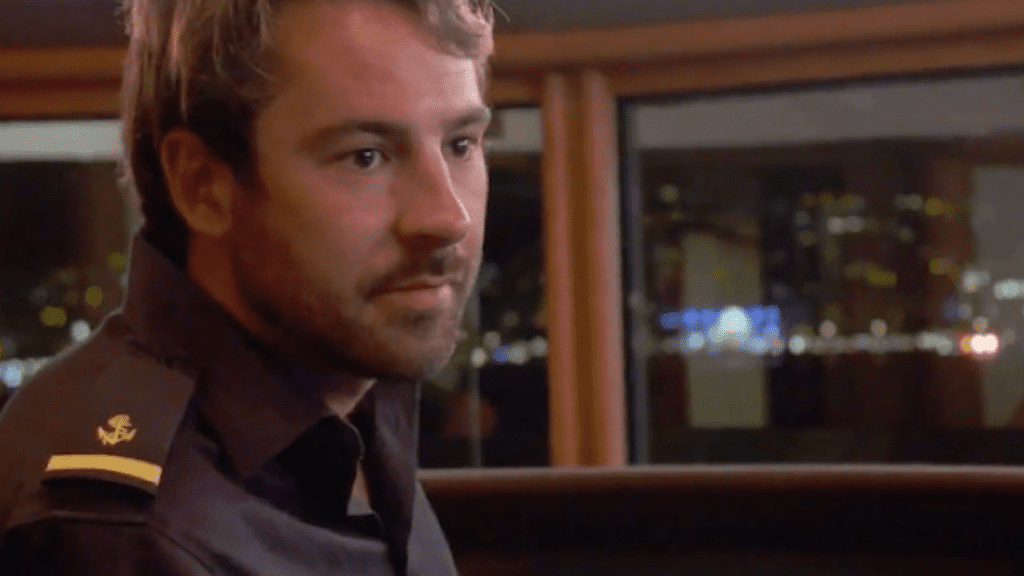 As the crew gets ready for the last charter of the season, Travis fills in for Joao, who is out due to a fever. Sirocco becomes stranded in the port when lousy weather moves into the South of France.
The Captain's rage is primarily directed at Hannah. Captain Sandy instructs Anastasia to awaken the entire interior staff to set the table. While a sleep-deprived Hannah trades blows with Captain Sandy, Anastasia sets the table.
Episode 18 - Au Revoir, Sirocco
In port, the boat catches fire, leaving Sirocco alone without a place to go. Sandy's harsh comments toward the interior team cause them to grow bitter, while Jack and Aesha mull over life beyond the boat. They wonder if this will be their final yachting excursion together after Sandy criticizes Hannah's lack of enthusiasm.
Jack and Joao talk about how their friendship has changed through time. It's hard to think that anyone could dislike our kid from Liverpool. Although Jack talked as slowly as he did, he did increase the tempo, and they were able to settle into a rhythm.
Below Deck Mediterranean Season 4 Quick Facts
an American reality TV series 
developed as the first spin-off of Below Deck
aired on Bravo TV from June 3, 2019, to September 30, 2019
executive producers are Mark Cronin, Courtland Cox, and Nadine Rajabi
under the production of 51 Minds Entertainment
consists of 18 episodes