Rita Ora is a popular British singer and songwriter. She is also famous for showcasing sensational yet trendy outfits. Rita was born in Pristina, Kosovo, but is of Albanian descent and moved to London with her parents as a child when they sought refuge in the UK.
Earlier today, the 31-year-old didn't disappoint with her concert attire. She wowed the crowd with her stunning performance at the annual event. Let's talk about it.
Rita Ora's Outfit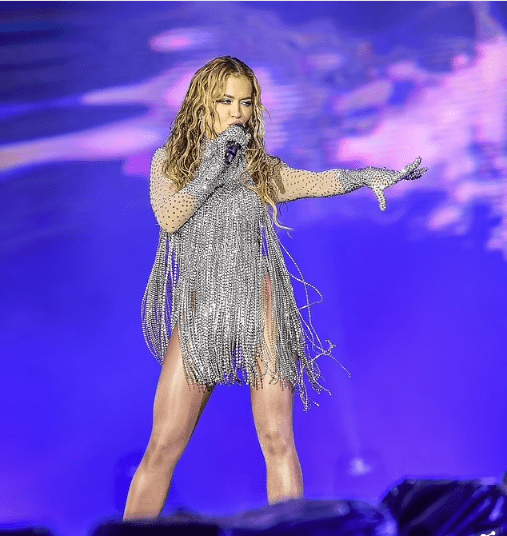 Rita Ora is the marvelous star at Cidade do Rock during the Rock in Rio Festival this year. She showcased a significant stage presence for the event.
Rita donned a dazzling silver bodysuit with rhinestone tassels and matching gloves. In addition, she wore a pair of matching heels as she walked about the stage during the raunchy performance.
For a fantastic look, Rita opted for a bronzed makeup palette that accentuated her natural features while styling her golden tresses in beach waves.
Rita Ora's Rock in Rio Festival Performance
Rock in Rio Brazil is the Brazilian edition of the huge music festival, which in 2022 will take place across two weekends in September.
Aside from that Sister to Rock in Rio's European event in Lisbon, the Brazilian edition is the festival's original and flagship event. It takes over Rio's Cidade do Rock alongside some of the rock, pop, and hip-hop's most prominent and best artists.
Besides, the last edition featured the likes of Drake, Foo Fighters, Red Hot Chili Peppers, Bon Jovi, P!nk, and Iron Maiden, and many more huge artists are expected to be announced. It is the Rock in Rio 2022 lineup.
Rita opened her set with the 2019 song Ritual before ripping through a selection of her biggest hits, including Your Song and Hot Right Now, and wrapping up with an encore consisting of Lonely Together and the chart-topping single Anywhere.
Rita Ora at Costa Brazil Event
Days before that, she attended a Costa Brazil event with Vogue. She also showed off her stylish outfit. The singer flaunted her toned physique in a sheer blue and green maxi dress which she wore over a black bra and matching pants.
She elevated her height in a pair of silver strappy heels while posing a storm at the lavish party. Then, Rita sported a glam makeup look with a nude lip while styling her blonde locks in loose curls.
Aside from that, The Hot Right Now hitmaker was later joined by her sister Elena and pal Vas J Morgan as the group posed for a sizzling snap.
Rita Ora's Free Concert in Albania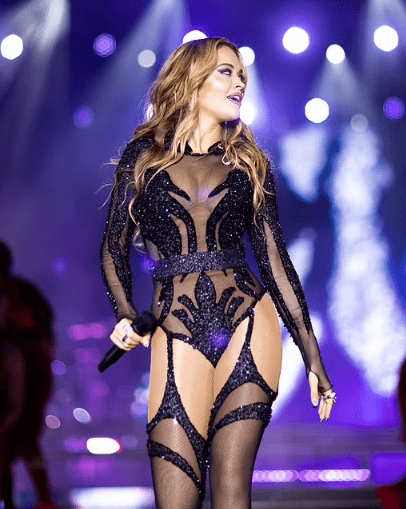 Aside from Rock in Rio and Costa Brazil events, Rita Ora also showed off some glamorous looks in Albania. Her outfit for the show is similar to what she donned for the Rock in Rio Festival merrymaking.
In other words, Rita Ora's appearance comes after she put on an engaging display while taking to the stage to perform a triumphant free show in Albania.
In Skederbej Square in Tirana, the global superstar took to the stage where she performed a 14-song free show in a moment that she described as "unforgettable."
Rita looked at the pop star in a sparkling long-sleeved sheer black leotard covered in glitzy sequin patterns.
She matched her racy ensemble with matching stockings and completed the eye-catching look with black-heeled boots.
Tirana's Mayor Erion Veliaj organized the fantastic free show to celebrate the capital city being named the EU's Youth Capital for 2022.
Speaking about the concert and earlier being awarded a prestigious award by the Albanian president, Rita Ora stated she would "never forget" the show in her parents' home country.
At that time, she was awarded the Naim Frashëri order by the President of Albania, Mr. Bajram Begaj.
She mentioned in an interview: "There are some things in life you never forget. This trip will be one of them. Today has been an unreal day."
She added, "'I had the great honor of being awarded the Naim Frashëri order by the President of Albania, Mr. Bajram Begaj."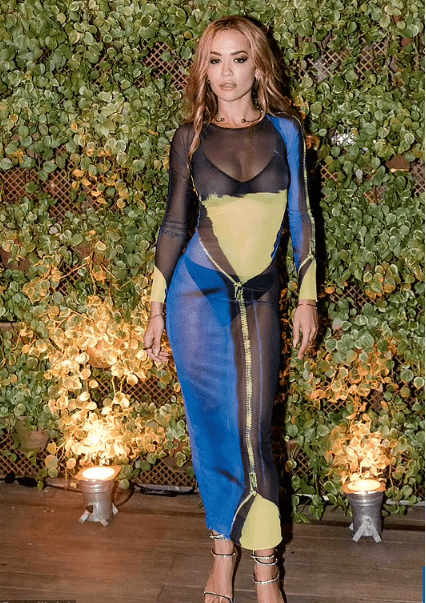 Do you like Rita Ora's outfits for the Rock In Rio Festival this year? Let us know in the comments below.