Many people were astonished by the numerous fashion displays at the recent Fendi show during the New York Fashion Week. The star-studded event is a gathering of stylish individuals who graced the front row of the runway show.
Here, we're inspired to talk about the show-stopping outfits of three stylish individuals. Enter the sartorial adventures of Sarah Jessica Parker, Naomi Watts, and Kim Kardashian.
Sarah Jessica Parker's Trendy Outfit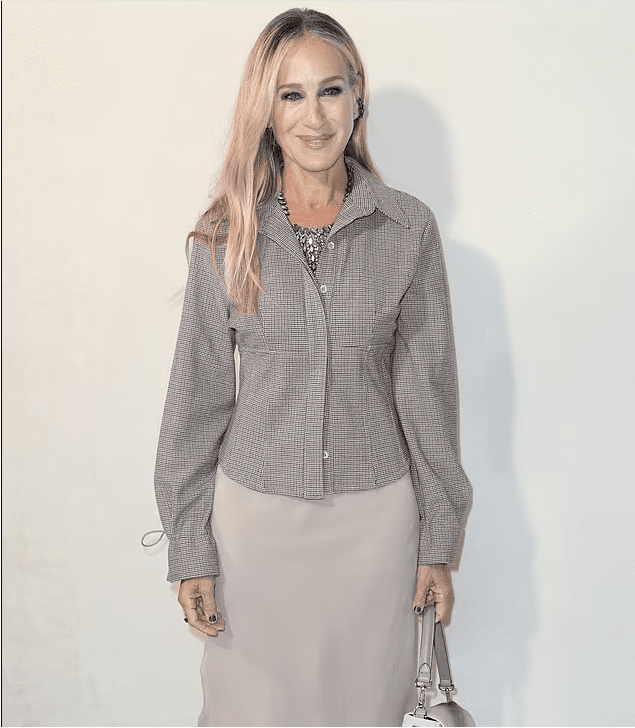 Sarah's eponymous style for her hit show, "Sex and the City," is still a fashion topic these days. So when she dazzled at the Fendi show with other celebrities during the New York Fashion Week, many people were curious about her outfit.
She looked radiant at the star-studded event, sitting in the front row alongside Kim Kardashian and Naomi Watts. The 57-year-old star opted for a gray houndstooth blazer for the event, which she paired with a light gray skirt.
Aside from that, she added height to her frame with teal heels. Then, she also carried a lavender handbag to make it look more fantastic.
Sarah Jessica Parker let her blonde locks fall loose down her shoulders. Sarah Jessica completed her look with an eye-catching necklace.
The runway show appearance comes after Sarah Jessica recently opened up about showing off her natural gray hair and said she took issue with people calling her "brave."
She confided to Allure magazine: '"It became months and months of conversation about how brave I am for having gray hair. I was like, please, applaud someone else's courage on something!"
Sarah Jessica is married to fellow actor Matthew Broderick, with the couple parents to son James Wilkie, 19, and twin daughters Marion and Tabitha, 13.
Besides, the star spoke with People in February of 2018 about her marriage, saying a key factor to a happy marriage is adapting to a partner's evolving needs.
She stated: "Your needs are shifting. You and your partner are going to change. It seems so silly, but I think you're fortunate if you like the person."
Sarah added, "I still really like him. I'm sure I annoy him, and he annoys me, but I learn about him daily. I'm like, 'You're doing what? You're reading what?"
Naomi Watt's Dramatic Look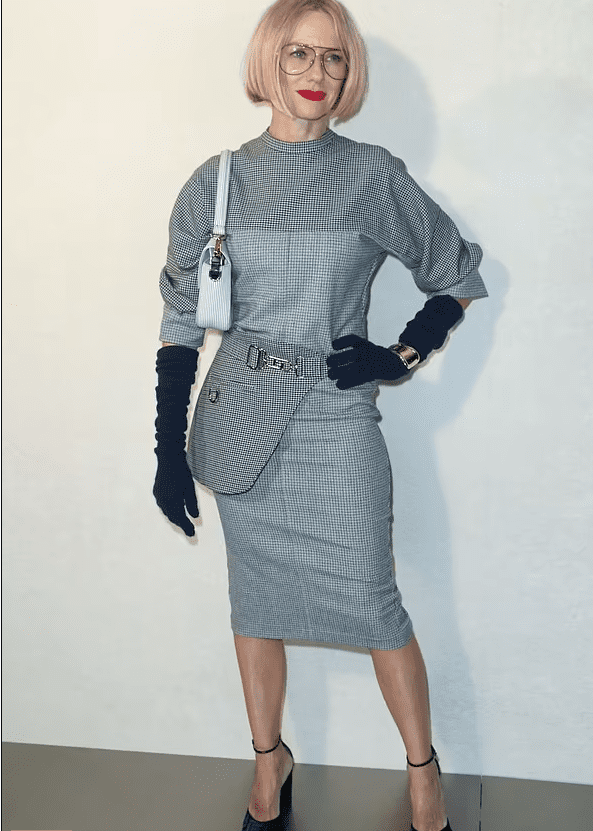 We know that Naomi Watts is equally stylish as her contemporary entertainers. The British star appears remarkable in every red carpet event, wearing dazzling clothing pieces and accessories.
Earlier today, she was photographed wearing a gorgeous ensemble. She didn't disappoint with her feminine-looking attire. No wonder several style enthusiasts were glued to her look.
Naomi appeared prim and proper in a black and gray tweed frock with a high neck. Then, her blonde locks were styled in a straight bob and contrasted nicely with her bright red lip and navy blue gloves.
Naomi's statement red lipstick is an otherwise low-key makeup look. It looked perfect on her for the star-studded event.
The 53-year-old's current beau, stage and screen actor Billy Crudup, was not present during the outing. However, she wasn't alone, as she was spotted sitting in the front row with Kim Kardashian, LaLa Anthony, and Sarah Jessica Parker.
Kim Kardashian's Sparkling Outfit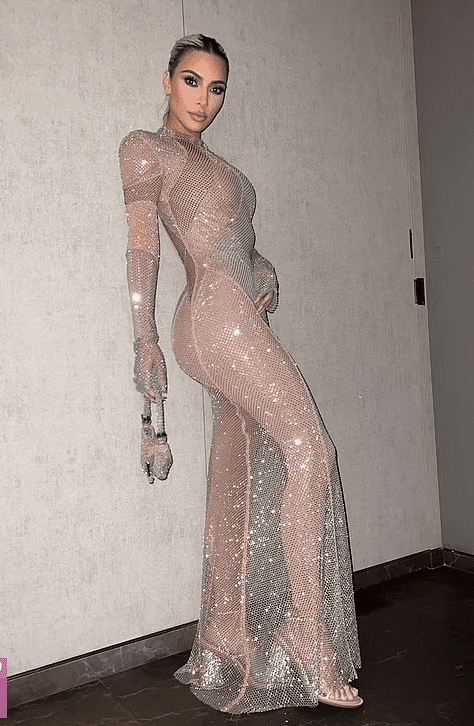 We've been obsessed with Kim Kardashian's wardrobe choices for years. At every event she attends, Kim always looks all dolled-up and classy with her outfits.
Kim Kardashian wore sensational attire at the Fendi show during New York Fashion Week. Her fans were enamored of her look.
On the other hand, Kim chose silver and beige long-sleeved dress. The frock was featured with sequined detail. In other words, it is a shimmery number perfect for the said prestigious event.
The stunning Fendi creation caught the attention of fashion lovers who saw Kim's photo. The 41-year-old star effortlessly donned the sheer evening gown in pastel shades of lavender, pink, and gold.
The entrepreneur's platinum blonde hair was pulled back into a combo ponytail and bun with a black elastic, with her dark roots showing about an inch of growth. Then, she called her appearance "Fendi nights."
Kim Kardashian is the first person to be featured in Hillary and Chelsea Clinton's new documentary show Gutsy. In the episode released September 9, 2022, on Apple +, Kim, who passed the California bar exam in late 2021, talks about her effort to promote justice reform.
In a clip shared on the Skims founder's Instagram stories, the former Secretary of State pointed out, "Criminal justice reform is a difficult conversation. On the one hand, your platform enables you to have a broad audience for what you're doing. On the other hand, it holds you up there and it makes you a target.
She added, "how have your followers reacted? Are there certain cases where you see a real groundswell on social media?"
She continued, "A celebrity might push the needle for some people." Then, Kim answered, "Sometimes it can work against us, so I always figure out the right strategy. Then, once I start to get the social media fan base involved, they feel invested. They want to help out."
In a trailer for the episode, the Skin by Kim founder said, "To throw someone's life away when people make changes…I believe in second chances."
Fendi Runway Show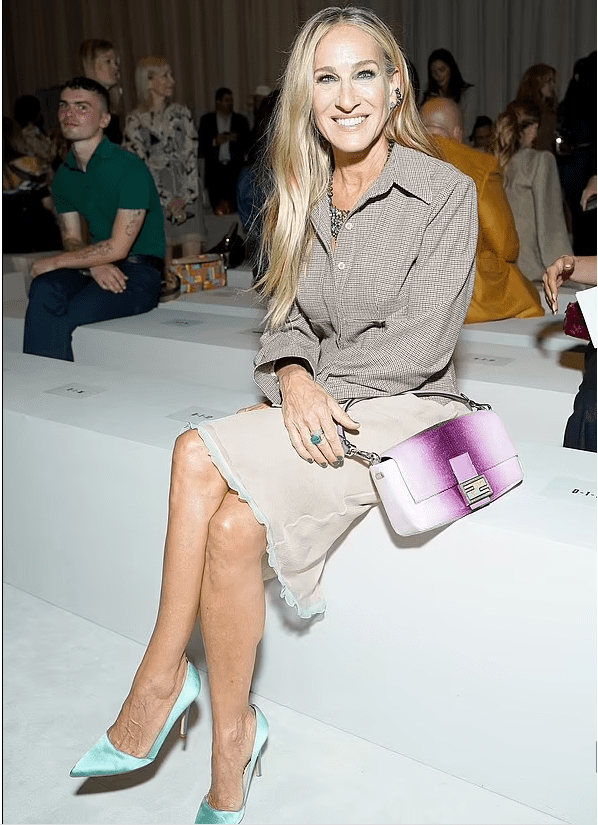 New York Fashion Week, held in February and September each year, is a semi-annual series of events when international fashion collections are shown to buyers, the press, and the general public.
The collection included items from a collaboration with the Hocus Pocus actress whose SarahJessicaParker the models carried x Fendi purses. A post about the event on her Instagram indicated the bags would be ready for purchase in time for the holidays.
After the show, Kim met Fendi's artistic director Kim Jones and supermodel Linda Evangelista, 57, who closed the show wearing a stunning Tiffany blue taffeta gown. Accessories included diamond earrings, silver silk gloves, and a Fendi Baguette bag.
It was her first runway appearance in 15 years and the first since coming forward about her disfigurement following a CoolSculpt treatment five years ago.
Linda sued CoolSculpt's parent company for $50 million and reached an undisclosed settlement with them in July.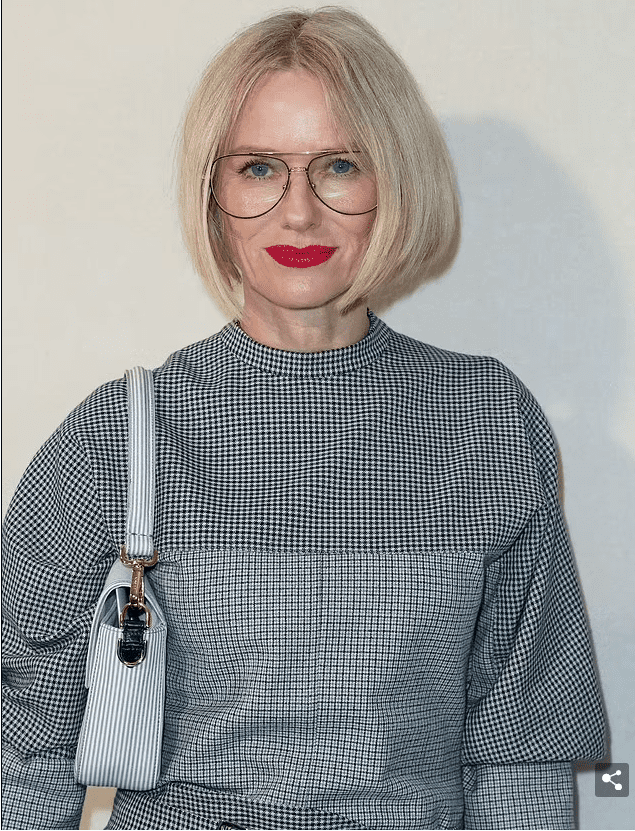 Kim Kardashian is gorgeous with her monochromatic look. On the other hand, Naomi Watts opted for a girly outfit. Then, Sarah Jessica Parker stood out in her charming attire.
You can have an inspiring mood board for the week by just checking their looks. Hopefully, you won't have a hard time preparing for your look. Stay chic!