The crew of Below Deck Mediterranean's fifth season navigates rough waters while sailing around the picturesque island of Mallorca, Spain, on the 184-foot mega yacht The Wellington, the largest yacht in the series' history. 
The crew must also deal with heartbreaks, power struggles, and issues with maritime law. As these yachties compete to win each charter, they find it challenging to put aside their differences, which forces Captain Sandy to make pivotal choices that test the group in multiple ways.
Cast of Below Deck Mediterranean Season 5
Sandy Yawn – Captain
Hindrigo "Kiko" Lorran – Chef 
Tom Checketts – Chef 
Hannah Ferrier – Chief Stewardess 
Lara Flumiani – 2nd Stewardess 
Christine "Bugsy" Drake – 2nd Stewardess to Chief Stewardess 
Aesha Scott – 2nd Stewardess 
Jessica More – 3rd Stewardess
Malia White – Bosun
Peter Hunziker – Lead Deckhand, Deckhand 
Alex Radcliffe – Deckhand, Lead Deckhand 
Robert Westergaard – Deckhand
Episode 1 - I Like Big Boats & I Cannot Lie
Malia White is back as Captain Sandy Yawn's first female Bosun after achieving the Lead Deckhand title in Season 2, a position she intends to advance into while winning the respect of her all-male deck crew. Brazilian chef Hindrigo "Kiko" Loran tries to make a positive first impression while battling Captain Sandy's doubts following the galley problems during the previous charter season (Season 4).
Episode 2 - Can't Touch This!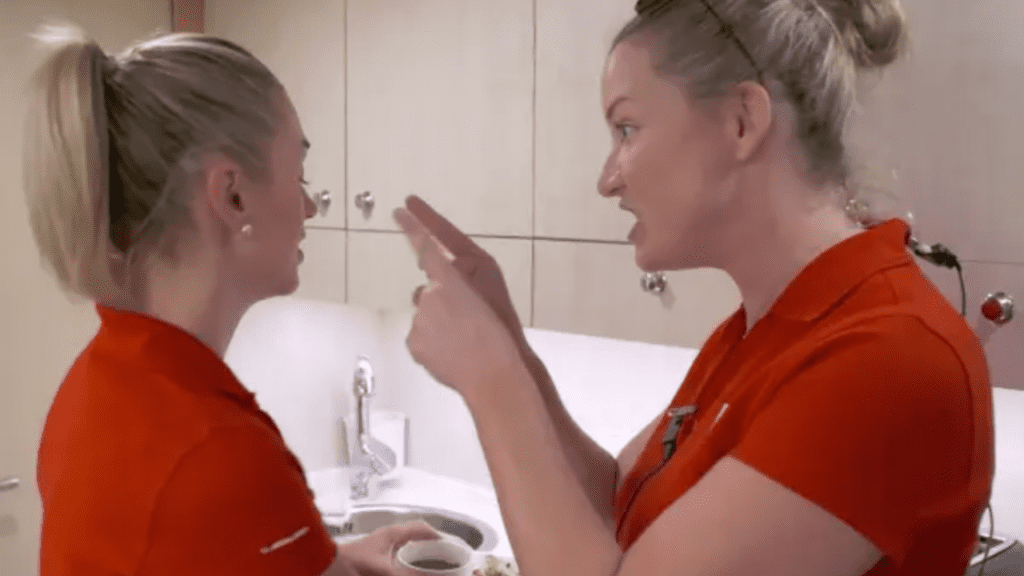 Lara Flumiani refuses to follow Hannah's instructions and tensions between Hannah and her Second Stew approach a breaking point. In the galley, Kiko has to contend with unsatisfied guests. When dealing with a green deck crew, Malia is compelled to set boundaries with Peter Hunziker.
Lara tells Hannah she started this morning a half-hour late because Hannah irritated her as they attempted to have a peaceful talk. So. Hannah drags Captain Sandy out of the crew mess as she runs to fetch her.
Episode 3 - The Italian's Job
On the crew's first night out of season, romance blossoms as Pete make a move, and Robert Westergaard and Jessica More discover a deeper level of connection. When visitors with ties to the music industry board for the second charter, things get started immediately, but unexpected events leave the Wellington crew in a tough spot.
Pete's behavior leads Malia into a challenging exchange, while tensions between Hannah and Lara take an unexpected new turn. Lara and Hannah talk to Captain Sandy for advice before deciding to start over. Hannah seems to feel bodily anguish as Lara only complies because she respects Captain Sandy.
Episode 4 - Ace of Stew Face
Hannah scrambles to manage the interior with only Jess to rely on as bad weather rolls in and down her Second Stew. Captain Sandy and Malia set a firm boundary with the deck team when the lads are called out for their questionable behavior.
Kiko attempts to create a picnic lunch for the season's first off-boat adventure. Hannah receives a Second Stew as compensation for making it through the charter. Still, she soon finds the new team member might be more than she had anticipated.
Episode 5 - Bringing the Thunder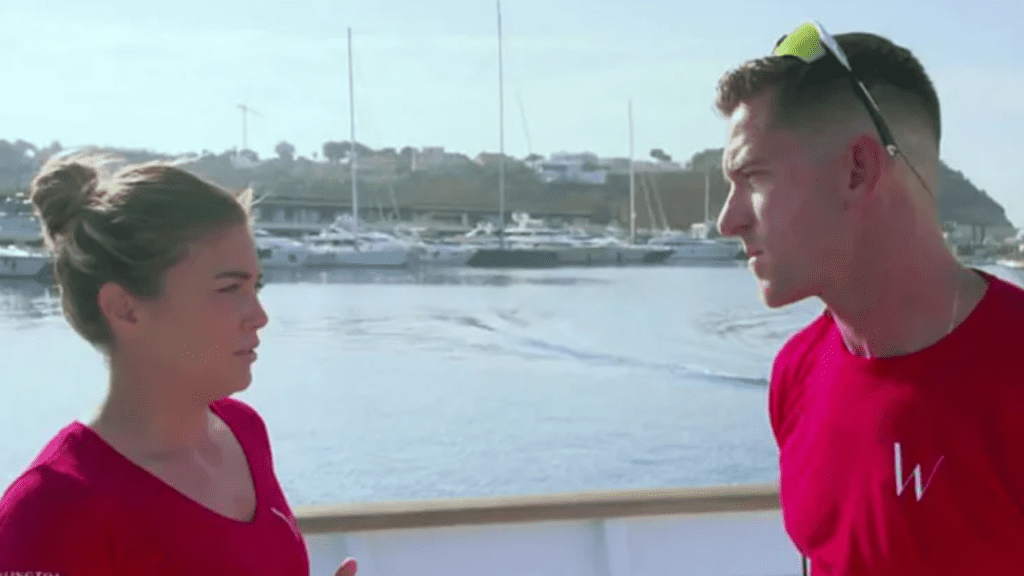 A blast from the past reappears after a severe thunderstorm that might keep The Wellington docked for their next charter. Pete's attitude irritates Malia, while Rob and Jessica's relationship grows stronger. While this is happening, a group of new visitors with extremely demanding requests are straining Kiko to the breaking point.
In the washing area, where she encounters Hannah and deckhand Alex Radcliffe for the second time, Christine "Bugsy" Drake makes her way down. Hannah tries to shake Bugsy's hand while he requests a hug.
When Kiko demands charter guests invite friends to join a 6-course dinner, he faces his most challenging hurdle yet. In the meantime, Rob and Jess's burgeoning romance is jeopardized by a fresh revelation when Hannah confronts Bugsy about their shared past.
At one end of the table, Alex and Bugsy are seated, and Pete is standing in the middle of nowhere. Pete claims he is not envious; instead, he misses former second steward Lara, who left after getting into too many altercations with Hannah.
Episode 7 - No Mushroom for Error
As one crew member's inappropriate behavior eventually catches up to him, an injured Jess struggles to keep her place on the yacht. High-maintenance charter passengers, in the meantime, put the interior to the test and reveal relationship issues between Hannah and Bugsy.
Episode 8 - Rise and Don't Shine
Kiko battles to recover his footing with a complex group of charter guests after struggling through the first day of the charter. To lift an injured Jess, Hannah relies on an exhausted Bugsy. Captain Sandy starts to worry about how the interior is operating.
After being forced to make a difficult decision that alters the dynamic on the exterior, Malia is now looking to Rob and Alex for leadership. A sudden complaint also prompts Captain Sandy to give a deadline.
Episode 9 - Viva, Loss Vegas
While Hannah struggles to fit in with the group, Alex confesses his emotions to Bugsy during a crew night out. Jess harshly criticizes Captain Sandy for her behavior in the laundry room.
Malia is forced to execute an emergency rescue from an incident with the water toys. Kiko rallies for a successful charter because his job is on the line. Still, a dinner with a Vegas theme puts everything in jeopardy.
Episode 10 - Closing Time
After a crucial dinner, Captain Sandy and Kiko are at a crossroads. Hannah struggles to stay in control while dealing with a demanding season. Rob and Jess intensify their romance during a guest outing to Valldemossa.
While waiting for a visitor whose presence might alter her own, Malia objects to her deck team's attention. Even though they don't stay up all that late, the attendees had the best time at the 90s party.
The staff enjoys a day off at a posh beach club in Mallorca, but questions are raised when Hannah remains behind to take care of a health issue. When Malia's boyfriend Tom shows up for a visit. Alex evaluates his relationship with Bugsy.
Captain Sandy receives a text message from Malia late that night after everyone has crashed, containing a picture of drugs and Hannah's passport. Hannah enters the conference as First Mate David is summoned to the bridge by Captain Sandy. Hannah might be asked to leave the boat to have narcotics on board.
Episode 12 - There's No Place Like Home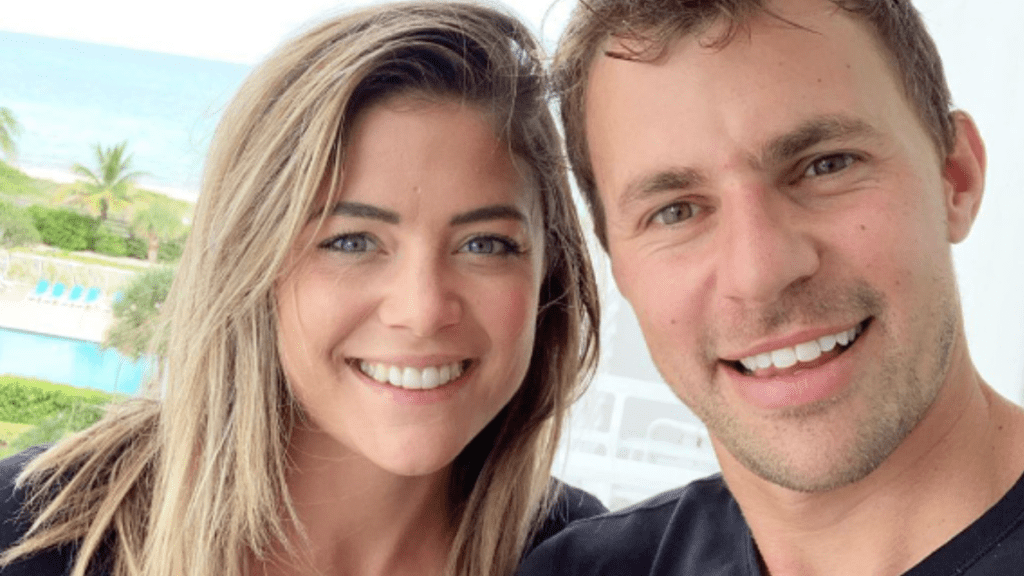 Hannah is up against a wall, and Captain Sandy must make a critical choice that could alter the course of The Wellington. While Malia is concerned about Tom's ability to control a chaotic first charter, Bugsy struggles with a new obstacle.
The crew is summoned to the salon by Captain Sandy for a pre-charter discussion over Hannah's departure. With too much to do, they sit in their dress whites as the captain clearly explains the situation.
Episode 13 - Welcome Back
After Hannah leaves, Bugsy battles to keep the interior afloat while a dubious Jess stands by her side. While assisting Tom with his first charter, Malia attempts to control a disgruntled deck team. The inside team is relieved when a new Second Stew is finally welcomed onboard.
Someone will have to pull rank since they can't all leave together. Rob becomes a little sore and tells the other two to go because they haven't resolved their argument and are still acting passive-aggressively.
Episode 14 - Whole New Ballgame
Baseball icon Johnny Damon is back on a charter in Ibiza, putting pressure on Tom to make up for the lousy cuisine the Damons had last year. Bugsy raises her standards for the interior team now that Aesha Scott is on board.
Jess detects several warning signs in Rob's actions as his personal life affects his employment. Everyone enjoys themselves in the water except Rob.
Episode 15 - Shot Through the Heart, and Ibiza's to Blame
While Jess manages a frightening medical problem, Rob irritates Malia by failing to perform well on the deck. Tom strives to complete a flawless charter for the exacting Damons, as Aesha battles homelessness.
One connection develops during a crazy crew night out in Ibiza, while another takes a turn for the worst. After showers, Jessica and Rob reconcile as Tom and Malia have a romantic glass of champagne on the veranda.
Episode 16 - Cool as a Cucumber
Rob and Jess struggle to get along after a rough night in Ibiza. The new charter guests arrange a wager with Bugsy that could result in the crew being stripped naked. Captain Sandy is trying to prevent a catastrophic tragedy from a mechanical malfunction during docking.
Episode 17 - Something's Fishy
While handling the consequences of cucumber-gate, a speedo-clad Bugsy puts together an evening with a wicked theme for the visitors. Captain Sandy and Chef Tom are at odds, and Jess is leery of Aesha.
While Rob and Jess enjoy a romantic evening in the guest cabins, Alex confronts Bugsy about the future of their relationship during a staff night out. And on the morning of the last charter, a severe error had one crew member prepared to abandon the vessel.
Episode 18 - A Real Handful
Tom is upset about a provisioning error, and Malia and Bugsy find it challenging to handle the consequences. The last charter passengers of the season are gawking at Rob and Alex. A group shot with Rob and Aesha causes Jess to lose her cool.
Tom starts sending out little starters, which the guests wolf down in seconds. Captain Sandy overhears him calling Malia down to the galley for assistance, and he keeps her there to assist with plating.
Episode 19 - The Bali Is in Your Court
While Malia and Bugsy battle to contain the consequences, Tom grows enraged about a provisioning error. The season's last charter guests are gawking at Rob and Alex as they sail. Jess snaps out of it after taking a group shot with Rob and Aesha.
Episode 20 - A Mighty Wind
Captain Sandy struggles with a turbulent season as the final charter closes. The few remaining cards keep falling. After a devastating argument, Rob and Jess find it challenging to get along. At the same time, Aesha must accept the end of her yachting career.
Episode 21 - Reunion Part 1
Hannah states that after learning about the Valium, Captain Sandy lost faith in her as a trustworthy person. She even says that Hannah is dishonest and a liar and Andy drops a bomb. The maker of Hannah's vape pen apparently contacted Bravo or issued a comment following the broadcast.
Episode 22 - Reunion Part 2
The first half of Part 2 of the reunion revolves around the drama between Hannah and Captain Sandy Yawn. The maker claims it is compatible with their THC pen, while the primary seller claims it is CBD for anxiety. Sandy becomes enraged when Jessica More interrupts to say she also had a CBD pen on board.
Below Deck Mediterranean Season 5 Quick Facts
an American reality TV series 
developed as the first spin-off of Below Deck
aired on Bravo TV from June 1, 2020, to October 26, 2020
executive producers are Mark Cronin, Courtland Cox, and Nadine Rajabi
under the production of 51 Minds Entertainment
consists of 22 episodes