In Season 6 of Below Deck Mediterranean, the crew sets out on an exciting new charter season as they go to Ibenik, the oldest native Croatian village on the Adriatic Sea coasts, aboard the 180-foot mega yacht "Lady Michelle" in the crystal-clear waters of the Dalmatian Coast of Croatia.
The tension quickly rises as different crew members' resentments start to upset the boat and interfere with the workflow. The crew dynamics are disrupted by previously unheard-of variations in the crew organization. Yet, the new management style of one department head creates conflict among the entire crew.
Cast of Below Deck Mediterranean Season 6
Sandy Yawn – Captain
Mathew Shea – Chef
Katie Flood – Chief Stewardess
Lexi Wilson – 2nd Stewardess, 3rd Stewardess 
Courtney Veale – 3rd Stewardess, 2nd Stewardess 
Delaney Evans – 3rd Stewardess 
Malia White – Bosun
David Pascoe – Deckhand, Lead Deckhand 
Lloyd Spencer – Deckhand
Mzi "Zee" Dempers – Deckhand
Episode 1 - A Yacht in Kneed
With the megayacht Lady Michelle at the helm, Captain Sandy Yawn makes a triumphant return to Croatia in the hopes of leading a new crew through calmer waters along the breathtaking Dalmatian Coast. 
Formerly a celebrity and ultra-wealthy Chef, Mathew Shea takes over the galley, where his aspirations quickly clash with his on-board realities. Katie Flood, a very skilled yachtswoman, is Captain Sandy's first new Chief Stew in a long time.
Episode 2 - It's Not Easy Being Green
While Lexi Wilson deals with a challenging personal situation, Katie feels the weight of the demanding guests. While planning a bachelor and bachelorette party, Malia White, the instrument why the long-time stew Hannah Ferrier was ousted in Season 5,  strives to acclimate her new deck staff. 
Still, one untrained deckhand struggles to keep up. The crew is unsure if Chef Mat will return to the yacht for the remainder of the charter season.
Episode 3 - It's Like Rain On Your Wedding Day
Captain Sandy is ready to officiate for the first time as the crew rushes to prepare for a wedding ceremony that might or might not occur. Katie forgoes any breaks to support her squad while Mat aspires to make up for his fateful first day.
 The crew's first night out later that evening results in some crew members feeling the love while others have significant disagreements. Katie bricks it down the stairs to where Karry is waiting to enter, it breaks the tension, and the ceremony turns out to be swift and exquisite. Sandy is probably being too honest about her uncertainties as the officiant.
Episode 4 - Love At First Night
The crew's first night out is filled with romance as Courtney celebrates Mzi Demper's birthday and David Pascoe falls in love with Malia, his on-deck boss. A familiar charter visitor makes a comeback as the second charter begins. Katie introduces a new stew rotation that casts Courtney Veale in a strange role.
The crew is still tense as the second charter concludes because Chef Mathew objects to a request. The difficulties in their families bring Courtney and Lexi together while the deckhands talk about their growing crushes. Katie finds it difficult to maintain order due to the crew being perhaps shorthanded and a strong defense being launched in response to an insult directed at the deck team.
Episode 6 - The Morning After
The gang wonders if they can forgive and forget after a volatile night out. The third charter shows up with a lot of energy and even more upkeep. Captain Sandy must decide whether she is prepared to give another chance when one of the crew experiences a stunning change of heart.
Episode 7 - Can't Fight This Feeling
While they attempt to make amends, Katie tries to reenergize Lexi. At the same time, Chef Mathew struggles to satisfy an extraordinarily demanding charter guest. David finally musters the confidence to ask Malia a problematic issue as Courtney and Mzi become closer.
Once more, drunken revelry takes place along with a lovely but highly uncomfortable amorous approach from David to Malia. She rejects him outright as Katie and Lloyd Spencer continue to make fun of the couple from across the room.
Episode 8 - At Your Lack of Service
After having no luck with Malia, David must negotiate rough waters with his boss on duty. It's Courtney's turn to start service now that a new charter is in effect, leaving Lexi to finish up laundry and Katie to pick up the slack. While tensions between Captain Sandy and Malia are starting to rise, Chef Mathew still demonstrates why he deserves a third opportunity.
Captain Sandy develops a hive of concern regarding that silly, fantastic slip. It must be pumped up each time someone uses it because it leaks. She's getting angry there, and Malia doesn't want to hear it.
Episode 9 - Brews, Stews & Management Blues
While Lloyd hosts an Oktoberfest celebration, Chef Mathew aspires to complete his most lucrative charter to date. Due to her problems maintaining the inside, Katie is forced to choose her team somewhat unintentionally.
Following a preference sheet meeting, the staff cleans up Lady Michelle and gets ready to welcome a new team member. While Katie sits Lexi down to clarify what she did wrong and inform her that she has eliminated stew ranks, everyone feels uncertain yet upbeat.
Episode 10 - Burning Down the House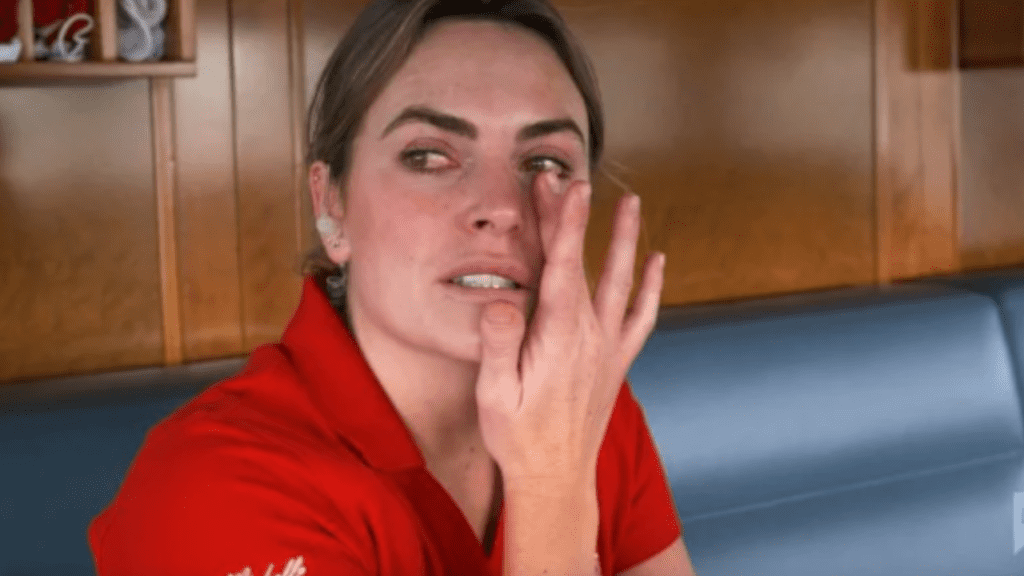 When a new crew member joins Lady Michelle, Katie is in a difficult situation after learning some unexpected further information. After facing his most challenging preference sheet to date, Chef Mathew faces an even more significant obstacle when a dangerous occurrence occurs in the kitchen. In the meantime, the most powerful storm of the season strikes, leaving the crew in a panic.
As a result of learning from the doctor that he has second-degree burns, Mathew is forced to cook supper while the crew on the deck tries to help him. However, the crew must finish a challenging charter gracefully under pressure before they can exhale in relief.
Episode 11 - Should I Stay or Should I Go
The crew of Lady Michelle is compelled to come up with inventive ways to entertain the visitors due to the whiteout storm and persistent severe weather. As Katie is forced to make a difficult choice about her internal team, her aversion to conflict reaches a boiling point.  Katie is more anxious than ever as the end of the charter feels approaching.
Mathew keeps pushing for Delaney's dismissal. Lexi enjoys the extra assistance she offers, highlighting the fact that it should be Lexi who is let go rather than Delaney Evans.
Episode 12 - Don't Go Chasing Waterfalls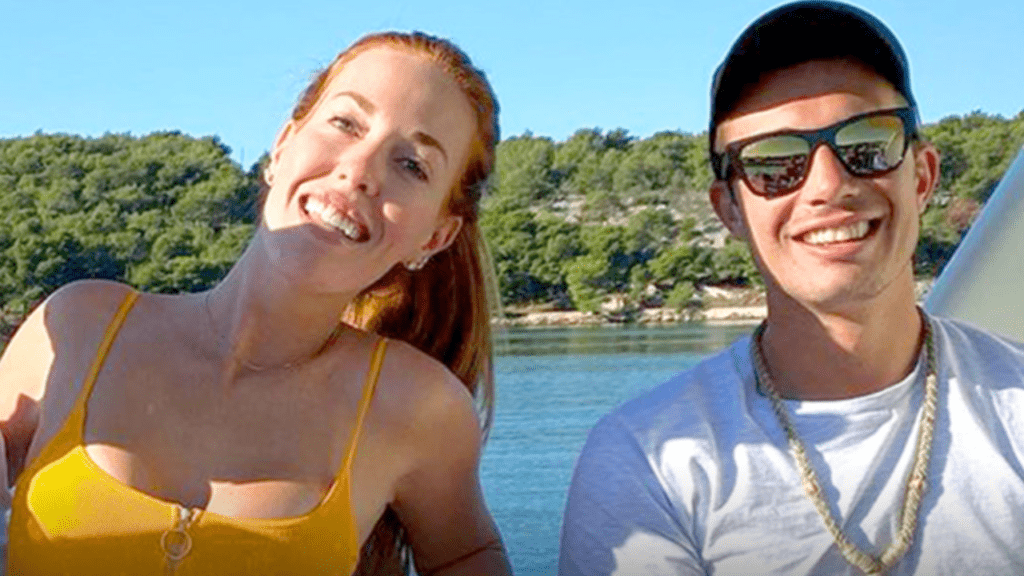 The group relaxes in a Croatian national park during a day off. David and Delaney become closer, and Mzi confesses his emotions for Courtney. Still, one of the burgeoning relationships is in danger due to a terrible injury. In the meantime, rekindled animosities between Lexi and Chef Mathew result in an explosive standoff that starts to tear the tight-knit group apart.
While her mother is correct in saying that "we all make choices," Katie calls her mother as the evening comes to a close because she is on charter while her best friend is about to give birth. The experience causes Katie to have a brief existential crisis about whether working in this exotic industry is worth all the significant life events she misses.
Episode 13 - A Hard Day's Night
Lexi and Chef Mathew's altercation leaves the crew of Lady Michelle dealing with the aftermath as Captain Sandy steps in to decide who remains and who departs. After his romantic gestures are rejected, Mzi must confront Courtney. Captain Yawn notices that David can hardly walk days after his injuries. 
Because until she is micromanaging the chefs, she is not at all observant. David is being pushed into the ocean by Malia for an unknown cause. But Yawn finds his injuries all of a sudden. She is now furious with Malia for failing to report an injury.
Episode 14 - All I Need Is a Miracle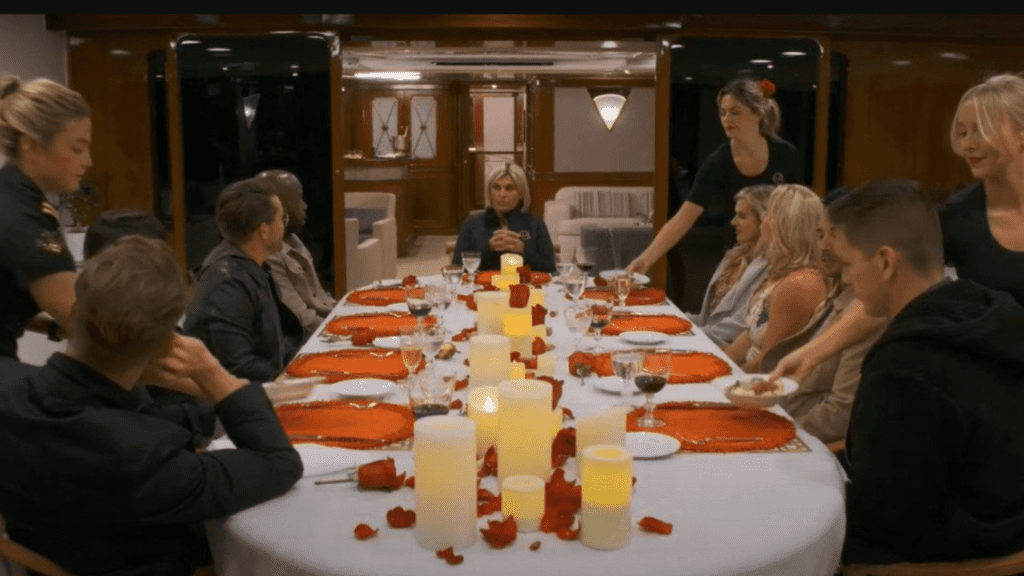 New charter passengers show up in good spirits and with even bigger expectations. As Sandy joins the dinner party, Mathew increases his strain to impress his Captain. Malia is concerned that the task for the deck crew will become too heavy when rookie errors are made when Katie willingly reduces her workload in the stew department.
As anticipated, it's early evening, but Courtney and Katie have been working nonstop for 16 hours. Zee works his first-morning shift the following day and neglects to set out toys. Captain Sandy notices this when she observes a visitor outdoors at 7:30 trying to bring out a paddleboard for herself.
Episode 15 - Three's a Crowd
David struggles with his duties on deck and Katie and Courtney celebrate finishing a charter down a stew. Malia confronts her deck crew with a startling reversal. After the group's night out later that evening, some staff members become irritated with the Chef. 
Medical emergency forces the crew to return to the boat, leaving them emotionally traumatized and dangerously shorthanded. David becomes glum at the table since everyone wants to know why the mood changes, but he cannot do so without naming Malia. As a result, he wants to get through the final charter without giving it any thought.
Episode 16 - Sleepless in Croatia
While Lloyd goes to the hospital, the crew struggles to control a bunch of demanding charter guests with only six people. Malia becomes impatient with the demands of the interior on the deck crew, and Katie suffers under the weight of her choice to limit herself to two stews.
After dinner is finished, Captain Sandy carefully controls her communication with Mat. Mat is not a person who can take any criticism without taking it personally and disintegrating things.
Episode 17 - Nothing Comes Over Easy
On a frantic final day, Mathew battles to free himself from a spiral as the group attempts to have a picnic in an old Croatian fortification. Sandy, Malia, and the deck crew encounter a perilous anchor drag. Katie struggles to complete the final charter with just two stews. 
The crew is getting ready to spend a week in Split as a group at the end of the season. Before dinner is over at 11, Katie realizes she has a long night of serving beverages ahead of her. Despite this, she chooses to smile and suffer as the guests make the most of the charter, which they paid for with their own money.
Below Deck Mediterranean Season 6 Quick Facts
an American reality TV series 
developed as the first spin-off of Below Deck
aired on Bravo TV from June 28, 2021, to October 18, 2021
executive producers are Mark Cronin, Courtland Cox, and Nadine Rajabi
under the production of 51 Minds Entertainment
consists of 17 episodes