In Below Deck Sailing Yacht Season 1, the crew's already challenging task becomes even more challenging when the sails are up because they must manage the sails in strong winds and adjust to the boat's steep lean while also resolving the passengers' needs and potential problems.
On a luxurious sailing yacht with a fresh crew and equally demanding charter customers looking to follow the wind, the first season of Below Deck is set as they sail along Corfu's pristine, blue waters. Onboard the 180-foot sailing vessel Parsifal III, chef Adam Glick of "Below Deck Mediterranean" is back in the kitchen.
Cast of Below Deck Sailing Yacht Season 1
Glenn Shephard, Captain
Byron Hissey, Chief Engineer
Paget Berry, First Officer
Adam Glick, Chef
Jenna MacGillivray, Chief Stewardess
Madison Stalker, 2nd Stewardess
Georgia Grobler, 3rd Stewardess
Ciara Duggan, Deckhand
Parker McCown, Deckhand
Christopher Miller, Deckhand
Episode 1 - Holy Ship! We're Sailing!
The crew embarks on the 180-foot-long luxury sailing yacht Parsifal III this season. With the addition of Chef Adam Glick (Below Deck Mediterranean), Jenna MacGillivray, Byron Hissey, Madison Stalker, Georgia Grobler, and Parker McCown for the charter season, the current crew of Captain Glenn Shephard, yachting couple Paget Berry and Ciara Duggan, and crew members include Paget Berry and Ciara Duggan. 
Paget and Ciara are placed in the same department for the first time. As they rush to prepare for their first charter of the season with the boat in complete disorder, tensions between the old and new crew start to simmer.
Episode 2 - My Big Fat Bleak Wedding
Chief Stew Jenna is under pressure as she is expected to organize an impromptu wedding for two inebriated guests during the season's first charter. With his new deck team, which includes Ciara, his longtime fiancée of four years, First Mate Paget is trying to maintain his composure and patience. 
Parker, a rookie deckhand, finds it difficult to fit in with the upscale yachting community. While climbing to fix a broken sail, Captain Glenn makes a dangerous maneuver. Two yachties have a heated interaction on their first night out that swiftly turns their business relationship into a personal one.
Episode 3 - Ros?-Fueled Regrets
Jenna wades through a sea of regrets following a wild, wine-fueled night out. She prepares herself for the awkward exchanges that will inevitably occur. When a party of fussy vegan visitors board Parsifal, Adam finds it difficult to meet their meat- and dairy-free diet demands. 
Chef Adam gives Georgia a bad attitude, so she turns to her developing friendship with Madison and her developing flirting with Paget for comfort. As tensions between them increase, Paget is concerned about how to be both Ciara's supervisor and her boyfriend. This makes them wonder if the charter season would finally get the best of them.
Episode 4 - Baby On Board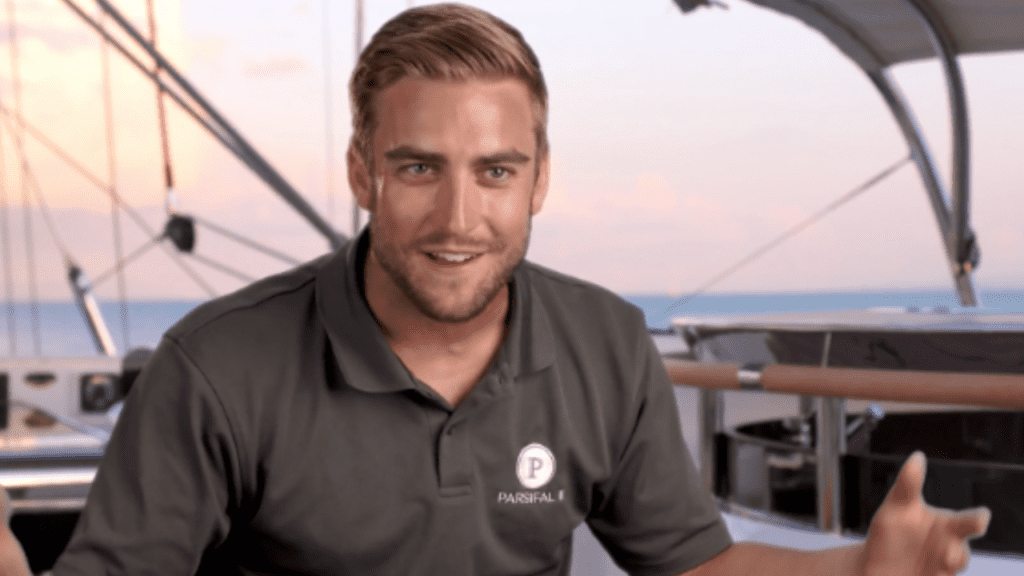 The final breakfast of the charter is served at full speed, causing stews to brace and dishes to crack. The situation worsens when the deck crew attempts to dock in rough water. Parker's immaturity starts to emerge due to the stress of being on charter. 
Paget and the group continue to get along during their night out, especially Georgia. Georgia is sent away in tears after Jenna criticizes her laundry system. Then an infant arrives as Parsifal's youngest visitor yet. The yacht is filled with baby talk as Adam and Jenna's romance develops.
Episode 5 - Shmexual Shmension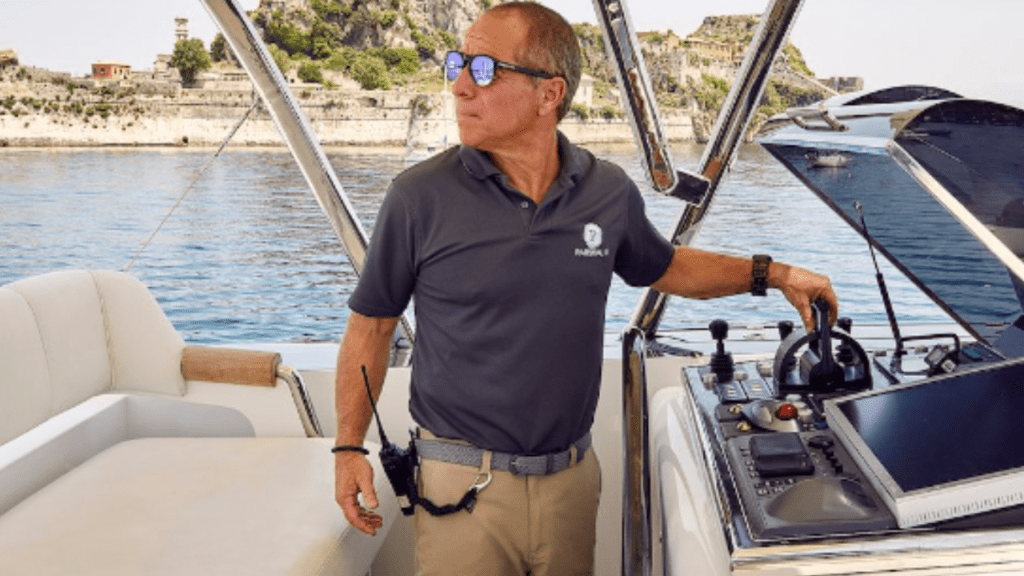 Captain Glenn slips into an unpleasant chat with a flirting adolescent as Parsifal sails into high winds with a baby on board. The escalating romance between Adam and Jenna generates tensions between Jenna and her internal crew. Jenna gives Madison short-notice instructions to set things for a beach picnic. 
Georgia adds more laundry to make Madison's life difficult. Paget tries to mediate while the guests watch Ciara and Parker argue about the chores of the deck. But when Ciara notices that the boat collides with the dock, everything comes to a head.
Episode 6 - Oof! I Did It Again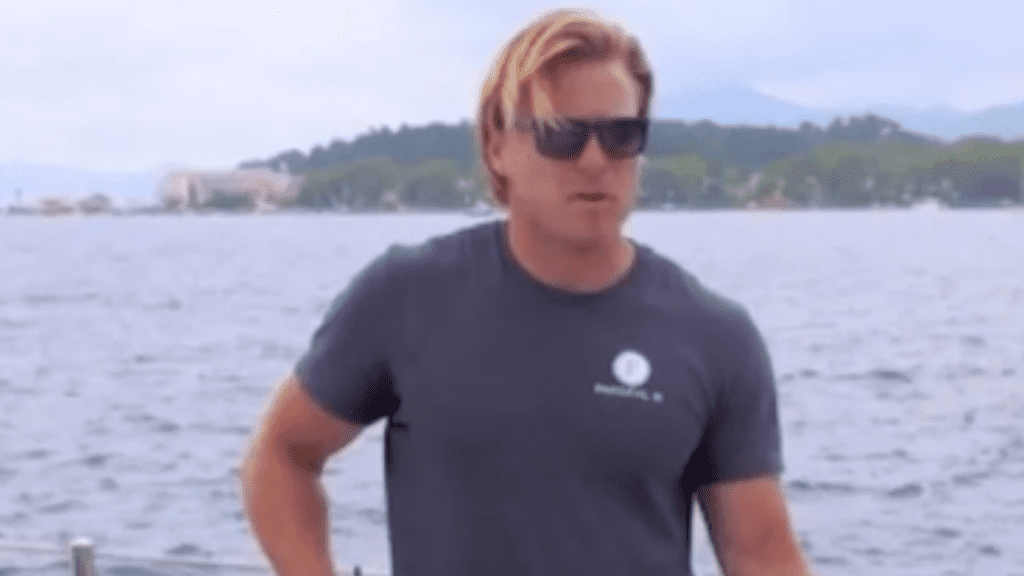 His patience wanes when Paget is left to take up the slack after Parsifal crashes into the dock. The crew fumbles to accommodate a new charter of males from Long Island as they set off in full champagne-sabering, chest-bumping splendor. Cooking for the brothers causes Adam to go into beast mode, but Jenna, who wants more from their relationship, makes him feel at ease. 
The guests wander through beach bars looking for girls but dive into the booze. Madison must decide how to manage a problematic charter guest. Additionally, Parker and Madison organize an unruly yacht party.
Episode 7 - Oooof There It Is!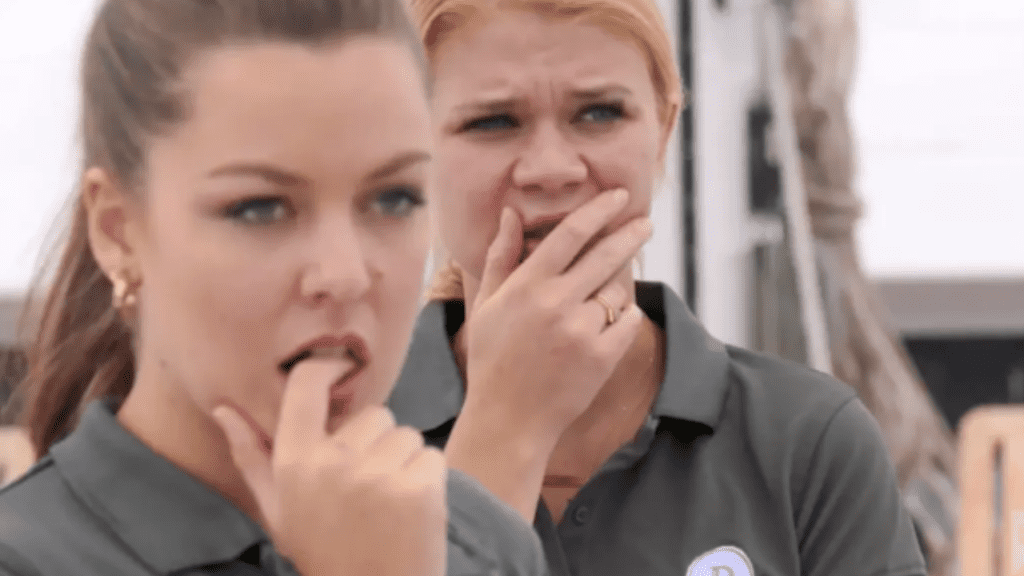 Captain Glenn takes his own and imposes restrictions on this testosterone-fueled charter after observing the guests throw an out-of-control party. While attempting to handle Jenna's expectations, Madison and Georgia are on different pages. 
When Adam criticizes Parker's cabin behavior, Parker loses it. When Paget and Georgia swim together, Ciara observes them in an inappropriate setting. Adam and Jenna get into a heated argument on the dock because they can't agree on the pace of their relationship.
Episode 8 - No Bra, No Shoes, Bad Service
The rest of the crew is put off by Adam and Jenna's dramatic battle on the flybridges since they can't agree on where their relationship stands. Parker resents Ciara's bossiness despite her attempts to manage him. When the two start fighting, Captain Glenn notices and calls a meeting of the deck crew.
 Despite feeling overworked, Madison finds time to grow more in love with Parker. After their first altercation, Adam and Jenna are in a precarious position. Madison and Ciara make a mess of setting up the picnic and earn Jenna's fury. 
Episode 9 - Parker's Big Adventure
Georgia steps up to surprise the visitors while Jenna and Adam pick up the pieces of Madison and Ciara's disastrous beach picnic. Jenna learns the cause of Madison's constant exhaustion. Parker tries to impress the visitors by carrying out an assignment. At the same time, Ciara stands aside to allow him to make his own mistakes. Jenna consults Glenn on the best course of action after reaching her breaking point with Madison.
Episode 10 - Big Deck Energy
Jenna and Captain Glenn have a challenging conversation with Madison. On their day off, the team gets along, and Georgia, Ciara, and Paget become a little too close after a proposal. Kaiti and Parker get back in touch, and Kaiti is invited to travel to Corfu. 
Adam and Jenna's "shmexual shmension" finally materializes after a lovely day spent together. The high doesn't last long, though, as Adam's resentment flares up when Jenna and Georgia find out they have something in common.
Episode 11 - May the Breast Man Win
Jenna urges Georgia to act as a stop-gap after Adam exhibits jealous rage. Madison works assiduously to regain Jenna's trust while keeping her head down. Guests at the Playboy have some fun with seashells while posing for pictures on the sand. 
Between Paget and Ciara, tensions are still very high. And Parker runs into trouble with a setup for a beach picnic, which puts him into a terrible downhill spiral. Although Captain Glenn steps in, it might be too late.
Episode 12 - New Chris On the Block
Glenn makes adjustments on board the Parsifal that drive the deck team crazy. Georgia and Madison become closer, and Madison lashes out at Adam for having Jenna over in the master guest cabin. 
Jenna alerts Madison to who is in charge when she gets wind of it. Jenna's confidence is challenged by a group of social media influencer guests. A disagreement also arises at dinner, putting a relationship in jeopardy.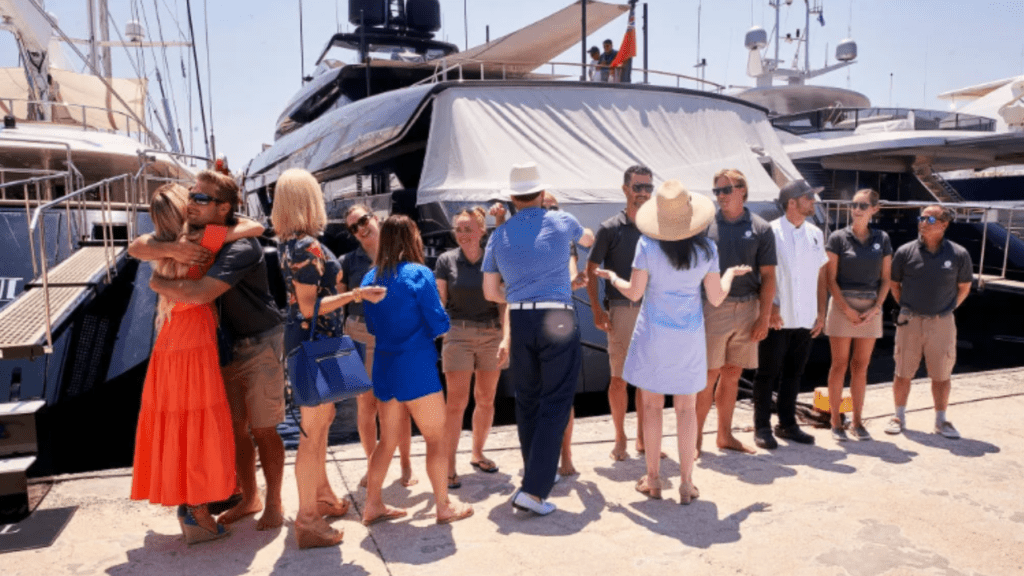 Jenna's resentment grows as the charter guests continue to flirt with Adam brazenly. Paget and Ciara can't seem to agree on anything, yet Paget and Georgia get along like old friends. Adam surprises Jenna with a grand romantic gesture that backfires. 
An unexpected marriage proposal puts a relationship to the test. Everyone is leaving for a meal on the pier. Jenna, Adam, Ciara, and Paget are served dinner at one table. And the others go across the street to the same restaurant for their dinner.
The crew becomes tense, and the boat tips over because crows are killed in the mast. The bond between Madison and Georgia is on the verge of breaking. Adam maintains his distance from Jenna while Paget and Christopher Miller start a British bromance. 
Georgia makes an effort to forget about Paget, but it is ineffective. When a group of delightfully uplifting charter guests board to honor the life of a close friend, everyone's problems are put into perspective.
Episode 15 - You Snooze, You Lose
Adam and Jenna make an effort to repair their tense relationship. Madison and Ciara pick up the slack in work when Jenna joins Adam for a nap during her break, and Glenn notices. Paget hurts himself after Chris is harmed lifting a large water toy. 
Ciara is left to bear more weight as the deck team hobbles toward the finish line. Captain Glenn summons Jenna for a meeting that could have long-term repercussions after observing the delay in service on this charter.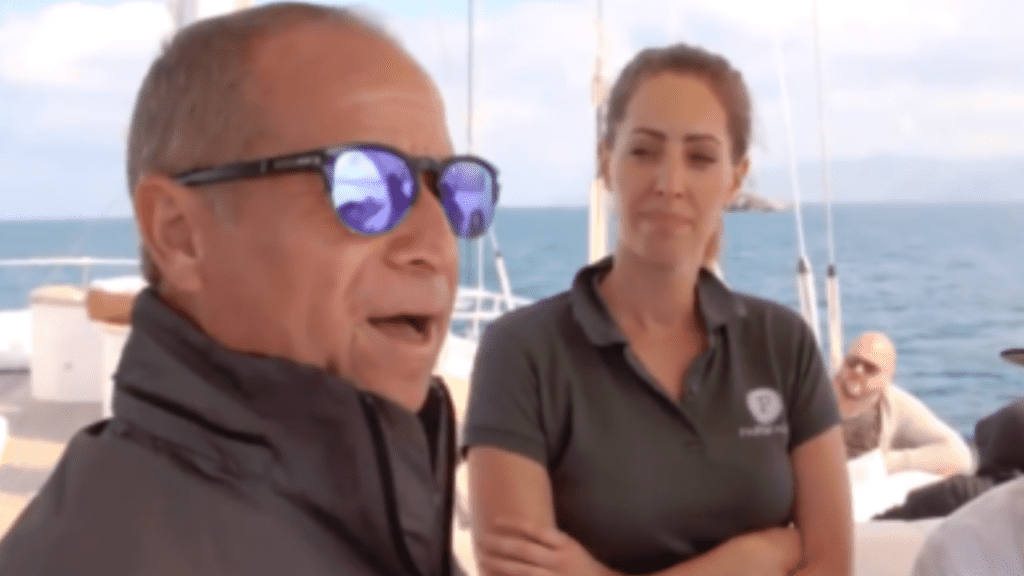 Captain Glenn questions Jenna about her friendship with Adam. One of the crew members receives terrible news from a doctor who visits them. Captain Glenn is astonished that someone might have taken illegal substances onboard the boat as drama is roiling throughout all departments. 
The charter season is in danger of ending early due to a difficult choice and an upcoming drug search.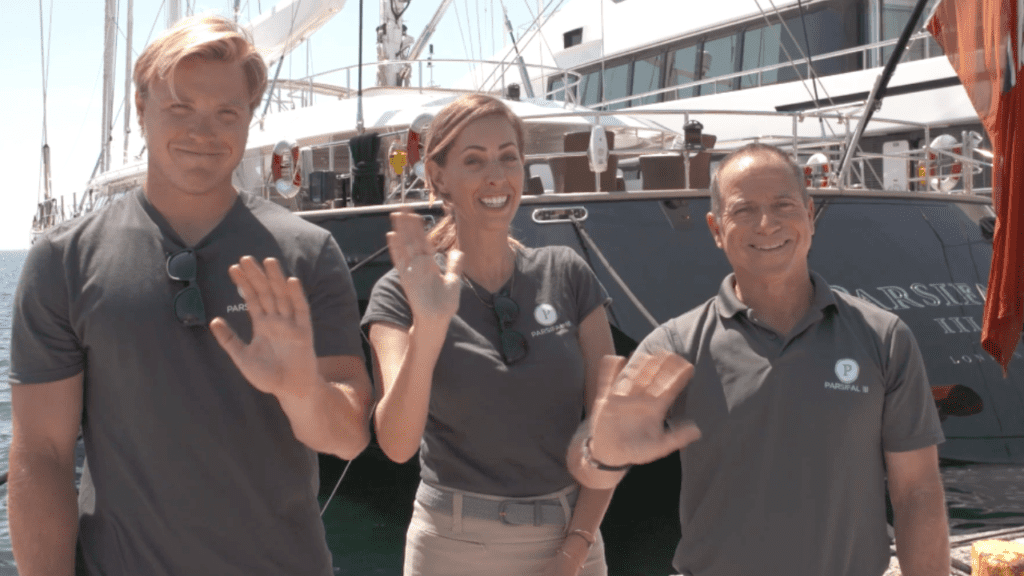 In the season finale, a tense drug search on Parsifal III casts a shadow on the crew's last charter and causes them to become anxious. The team works frantically to organize a sailing competition, but they are still unsure of receiving a tip. A heated argument breaks out as the interior department's simmering tensions reach a breaking point. 
Georgia needs to express some emotions, even if doing so could permanently change some relationships. Captain Glenn sends the crew on one last mission. Time to celebrate Ciara's birthday and reminisce about the season. The crew says some final and emotional goodbyes.
Below Deck Sailing Yacht Season 1 Quick Facts
an American reality TV series 
developed as the first spin-off of Below Deck
aired on Bravo TV from February 3, 2020, to May 25, 2020
executive producers are Mark Cronin, Jill M. Christian Sarabia, Goslicky, and Dan Volpe
under the production of 51 Minds Entertainment
consists of 17 episodes