Many people still check the best fashionable looks during the Venice Film Festival. Even though we have already talked about our favorites, Ana de Armas's look for the prestigious annual awards shows still caught our attention.
We're also looking for more photos of the stars that top-billed "Blonde" premiered at this year's Venice Film Festival. Let's find out what Ana de Armas and Brad Pitt donned during the event.
The above-stated stylish red carpet stunner is a Cuban and Spanish actress. According to Wikipedia, she became popular with her role as a holographic AI projection in the science fiction film Blade Runner 2049 in 2017.
If you're an avid fan of Ana, you've probably come across her opportunity to shine at the 79th Venice Film Festival. She attended the star-studded activity while channeling Manilyn Monroe and promoting her movie, "Blonde," with Brad Pitt.
Ana de Armas's outfit is extraordinary. The 34-year-old actress wore a stylish pink pleated dress from Louis Vuitton, a plunging neckline that exposed some of her skin, and a shining silver choker necklace and matching bracelet that completed the look.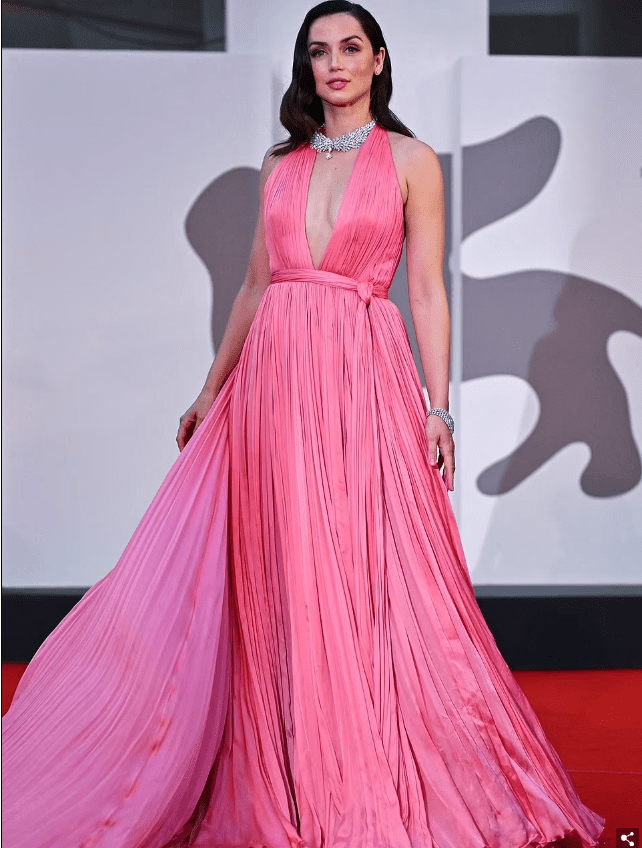 As such, numerous onlookers were stunned by her incredible fashion display. Since she opted for a quaint outfit, her well-styled tresses in attractive curls are perfect for her overall look.
To match Ana's retro number, she opted for classy makeup. She looked gorgeous in pink blush and matte lip stain. Daily Mail reported that Samantha McMillen styled Ana de Armas. The custom floor-length pink dress by Louis Vuitton seems to give her a Hollywood glamorous vibe.
As one of the producers of the film, Brad Pitt also attended the red carpet activity since the film was recently shown for the first time.
Brad's black suit, white shirt, and dickie bow tie highlighted her already handsome looks. The 58-year-old actor donned a couple of white and velvety three-striped trainers.
Then, he dazzled in an on-trend hairstyle, sunglasses, and an attractive aura on the red carpet. As they promoted the drama, Brad even applauded Ana de Armas.
Since there was an issue with Ana's casting as the main lead of the film, many people supported her. The casting was upheld by Brad Pitt, too, as he's one of the six credited producers of the movie.
The aforementioned motion picture is a 2022 American historical, psychological drama film. Andrew Dominik wrote and helmed the recently premiered movie.
The same-named novel by Joyce Carol Oates, which was published in 2000, was also adapted from it, according to IMDb. In this dramatized depiction of Marilyn Monroe's life, Ana de Armas plays the lead role.
Ana has chosen the perfect outfit for the event. Through her glamorous look, many onlookers were inspired to learn more about the movie "Blonde." Did you like Ana de Armas's look for the "Blonde" premiere?