Adidja Azim Palmer, or famously known as Vybz Kartel, is a well-known dancehall reggae musician who was born in Jamaica and is best recognized for his release of several hugely popular reggae tracks. "Clarks Again," "War Organizer," "Romping Shop," "Guns Like Mine," "Poor People Land," "Most High," "Tell You Say," "Summertime," and "Dancehall Hero" are just a few of his singles.
In addition to his previous careers as a composer, record producer, and businessman, he is also known for being a convicted murderer. He is currently serving a life sentence in jail for the killing of Clive "Lizzard" Williams.
Vybz Kartel is a famous dancehall reggae musician who was born on January 7, 1976, in Kingston, Jamaica. Norris Palmer and Teresa Palmer are Vybz's parents. Maureen Palmer-Nelson is his sister. (1)
The Victoria Jubilee Hospital in Kingston delivered six children, including him. The musician grew up in the Waterford neighborhood of Portmore, Jamaica, but was reared by his mother and stepfather in Waterhouse, Kingston.
In Kingston, Vybz Kartel attended St. Patrick's School and Calabar High School before receiving expulsion as a teen. As he was anxious to complete his education, Vybz completed his coursework at a tutoring technical school. (2)
The general public was not given access to additional information regarding Vybz's ability to obtain a college degree or the precise university he attended. As soon as we discover more, we'll update this page.
Vybz Kartel's Wife/Girlfriend and Family Life
Vybz Kartel is currently engaged to his Turkish fiancée, Sidem Öztürk. (3) Vybz was previously married to Stacy-Ann Alicia Elliott, a supervisor at a New York bank, in a discreet wedding that took place at Cross Roads, Kingston, in 2006.
However, the pair separated in 2008 after two years of marriage due to claims that Stacy gave birth to a son who another man fathered. He also had a longtime relationship with then-girlfriend Tanesha 'Shorty' Johnson. (4)
It was not known when the two parted ways, but they had three children together. On April 18, 2003, Vybz—then barely 27 years old—had his first child.
The reggae singer's previous relationships resulted in the birth of six additional kids. On May 17, 2020, news broke that Vybz's son was expecting a child, making him a first-time grandfather.
As a tribute to one of his musical role models, Buju Banton, Vybz Kartel released his debut track, "Love Fat Woman," for Alvin Reid's label "One Heart" in 1993 under the moniker Adi Banton.
Together with his friends Mr. Lee and singer Escobar, he started his own band in 1996 called "Vibes Cartel," but it was short-lived. Nevertheless, he made the decision to go by Vybz Kartel and become a solo artist.
After appearing in his hometown's stage production of "Champions in Action" in 1998, Bounty Killer, a well-known dancehall singer of "The Alliance," discovered him. He subsequently started penning songs for him, Elephant Man, and other Scare Dem Crew members. Along with "Gal Clown," he also had the opportunity to work with Killer on "Girls Like Mine (Liquid Riddim)."
Vybz began to record solo singles in 2002 and put out a number of top-selling solo tracks, including "Most High," "Guns Like Mine," and "Badman." He also recorded some big tunes with reggae singer Wayne Marshall, including "Why (Krazy Riddim)" and "New Millennium (Mad Antz Riddim)."
In terms of the quantity of singles sold in the reggae charts by 2003, Vybz had slipped to second place behind fellow Alliance member Elephant Man. His debut album "Up 2 Di Time" was published the same year, and he afterward gained attention throughout the world when he and Ninjaman were going to fight on stage at the Sting dancehall event.
In 2004, he released the album "More Up 2 Di Time," then in 2005, he released the album "J.M.T."  Furthermore, "Clarks," released in 2010, became a huge smash on the global music scene, encouraging him to record "Clarks 2 (Clarks Again)" and "Clarks 3 (Wear Weh Yuh Have)," both of which were successful.
The singles "Ramping Shop" and "Life Sweet" from Vybz's subsequent album, "Pon Di Gaza 2.0," were commercially successful. The next year, he published "Kingston Story" in collaboration with Brooklyn producer Dre Skull, whose songs went on to become top singles. (5)
In 2008, Vybz Kartel introduced two lines of business: "Street Vybz Rum" and "Daggering Condoms." In addition, he collaborated with colleague Michael Dawson to write "The Voice of the Jamaican Ghetto: Incarcerated but not Silenced," which was published in 2012 while he was imprisoned. (6)
Vybz Kartel's Controversies and Scandals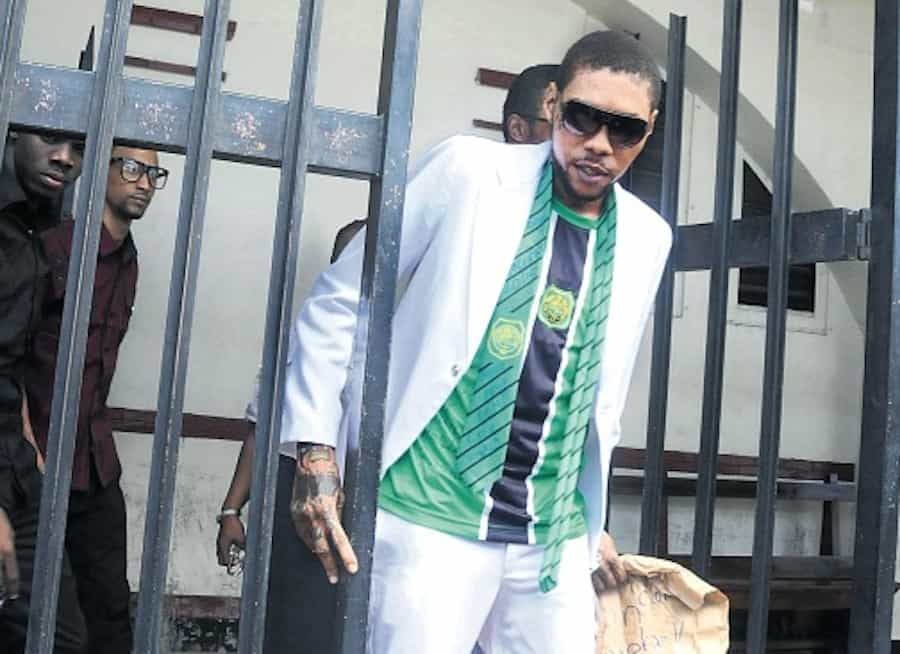 In 2005, Vybz Kartel's and Bounty Killer's friendship fell out over him attending Killer's competitor Beenie Man's wedding. Following that, he made the decision to leave Killer and join Beanie Man in 2006. Soon after, he released a number of disc tracks that were critical of Killer's new working partner Mavado. (7)
Diss Tracks Against Mavado
Young dancehall fans split into Gaza and Gully after Vybz Kartel made the decision to disrespect Bounty Killer's collaborator Mavado throughout the course of the following several years. Gaza supported Kartel, while Gully supported Mavado.
Vybz then made a call for peace to end their hate in his 2009 song "Live We Living." That same year, Jamaican Prime Minister Bruce Golding also made an effort to resolve their feud, extending invitations to both musicians to a 2009 peace summit. Both of them were to play in Barbados, but the island's cultural minister forced the cancellation of the event. (8)
Multiple Arrests For Crimes Such As Murder
Vybz Kartel was detained numerous times over his life, including once in 2011 for possessing marijuana. He was subsequently arrested for the murder of Jamaican businessman and music promoter Barrington Burton but was released on bail in 2013.
Vybz, however, remained behind bars in 2011 after being accused of killing Clive "Lizzard" Williams. After what is believed to have been Jamaica's longest trial ever—65 days—he was found guilty and given a life term in prison in 2014. He will be qualified for parole following a 35-year sentence. (9)
Vybz Kartel Biography, retrieved from https://web.archive.org/web/20110701094610/http://www.rrrmusic.com/artists/vybz-kartel-biography/
Island Yute, Biography: Vybz Kartel aka Adijah Palmer, retrieved from https://urbanislandz.com/2010/08/28/biography-vybz-kartel-aka-adijah-palmer/
Anna C., Jamaica – Vybz Kartel Gets Engaged In Prison, retrieved from https://www.nycaribnews.com/articles/jamaica-vybz-kartel-gets-engaged-in-prison/
Vybz Kartel Biography, retrieved from https://www.thefamouspeople.com/profiles/vybz-kartel-6170.php
Vybz Kartel Biography, retrieved from https://www.thefamouspeople.com/profiles/vybz-kartel-6170.php

Vybz Kartel Biography, retrieved from https://www.thefamouspeople.com/profiles/vybz-kartel-6170.php

Vybz Kartel Biography, retrieved from https://www.thefamouspeople.com/profiles/vybz-kartel-6170.php
Vybz Kartel Biography, retrieved from https://www.thefamouspeople.com/profiles/vybz-kartel-6170.php
Vybz Kartel Biography, retrieved from https://www.thefamouspeople.com/profiles/vybz-kartel-6170.php