Season 6 of "Top Chef: Las Vegas" features some of the biggest names in food entertainment and media.
Cookbook author and host Padma Lakshmi,  owner/chef of Craft Restaurants, chief judge Tom Colicchio, and judges Toby Young, best-selling author, and food critic and Gail Simmons of Food and Wine magazine preside over the judge's table. 
Chefs Competing in Top Chef (Top Chef Las Vegas) Season 6
Jennifer Zavala, 31, from Philadelphia, Pennsylvania
Eve Aronoff, 40, from Ann Arbor, Michigan, Runner Up
Preeti Mistry, 33, from San Francisco, California
Jesse Sandlin, 30, from Baltimore, Maryland
Hector Santiago, 41, from Atlanta, Georgia 
Mattin Noblia, 29, from San Francisco, California 
Ron Duprat, 40, from Hollywood, Florida, and Naples, Florida 
Ashley Merriman, 32, from Seattle, Washington 
Ash Fulk, 29, from New York City 
Laurine Wickett Hope, 38, from San Francisco, California 
Mike Isabella, 34, from Washington, D.C. 
Robin Leventhal, 43, from Seattle, Washington 
Eli Kirshtein, 25, from Atlanta, Georgia
Jennifer Carroll, 33, from Philadelphia, Pennsylvania Winner
Kevin Gillespie, 26, from Atlanta, Georgia – Runner-up / Fan Favorite
Bryan Voltaggio, 33, from Urbana, Maryland 
Michael Voltaggio, 30, from Pasadena, California – Winner
Judges of Top Chef (Top Las Vegas) Season 6
Tom Colicchio (Head Judge)
Padma Lakshmi (Host/Judge)
Gail Simmons (Judge)
Toby Young (Judge)
Episode 1 - Sin City Vice
The chefs choose their teams according to the colors green, black, green, red, or blue by drawing poker chips; whoever drew the lone gold chip will be excluded from the Quickfire and will be granted immunity in the Elimination Challenge. The first team won the challenge to complete all four assignments.
When the 17 new chef-contestants collaborate to create a meal based on their signature vices for their first task, they are in for a pleasant surprise. Chef Wolfgang Puck, a household name, is the special guest judge.
Episode 2 - Bachelor/Ette Party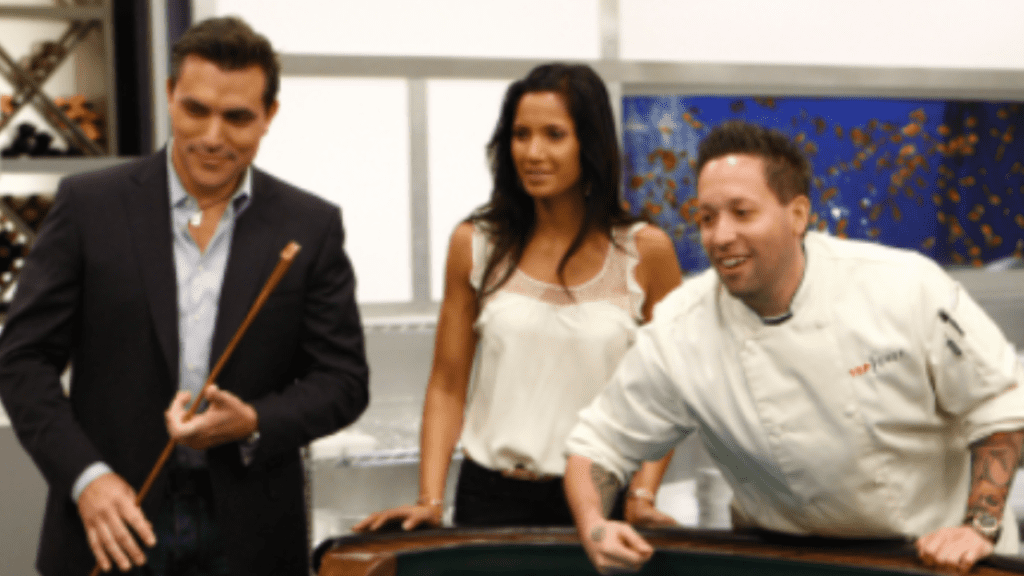 By serving a poolside bachelor and bachelorette party, the chef contestants will have to quickly acclimate to a city known for its hasty weddings. The group was divided according to gender for a battle of the sexes to cater for a bachelor/bachelorette party. While the women cooked for the potential groom, the men prepared meals for the bride-to-be. 
Two different dishes should be prepared for each of the three cocktails the couple had selected for guests. The specific judge is well-known chef Todd English. Todd English, a famous chef, acts as the particular judge.
Each chef used a variety of different potatoes to produce an "out of this world" dish. The victor was exempt from being eliminated.
Three hundred airmen at Nellis Air Force Base will be provided a meal despite the chefs being given a short time to prepare with little resources. The competitors first worked as a single team but divided into smaller groups of two and prepared one dish. Judge Mark Peel is a guest.
Episode 4 - Vivre Las Vegas
Each chef developed a dish incorporating escargot to tribute the ongoing popularity of French cuisine in the United States. The victor of the Elimination Challenge won immunity from further competition and an undisclosed prize, while the loser was eliminated. Those who prepared the worst three meals were each given a second chance to redeem themselves by preparing an amuse-bouche for 20 minutes.
A knife with either a classic French sauce or a protein on it was drawn by each chef. The chefs then created a six-course meal for a group of renowned French chefs, including Laurent Tourondel, Hubert Keller, Daniel Boulud, Jean Joho, and Jol Robuchon, by pairing each protein with its customary sauce. The Quickfire winner was excused from the test.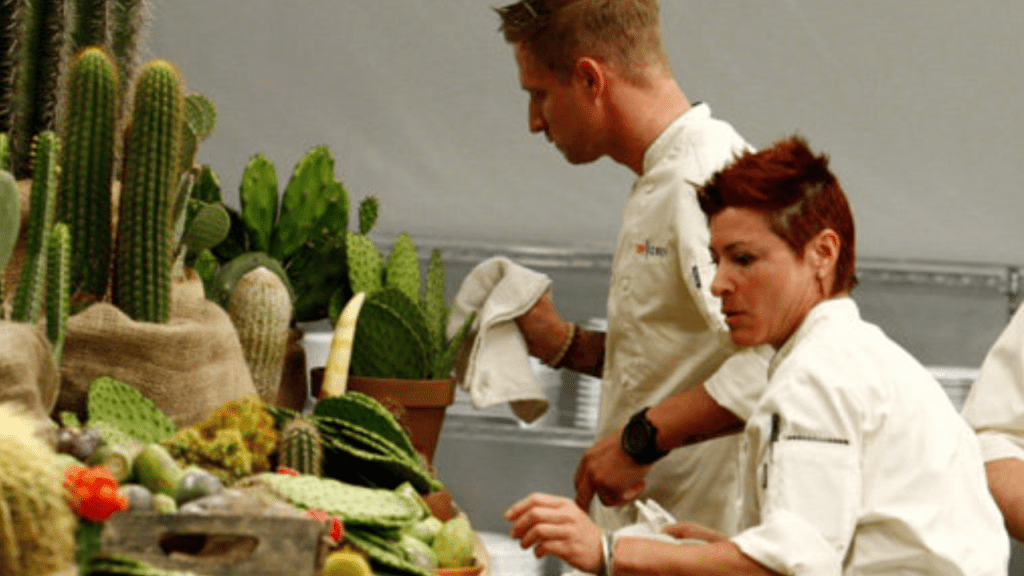 To complete the Quickfire Challenge, the chef contestants must create a dish using cactus as the primary ingredient. Cactus defeated rattlesnake and kangaroo in an online poll conducted by Bravotv.com users.
The remaining competitors must prepare a fancy lunch for a bunch of cowboys for the Elimination task, but they must do it in excruciatingly hot and bare surroundings. They camp out in teepees and use outhouses at Sandy Valley Ranch before the challenge begins. Tim Love, a chef from Texas and contestant on "Top Chef Masters," is a guest judge.
Episode 6 - Penn & Teller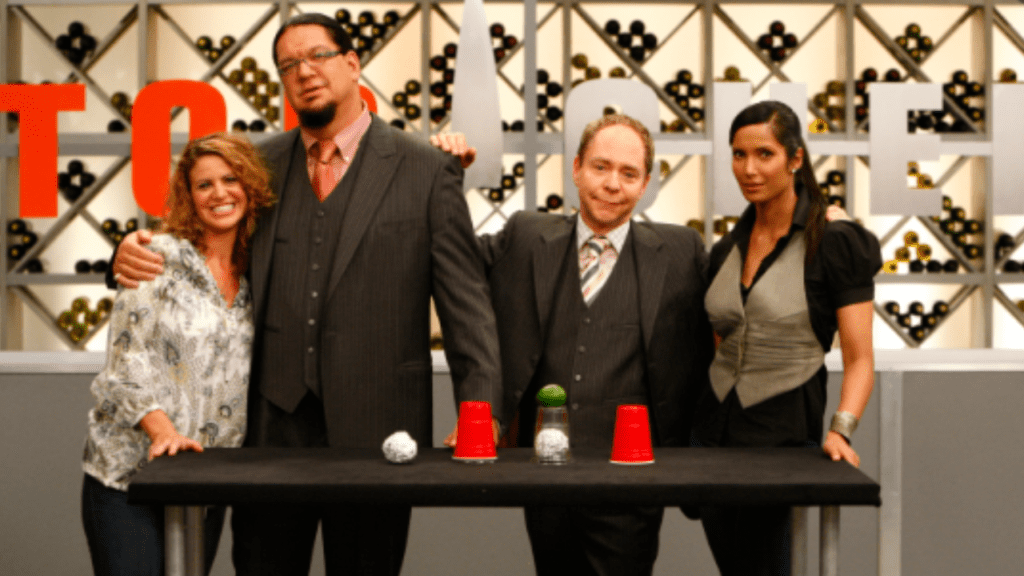 In the Elimination Challenge, The winner receives immunity. The elimination challenge requires the chefs to create two dishes that are motivated by "the angel and the devil on their shoulder."
The chefs were required to create deconstructed versions of famous meals in honor of the professional magicians Penn & Teller, who were brought to the table for the Elimination Challenge. Judge Michelle Bernstein is a guest.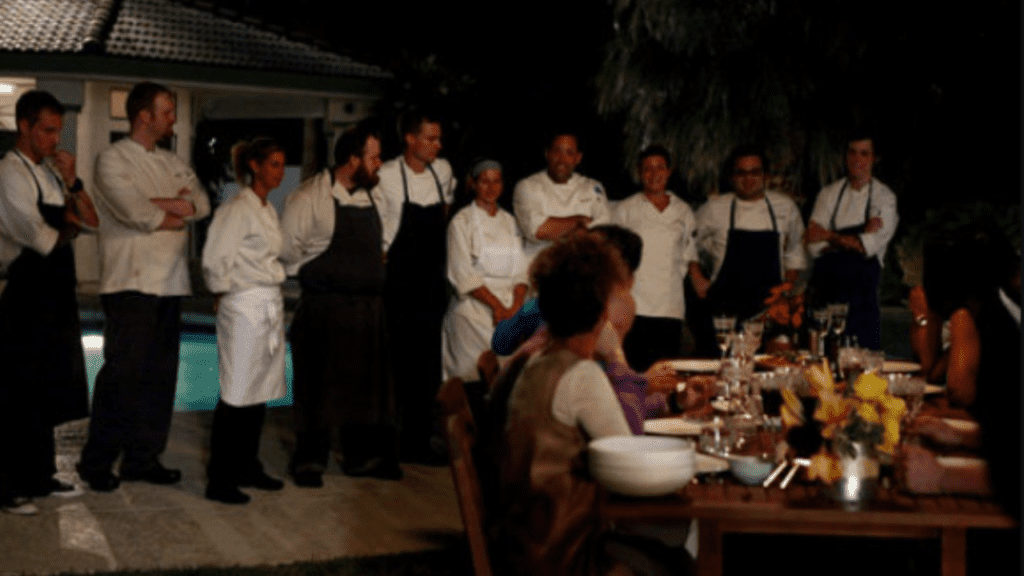 The chefs employed a slot machine to choose each meal's themes (mood, taste/texture, and cuisine origin). The choice for the winner was between immunity and $15,000 or neither. The chefs were able to get market bags from guests. Blind knife draw was used in choosing their partners.
The contestants prepared and served dinner for the guests at the "Top Chef" mansion while working in two-person teams. Macy's awarded the winner a $10,000 gift card, and Florence, a well-known host, and the chef, served as the guest judge.
Episode 8 - Pigs and Pinot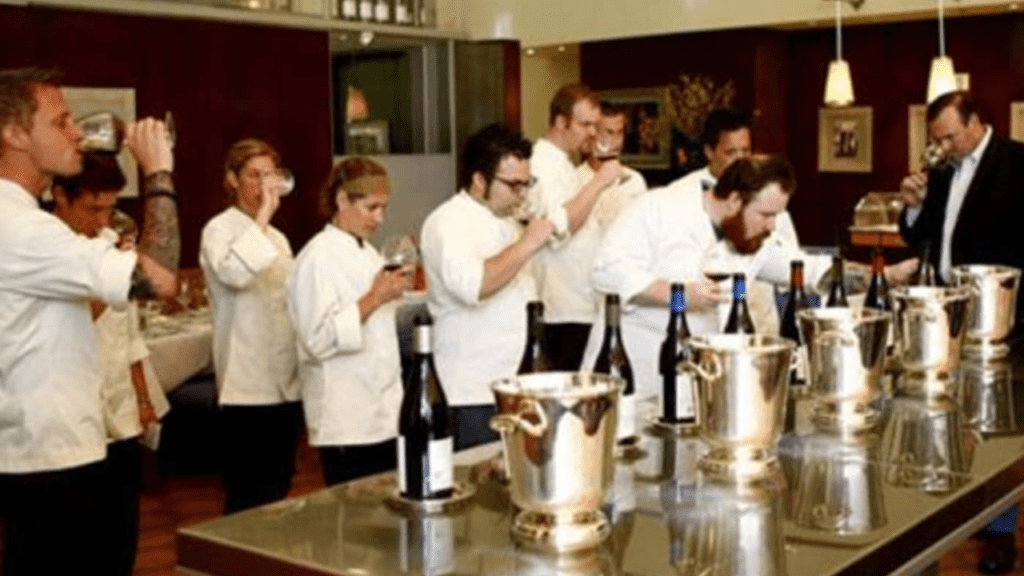 A specific type and brand of crunchy snack snacks inspired the chefs' creations. The Quickfire champions were no longer exempt from elimination after this point. In Mandalay Bay Resort, the Pigs and Pinot event was held. The chef contestants are required to collaborate with the Food and Wine magazine. 
Episode 9 - Restaurant Wars
The teams that participated in the Quickfire Challenge will also be the teams that will proceed to the Restaurant Wars. In RM Seafood, one of Moonen's kitchens and dining areas of the restaurant, each chef, prepared and served food for the challenge. 
The Quickfire team that won the challenge had the option to choose their area; the Blue Team preferred the upstairs restaurant but later on decided to wager their Quickfire Challenge result. Rick Moonen is the guest judge for this traditional "Top Chef" competition.
Episode 10 - Meat Natalie
The TV Guide's editors compiled a list of TV shows that serve as inspiration for a TV Dinner quickfire challenge. The remaining contestants are tested when they go to Tom's Craft Steak restaurant in Las Vegas and prepare food for Natalie Portman and her friends, who are up for an Academy Award and a Golden Globe.
Episode 11 - Top Chef All-Stars Dinner
Fabio Viviani, a fan favorite from season five, presents an all-star gathering with a challenge as former chefs-contestants recap their favorite episodes.
Tiffani Faison and Harold Dieterle are the winners of season one who participated in the All-Stars Dinner.  Ilan Hall and Marcel Vigneron from Season two,  Casey Thompson, Dale Levitski, and Hung Huynh for season three, Lisa Fernandes and Richard Blais for season four, and season five, are Carla Hall and Stefan Richter.
Episode 12 - Strip Around the World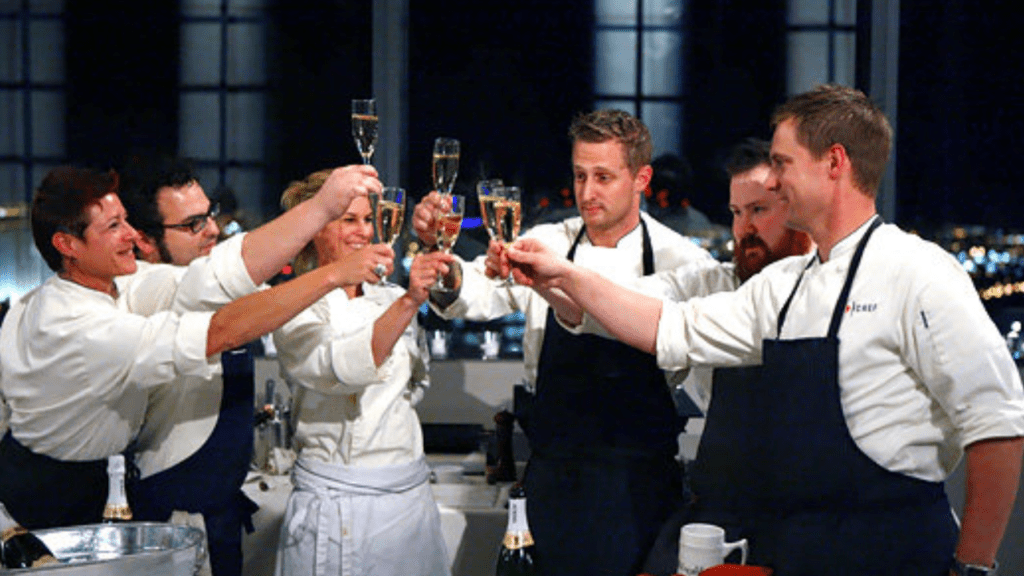 The six remaining cooks on "Top Chef: Las Vegas" must prepare the ideal breakfast-in-bed meal in hotel paradise. Guest judges include renowned culinary journalist and "How To Eat" author Nigella Lawson. 
The chefs served tiny appetizers inspired by Las Vegas casinos to 175 guests. The winner will receive a bottle of Terlato wine and a three-night trip in Napa Valley at the Terlato Family Vineyards.
Episode 13 - Goodbye to Vegas
In one of the most prestigious cooking competitions in the world, founded by renowned chef Paul Bocuse, the competition is heating up. Along with Thomas Keller as a special guest, his son Jerome Bocuse serves as a judge. 
Joining at the table are Alex Stratta,  Gavin Kaysen, Daniel Boulud, chef Traci Des Jardin, and Timothy Hollingsworth of French Laundry.
Episode 14 - Season Finale, Part1
For the season finale, the competition was held in Napa, California, where the four remaining chefs had to come up with a meal utilizing grapes. The prize was a brand-new Toyota Prius from the third generation.
One hundred fifty people attended a "crush party" to celebrate the grape harvest, and the cooks had to come up with two meals to offer them. All the items had to be local except salt and pepper. A vegetarian dish was also required. One of the guest judges include chef Michael Chiarello.
Episode 15 - Season Finale, Part 2
Each course of the finalist's four-course tasting menu had to adhere to specified specifications. A favorite childhood meal of the chefs has to serve as the inspiration for the first course. The contestants had to use every component in a mystery box for the second course. 
The chef's decision for the third course was required, and dessert had to be the final course. The season's two previously eliminated candidates whose names were drawn by the finalists would serve as their sous chefs.
Episode 16 – Watch What Happens Reunion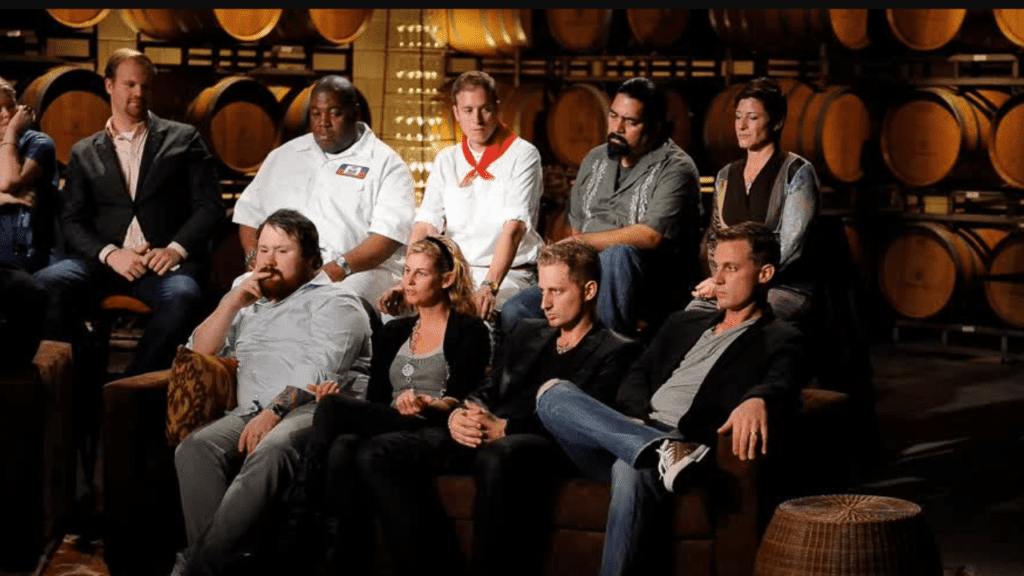 With contestants from this season, chief judge Tom Colicchio, and judges Toby Young and Gail Simmons, the drama becomes intense. The chef contestants respond to queries from the audience and discuss what was good, bad, and overcooked about season 6.
Top Chef Season 6 (Top Chef Las Vegas) Quick Facts
an American reality competition television series 
aired on Bravo TV from August 19, 2009, to December 9, 2009
with the following spin-offs: Top Chef Junior, Top Chef Masters, Top Chef: Just Desserts, Top Chef Amateurs, Life After Top Chef, Top Chef Duels, Top Chef Family Style, and Top Chef VIP
produced by Magical Elves Productions
hosted by Padma Lakshmi           
judges are Tom Colicchio, Ted Allen, and Gail Simmons
consists of 16 episodes (including the reunion)