When it comes to action movies, a list can never be completed without the dashing and dapper agent 007. After twenty-seven films and eight actors who played the iconic James Bond character, it is only befitting to rank all the James Bond movies. Read along and find out which one is the best.
#27: Casino Royale (1967)
Director: John Huston, Ken Hughes, Robert Parrish, Joe McGrath, Val Guest
Box Office: $41.7 million
Starring: Peter Sellers, Ursula Andress, David Niven, Woody Allen, Joanna Pettet, Orson Welles, Daliah Lavi, Deborah Kerr, William Holden, Charles Boyer, Jean-Paul Belmondo, George Raft
Synopsis:
In an attempt to take down SMERSH and bring down LeChiffre at the baccarat tables, four foreign agents press Sir James Bond into duty just as he is enjoying his retirement. Agent Mimi is attracted to Bond and immediately falls in love with him. The late Mata Hari's daughter Mata Bond, who is Bond's illegitimate child, will lend a hand. 
Despite the help of his gorgeous assistant, Moneypenny, the current agent going under the identity of Bond, Cooper, has a lot on his plate. Jimmy Bond, the nephew of agent 007, is allegedly unqualified. Bond recruits Evelyn Tremble to meet LeChiffre at the casino tables in Casino Royale to improve his reputation. Tremble is persuaded to pose as Agent 007 by Vesper Lynd, the most affluent agent in the world.
#26: The Man with the Golden Gun (1974)
Director: Guy Hamilton
Box Office:  $97.6 million
Starring: Roger Moore, Christopher Lee, Britt Ekland
Synopsis:
Francisco Scaramanga is a hitman who goes by the moniker "the man with the golden gun" due to the gold bullets and golden gun he uses on his victims. Scaramanga allegedly sends Bond a note stating that Bond is his next target.
M decides to relieve Bond of his responsibilities until the threat has been eliminated. However, Bond proceeds to search for Scaramanga since he believes the job he is on is urgent. He thinks he has located Scaramanga, but after having a clear shot at him and missing, which he chooses not to do, he learns that Scaramanga is not after him. However, the individual he was initially looking for was the one who was slain.
#25: Live and Let Die (1973)
Director: Guy Hamilton
Box Office:  $161.8 million
Starring: Roger Moore, Yaphet Kotto, Jane Seymour
Synopsis:
Three MI6 operatives sent to New Orleans, New York City, and the Caribbean in less than 24 hours perished while looking into the evil dealings of one Dr. Kananga, the leader of the little Caribbean island of San Monique. James Bond, the fearless Agent 007, teams up with C.I.A. agent Felix Leiter under those urgent circumstances to track Kananga to Harlem to solve the mystery of the connected killings. And there, Bond is drawn into a dangerous underworld of stealthy foes and bizarre Voodoo rituals by a deadly confrontation with influential crime leader Mr. Big and his talented psychic Solitaire. James is currently playing against all odds. 
#24: The World Is Not Enough (1999)
Director: Michael Apted
Box Office: $361.8 million
Starring: Pierce Brosnan, Robert Carlyle, Sophie Marceau, Denise Richards, Robbie Coltrane, Judi Dench
Synopsis:
Following the death of British oil magnate Sir Robert King in an explosion at MI6 Headquarters, Elektra, Sir Robert King's daughter, inherits his inheritance, which includes oil reserves worth billions of dollars in the Caspian Sea and James Bond as a bodyguard. Her sudden wealth generates international interest. But her father's killer has also become interested in her. Renard is his name. He can no longer feel physical pain due to a bullet in his head, and his only motivation to survive is to exact retribution. Only one man can handle the pressure of a gorgeous heiress, a vicious sociopath, and his ultimate evil scheme.
#23: Die Another Day (2002)
Director: Lee Tamahori
Box Office: $431.9 million
Starring: Pierce Brosnan, Halle Berry, Toby Stephens, Rosamund Pike, Rick Yune, John Cleese, Judi Dench
Synopsis:
James Bond is tasked with seeing Colonel Moon of the North Korean Army as part of his probe into North Korean terrorist Zao. However, the mission is compromised, leading to Bond's detention and brutal North Korean torture before he is freed in a prisoner swap. James is given the boot by MI6 when they successfully treat him, but this is because they accuse him of leaking information that caused other agents to pass away while being held.
James, determined to redeem himself and exact revenge on Zao, manages to escape and obtain information from a known Chinese intelligence officer about Zao. This information takes James to Cuba, where he meets a mysterious diver named Jinx Johnson. From there, he meets the enigmatic British billionaire Gustav Graves, who has developed a spaceborne mirror that can beam solar light and heat anywhere in the world for peaceful purposes.
However, James discovers enigmatic D.N.A. conversion technology and the solar mirror's true nature as a laser cannon that can virtually annihilate anything in its path on Earth. Now that Graves' laser cannon has been fired at Earth and is starting to sever a massive line of destruction, James must rescue Jinx and discover the truth. This will result in a deadly confrontation.
#22: A View to Kill (1985)
Director: John Glen
Box Office: $152.4 million
Starring: Roger Moore, Tanya Roberts, Grace Jones, Patrick Macnee, Christopher Walken
Synopsis:
A revolutionary computer chip that is immune to the magnetic pulse of a nuclear explosion is brought back by James Bond from the U.S.S.R. The company producing the device, Zorin Industries, is run by the sociopath Max Zorin, who plans to dominate the global chip market by using explosives to trigger an earthquake along the San Andreas fault that will destroy Silicon Valley and all of its millions of residents and workers.
Along with Zorin, Bond deals with the equally evil May Day and Scarpine, another of Zorin's goons. Bond pursues the computer tycoon with the help of Stacy, a San Francisco government worker. The chase includes:
A fire at the city hall.

A frantic chase through the streets with Stacy at the wheel of a fire truck.

A hand-to-hand battle on top of the Golden Gate Bridge.
Director: Lewis Gilbert
Box Office: $210.3 million
Starring: Roger Moore, Lois Chiles, Michael Lonsdale, Richard Kiel, Corinne Cléry, Geoffrey Keen
Synopsis:
The Drax Industries-built Moonraker space shuttle is now en route to the United Kingdom. The crew of the 747 transporting it is slain when it is hijacked while in the air. Hugo Drax and Bond launch the investigation as soon as Bond is called into action. While inside the Drax laboratory, Bond meets the intelligent and beautiful Dr. Holly Goodhead, an astronaut for the N.A.S.A. and a C.I.A. agent looking into Drax on behalf of the United States Government. When one of Drax's goons, the evil Chan, fails to kill 007 at the lab, he follows Bond to Venice and tries again there. Bond and Goodhead pursue Drax's lead to Brazil, where they once more come across the seven-foot Goliath Jaws, a towering behemoth with sharp metal teeth.
Director: John Glen
Box Office:  $187.5 million
Starring: Roger Moore, Maud Adams, Louis Jourdan, Kristina Wayborn, Kabir Bedi, Steven Berkoff
Synopsis:
James Bond is asked to look into the death of Agent 009 after he is discovered at the British Embassy in East Berlin clutching a Russian Fabergé egg. He quickly learns that the egg is in the hands of Kamal Khan, a collector working with the psychotic Soviet General Orlov, who is hell-bent on establishing Soviet dominance despite warnings from his superiors. In Orlov's scheme, an atomic weapon would be smuggled onto a U.S. West Germany's Air Force Base to weaken the nation and make it an easier target for Soviet takeover. 
In India, where he encounters a mysterious woman named "Octopussy," linked to Khan, Bond continues his probe into Khan. One of the individuals assisting Kamal and Orlov is the one who kills 009 by smuggling the explosives onto a circus train. Bond must work quickly to prevent the bomb from going off and causing thousands of deaths, then pursue Kamal Khan before he can flee.
#19: You Only Live Twice (1967)
Director: Lewis Gilbert
Box Office:  $111.6 million
Starring: Sean Connery, Akiko Wakabayashi, Mie Hama, Karin Dor, Donald Pleasance, Desmond Llewelyn, Lois Maxwell
Synopsis:
At the height of the Cold War, a second mysterious spaceship appears to devour the American and Soviet spacecraft, causing them to crash and prompting each country to lose one spacecraft each. Tensions increase due to the two superpowers' hasty accusation of one another for the disappearances. However, the U.K. has a different idea regarding disappearances and sends James Bond, their top spy, to look into it. He discovers a far more sinister conspiracy than anyone could have ever anticipated with the aid of the Japanese Secret Service.
#18: Never Say Never Again (1983)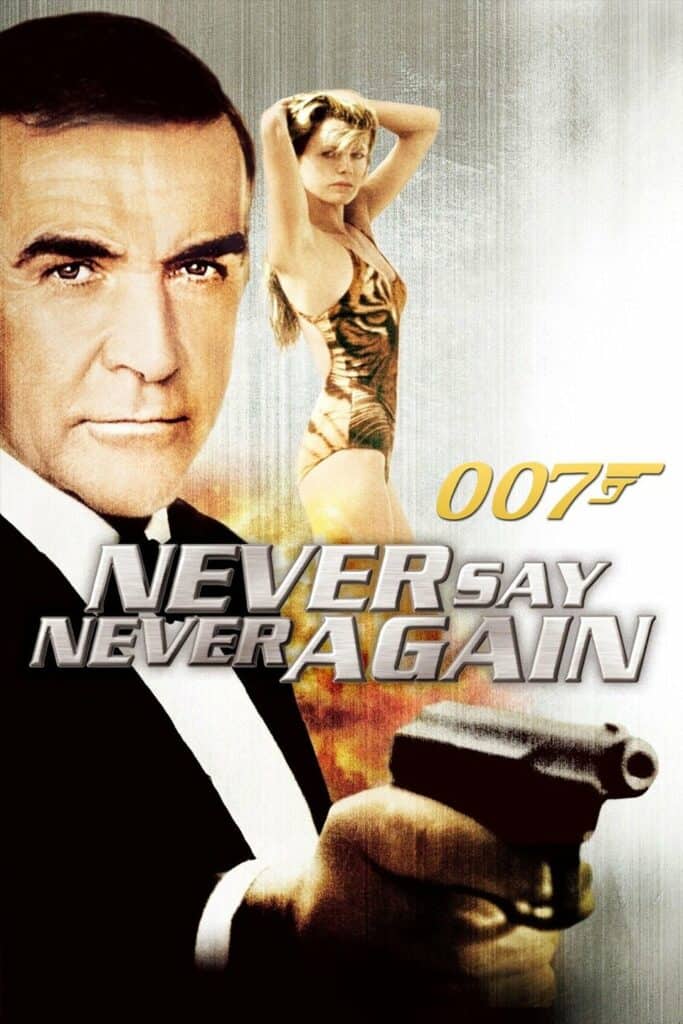 Director: Irvin Kershner
Box Office: $160 million
Starring: Sean Connery, Klaus Maria Brandauer, Max von Sydow, Barbara Carrera, Kim Basinger, Bernie Casey, Alec McCowen, Edward Fox
Synopsis:
Agent 007 has wiped out a whole legion of Her Majesty's opponents by himself with an incredible variety of weapons. However, the superspy's master determines it's time for his top agent to sharpen his lethal edge after a gorgeous hostage slips a knife into 007's ribs. To visit a spa, James Bond is leaving. Largo, a power-crazed genius determined to carry out his scheme for global nuclear blackmail, however, ends his "holiday" early. Blofeld and the evil S.P.E.C.T.R.E. leader Fatima Blush are on Largo's side. However, Bond has an ally in the form of Domino, Largo's attractive girlfriend who has feelings for Bond.
#17: Licence to Kill (1989)
Director: John Glen
Box Office:  $156.1 million
Starring: Timothy Dalton, Carey Lowell, Robert Davi, Talisa Soto
Anthony Zerbe
Synopsis:
The former C.I.A. agent turned D.E.A. agent Felix Leiter, a friend of James Bond is getting married. Felix's associates inform him that Franz Sanchez, a vicious drug kingpin they've been trying to capture, is in the nation as they travel to the wedding. They decide to find him, and with Bond's assistance, they do. While he is being held, Sanchez makes a two million dollar offer to anyone who can assist him in escaping. One of the men, while being escorted, does that. After killing Felix's wife, Sanchez goes to his house later and figuratively tosses Felix to the sharks. 
When Bond learns of this, he chooses to abandon his assignment and pursue Sanchez instead to avenge his friend. M, however, has Bond's license to kill suspended after learning of this. After meeting one of Felix's assets, Pam Bouvier, Bond leaves and hires her to transport him to Sanchez's homeland. He meets Sanchez pretending to be looking for employment. Someone snatches him as soon as he moves. They are foreign drug spies, and when a British officer tries to seize him, Sanchez assaults them. Upon realizing that Bond is in captivity, he invites Bond into his inner circle.
#16: The Living Daylight (1987)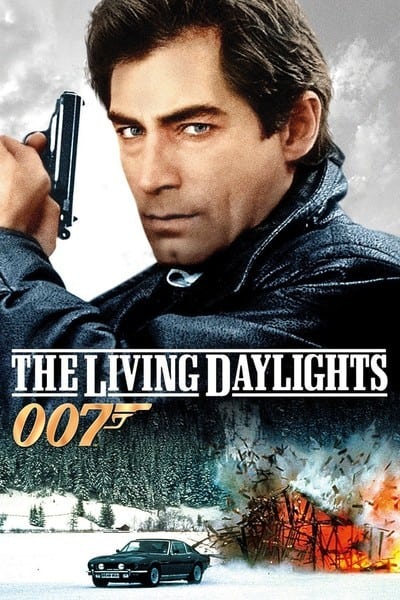 Director: John Glen
Box Office: $191.2 million
Starring: Timothy Dalton, Maryam d'Abo, Joe Don Baker, Art Malik, John Rhys-Davies, Jeroen Krabbé
Synopsis:
The intelligence establishment is astonished when Georgi Koskov is kidnapped from his isolated hiding site after Bond assists Koskov in making a daring defection to the West. Bond takes immediate action and pursues a clue that points to the stunning Kara, who plays Bond as naturally as she does her Stradivari cello. They are forced to engage in heart-pounding chases, an exciting jailbreak, and an epic battle in the Afghan desert with tanks, warplanes, and a legion of freedom fighters on horseback as they unravel a complicated weapons program with worldwide repercussions.
#15: Quantum of Solace (2008)
Director: Marc Forster
Box Office: $589.6 million
Starring: Daniel Craig, Olga Kurylenko, Mathieu Amalric, Giancarlo Giannini, Jeffrey Wright, Judi Dench
Synopsis:
James Bond takes his next assignment personally after Vesper Lynd's passing in Casino Royale. Dominic Greene, a cunning businessman and a prominent figure in the group that forced Vesper comes to mind as the man on the prowl for those who blackmailed his lover. Bond must negotiate a minefield of peril and betrayal to thwart Greene's plans to seize complete control of a crucial natural resource.
#14: Tomorrow Never Dies (1997)
Director: Roger Spottiswoode
Box Office: $333 million
Starring: Pierce Brosnan, Jonathan Pryce, Michelle Yeoh, Teri Hatcher, Joe Don Baker, Judi Dench
Synopsis:
A conceited media magnate, Elliot Carver, t through his Carver Media Group Network,  can communicate with everyone except for the People's Republic of China, which forbids his entry. James Bond is dispatched to look into the case after being implicated in vanishing of a British battleship in the South China Sea. Wai Lin, a member of China's People's External Security Force, and Bond first cross paths in Hong Kong. With or without Wai Lin's assistance, Bond quickly learns of a conspiracy that dates back to a mission on the Russian-Kazakh border and will only cause a conflict to stoke Carver's ego.
Director: Sam Mendes
Box Office: $880.7 million
Starring: Daniel Craig, Christoph Waltz, Léa Seydoux, Ben Whishaw, Naomie Harris, Dave Bautista, Monica Bellucci, Ralph Fiennes
Synopsis:
James Bond is sent on a wayward mission that takes him to Mexico City and Rome. He meets Lucia Sciarra, the stunning and forbidden widow of a notorious gangster. Later back in London, Max Denbigh, the new director of the Centre of National Security, questions Bond's conduct and casts doubt on the usefulness of MI6, headed by M, after the secret meeting that Bond infiltrated revealed the existence of the evil organization known as S.P.E.C.T.R.E.
Bond secretly asks Q and Miss Eve Moneypenny for assistance in finding Dr. Madeleine Swann, the daughter of his former adversary Mr. White. The latter might hold the key to unraveling the network of S.P.E.C.T.R.E. She has a unique understanding of Bond because she is the assassin's daughter. Bond discovers a terrifying connection between himself and the adversary he hunts as he makes his way toward the center of S.P.E.C.T.R.E.
Director: Terence Young
Box Office: $141.2 million
Starring: Sean Connery, Claudine Auger, Adolfo Celi, Luciana Paluzzi, Rik Van Nutter, Guy Doleman
Synopsis:
When the France criminal group S.P.E.C.T.R.E. imposed a 100 million pound ransom from NATO in diamonds for the two British nuclear bombs, their 'number two' operative Emilio Largo's team managed to steal from a Vulcan-type R.A.F. bomber by replacing French pilot Francois Derval, whom vamp agent Fiona Volpe enticed, with a plastic surgery-produced double, White Hall mobilizes in coordination with the U.S. 
Bond investigates the gated villa estate of her tyrannical sugar daddy Largo in Nassau, Bahamas, after spotting a connection to Deval's scuba diving sister Dominque "Domino" and discovering that Largo raises sharks as food for his foes. C.I.A. counterpart Felix Leitner, his crew, and local agent Pinder help Bond. A complex game of deceit is played out since Largo and Fiona are not gullible, but as time runs out for a "demonstration" that will wipe Miami Beach off the map, plans have already been made to deliver the ransom.
#11: No Time To Die ( 2021)
Director: Cary Joji Fukunaga
Box Office: $774.2 million
Starring: Daniel Craig, Rami Malek, Léa Seydoux, Ana de Armas, Lashana Lynch, Ben Whishaw, Naomie Harris, Jeffrey Wright, Christoph Waltz, Ralph Fiennes
Synopsis:
Even covert agents like 007 experience aging, just like everyone else. James Bond finally settles down and has a peaceful life after leaving active duty. However, his tranquility is short-lived as he is contacted by his old buddy Felix Leiter regarding a task to assist in rescuing a scientist who has been abducted. Little does he know that the mission is becoming increasingly risky and that his history is catching up to him. James soon learns that he must battle a new foe who is mysterious and motivated to remake the world in his likeness.
Director: Sam Mendes
Box Office: $1.109 billion
Starring: Daniel Craig, Javier Bardem, Ralph Fiennes, Naomie Harris, Bérénice Marlohe, Albert Finney, Judi Dench
Synopsis:
To prevent using a computer disk with a list of British agents against them, James Bond is tasked to keep it safe. The mercenary Patrice steals the hard drive, and 007 fights him on top of a train while he follows the man who is in possession of it. 
They are in Miss Eve Moneypenny's crosshairs as she assists Bond. She hesitates to fire because she fears Bond may be hit, but M commands her to do it. She strikes Bond, who is seen falling into the river and is thought dead. The British government is furious with MI6 for losing the list a few months later, specifically with M. 
Although she is informed that she will be able to retire, she stubbornly refuses to do so until the issue has been settled. She goes back to the office to work on it, but just then, there is an explosion. Bond, still alive, has been hidden during this period. He returns as soon as he finds out what transpired. And M gives him the assignment to track down the source of the knowledge. He soon finds out that the person with it is Tiago Rodriguez, also known as Raoul Silva, a person from M's past who has a grudge against her.
Director: Terence Young
Box Office: $59.5 million
Starring: Sean Connery, Ursula Andress, Joseph Wiseman, Jack Lord, Anthony Dawson, Zena Marshall, John Kitzmiller, Eunice Gayson, Bernard Lee
Synopsis:
To look into the disappearance of British Agent John Strangway and his secretary, the dapper British Secret Agent James Bond has been dispatched to Jamaica. Once there, Agent 007 had gained misgivings about Prof. Dent, a scientist who was the last person to have seen Strangway before he vanished. In Jamaica, 007 encounters C.I.A. Agent Felix Leiter and his aide Quarrel after learning that Professor Dent is working for a terrorist with a metal hand, Dr. Julius No and that Strangway has passed away. After meeting the stunning Honey Ryder, 007 and Quarrel travel to the tropical island of Crab Key. There, 007 discovers that the island is Dr. No's hidden hideaway. As a result, 007 and Honey are kidnapped, while Quarrel is slain.
#8: The Spy Who Loved Me (1977)
Director: Lewis Gilbert
Box Office:  $185.4 million
Starring: Roger Moore, Barbara Bach, Curt Jürgens, Richard Kiel, Caroline Munro
Synopsis:
Shipping tycoon Karl Stromberg hired two bright scientists to create a system for tracking submarines. He promises they will receive multimillion-dollar payouts into their Swiss bank accounts once it is ready, but not before brutally killing his young assistant by throwing her into a tank with a man-eating tiger shark. Bond is then called into action after British and Soviet submarines go missing while doing regular maneuvers. His Soviet equivalent, Major Anya Amasova, has also been named to motion. 
The British Secret Service and K.G.B. eventually cooperate despite initially working against each other to locate the microfilm containing the tracking system. With orders to kill everyone who comes into contact with the microfilm, 007 and Anya must cope with Stromberg's thugs. Jaws, a seven-foot-tall Goliath with metal fangs, is one of them. Bond and Anya must act fast to prevent World War III, which Stromberg wants to launch when a U.S. submarine is kidnapped.
#7: Diamonds Are Forever ( 1971)
Director: Guy Hamilton
Box Office:  $116 million
Starring: Sean Connery, Jill St. John, Charles Gray, Lana Wood, Jimmy Dean, Bruce Cabot
Synopsis:
The goal of James Bond's investigation in this movie is to identify the source of the missing diamond smuggling. In the guise of Peter Franks, he assumes a different identity. The diamonds are in high demand, so he teams up with Tiffany Case and pretends to be smuggling them. He must also escape the menacing duo of Mr. Wint and Mr. Kidd, who do not let anyone stand in their path. The possibility of Ernst Stavro Blofeld exists.
Director: Martin Campbell
Box Office:  $356.4 million
Starring: Pierce Brosnan, Sean Bean, Izabella Scorupco, Famke Janssen, Joe Don Baker
Synopsis:
Agent 007 and his close ally, Alec Trevelyan, invade a Soviet facility housing different chemical weapons being supplied to numerous international terrorists. However, Alec Trevelyan gets caught and is assumed dead, while 007 makes an impeccable escape from the area by blowing out the compound. Nine years after the incident, new management comes in and assigns the charismatic 007 to the recovery of the GoldenEye, a nuclear electromagnetic pulse space-based weapon. 
The GoldenEye can fire an electromagnetic force that turns off all electronic equipment. The powerful weapon was stolen from the Severnya space research laboratory by the ruthless leader of the weapons facility that presumably killed Alec. However, Bond soon discovers that he believed in a hoax for nine years.
#5: From Russia With Love (1963)
Director: Terence Young
Box Office: $79 million
Starring: Sean Connery, Pedro Armendáriz, Lotte Lenya, Robert Shaw, Bernard Lee, Daniela Bianchi
Synopsis:
S.P.E.C.T.R.E. is breeding a new generation of assassins set solely to kill Agent 007 to avenge their agent Dr. No who was killed by Bond in Jamaica. James Bond is out on a mission to find the Russian decoding machine called the Lektor. However, as he travels to get to the device, different attempts to end his life are organized by the SPECTRE. But 007 braves the challenges to get to the machine before somebody else does.
#4: On Her Majesty's Secret Service (1969)
Director: Peter R. Hunt
Box Office: $82 million
Starring: George Lazenby, Diana Rigg, Telly Savalas, Bernard Lee, Gabriele Ferzetti, Ilse Steppat
Synopsis:
James Bond rescues a woman committing suicide by drowning, Contessa Teresa di Vincenzo. The woman had a troubled and problematic past. Unbeknownst to Bond, Tracy was the daughter of Marc-Ange Draco, the leader of a very powerful crime syndicate. The latter offers Bond one million British pounds in exchange for his daughter's happiness, but Agent 007 refuses to take the offer. 
However, he gives Draco another agreement. He will continue dating his daughter in exchange for helping him find his nemesis, Ernst Stavro Blofeld, the leader of S.P.E.C.T.R.E. Bond goes undercover and poses as Sir Hilary Bray to infiltrate SPECTRE's headquarters in the Swiss Alps in an attempt to save humanity.
#3: For Your Eyes Only (1981)
Director: John Glen
Box Office:  $195.3 million
Starring: Roger Moore, Carole Bouquet, Julian Glover, Chaim Topol, Lynn-Holly Johnson
Synopsis:
The British Spy ship St. Georges, containing the Automatic Targeting Attack Communicator (A.T.A.C.), sunk near Poland after it accidentally hit a mine, and the marine archeologist tasked to locate St. Georges, Sir Timothy Havelock, and his wife gets killed by a hitman. Now, it's James Bond's turn to find St. Georges and retrieve the A.T.A.C. before the Soviets get their hands on it before he does. His quest to recover the missing device prompts him to form an alliance with Melina Havelock, whose out for revenge against the person that killed her parents. 
Director: Martin Campbell
Box Office:  $616.5 million
Starring: Daniel Craig, Eva Green, Mads Mikkelsen, Jeffrey Wright, Judi Dench
Synopsis:
James Bond is no longer just a regular secret agent. He now goes by the codename 007 after he gained his license to kill after assassinating Dryden and his co-conspirator at the British Embassy in Prague. With his new status, James Bond travels to Uganda for a mission. He is tasked to tail the terrorist Mollaka. But the mission goes sour, and Bond decides to take matters into his own hands by tracking down the rest of the terrorist cell. An intel report takes Agent 007 to the Bahamas, where he crosses paths with Alex Dimitrios and Solange. Bond finds out that Dimitrios had ties with one the biggest financers of some of the world's most prominent terrorist organizations, Le Chiffre. 
James Bond finds that Le Chiffre is organizing a high-stakes poker game at Le Casino Royale. Bond's Agency tasks him to play against Le Chiffre, knowing that if the latter loses, his organization will crumble. Bond gets partnered with Vesper Lynd but also gains allies with Felix Leiter and Rene Mathis.
Director: Guy Hamilton
Box Office: $125 million
Starring: Sean Connery, Honor Blackman, Tania Mallet, Harold Sakata, Gert Fröbe, Shirley Eaton
Synopsis:
Agent 007 of the MI16 is tasked to tail down Auric Goldfinger, a gold-obsessed bullion dealer suspected by the Bank of England of stashing an insanely ginormous amount of gold bullion. As James Bond continues navigating his way through Goldfinger's connections in the underworld to get clues on what the latter is planning, he finds out Goldfinger's plot to damage and monopolize the world's economy by infiltrating the United States Bullion Depository located at Fort Knoxx in what he calls the "Operation Grand Slam."