Even his own attorneys chose to stop representing him.
Kanye West is now having trouble keeping his lawyers by his side since they opted to cease representing him. Johnny Depp's lawyer Camille Vasquez did the same despite recently announcing that she would be part of his legal team.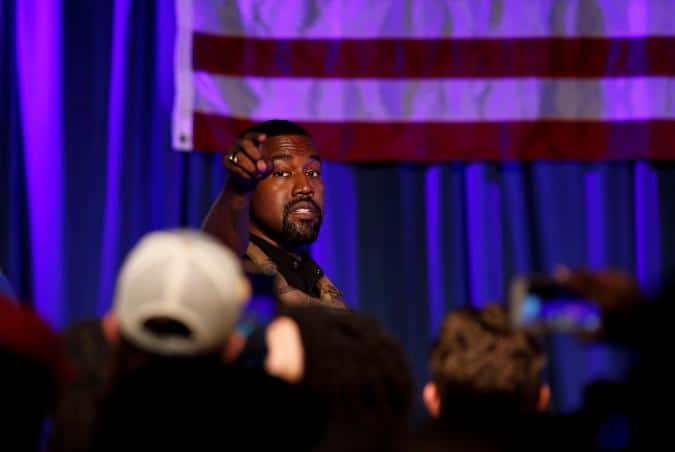 According to TMZ, Vasquez explicitly informed Brown Rudnick that she would not represent him unless Kanye retracted his words. The latter, however, made the decision to reiterate his claims.
This comes after Kanye made a series of contentious anti-Semitic statements over the weekend, some of which he even repeated or amplified. Additionally, he proceeded on a social media outburst, writing messages like "death con 3 on Jewish people."
In addition, his divorce attorneys also dropped him shortly after we reported that the rapper is now cooperating with his ex-wife Kim Kardashian on their divorce process by filing a "declaration of disclosure." However, they haven't settled on who will get custody of their four children yet.
Speaking of, the SKIMS founder likewise condemns her ex-husband's anti-Semitic hate speech in a message posted on social media, which reads, "Hate speech is never OK or excusable. I stand together with the Jewish community and call on the terrible violence and hateful rhetoric towards them to come to an immediate end."
Along with his legal team, Kanye has severed connections with several of his former brand partners, including Balenciaga, Vogue, and Gap. Conversely, due to their billion-dollar partnership with his Yeezy shoe line, Adidas was under increasing pressure to end their collaboration with him.
In a statement to WWD that was obtained by CNN Business, Kering, the parent company of Balenciaga, stated, "Balenciaga has no longer any relationship nor any plans for future projects related to this artist."
Kanye recently came under fire for wearing a "White Lives Matter" t-shirt during the first week of October's Yeezy fashion presentation in Paris and posting a picture of it online. He also insulted Gabriella Karefa-Johnson, editor of Vogue, and was rebuked by several people, including Gigi Hadid and Hailey Bieber.
Reactions to Kanye West Dropped By Several Attorneys And Brands Due To Anti-Semitic Remarks
All these companies dropping @kanyewest now his really a free man and didn't have to pay lawyers 😳 Did Ye do this on purpose? Also all these companies wouldn't have dropped him if he disrespected his own people. They would exactly applaud and reward him. This was Ye point.

— Currency365 (@Currency365) October 25, 2022
And there's black people celebrating this like they wouldn't be next. Whatever they can do to the greatest of you imagine what they can do to the least. https://t.co/vA683Wuv8Q

— Top Gee🧍🏾‍♂️🦅 (@UsurpedPoetGee) October 25, 2022