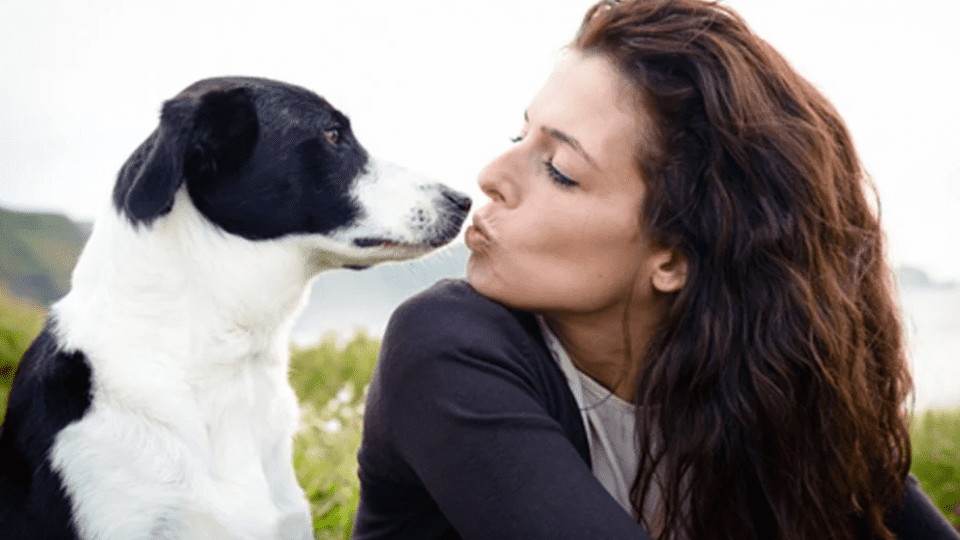 What would life be without a dog? As a pet lover, I cannot imagine myself living a life without my paw pets by my side. I grew up having dogs in our home, and now that I am a mom, I am doing the same to my kids.
As a proud fur parent, I have compiled here the best gifts that dog lovers will love and their fur babies too. Some of these gifts will also be valuable to dog trainers and groomers. All of the items posted here are available on Amazon.
#30: Willow Tree Angel of Friendship, Sculpted Hand-Painted Figurine $29.00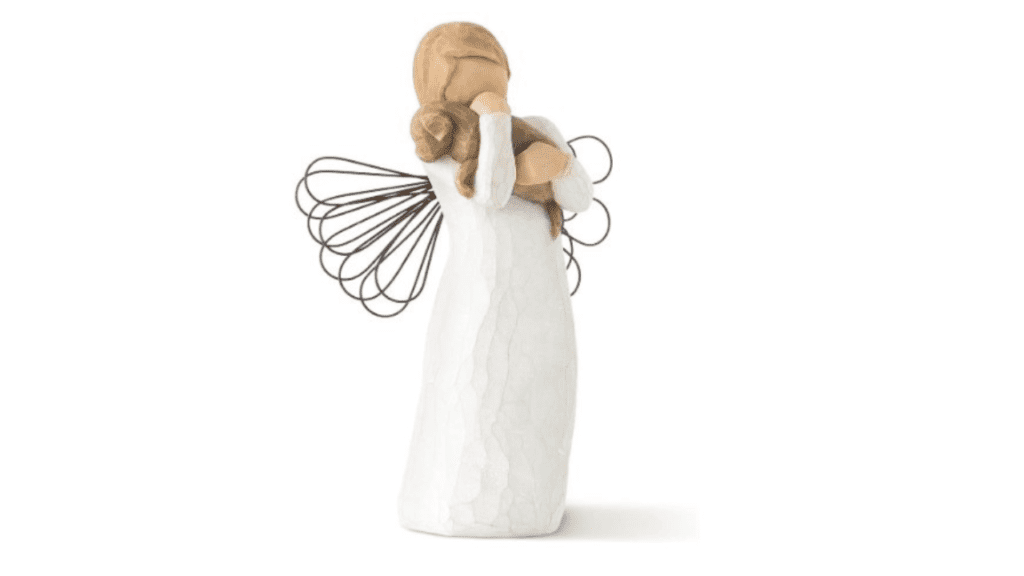 A 5-inch tall, hand-painted resin figurine shows a standing angel cradling a fur baby in her arms while wearing a cream dress and wire wings. This a great gift idea for any dog parent.
Product Specifications
Brand: Willow Tree
Color: Natural
Style: Modern
Material: Resin
Size: L17 cm x W9.1 cm 3.6 x H12.7 cm
#29: SWIHELP Pet Car Booster Seat Travel Carrier $17.99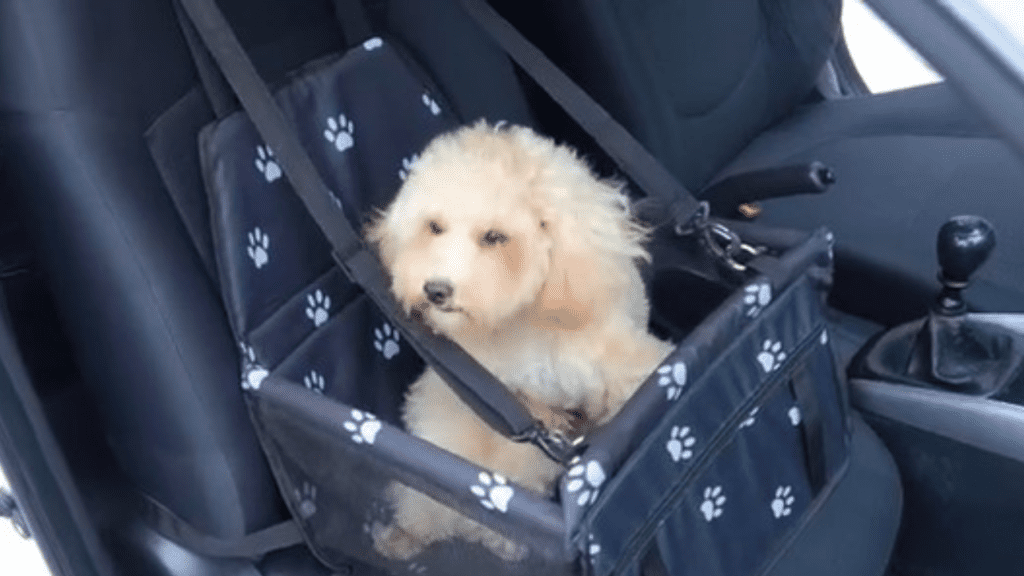 Pet car seat carrier made of breathable, foldable, soft, and washable cloth. Ideal for traveling with your fur babies. Nylon belt anti-rust D-ring keeps them safe and secure while you are driving. It is suitable for a furry friend weighing less than 6 kg. Adjustable and easy to assemble.
Product Specifications
Brand: SWIHELP
Material: Nylon
Strap Type: Adjustable
#28: Paw Store - Pet Supplies & Accessories Over-The-Door Storage Organizer $54.95
The best way to free up room in your home and keep all of your pet's accessories, supplies, treatments, and medications in one handy place, the compartments are both broader and deeper, storing objects up to 35.5 high on the bottom compartment. supplying a better substitute for standard over-the-door hanging organizers or dog toy containers
The PawStore is much more durable than non-woven fabric for storing pet supplies because it is made of strong, durable Poly-PVC material and knitted fabric edges. Other features include: Internal fibreglass rods and sturdy cardboard provide extra support. Breathable mesh perspective windows let you see into the compartments and top pockets. Anti-rust metal rings and zipper. Elasticated straps underneath and internally for optimal organization and storage. High-quality, large-capacity storage organizer, designed explicitly for fur babies' supplies, medication, and accessories.
Inclusions:
In-built Poop Bags Dispenser
Portable & Zippered Dog Treat Pouch
Elasticated Blanket & Towel Holder
Pet Grooming Kit Holder
Dog Harness & Leash Hooks
Velcro Pad for a Dog Coat or Jacket
4 x Metal Clip Rings
3 x Mesh Top Pockets
2 x Side Pockets
1 x Foldable Coat Hanger Hook – A Photo Window
No tools are necessary. Easy to install.
#27: Moropaky Puppy Toy for Anxiety Relief Puppies Mat $34.99
This soft, skin-friendly fiber toy simulates a pulsating heartbeat, which allows the puppy to feel calm, lowering their anxiety. It is also used as a sleep-training toy or dog bed. Requires two AAA batteries, which are not provided. The plush toys can be machine-washed when electronic parts are removed.
Product Specifications:
Brand: Moropaky
Color: White
Pet toy type: Plush
Theme: Animals
#26: KIPRITII Dog Chew Toys for Puppy - 20 Pack $22.99
These high-quality dogs chew toys are made for dogs that like to chew so they won't ruin furniture, shoes, or cushions. These unique puppy chew toys help you keep your home tidy and keep your dog healthy.
Dog Toy & Super Fun: 20 pet toys for dogs, great for puppies and small dog breeds. Includes nine rope dog toys, two dogs treat balls, one rubber dog toothbrush stick, one banana dog toy, one squeaky plush toy, one rubber toy, one flying disc dog toy, and three extra poop bag rolls & one bag dispenser as the perfect gift for your pup for any dog day. This is one of the best gifts any pet parent could ever receive.
Product Specifications
Brand: KIPRITII
Theme: Animals
#25: Setonware-Premium Puppy Starter Kit $52.95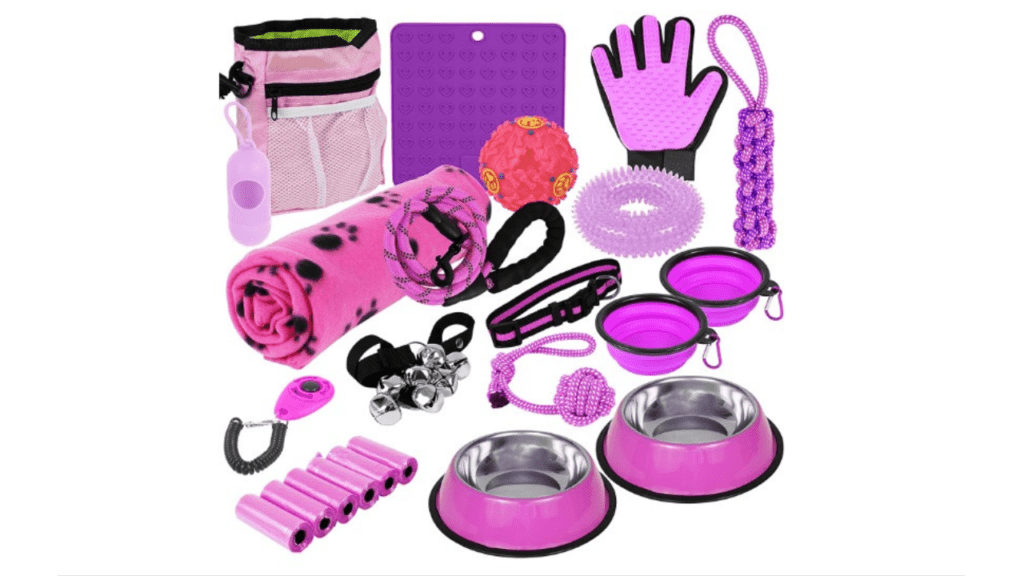 This puppy starter kit includes a grooming glove to gently brush your new puppy's extra hair and a lick pad to keep them entertained or calm. Additionally, the Stuff for Dogs has a medium dog clicker training kit, potty training doorbells, a treat bag, a food dispensing ball, and a rigid, environmentally friendly chew ring. The High-Quality Color Matched Puppy Supplies are created with comfort, amusement, convenience, and affordability.
Product Specifications:
Brand: Setonware
Color: Available in Pink, Blue, Green, and Yellow
Operation Mode: Manual
#24: Dog Squeaky Toys for Small Dogs, 12 Pack $19.98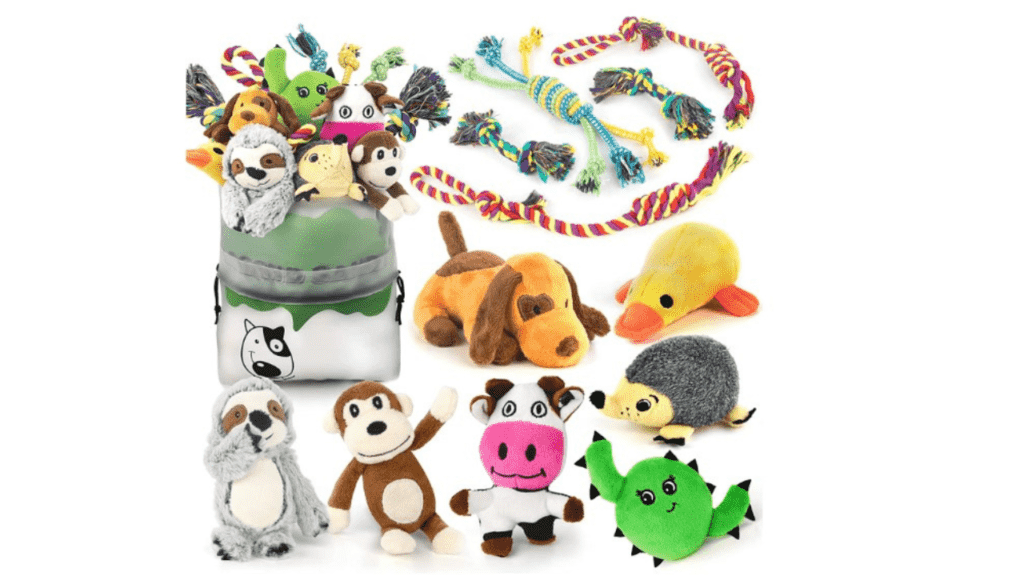 This 12–pack puppy toy includes a five-pack of natural cotton dog rope toys and a seven-pack of squeaky dog toys with a raccoon, monkey, cactus, dog, duck, cow, and hedgehog for teething puppies. Great value for the number of adorable dog toys you receive that satisfy several needs for a dog's daily life, including gnawing, training, and interactive play.
Each toy is made of premium plush, is wonderfully soft and kind to the skin, and has an inbuilt squeaker that isn't too loud but always draws your dog and provides hours and hours of entertainment. Keep your home organized, teach your dog proper manners from an early age, and assist in keeping him away from the furnishings. All dog chew toys are designed to be simple to use and machine washable.
Dog chew toys are made of taut, vibrant cotton ropes that are 100% natural, free of glue or plastic, and completely safe for your pet. Hundreds of fibers penetrate every crevice of the puppy's mouth while performing the role of dental floss, giving them a stress-relieving gum massage and preventing the buildup of tartar and dental plaque. Perfect size for small-breed to medium-sized dog breeds and puppies. Any pet owner will love this.
Product Specifications
Brand: LEGEND SANDY
Pet toy type: Plush
Theme: Animals
Machine Washable: Yes
#23: 2 Pack Dog Poop Bag Dispenser with Built-in LED Flashlight $9.99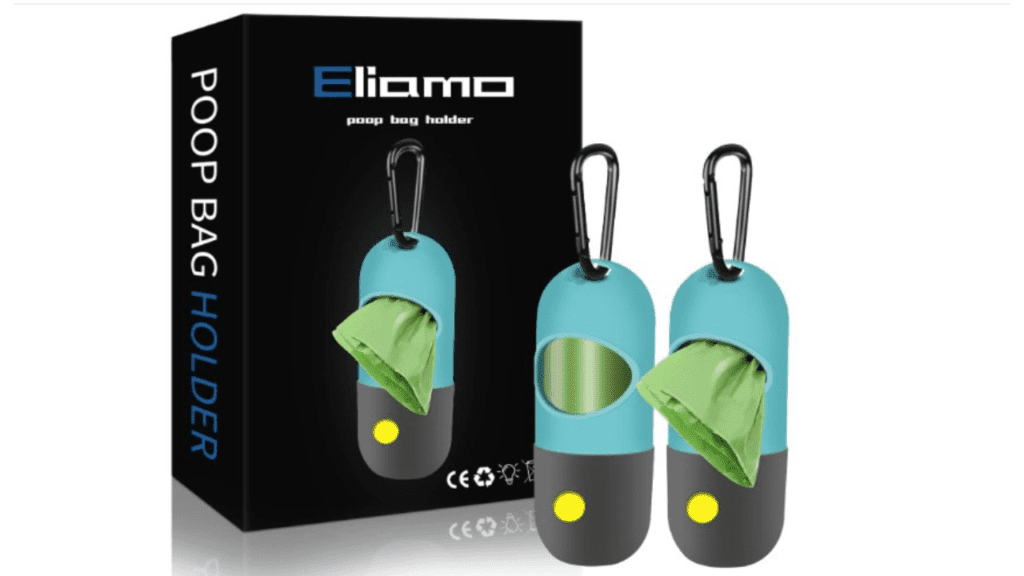 The dog poop bag dispenser has three LR44 button batteries and a built-in LED illumination. You can easily pick up dog waste at night when you take the dog for walks. Each holder for dog waste bags is supplied with a roll of 15 bags. These water-resistant dog waste bags are composed of PE material, which is solid and long-lasting. Keep the environment tidy.
The pack includes two rolls of trash bags, two carabiner clips, and a pack of poop bag dispensers with an LED flashlight. A single poop bag is 12.8 x 8.8 inches. The bag holder measures 4.3 by 1.6 inches.
Product Specifications
Brand: Eliamo
Unit Count: 2 Count
Color: Blue-Gray, Gray, and Pink
Material: Polyethylene
#22: Dog Squeaky Toys, 5 Pack $29.99
Plush pet toys included in this pack are a raccoon, a squirrel, a fox, a tiger, and a lion. Since there is no hidden or harmful stuffing in squeaky toys, your dog can play with them without fear of swallowing or choking. Because the plush bulk toys are available in five different sizes, it is ideal for all breeds. While you're gone, squeaky toys will assist your pet brush their teeth, relieving stress and reducing destructive behavior.
Made of superior plush fabric that is highly safe, comfortable, durable, and non-toxic. With their floppy, lightweight bodies, small, medium, and large dogs can readily carry, toss, and roll around animals with longer bodies, such as foxes and lions (43 cm), tigers (53 cm), raccoons (53 cm), and squirrels (58 cm). The heavy fabric and superb stitching make these squeaky toys more durable for dogs. This is a perfect gift for pet lovers.
Product Specifications
Brand: FIREOR
Pet toy type: Tug Toy
Theme: Animals
#21: COFOETLN Dog Water Bottle, 12 oz $12.98
Safe and Durable: Made of high-quality food-grade plastic, lead- and BPA-free materials, this portable dog water bowl dispenser is safe and durable. It is also simple to disassemble and clean.
The COFOETLN dog water bottle is the ideal water dispenser for dogs because it is lightweight, leak-proof, available in five colors, and both fashionable and beautiful. It can supply your pets with clean water for quick journeys, outdoor walks, and shopping.
Product Specifications
Color: White, Black Plus, Blue, Pink, Sea Blue, White
Brand: COFOETLN
Material: Polypropylene
Item Dimensions: L 21 cm x W 8.1 cm x H 8 cm
Capacity: 12 oz
#20: VERREO Pet Grooming Tool to Dog Trimmer $12.99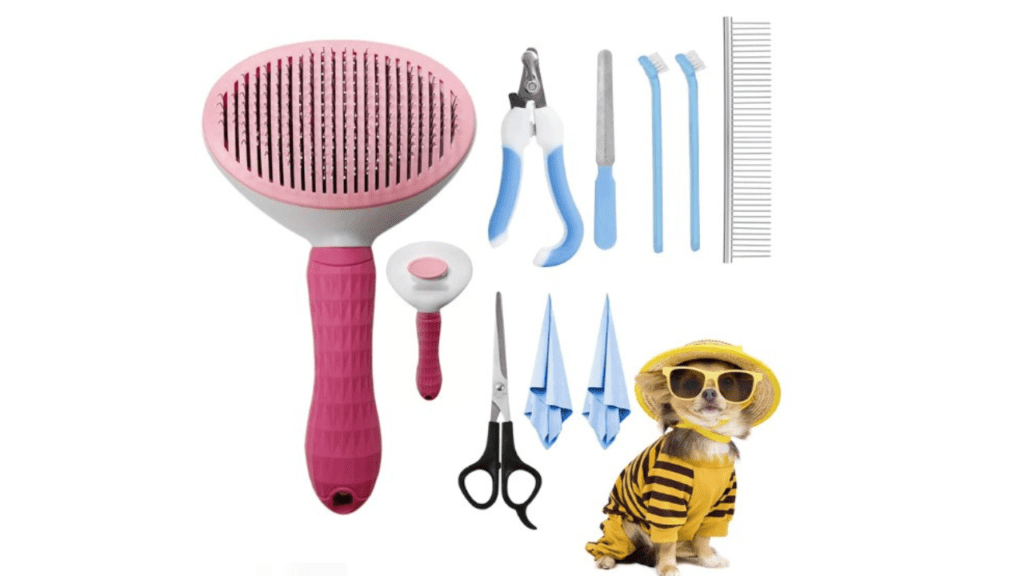 A hair removal kit is ideal for grooming dogs and cats at home. A complete kit of pet grooming tools includes nail clippers, combs for dog hair, brushes, pet removers, and grooming clippers for small and large dogs. The kit includes two toothbrushes, two nail clippers, a file, a set of scissors, a stainless-steel comb, a hair removal brush, and two cleaning cloths.
Product Specifications
Brand: VERREO
Color: Pink/Blue
Handle Material: Plastic, Metal
#19: Raised Tilted Dog Feeder with 2 Stainless Steel Bowls $23.88 - $39.99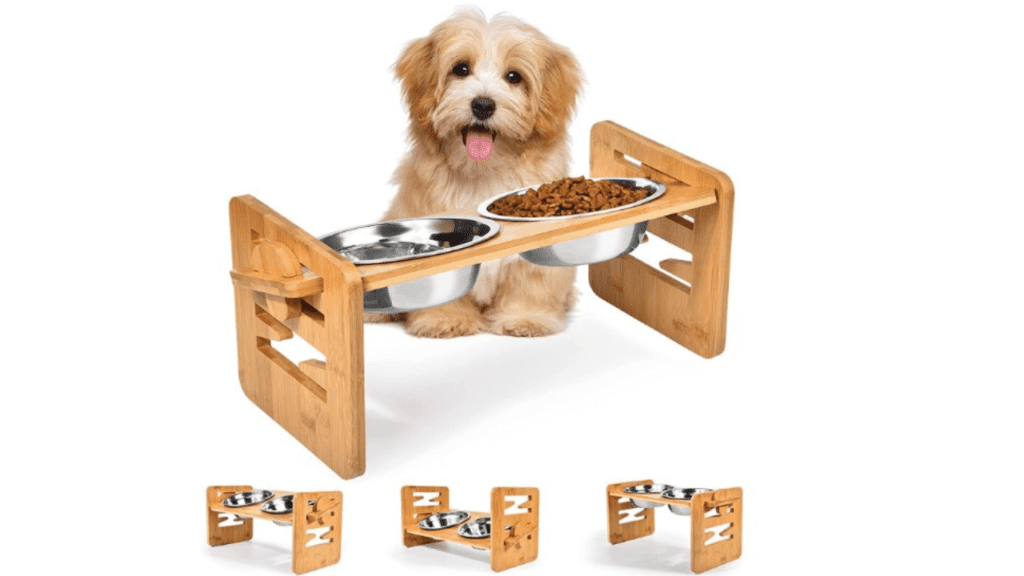 The raised pet bowls are ideal for cats and small dogs from childhood to adulthood. They also produce more natural postures to prevent indicators of bloating, indigestion, and gas buildup—Adjustable Height and Angle: 6 adjustable heights with two angles – 15°tilted and flat.
The tilted design makes it simpler for pets to get food and water. It also relieves stress on pets' necks, hips, shoulders, and joints while they eat. The raised pet food and water bowl stand can be removed for storage, making it simple to transport and taking up less room.
Product Specifications
Brand: BOLLFO
Material: Stainless Steel
Capacity: 1 Liter
Operation Mode: Manual
Large: $39.99
Medium: $33.99
Small: $23.88
#18: Pedgot 3 Pack Pet Christmas Headbands $11.99
These Christmas pet headbands are fantastic Christmas gifts for your pet, suitable for most dogs and cats; wearing these pet headbands will make your pet stylish and lovely. Each Christmas dog headband has been designed with a chin strap for your energetic pets, which helps reinforce your pet's headband and avoid falling off while your pets enjoy their outdoor activities.
Three packs of holiday-themed pet headbands featuring an elk, a gingerbread man, and penguins are included; these dolls' distinctive ornaments will make your pet stand out and be fashionable.
#17: Veken Multi-Tier Automatic Pet Fountain $35.99
This multi-tier automatic pet fountain is BPA-free, long-lasting, constructed of high-quality materials, and simple to use and maintain. In addition, a glass window allows you to watch the pet drink water.
To maintain this water dispenser flowing clean, fresh water, the pet water fountain is fitted with three replacement filters, each made of activated carbon, ion exchange resin, and non-woven fabric.
Product Specifications
Brand: Veken
Color: Grey, Blue, Tender Green, Teal
Material: BPA Free, Resin
Pump Life: 2.5 – 4 years
Item Dimensions: L 24.13 cm x W 24.13 cm x H 14.2 cm
Capacity: 100 oz
#16: 4 Pack Reusable Laundry Lint Catcher for Washing Machine and/or Dryer $19.99
The lint catcher for laundry is constructed of a very soft, sticky, flexible material that grips dog or cat hair and pulls it from the garments. Hair, dust, and dirt attach to it, and it helps you remove pet hair from clothing. This item is safe, non-toxic, and appropriate for use with kids. Rinse with water after use, then dry in a cool area. Easy to clean and can save time, water, and detergent.
Product Specifications
Brand: GENCL
Material: Silica gel
Color: Green, Yellow
Operation Mode: Manual
#15: Kenond® 40oz Hanging Automatic Pet Food/Water Dispenser $29.98
Has a natural gravity supply system, which is more secure and energy-efficient. Continue giving out plenty of food and clean water. BPA-Free. "Safe and Environmental Material." The feeder and waterer are constructed of food-grade plastic, are 100% recyclable, have sturdy clear bases and bottles, are non-toxic, and have no off-putting odors. Keep your pet safe from the perils of subpar plastics with each component's ability to be dismantled, cleaned, and disinfected at a high temperature of 100°C.
Product Specifications
Brand: Kenond
Material: Plastic
Color: Blue, Green, White
Capacity: 2.2 Pounds
Operation Mode: Manual, Automatic
#14: Asobu Dog Bowl Attached to Stainless Steel Insulated Travel Bottle 33 oz $34.99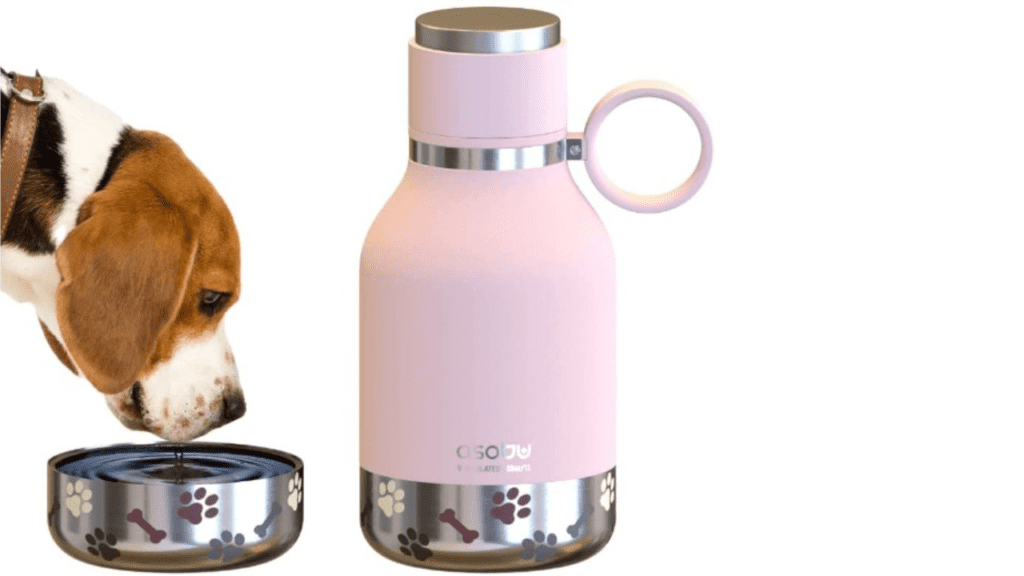 A 33-ounce stainless steel bottle with a detachable dog bowl on the base is ideal. The bottle's base can be easily removed and filled with water for your pet to encourage and train them to only drink from clean water sources.
Product Specifications
Brand: Asobu
Material: Stainless Steel
Item Dimensions: L 14.6 cm x W 10.8 x H 24 cm
Color: Pink/Aqua Pink Marble, Black, Blue, Burgundy, Hard Wood, Midnight Blue, Mint Green
Capacity: 33 oz
#13: QiCHo Inspirational Sign For Desk With Wooden Stand $14.88
This appealing plaque's worth is found in both the message it conveys and the originality of its design. A 10.16 cm × 10.16 cm square tile, a L 10.16 cm x W 4 cm wood stand, and a unique 3D relief design are the components of this piece. Packaged in a gift box with paper shreds and a sturdy, smooth hardwood stand.
Product Specifications
Brand: QiCHo
Theme: Dog
Material: Plastic
Mounting Type: Tabletop
#12: SUMGAR Black and White Wall Art Decor,12x12 inch $22.99
With HD printing on premium canvas, hand-stretching canvas on 1.2″ thick wood bars, perfectly folded corners, and a back that is joined and sealed with white masking tape, dog wall art is firmly, gracefully, and exquisitely constructed. Canvas wall art may be easily hung at any time due to the pre-installed metal hooks on the wood bar and the 30.5 cm x 30.5 cm size.
Product Specifications
Brand: SUMGAR
Color: Grey
Material: Canvas, Wood
Color: Grey
Size: 30.5 cm x 30.5 cm
Theme: Dog, Funny
#11: GIFTAGIRL Boxer Succulent Planter $27.99
Any of your smaller succulents would look great in cute containers. They are small enough to put on any window sill or shelf in your home and still appear stylish, measuring 6 cm tall and 9 cm wide.
With these distinctive and elegant designs, premium quality material has been used to keep your succulents beautiful and healthy. Each of the three ceramic pots has a little drainage hole in the bottom, and three tiny bamboo saucers are included to collect the plant water. (Succulents are not included.)
Product Specifications
Material: Ceramic
Color: White
Special Feature: Drainage Hole
Mounting Type: Window Mount
#10: Alex and Ani Expandable Bangle for Women $20.00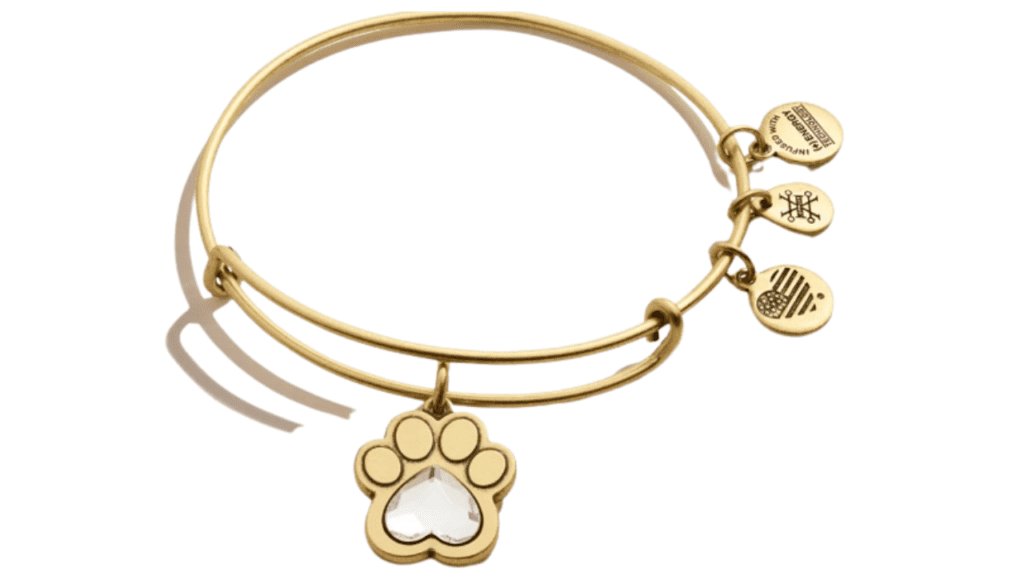 A genuine Austrian crystal heart is embedded inside a paw print charm on this lovely adjustable bracelet, symbolizing the value of your four-legged darling. Patented technology replaces conventional clasps with a sliding mechanism to allow you to adjust the width of this classic bracelet from 5 cm to 8.9 cm wide. Perfect for any animal lover. This easy-to-wear accessory is made in the USA with love and care from a blend of nickel-free brass and copper metals for long-lasting wear.
Product Specifications
Brand: Alex and Ani
Color: Rafaelian Gold Finish
Material: Brass/Copper
Style: Prints of Love
#9: GIFTAGIRL Dog Mom Wine Lover Racks Beautifully Gift Boxed $44.97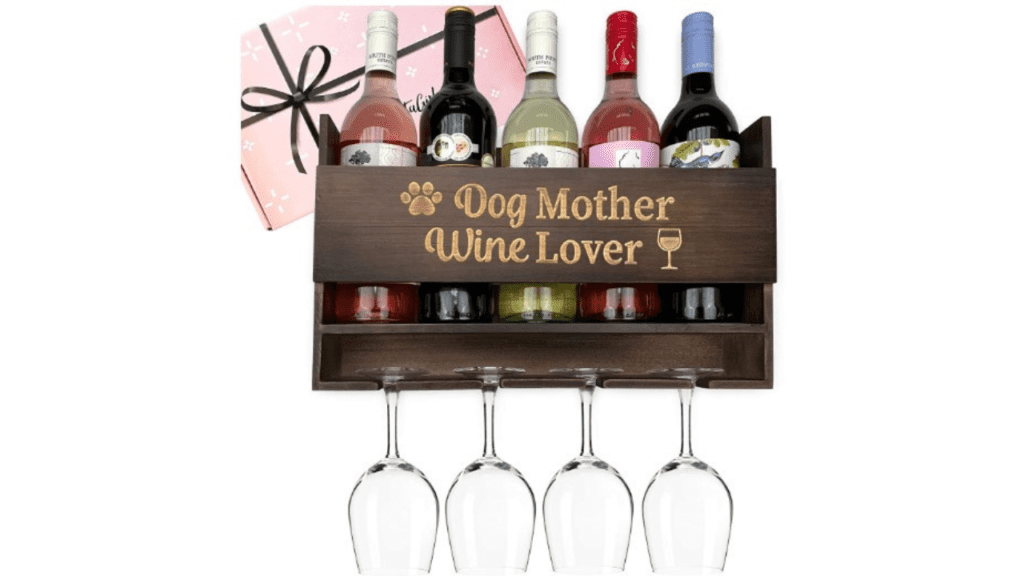 Dog Mom Gifts are original and unique. Despite their unique nature, these gifts for dog moms are trendy and make wonderful Mother's Day, Christmas, or birthday presents for anyone who enjoys wine and coffee. Glasses and wine bottles are not included.
Product Specifications
Brand: GIFTAGIRL
Color: Pink
Material: Wood
Mounting Type: Wall Mount
Style: Dog Mother Wine Lover
Product Dimensions: D 9.9 cm x W 40 cm x H 24 cm
Bottle Count: 1
#8: DECOPOW Embroidered Dog Lovers Throw Pillow Cover, Square 18 inches $11.98
The package includes one throw pillow cover; the insert is not included. A House Is Not A Home Without Paw Prints Pattern is an embroidered design that is not printed. White cotton canvas is used to make fabrics. 45 by 45 cm, or 18 inches square. Use For Couches, Sofas, Living Rooms, Bedrooms, and Home Décor.
Product Specifications
Brand: DECOPOW
Design: Pattern Print
Material: Cotton canvass
Color: Multicolor
Product Dimensions: L 17.8 cm x W 45.7 cm
#7: Funny Coasters Dog Theme – 6pcs $11.99
Made of premium, highly absorbent porcelain, these amusing drink coasters entertain you and help keep your tables free of stains and blemishes, extending their lifespan. Complete with a holder, so there will be no loose coasters. The collection of humorous dog presents also includes a chic black holder that the coasters can rest in when not in use.
Product Specifications
Brand: Ultimate Hostess
Material: Ceramic, Stone
Shape: Elephant
#6: Solar Paw Print Lights,16 Color Changing Outdoor Pet Lights with Remote, Set of 4 $22.99
Solar-powered exterior lights have an integrated photo sensor that automatically switches them on at dusk and off at dawn. Great for pathways, gardens, flowerbeds, and waterproof outdoor areas. Four pawprint lights with a wire running between each one. Press each of the four paw print lights, which measure 3.5 by 3.5 inches, into the grass or soft ground.
No setup or wiring is required. Simple to set up and use. It can be placed anywhere in the garden. When not in use, a manual power switch turns off the lights.
Product Specifications
Brand: Obrecis
Color: Multicolor
Light: Fixture from Path
Indoor/Outdoor Usage: Outdoor
Power Source: Solar Powered
#5: JOYIMARR Dog Jewelry Holder $15.99
The dog jewelry holder dish is the ideal trinket organizer to store your rings, necklace, and earrings, which measures 4.73 inches long by 3.15 inches high. Cute dog design ring dish for jewelry to hold more rings and earrings, and with square shape ring dish adding distinctive and exquisite style.
High-quality glazed ceramic is used to make the ring dish, and the coating is applied evenly to make it a glossy and lovely display decoration. The trinkets tray is a beautiful present for women, friends, and dog lovers concerned about losing their everyday jewelry.
Product Specifications
Brand: JOYIMARR
Color: Gold
Material: Ceramic
Style: Modern
Shape: Square
Finish Type: Polished
Number of Compartments: 1
#4: Bingo Castle Dog Angel Figurine $29.99
Share your affection and happy memories of your pet; all the positive ones will be right there in front of you. Keep the memories of your lost pet close to your heart always. This is a heartfelt expression of sympathy and a thoughtful gift to remember someone who lost a cherished pet. Excellent for dog lovers in particular!
Our artisans take great care in creating each dog angel monument, and this dog sculpture perfectly encapsulates the essence of love and a deep affection for animals. Gift-giving-ready packaging includes a card and a box. This handmade item can be displayed on a windowsill, table mantel, or shelf. using a gentle brush or towel to remove dust.
Product Specifications
Brand: Bingo Castle
Color: Mist
Product Dimensions: L 7.8 cm x W 7.1 cm x H 17.8 cm
Item Weight: 226 grams
Number of Items: 1
#3: 6PCS Funny Dog Figures Burned Wooden Spoons Cooking & Serving Utensils Set $14.99
The wood is expertly created with a cute dog or cat motif and is made from natural organic bamboo. Natural bamboo helps preserve the natural flavor of the meal and won't harm your cookware. This set of bamboo spoons and a spatula may be easily cleaned with soap and water and then allowed to air dry due to the distinctive bamboo material.
This wooden cookware is simple and convenient thanks to the smooth, comfortable handles. The six components comprising this set of cooking tools offer versatility for serving, eating, and drinking.
Product Specifications
Brand: KEEPRO
Color: Natural wood
Material: Bamboo
Style: Funny dog
Number of Pieces: 6
#2: Funny Welcome Front Door Dog Pet Sign $13.99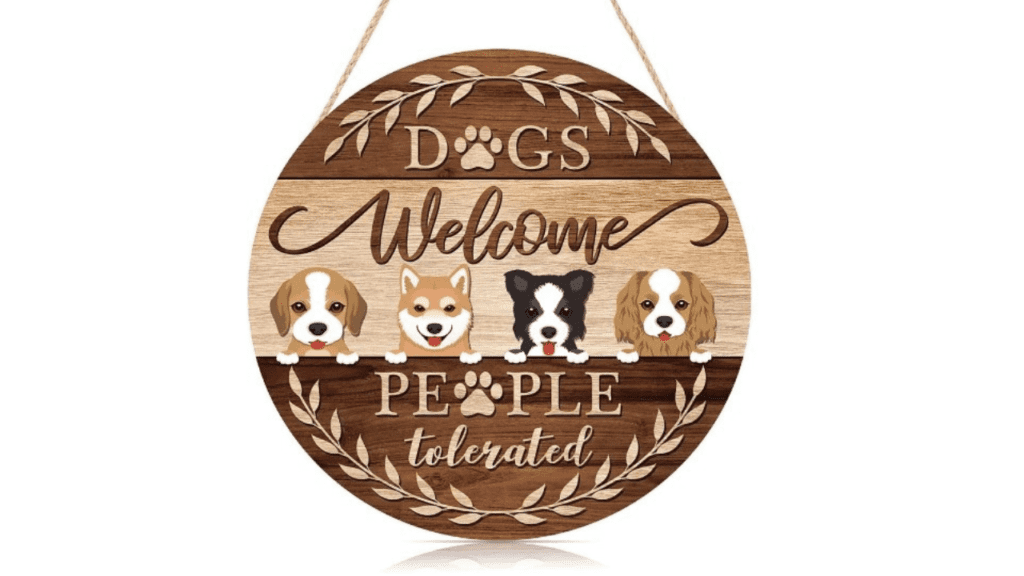 This makes a unique and heartfelt gift for your loved ones, especially those who love and own dogs. This present cute idea is the Funny Dog Sign. An excellent option for a housewarming gift as well.
Printing is resistant to fading since it is made of thick, sturdy wood that is of good quality and is not quickly broken. This is the best gift any dog lover would receive.
Product Specifications
Brand: TOARTi
Material: Wood
Theme: Dog
Mounting Type: Door Mount
Item Dimensions: L 30.5 cm x W 30.5 cm x H 0.5 cm
#1: Onebttl French Bulldog Gifts for Women and Men, 12 oz Stainless Steel Tumbler $17.99
A fantastic present for animal lovers, dog owners, and anyone who loves dogs. It can be used as a beer or coffee mug. Food-grade 18/8 (304) stainless steel is a safe material that is also non-toxic and environmentally beneficial. With double wall vacuum insulation, drinks remain cold for 9 hours and hot for 3 hours.
Product Specifications
Brand: Onebttl
Material: Stainless Steel (304)
Color: Gradient Pink, White
Capacity: 12 oz
Style: Modern
Amazon, retrieved from https://www.amazon.com/s?k=gifts+for+dog+lovers&crid=3GOZGEYA42LD4&sprefix=gifts+for+dog+lover%2Caps%2C316&ref=nb_sb_noss_1