Disturbing security footage of officers repeatedly beating a black inmate was leaked; the detainee was accused of assaulting the guards.
Following the emergence of footage showing a Black inmate being physically assaulted by officers while held at a county jail, a Georgia sheriff's office announced Tuesday that they would conduct an investigation.
Jarrett Hobbs, 41, who was being detained on traffic and drug possession charges, shows in the video being grabbed by a swarm of Camden County security personnel.
Security footage from a Georgia jail shows a black detainee being pushed against a wall by guards and repeatedly punched in the head and neck after five deputies come into the man's cell.

Human Rights American-style! pic.twitter.com/LwF28coyuB

— #SupportPalestine #BDS #Yemen #Kashmir #Assange (@ChristineJameis) November 15, 2022
As at least three other security personnel assist in holding Hobbs, the first guard grips him around the neck. One of the staff members then punches Hobbs in the head repeatedly as he is being restrained.
During the initial altercation, at least two other people wearing sheriff's uniforms also throw a punch. A black colleague enters in the end but doesn't seem to attack the four initial wardens, whom all appear to be white.
In a second video taken from a camera outside the cell, inmates drag Hobbs through the doorway and throw him against the wall before heaping on top of him once more, with one of them seeming to throw a series of knees.
Hobbs is pushed inside his cell and appears thrown into the bench after being restrained in a safe chair.
The cause of the altercation was not precisely identified, and Harry Daniels, Hobbs' attorney, withheld the footage with audio he had. However, CNN reported that it began when Hobbs continued to kick the door to his cell.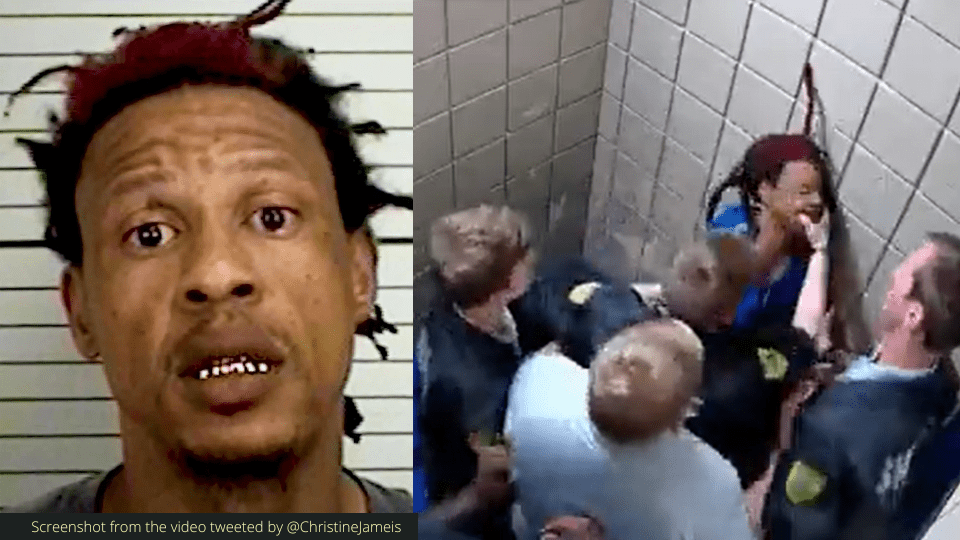 A probation officer attested that the detainee had "punched one deputy in the face while punching another deputy in the side of the head," according to a judge's ruling.
However, Daniels asserted that the guard struck a wall with his blow after swinging at Hobbs and breaking his hand. Additionally, he said that the footage demonstrated Hobbs' right to respond violently to the unlawful assault.
Sheriff Jim Proctor of Camden County stated that the video only showed "a part" of the incident but did not mention what had preceded it. For parole violations, Hobbs is still detained in North Carolina.
Reactions to Shocking Video Shows Georgia Guards Assaulting An Inmate, Prompting Sheriff's Investigation