The entertainment industry is known for its glitz and glam, causing people to associate the industry with a high-paying job. In this list, we take a glimpse at one of the lesser-known segments of Indian Cinema, Kollywood. When we hear of the Indian entertainment industry, the first thing that comes to mind is Bollywood.
Unknown to many, Indian Cinema is very diverse compared to other film industries worldwide. Because of its diversity, the lesser segments of the Indian film industry get overshadowed by the ones that are more known to people. In this list, we delve into Kollywood and find out who is the Richest Tamil actor and let's find out not only their net worth but also the story behind the man they are now.
#10: Vijay Sethupathi - $11 million
Vijay Sethupathi is a South Indian actor and producer. He is an award-winning actor who focuses his attention more on Tamil films. Vijay is a recipient of a National Film Award and several other awards.
Despite the fame that he is experiencing right now, Vijay Sethupathi started off as a background actor and never the lead role. He was only able to land a lead role in 2010 in the film "Thenmerku Paruvakaatru." However, this was not the movie that made his career skyrocket. In 2012, he rose to instant success after his films "Pizza," Sundarapandian, and Naduvula Konjam Pakkatha Kaanom came out. 
Vijay Sethupathi was born in Rajapalayam on January 16, 1978. However, he moved to Chennai when he was in Class six. He attended the MGR Higher Secondary School in Kodambakkam and the Little Angels Mat. Hr. Sec. School. In one of his interviews, the actor claimed that he was a below-average student who was not interested in anything besides film. 
Later on, he obtained his Bachelor of Commerce degree at Dhanraj Baid Jain College. After graduation, he worked as an assistant at a wholesale cement business, but this was cut short after he had to move to Dubai in order to be able to support his three siblings. In Dubai, he worked as an accountant and was paid 4x more than he earned back in India. 
In 2003, he married his wife Jessie, whom he met online while he was in Dubai. In the same year, he moved back to India. He started a business with friends, but he caught the attention of a director who encouraged him to do a film. Now, he is one of Tamil cinema's most bankable actors.
Karthik Sivakumar or more popularly known by his stage name Karthi is a well-known South Indian actor. He boasts three Filmfare Awards South, one Edison Award, one SIIMA Award, and one Tamil Nadu State Film Award. Aside from being a well-known actor, he is also known for being the brother of Suriya, whose name also appears in this list. 
Karthi joined the film industry not as an actor but as an assistant to the film Indian film director Mani Ratnam. However, while working as an assistant director, he would get some offers for acting roles. In 2007, Karthi debuted in the film "Paruthiveeran," which quickly caught the attention of fans and instantly became a hit. A few years later, Karthi would play another lead role in the movie "Aayirathil Oruvan," which was also a commercial success. From then on, Karthi would appear in a few more films, the most recent being the movie "Sardar."
Karthi was born on May 25, 1977, in Madras, Tamil Nadu. He was the son of the famous actor Sivakumar. The actor went to Padma Seshadri Bala Bhavan for his elementary and secondary education. He also went to St. Bede's Anglo-Indian Higher Secondary School in Chennai. In college, he went to Crescent Engineering College in Chennai. The actor has a degree in Mechanical Engineering. 
He briefly worked as an engineering consultant after graduation and was considering pursuing higher studies abroad. Eventually, he received a scholarship in the United States and was able to study at Binghamton University in New York, where he got his Master of Science in Industrial Engineering. While pursuing his master's, he also took an elective in Filmmaking and worked as a part-time graphic designer. This prompted him to study at the State University of New York, where he took two introductory courses in filmmaking. 
Karthi married Ranjini Chinnaswamy on July 3, 2011, after getting engaged on November 29 of the same year. They have two children, a daughter, Umayaal, and a son, Kanchan.
#8: Sivakarthikeyan - $13 million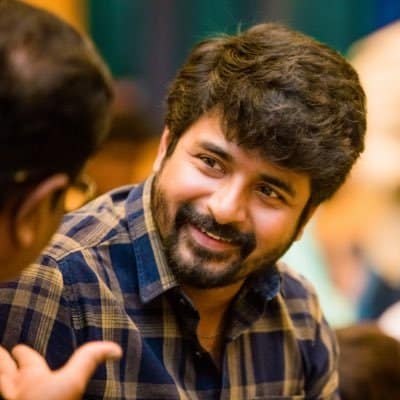 Sivakarthikeyan is a South Indian actor, film producer, singer, TV presenter, and lyricist. He is also known by his stage name "SK." The Tamil actor has won several awards throughout his career. He has won a Tamil Nadu State Film Award, four Edison Awards, Vijay Awards, and four SIIMAA Awards. Sivakarthikeyan entered the film industry through the encouragement of the film director, Pandiraj.
Before that, he was a mimicry artist and stand-up comedian. Sivakathikeyan did not grow up in a well-off family, so he had to take part in various cultural events to make ends meet. As a matter of fact, the actor had to juggle his work and his studies to fend for himself. A couple of friends convinced him to audition for the comedy reality show "Kalakka Povathu Yaaru" aired on Star Vijay. He won the show. 
Sivakarthikeyan was born on February 17, 1985, in Singampuneri, Sivagangai, Tamil Naud, to G. Doss, a jail superintendent, and Raji Doss. He has two siblings, a brother, and a sister. His sister is a doctor. 
On August 27, 2010, the actor married Aarthi Doss. The marriage produced two offspring, Aradhana and an unnamed son, born in July 2021. 
Currently, Sivakarthikeyan produces his films under his company, Sivakarthikeyan Production. 
#7: Dhanush - $19 million
Dhanush is a South Indian actor, producer, and director. He has been in 46 films throughout his career, earning him numerous acting awards. Dhanush is a holder of four National Film Awards, 14 SIIMA Awards, nine Vijay Awards, seven Filmfare Awards South, and five Vikatan Awards. 
The actor made his film debut in the film "Thulluvadho Ilamai" (2002), a film directed by his father, Kasthuri Raja. The following year, he appeared in his brother's first film, "Kaadhal Kondein." 
Dhanush was born in Madras, Tamil Nadu, to movie director and producer Kasthuri Raja and Vijayalakshmi on July 28, 1983. His parents gave him the name Venkatesh Prabhu Raja, but he never used that name when he entered the industry. Instead, he adopted the name Dhanush which he got from the film "Kuruthipunal" (1995). 
When he was younger, Dhanush's dream was to earn a degree in hotel management and eventually become a chef. However, with the encouragement of his brother, the director Selvaraghavan, he entered Tamil cinema. 
On November 18, 2004, Dhanush married Aishwarya, an Indian actress, and director and the eldest daughter of another Tamil cinema legend, Rajinikanth. Together they have two sons named Yatra and Linga. The children were born in 2006 and 2010. At the beginning of 2022, Aishwarya and Dhanush announced their separation, which greatly shocked fans. Several reports surfaced that his father-in-law, Rajinikanth, was very affected by the situation and was trying to talk things through with them. The couple has been together for 18 years before calling it quits.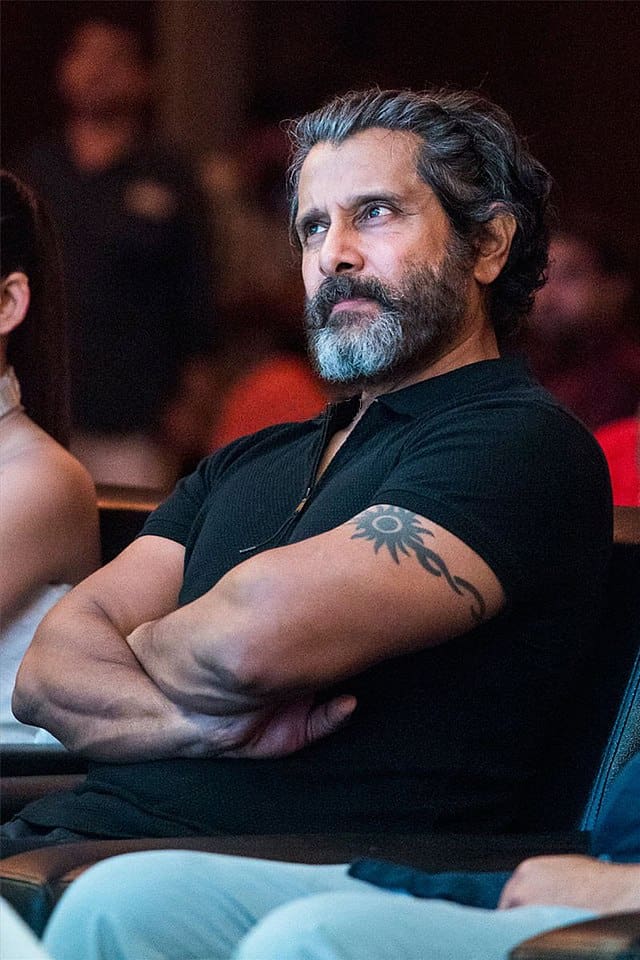 Kennedy John Victor is a Tamil actor more famously known by his stage name Vikram. Vikram is considered to be one of the most decorated actors in Tamil Cinema. He is also a recipient of seven Filmfare Awards, one National Film Award, and a Tamil Nadu State Film Award. 
Vikram made his acting debut in the movie "En Kadhal Kanmani" (1990). But the film that caused his career to skyrocket was "Sethu" (1999), a tragedy film. He has since appeared in various Tamil and other language movies. 
The Tamil actor was born on April 17, 1966, in Madras, presently Chennai, Tamil Nadu, India. His father, Vinod Raj, also known as John Victor, was Christian, while his mother, Rajeshwari, was Hindu. Initially, his father was from Paramakudi but had run away in pursuit of an acting career. Unfortunately, he was never successful in his quest and could only land supporting roles. His father's experience in the industry inspired Vikram to work harder. He did theatre lessons and many more to better his chances of being successful in the path. 
Vikram has two siblings: a younger brother named Arvind, who has acted in a couple of low-budget films, and a younger sister named Anitha, who works as a teacher. He finished his secondary education in a boarding school called Montfort School, Yeracud. He would partake in Theatre, horseback riding, swimming, and karate in school.
Despite his wish to pursue an acting career, Vikram's father demanded that he finish college first. Because of this, the actor enrolled at Loyola College, Chennai, where he obtained a bachelor's degree in English Literature. The Tamil actor also has an honorary Doctorate from Universitia Popolare degli Studi di Milano or the Popular University of Milan. He is the first Indian actor to receive an honorary degree from a European University. 
In 1992, he married Shailaja Balakrishnan, whom he met in the late 80s. The couple wed at Guruvayoor Temple during a mass wedding. They eventually held another wedding at the church at Loyola College. The couple has two children, Akshita and Dhruv. 
#5: Ajith Kumar - $23 million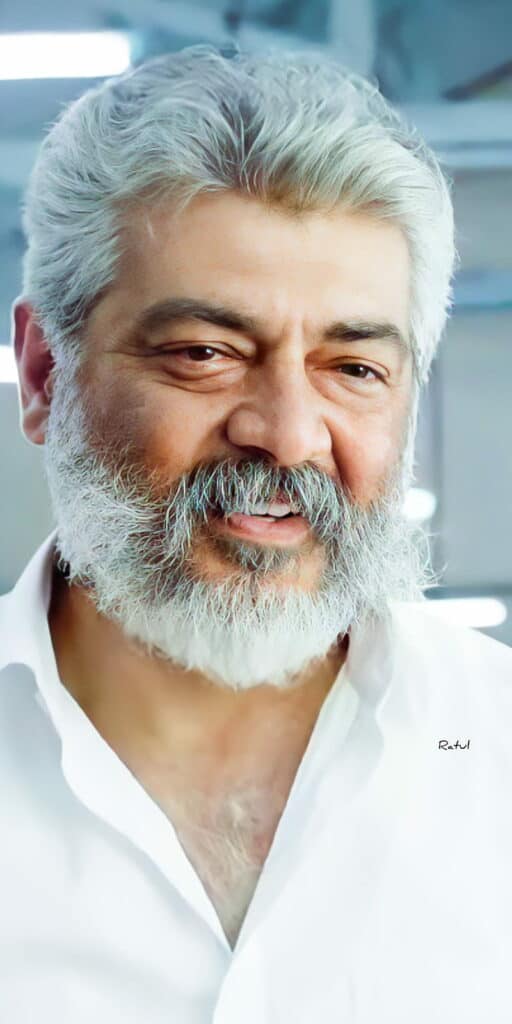 Ajith Kumar is an award-winning South Indian actor and motorcar racer. He is a recipient of four Vijay Awards, three Cinema Express Awards, three Tamil Nadu State Film Awards, and three Filmfare Awards South. Ajith debuted in the industry with a small role in the 1990 film "En Veedu En Kanavar." But he was not able to garner much attention to that. In 1996, he was offered to be a romantic hero in the film "Kadhal Kottai."
Ajith Kumar was born in Hyderabad, India, on May 1, 1971, to P. Subramaniam from Palakkad, Kerala, and Mohini, from Kolkata, West Bengal. He is the middle child out of the couple's three children. His brother Anup Kumar is an I.T. investor, while the other brother, Anil Kumar, is an IIT Madras graduate. Ajith was educated at Asan Memorial Senior Secondary School. Unfortunately, he dropped out of school when he was in tenth grade, and because of that, he never finished his higher education. 
After dropping out of school, Ajith was helped by a family friend to land a job with the Enfield company, where he became an apprentice. He also went on a six-month training to become a mechanic while under the company. Ajith's father was not pleased with his job and insisted that he leave the job.
Later, his father would help him find a white-collar job at a family friend's garment exporting company. The job at the company helped him grow to become a business developer. He left the job and started his own textiles business, but it wasn't a success prompting Ajith to look for another job in the same industry. 
At the same time, Ajith was also accepting modeling gigs and commercials. While in the commercial for Hercules Cycle and Motor Company, he caught the attention of P.C. Sreeram, who became the reason why he got into the acting industry. 
Ajith Kumar is married to Indian actress Shalini. They have two children, Anoushka Kumar and Aadvik Kumar. 
#4: Suriya Sivakumar - $25 million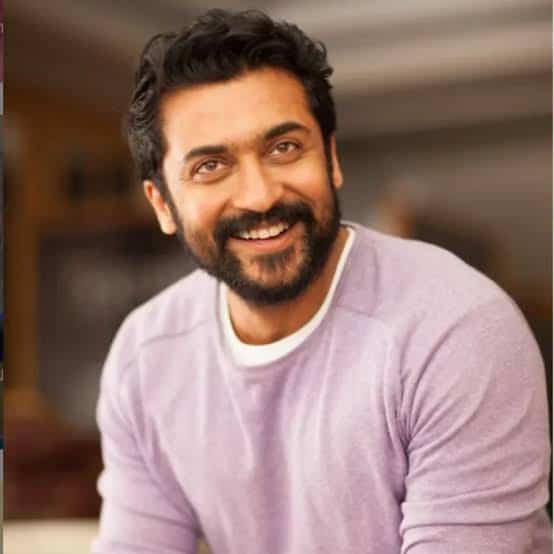 Suriya Sivakumar is one of Tamil cinema's most famous actors. He is more famously known by his stage name Suriya and is also a producer, T.V. presenter, and philanthropist. Suriya has had a long acting career earning him various awards for his acting prowess. The actor is a proud holder of two National Film Awards, six Filmfare Awards South, three Tamil Nadu State Film Awards, and many more. Forbes India has included him in their Celebrity 100 list more than six times. 
Prior to becoming an actor, Suriya worked in a garment export factory for more or less than eight months. Since his father was a well-known actor, Suriya hid his identity from anyone else. However, his bosses eventually figured out who he was. Suriya made his acting debut in the film "Nerukku Ner" (1997) when he was just 22 years old. However, it was in 2001, during the film Nandha that he became well-known. Ever since then, he has earned big bucks for being one of South Indian cinema's most sought-after actors.  
Suriya Sivakumar was born in Madras, presently Chennai, Tamil Nadu, on July 23, 1975. His father was a famous Indian actor, Sivakumar. Because of his father's fame, Suriya was given special treatment by the people, but he never liked it. He wanted to create a name for himself and not just be known as Sivakumar's son. Suriya is the eldest of three. He has a brother named Karthi, who is also an actor, and a sister named Brindha, a well-known Indian singer. 
The actor attended Padma Seshadri Bala Bhavan School and St. Bede's Anglo-Indian Higher Secondary School in Chennai. He obtained a Bachelor of Commerce degree at Loyola College, Chennai. 
On September 11, 2006, Suriya married Jyothika Saravanan, an Indian actress and model. The couple is blessed with two children, a daughter, Diya, and a son Dev. Diya is currently 15 years old, and Dev is presently 10. 
#3: Rajnikanth - $50 million
Rajnikanth is known all over Tamil Cinema as Super Star and Thalaivar. He is an actor, producer, and screenwriter whose fame brought him insane fans who basically worship him as their God. The actor has been in the industry for more than five decades. He has been in 160 films not limited to Tamil cinema in those five decades.
In recognition of his efforts in the film industry, the national government of India gave him the Padma Bhusan Award in 2000 and the Padma Vibhushan in 2016. The awards are considered two of the highest honors a civilian could receive in recognition of his contribution to Indian cinema. But these awards are not the only ones that he has won. He also won various Best Actor awards and various Filmfare Awards. 
Rajinikanth was born on December 12, 1950, in Bangalore, Mysore State, presently Karnataka. His parents named him Shivaji Rao Gaekwad after the Maratha Empire ruler Shivaji. Rajinikanth's father was Ramoji Rae Gaekwad, a police constable, while his mother was a housewife. The actor was the youngest of four siblings. He had two brothers named Satyanarayana Rao and Nageshwara Rao and a sister named Ashwath Balubahai. 
The actor studied at Gavipuram Government Kannada Model Primary School before enrolling at the Ramakrishna Math. Afterward, he went to study at Acharya Pathasala Public School. Eventually, he enrolled at the newly established Madras Film Institute. His family did not fully support the move. However, after his friend and co-worker Raj Bahadur's encouragement, he continued at the institute. When he was a student, he caught the attention of Tamil film director K. Balachander who saw potential in him. The director gave him Rajinikanth as a screen name.
Rajinikanth is married to Latha Rangachari. The couple met when the latter was a student at Ethiraj College for Women. She was interviewing him for their college magazine. They have two daughters, Aishwarya Rajinikanth and Soundarya Rajinikanth.
#2: Vijay Thalapathy - $56 million
Vijay Thalapathy is one of Kollywood's highest-paid actors, with a net worth of $52 Million. Aside from being known as one of the most critically acclaimed South Indian actors, Vijay is also a dancer and a playback singer. His acting career mainly focuses on Kollywood or Tamil Cinema.
The Indian actor has been in 66 films where he played the lead role. The International Business Times, an American online news publication, has dubbed him "the most consistent performer" because of the success of all his films. Vijay Thalapathy is a recipient of various awards, including an International Achievement Award and a South Indian International Movie Award. 
Vijay Thanalapathy began acting at the age of 10 in the film "Vetri." Because of his impressive performance, he was given other projects, such as "Kumdumdam" (1984), "Vasantha Raagam" (1986), "Sattam Oru Vilayaattu" (1987), "Ithu Engal Neethi" (1988), and many more. At the age of 18, Vijay was able to snag lead roles.  
The Indian actor was born in Chennai, Tamil Nadu, on June 22, 1974. He was given the birth name Joseph Vijay Chandrasekhar by his parents, S.A. Chandrasekhar, a well-known South Indian film producer, director, and writer, and Shoba Chandrasekhar, a playback singer, and a Carnatic vocalist. Vijay was baptized at the age of 12 into the Christian faith since his father was a Christian while his mom was Hindu. The family experienced a tragic loss when the actor's sister Vidhya died at the age of two. 
Vijay Thalapathy attended Fathima Matriculation Higher Secondary School in Kodambakkam before transferring to Balaok Matriculation Higher Secondary School. Eventually, the actor sought higher education at Loyola College in Chennai, Tamil Nadu, where he got his degree in Visual Communications. 
The actor is married to Sangeeta Sornalingam, a daughter of a Tamil Industrialist from Sri Lanka. They have two children named Jason Sanjay and Divya Sasha. 
#1: Kamal Haasan - $57 million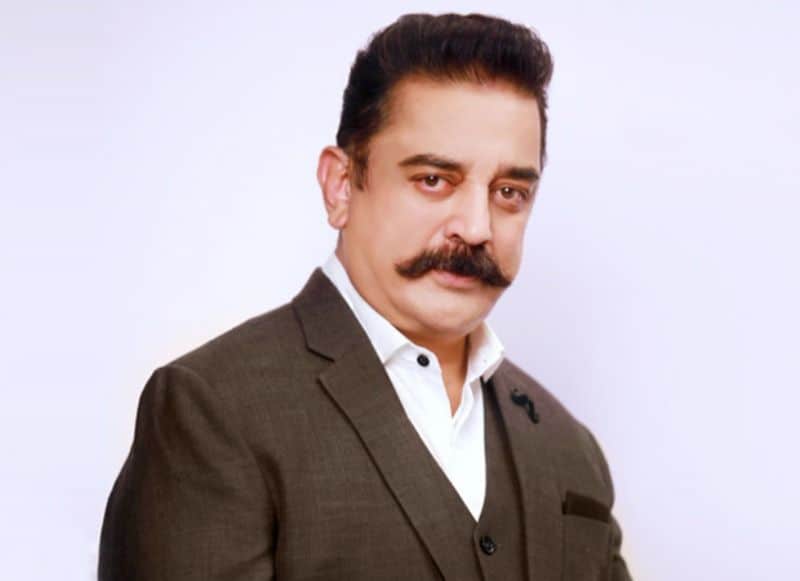 Kamal Haasan is a jack of all trades. He is an actor, filmmaker, screenwriter, singer, television presenter, and politician. Haasan is one of the most respected actors in the industry. As a matter of fact, he has pioneered various technologies used in the Tamil film industry. He is also a recipient of multiple awards, such as four National Film Awards, 20 Filmfare Awards, Kalaimamani Award, and Padma Shri, to name a few. 
Kamal Haasan was born on November 7, 1954 to a Tamil Iyengar Brahmin family. The actor's father's name is D. Srinivasan. He was a passionate lawyer and a freedom fighter, while his mother, Rajalakshmi, was a housewife. Kamal Haasan has two brothers and a sister. His brothers, Charuhasan and Chandrahasan, were also actors. Charuhasan was an actor turned lawyer, while Chandrahasan was an actor and producer. On the other hand, their only sister, Nalini, was a famous classical dancer. 
Kamal Haasan was educated in Paramakidi for his primary education, and then he moved with his brothers to Chennai to pursue higher education. Because of the family's ties with the film industry, Kamal Haasan started his career as a child actor during the 60s. In 1960, he appeared in the Tamil Film "Kalathur Kannamma." The film won him a President's Gold Medal. 
Kamal Haasan was married twice. The first was in 1978 to Vani Ganapathy, an Indian classical dancer. Unfortunately, they divorced in 1988. The actor married Sarika Thakur, an Indian actress, in the same year. But the marriage also ended up in a divorce in 2004. However, the union gave him two children, actress and singers Shruti Haasan and Akshara Haasan.