An orange cat was found at New York Airport after a security agent noticed some orange hair sticking out of the suitcase's zipper.
Talk about being a clingy, naughty cat, attempting to take a brief vacation. However, its mission failed after TSA officers caught him.
The Transport Security Administration (TSA) agent was shocked after he spotted the orange tabby cat trapped inside checked luggage after seeing it on an X-ray.
We're letting the cat out of the bag on a hiss-toric find. This CATch had our baggage screening officers @JFKairport saying, "Come on meow"! Feline like you have travel questions reach out to our furiends @AskTSA. They're available every day, from 8 a.m. – 6 p.m. (ET). pic.twitter.com/LpIkLbAgzC

— TSA (@TSA) November 22, 2022
The airline agent spotted the feline animal as the x-ray scanner scanned the bag. And fortunately, it was released before the airline moved the luggage into the pressurized cargo area of the flight.
According to a TSA representative, the traveler was unaware that he had a cat in his luggage when he was stopped by the TSA. Lisa Farbstein stated, "Traveler said the cat belonged to someone else in his household."
She also said in the tweet that the cat was safe and safely returned home. Adding that, the cat presumably noticed the bag was open and jumped inside without anyone seeing it.
In the picture on that tweet, tufts of orange fur were visible, sticking out between the black luggage's zipper spaces.
The representative, Lisa, also tweeted, "The x-ray machine is the cat's new best friend."
Alex Augustyniak, an Instagram user, claimed ownership of the cat by commenting, "that's my boy," in an Instagram story attached to a TSA post on the event from November 16.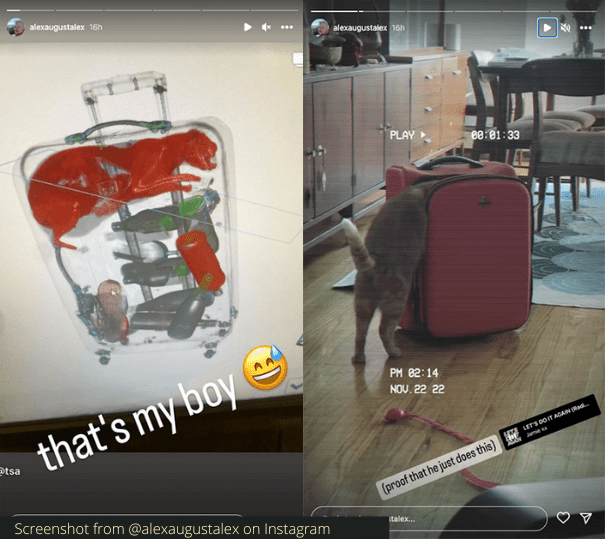 As further "proof that he just does this," the user posted a video of the cat struggling to fit into a suitcase.
The TSA urged travelers on Instagram to remove pets from luggage and to always ensure with their airline that it is pet-friendly.
Reactions to TSA Agent Was "Alarmed" To Discover A Cat In Checked Luggage
Thanks for the cute tweet

Can you stop making us take our shoes off? It's been 20 years and no one has used their shoes to attack a plane https://t.co/OUH9hqglsS

— Apocalyptica (@ApocalypticaNow) November 24, 2022