There are endless lists of black French tip nails ideas. However, we enjoy following the best ones, especially the tried-and-tested techniques of getting the most fabulous black French top nails. Today, we'll gather all the tips about the said nail style you'll probably love this year.
How To Do Black French Tip Nails At Home?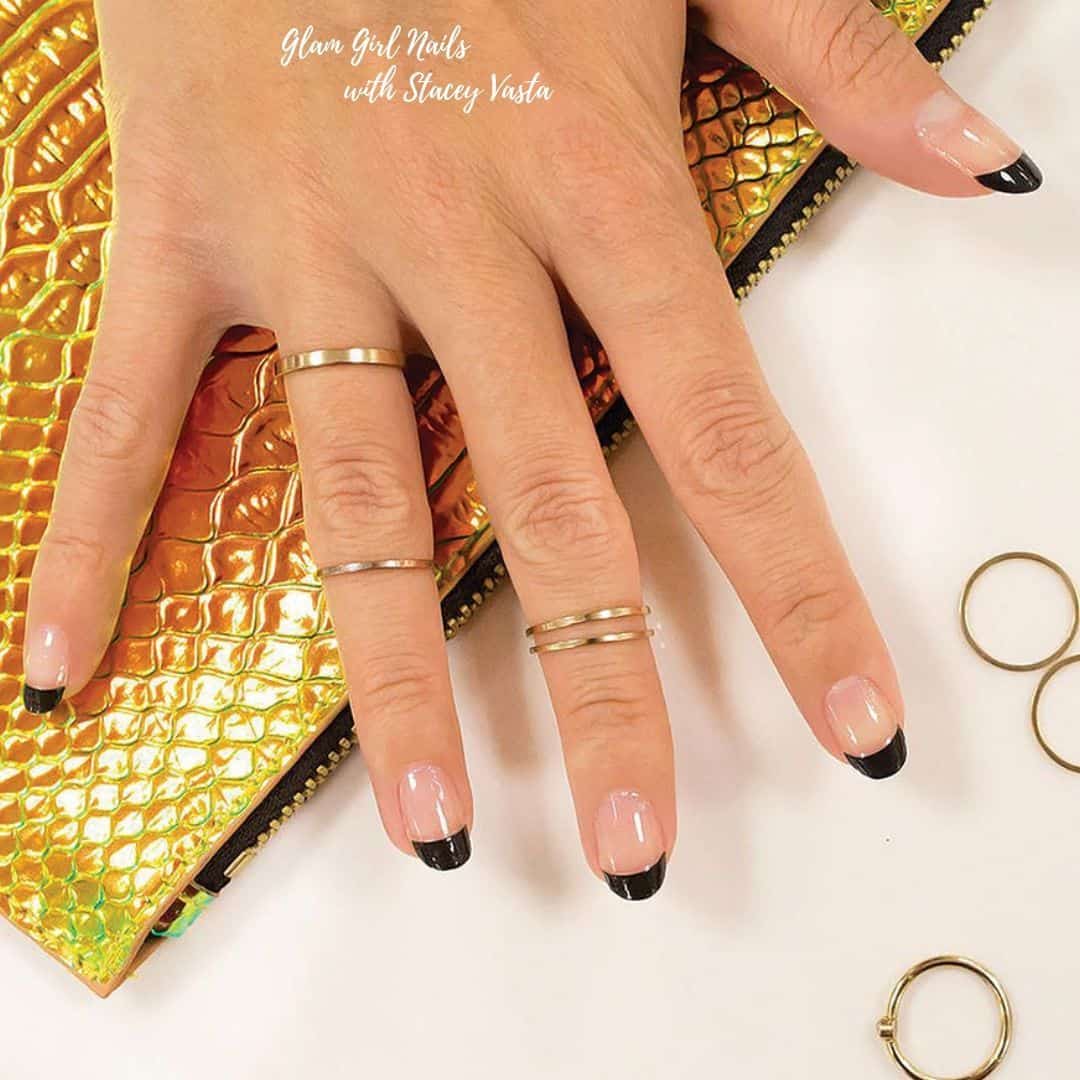 Are you planning to create your version of the black-tipped French manicure at home? You can try to look for inspiration online if you like. It is one of the trending nail art this time. You can DIY at home to avoid going out for a new nail design. You can practice your favorite look or take care of your cuticles there.
In the case of the classic black French tips, you can practice creating this. The revamped versions of this nail design are lovable, even for beginners. There are a few things to remember, though. Make sure to stock up on bare nail posh and brushes at home. Include glittery metallic materials and an attractive white base.
One way to showcase the French revolution in beauty is by following the "French but with a twist" phenomenon. The exact way to do this is to add finer black lines that give the timeless style a grittier upgrade.
In addition, do not limit yourself to the usual black French tips advertised by your manicurist. Instead, research for more variations that range from sparkling accents to thinner black lines and astrology-inspired drawings on your nails to have better results. In other words, recreate the classic black-tipped French manicure by changing the colors of your base or add-ons.
Black French Tip Nails Ideas 2022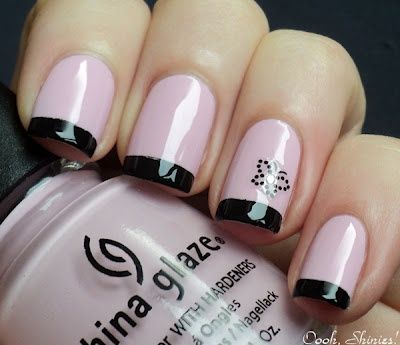 The popularity of the black French tip nail waned in the mid-2000s, and many people consider it a low blow. After all, this style isn't even on the radar since nail art existed years ago. However, things are different at present.
The black French tip nail art is here to stay. Besides, many beauty enthusiasts showcase it on Instagram and other social media, which allows stylish bragging looks to their maximum level.
Now, the comeback of the said nail design is timely. We're all in need of exciting options, after all. When I say exciting, that means nail art designs in different colors, shapes, sizes, and textures.
In the case of the black French tip nail, we welcome alternatives aside from the usual white tip in its plain look and mix it with neon lines, stiletto shapes, and more.
Let's say a white tip is a conservative look. But changing it to a black end part of the nail can even be more dramatic, timeless, and appealing. It's also versatile to go with your style, keeping the universal appeal of the black tip in mind. You can opt for a negative space if you prefer a graphic look. It's even highly recommended to go for an almond shape.
Before we discuss the different black French nail designs, we'll differentiate first French tips and French manicures.
French tips meant faux nail tips with white paint on the tip. On the other hand, a French manicure is the art of painting your tips with a hue that is not the same as your base color.
So, that means black French tips nail is a French nail design with a black point on the tip. To illustrate it further, you can check some basic examples of the look below.
Stiletto Black French Tips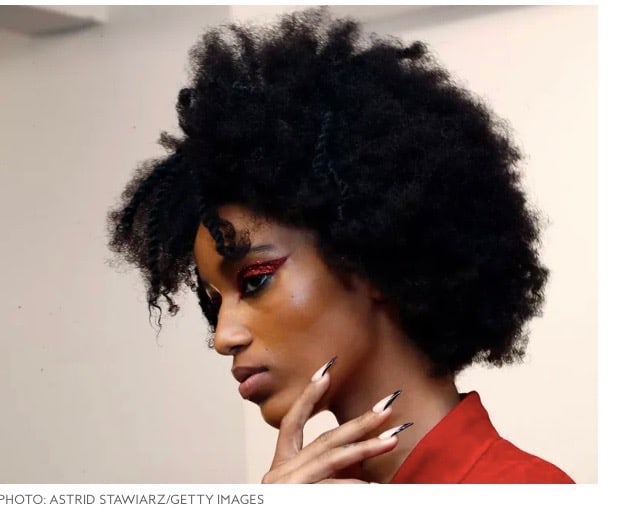 Well, let's start talking about a dramatic black French tip nail. This one is satisfying, especially for those who want to elevate their fashion-forward look. The stiletto black French tip goes well with looks that are provocative yet sexy.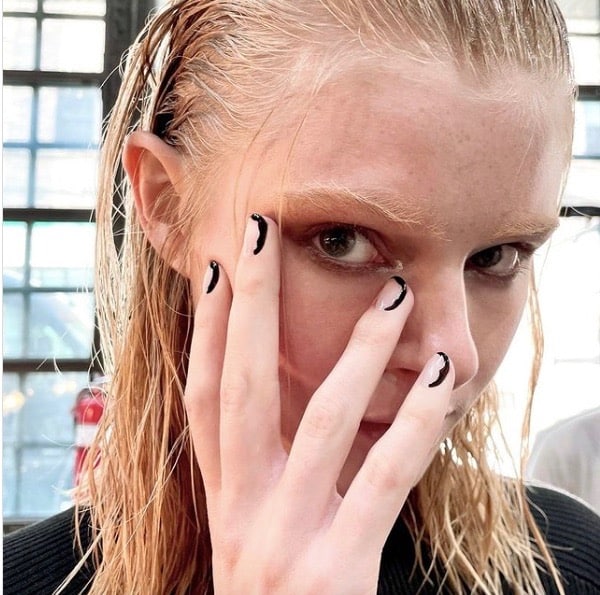 One of the novel ideas to spruce up one's look is incorporating it with an excellent nail design. Going wavy is also the best way to make your black tip stand out. For example, you can be inspired by Jin Soon Choi's work. Her brand is inherently fabulous.
Amy Lee is one of the nail artists that can pull off French almond tips well. She perfectly blended the almond shape black tip with her nail design. That makes her work mesmerizing.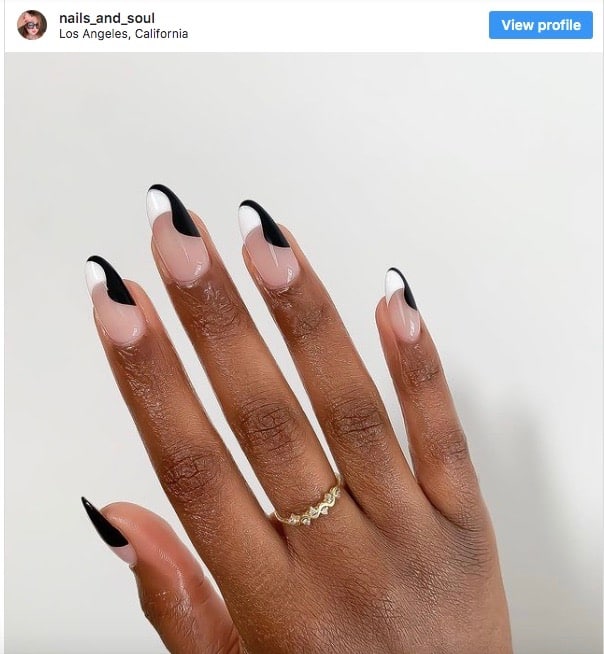 Now, you can also be playful with the black French tips. The black swirls idea is innovative, giving your nail design options a lift. In other words, you can wear black swirls tips if you're moody.
This is the most accessible nail art to copy these days. The round black tips are perfect for those who have just started to study nail design. Besides, it's easier to copy, and you can blend it with different colors if you're inspired to do it.
If round black tips are easy, the pattern clashing French black tips nail design is challenging. Simply put, it's not for beginners. However, you can still prefer to hire an expert to do it for you.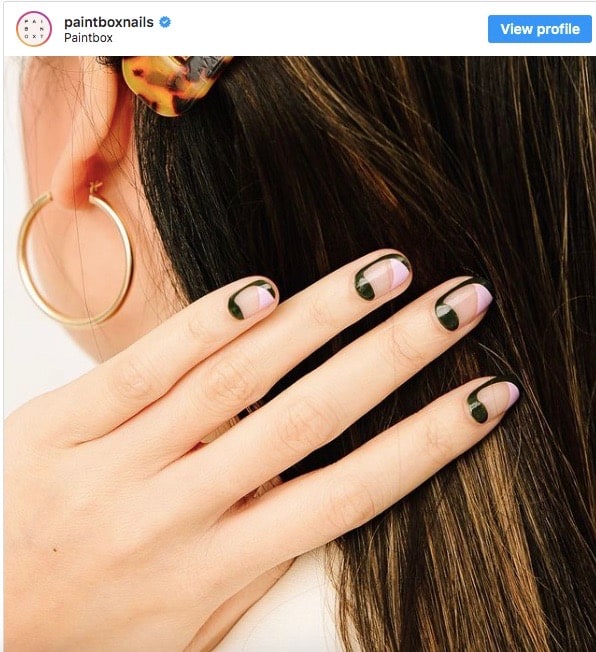 The half-moon French tips nail art is beautiful. You can match it well with light hues. For instance, you can create a half-moon using shades of black and pale pink.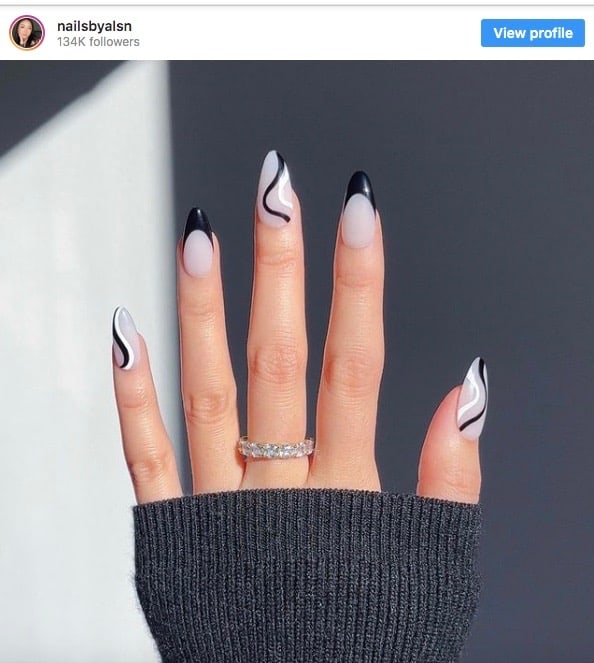 In the 1960s, curves and swerves is a favorite look. The trend is famous these days, too. Aside from incorporating it in other products, the said style is perfect for the nails. As a suggestion, you can blend a black French tip with black and white swirls.
Outline & Inverted Black French Tips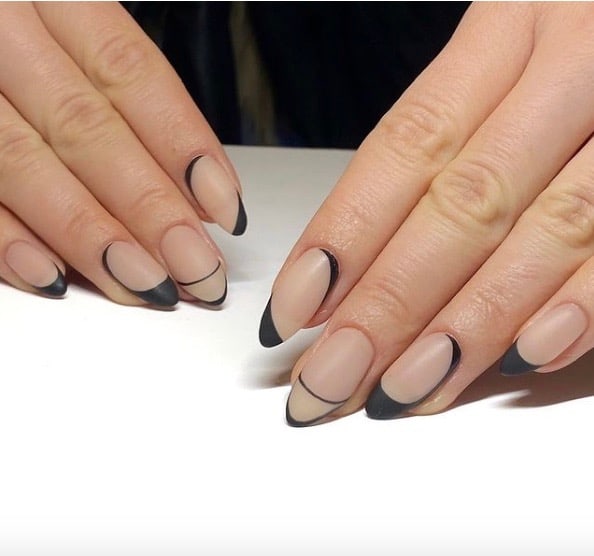 The outline and inverted black French tips are the perfect inspiration for those who like graphic designs. Aside from being a minimalist look, this is also classy and beautiful.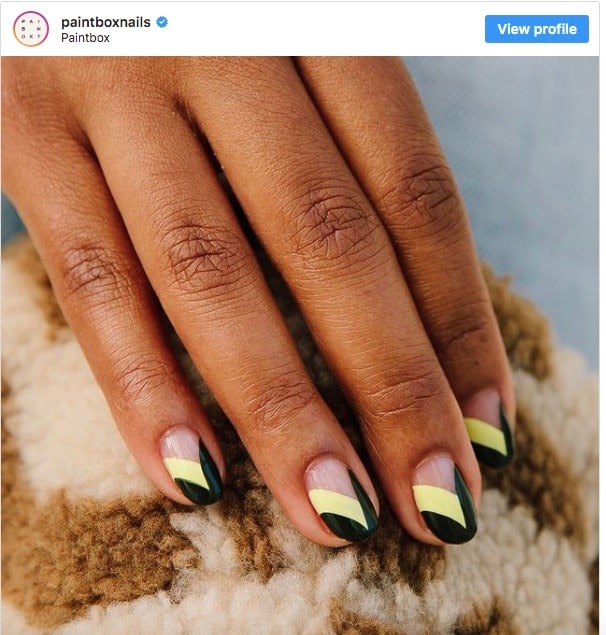 Let's discuss the exciting part of incorporating black French tips into your nail art collection. With black as a universal color, you can easily mix it with brighter and bolder hues. For example, your base can be a lighter shade, and then you can blend it in with bright yellow before making the black French tips shine.
Edgy Spring Manicure Black French Tips Nails to Try
The idea of wearing classic nail art is remarkable. We all start from there, wearing a simple mixture of black and white hues. However, we can elevate our look by giving it a more edgy vibe.
Regarding elevating black French tips nail design, there are a few variations to the ones we already discussed earlier. The changes are more demanding and require excellent execution.
Here are a few edgy nail art designs for you. Each style is a variant of the classic looks, though. In that way, it would be easier for you to remember.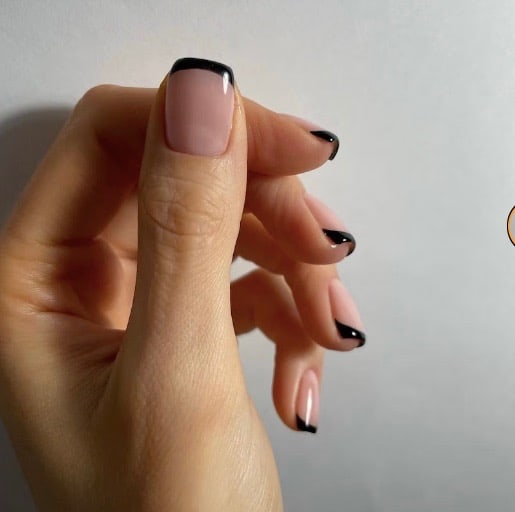 Here's one look you can try if you want a little twist to your essential nail art constituting black French tips. All you have to do is use a reliable thin nailbrush and paint it with a black hue. There's a warning, though – to steady your hand in the process. If you cannot stop your hand from moving, you can opt for a nail sticker.
Nowadays, you can DIY your nails and go for edgy designs. For example, you can try the almond crunch look. This is so minimal yet incredibly attractive for you.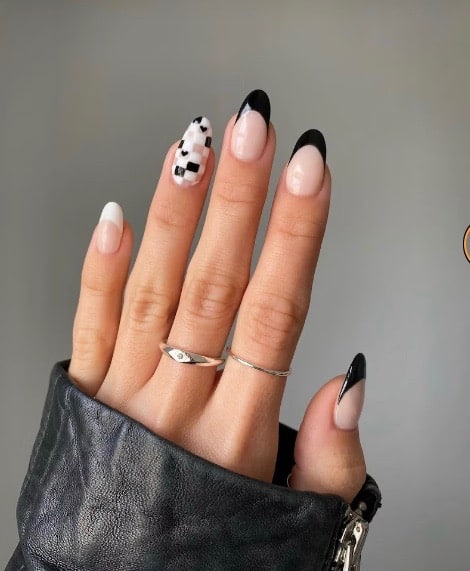 Are you in need of a boost when it comes to your manicure? Try the graphic nation look. There are online samples of this black French tips nail art. Besides, a top coat is necessary to make this look last longer.
Go For A Dalmatian Variant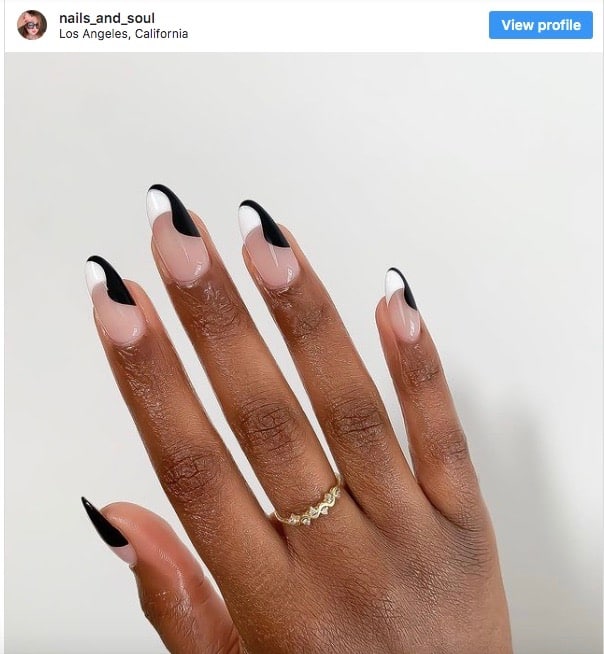 The combination of black and white presented graphically is remarkably gorgeous. Think of it this way: start from a lighter base and mix black and white swirls. This approach will surely and instantly amplifies your look.
Now, you can elevate your nail art to a maximum level. You can have a fantastic look by trying out appealing patterns in shades of black and white. You can add different designs, such as flowers, leaves, small circles, and more.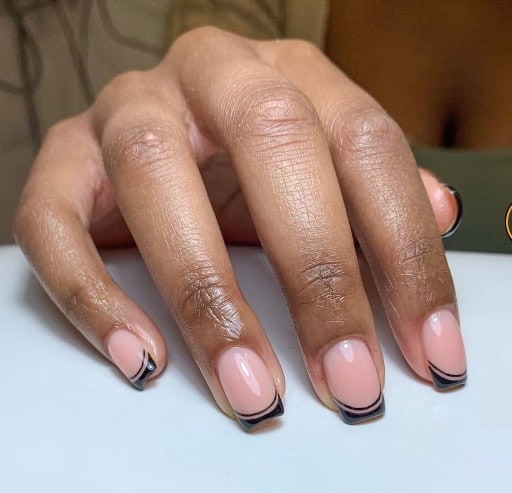 There is also a timeless look, if not for its elegant vibe. Imagine a slew of thinner and thicker lines in your tips. The ideal way to do it is alternate thin and thick lines in your suggestions. The rest should be the classiest base for a fresher, edgier look.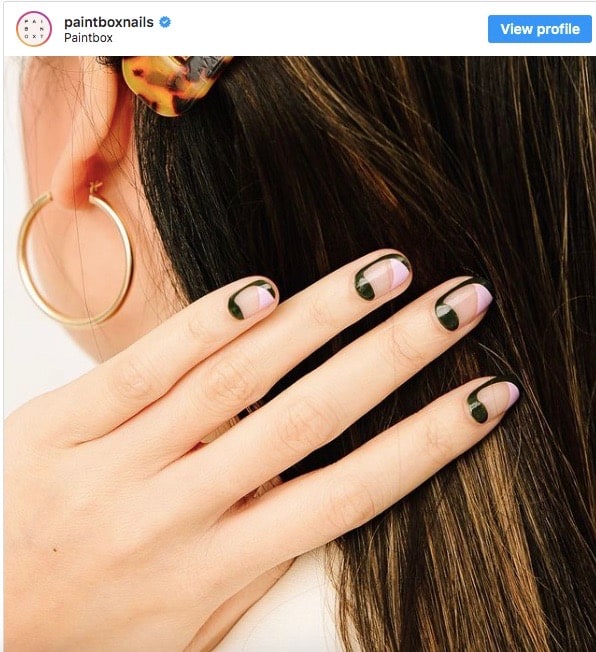 Do we forget the half-moon technique? Well, this one is unforgettable. It is a design you can do if you aim for a more dramatic approach to painting your nails. Besides, it also looks playful and beautiful. All you have to do is paint 75% of your tip with a nude color. Then, apply a black tip in a half-moon variation.
Stunning Spooky Black French Tips Nails For Beauty Lovers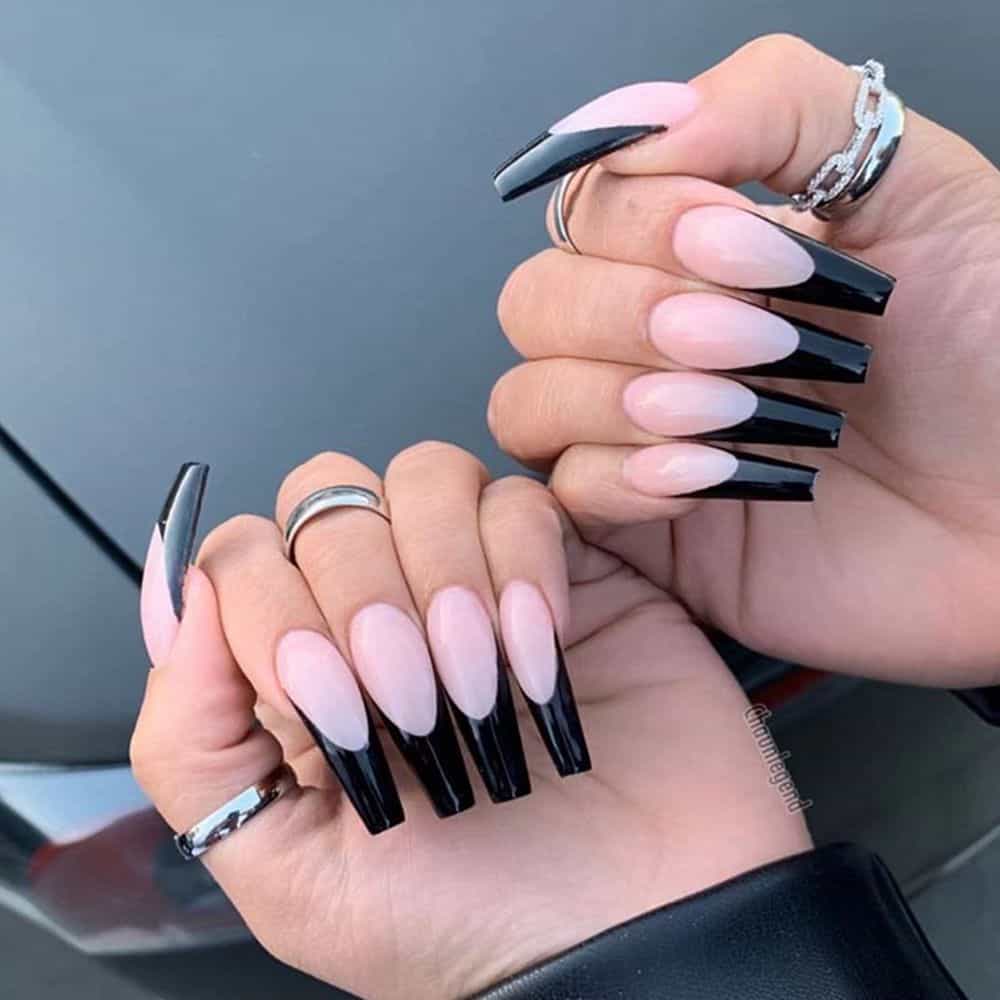 The color black is often associated with Halloween. So when it comes to nail art, especially black French tips, we can have various adaptations for your spooky adventures.
Let's say you want to take a more fitting look for your moody moments. Don't think too far than incorporating black French tips into your colorful nail paint. Just let your imagination run wild. Come on!
The best way to do this is to think about Halloween preparation. From your outfit to your home décor, there are ways to make it look better. What about your nails? Of course, it is part of the preparation. Fall isn't just about pumpkin patches and apple picking; having a bold, timeless and attractive nail design is also enticing.
The truth is that you can let your manicure last for your weeks unless you didn't choose a gel application. If that is the case, you can set a mood board to inspire you. Don't forget to make black French tips take center stage. It's good for you, anyway.
We've gathered several looks for you for the spooky season, presenting black French tips.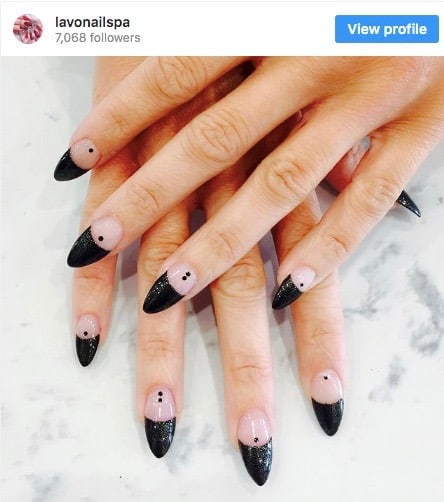 There's a better way to do it: try adding black dots on your base—this delicate addition to the allure of your Halloween look.
Another style to try for Halloween is stitched accents. Change it from a plain black manicure to daring stitches of beautiful lines and curves. This technique is perfect for accentuating your natural base color.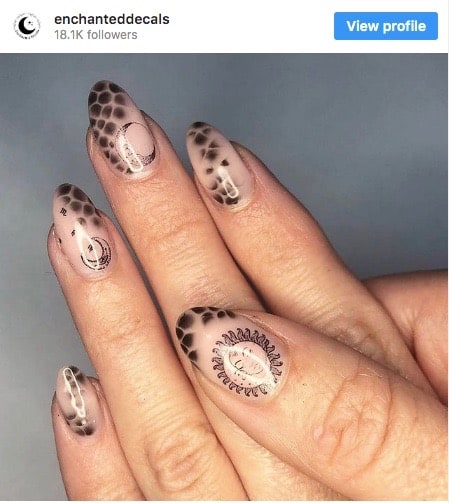 Aside from stitched accents, you can try this dimensional look, the spooky drawing on your nails. It includes a scary-looking design or some hints of astrology. If you need to meet your manicurist, try adding enticing fake styles.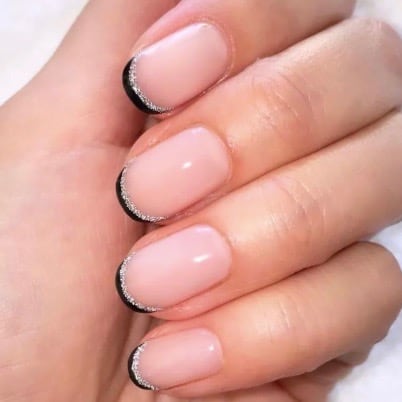 The glitter double French design is simple. Make sure to opt for a very light pink base. Then, add black French tips before lining it with glitters within each spectrum of the nail. Remarkable, isn't it?
Black and Red Combination
For sure, black is alluring. But if you combine your black tips with red accents of red curves, it will look even better. The devilish vibe of the manicure design is perfect for Halloween, too.
We love to recreate black French tips for a change. One of the perfect ways to do it is to maintain a classy look. The little twist of doing it is adding V-shape black polish on the tips.
Now, think about a minimalistic approach to the trendy style. After all, black French tips don't have to be boring. Start by opting for a chic base, and then add black French tips lined more thinly. After that, place glittering small stars on the right edges.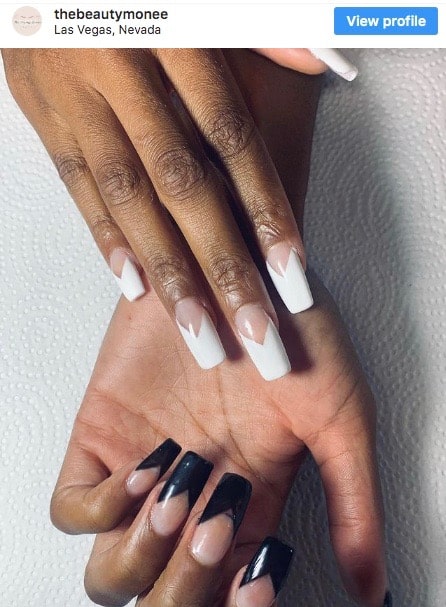 We're talking about opposites here, and it's the classic one. Black and white combination is always favored, especially for novice nail art enthusiasts. Nowadays, it is an alternative to the daunting all-black look. So make your base lighter, like a shade of white, and then add black French tips.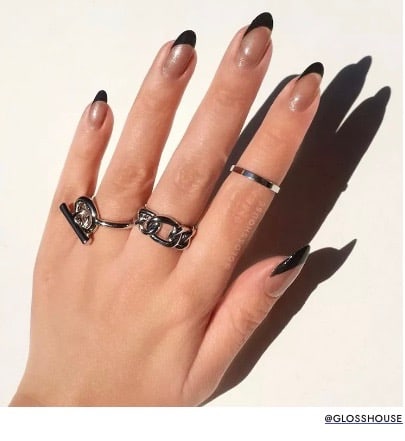 During Halloween, you're allowed to think outside the box. If you deviate from the usual black French tips, you can choose abstract lines for your nail art. It's liberating to try the unexpected style, right?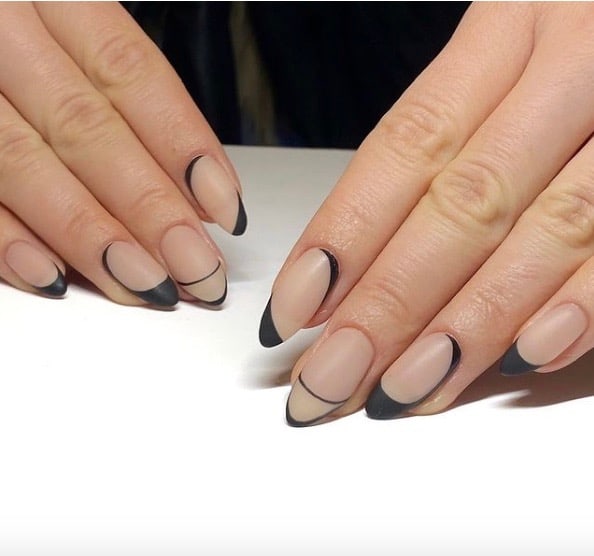 What about adding flat-backed gemstones to your black French tips? Well, this is a welcome addition to your collection. This option is pretty, too. Don't hesitate to add a metallic silver tip as an alternate.
Some people love sparkling accents to their nails. Well, this is it. Get the bling look by incorporating metallic silver materials into your black French tips. Be creative in this style for a fresher take on a high-end fashion vibe, nail polish edition.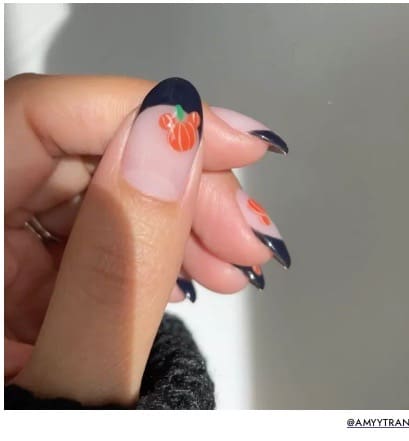 There are easy ways to look good during Halloween. For instance, you can wear pumpkin tips. Try including orange pumpkins in your nails for your seasonal style option after drawing the black French tips.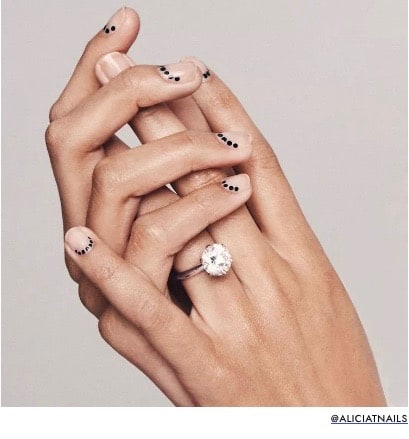 How do you create an incredible twist of black French tips nails? One of the best suggestions is having reverse black tips. Well, you're right. This is surprising. Yet, you can choose this as an alternative to your usual black French tips variation.
The first step is to opt for a clear base. Next, use a bobby pin to create dots on the base. Then, include a chic top coat to make it last longer.
21+ Black French Tips Nails Alternatives
The basic idea of the black-tipped French nail is to use solid black nail polish to create a black tip and then finish it without painting the rest. It's pretty simple. But you can beautify this classic look even more.
Choose the black French tips with a twist to add a little flair to your nails. In other words, try experimenting with an edgier version of the classic French manicure. Besides, this can be done at home, at any time. Or, you can set an appointment with your manicurist as usual.
Opt for the silver and black short baby inverted glitter round French tip nails. The idea is to dramatize your look with sparkling tips and then design the black tips around the inner portion of your nails.
Try the black double glitter short baby round nails. In other words, paint your tips with solid black colors and more concise black tips as an alternate, just a little away from the information.
Make your look edgier by trying the black and white almond ombre French tip nails with moons. The tips should be V-shape, though.
Showcase a more versatile version of the black-tipped French manicure by having black and red square ombre short French nails. The effect is appealing.
Here's another take on the French with a twist nail art, the black glitter ombre floating French almond nails. The technique consists of having a pink-hued base, adding floating black French tips, and then completing it with a glittery black line at the center from the tips to the inner corner nail range.
Another option is the gold and black glitter two-toned square French tip nails. The sparkling part should be in a deeper shade of yellow for a dramatic look.
Try the black and gold two-toned almond French tip nails. It's complex, though. But you can pull off the look effortlessly.
One of the dashing options is the black and yellow side-tip floating short square nail. This one looks exquisite.
One of the best edgier look is the orange and black square two-toned glitter nail. Make it more dramatic by pairing this with a timeless outfit.
Make it bolder by choosing the black and green side-tip pointed French nails. This is one of the most popular ways to wear neon, too.
Opt for more color combinations, such as black French tips with black, orange, yellow, and white colored square French nails.
The next is a pink, orange, blue, black, yellow, and purple round short two-toned colored French tip nail design. The black tips are thin and pretty.
Now, here's another way to add colors seamlessly. Choose pink, orange, black, green, blue, and purple-colored round-patterned acrylic French tip nails with hearts.
There's a more enthusiastic approach to the French with a twist nail art. Try the black and pink patterned acrylic almond V nails.
Next, you can choose the black coffin acrylic French nail style. Well, this one looks simple. But it isn't.
Get a new look with the gray and black acrylic short French nail design for a more elevated approach. It's an attractive and innovative way of showcasing the black-tipped French manicure.
Now, double the fun with the black and brown square French nail style. All you have to do is use a brown base and add spots of black in the middle and on the tips.
You can also wear the black and white two-toned short French nails with monochromatic detailing. Meaning you can have a simple nail design yet still look better.
Then, you can also pick a more winsome look. For example, glam up with the white and black almond patterned French nails with a monochromatic style.
Are you fond of flowers? You can incorporate it in your black-tipped French nails. The white and black square two-toned nails with monochromatic flowers design are for you.
Try the black and red short two-toned French nail art. You can do so much with bold red color and add the black tips.
Now, if you use your imagination, there are more than a hundred ways to showcase various black French tips nail styles. You can upgrade your classic French manicure by incorporating many colors, shapes, sizes, and designs.