Many people like to collect different black French tip nail art designs. Since it is an option for the usual white French tips, black remains one of the in-demand looks this year.
One of the exciting parts of applying black on the tips is incorporating it with different accents and colors. For instance, you can use a swirl design on your nails after applying jet-black on the ends. However, it is essential to practice applying it at home. There's nothing to worry about, though. We've gathered several nail art options for your inspiration.
What is a Black French Tip?
These days, many people have regular appointments with their manicurists. If you're fond of hiring people to do your nails, it is probably exciting for you to try new designs.
To understand the beauty technique, here's a short explanation about it. A manicure is a cosmetic beauty process for fingernails and hands done in a nail salon or home. The various methods include nail cleaning using numerous liquids and applying nail polish.
There are numerous nail designs to copy nowadays. Some nail treatments may include applying artificial gel nails and tips, including acrylics. The said type of cosmetic beauty treatment for fingernails is called French manicure.
In 1976, the term French manicure started to spread worldwide. It is a natural nail style founded by Jeff Pink. He was given recognition for sharing such fantastic nail art.
At that time, a particular film director requested Jeff to create a universal nail look that would allow actresses to stop spending too much time getting their nails refreshed to match their outfits for filming. Jeff's idea is to use white color for the tips. Then, he provided options for the pin, such as shades of pink, beige, or rose.
At first, the name of the nail beauty treatment is natural nail kit. Many people from the entertainment industry liked it. Besides, it's a vital time-saving technique that movie stars and studios use in their filming preparation.
Later, Jeff Pink brought nail art to runways in Paris. They also liked it. On his way home to Los Angeles, Jeff renamed the look a French manicure since it is a more pleasing name.
French manicure is described as a nail design that lacks artificial base color. It is a look with white tips at the nail's pointed end part or border. In sum, manicurists paint the tips with white and other hues or nude shades on the remaining portion of the nail.
But, some experts also differentiate French manicures from French tips. Those called industry insiders knew that French tips often mean artificial nail tips already painted in black.
French manicure, on the other hand, is defined as a beauty process when nail tips have painted a shade that is not the same as the base of the nail. Nevertheless, you can also hear people interchange the two beauty terms.
This article will discuss its alternative look, the black tips. We already know that the original color for the recommendations is white, after all.
Is Black French Tips Design In Style?
There are several nail design ideas to try this year. Last year, we saw fabulous styles donned by many celebrities. They're probably signs that their looks will remain on trend this year.
For instance, chrome claw will be famous in 2023. It is also called glazed donut nails. It is Hailey Bieber who first showed off the nail design. Later, several flavors surfaced on TikTok, such as candy cases, chocolate, and more.
Addison Rae also popularized game-themed nail art last year. On the other hand, Selena Gomez repeatedly donned shimmery hues. 3D nail design is also a hot trend lately. During the MTV Video Music Awards, Dove Cameron took the opportunity to showcase the style.
No wonder many style enthusiasts believe 2023 is the year of the best manicure designs. There are also similar shades with Viva Magenta, Pantone's Color of The Year. Some styles will enliven this year, such as diamond, pearl, and other materials that are perfect for encrusting with nail designs. Of course, black French nails will also remain a trend in 2023.
The Popularity of Black French Tip Manicure
We've explained earlier that black French tip manicures started to gain fame in 1976. Founded by Jeff Pink, the look became a favorite among celebrities, models, and movie stars due to its classy look.
In the mid-2000s, the style is rarely heard on our fashion radar. In other words, it became an underdog in the beauty industry. Later, it picked up its momentum and started appearing on social media. Many people began to post black French manicures, including a combination of other colors.
Due to the demand for a minimalist look in 2022, black French tips became immensely popular. Simply put, it is easy to achieve a neutral manicure by incorporating black French tips.
The usual reason the said nail art is popular is that it looks good on everyone. It is easy to don the style, even if you're not used to wearing exquisite manicures. Aside from that, it can also be personalized to match your preferences. For instance, you can have almond, stiletto, or metallic accents on your nails.
7 Top Black French Tips Nail Design Ideas in 2023
There are many ways to copy black French tips these days. Here, we've gathered the best nail designs for you that have black French tips nail art.
Short Black French Tips with V-Shaped Glitter Line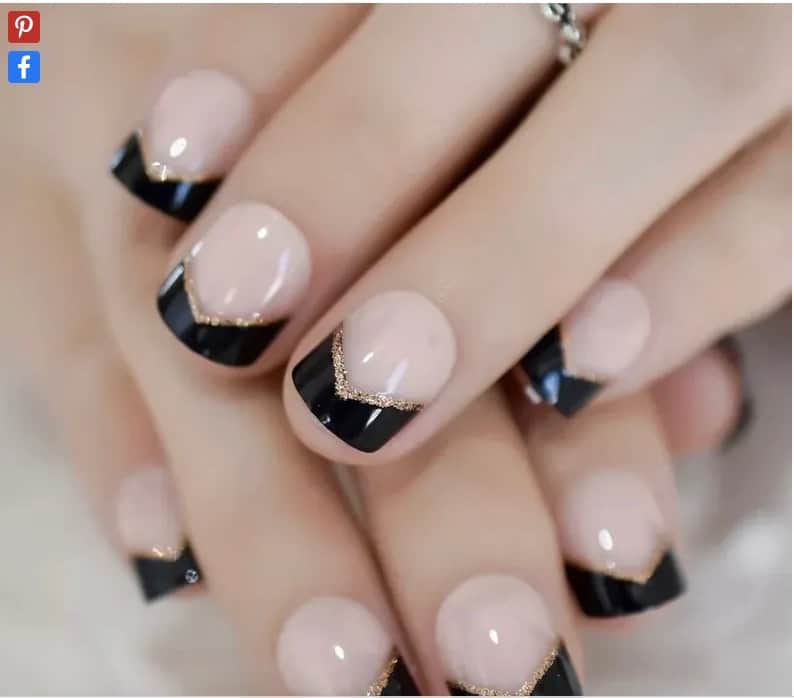 The short black French tips with a V-shaped glitter line are incredibly classy with a twist. Well, it has two beautiful elements: the V shape and the glitter line. It also includes a glossy effect that highlights the whole look.
Black Coffin French Rim Tips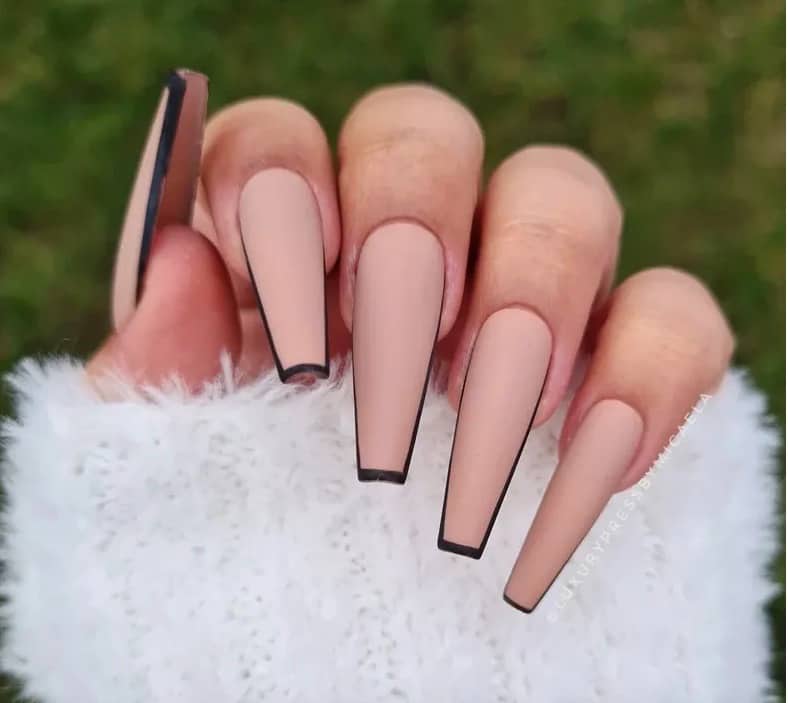 If short black French tips with V-shaped glitter lines are made of sharp nails, this one is the opposite. You'll need longer nails and adorn it with French black rim tips. Since its shape is a coffin, you'll immediately love the edgy design that highlights your outfit. The base is also pale pink for a classy appeal.
Glossy Black Coffin French Tips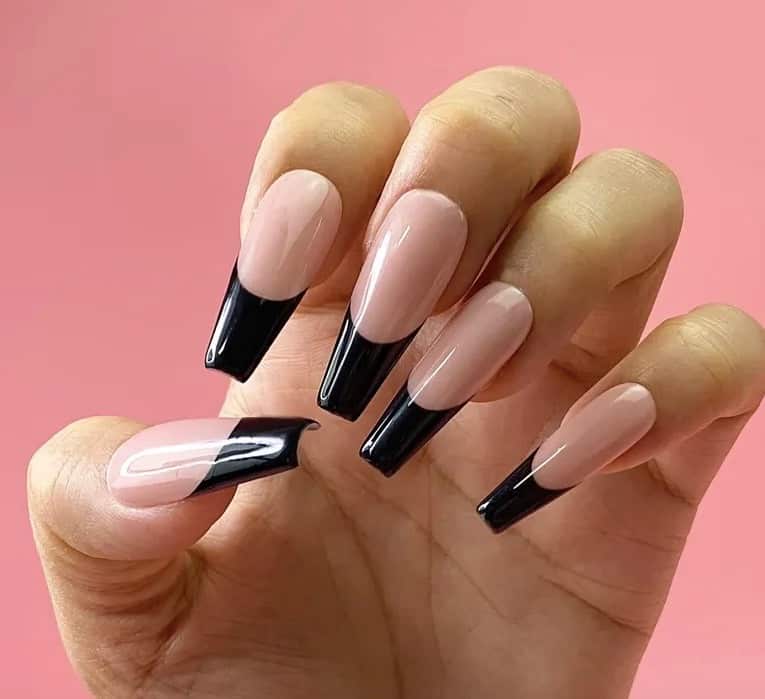 If you like glossy nail art, the black coffin French tips style is for you. It is elegant, effortless, and classy. This is also a low-key edgy design that is perfect for special occasions. Who wouldn't want to have glossy nails finish these days?
Black Almond Angled French Tips with Black Strokes
The elegant vibe of the black angled French tips with black strokes is perfect for beauty lovers. It is one of the best options for simple black French nails because of its angled dimension, giving an illusion of class and spontaneity.
Short Black Square French Tips with Sprinkles of Glitter
Are you fond of glitter ornaments? The short black square French tips with sprinkles of glitter are for you. The design is made for those who like a luxurious yet classy look. This is one of your best options if you're in for black French nail tips with a sparkling vibe.
Matte Black Stiletto French Tips with Small Black Hearts
There is no need to wear an ultra-fabulous outfit if you wear matte black stiletto French tips with tiny black hearts. The style alone is enough to shine in a black-and-white ensemble. The French manicure is perfect for those who like simple yet elegant looks.
Black and Deep Purple Almond French Tips
The black and deep purple almond French tips design are effortlessly chic. There is no need to amplify your style in this lovely nail art because the nails alone speak volumes. The combination of black and deep purple coincides with the edgy and sleek almond French tips.
Black French Tips Nail Designs Donned By Celebrities
Many celebrities loved wearing black French tips. One of these celebrities is Selena Gomez. Even though she doesn't always share tidbits of her lifestyle on social media, we always feel excited if she posts something.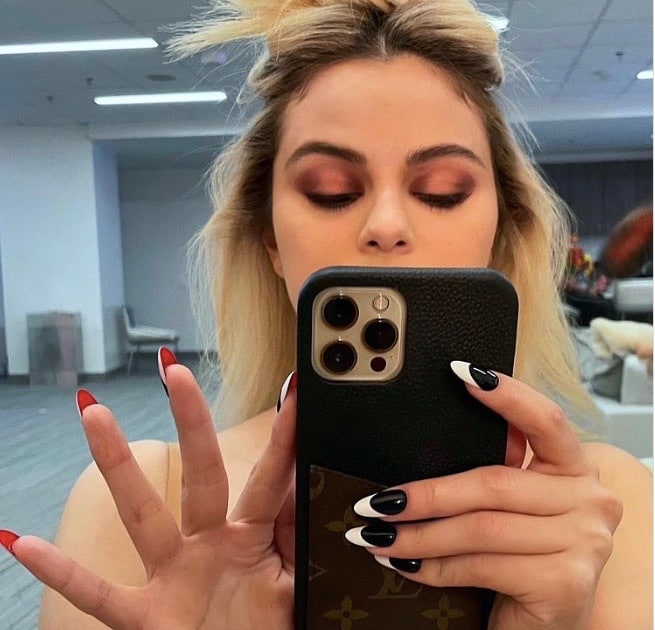 One of Selena Gomez's posts is about her French manicure with two twists. She shared the creation of her manicurist, Tom Bachik, showcasing glossy black and white lacquers. Her nails are pointed, which gives us a luxurious vibe. It has an inverted black French tip that we usually see on Instagram lately. The look is for fun, fashion, and creativity.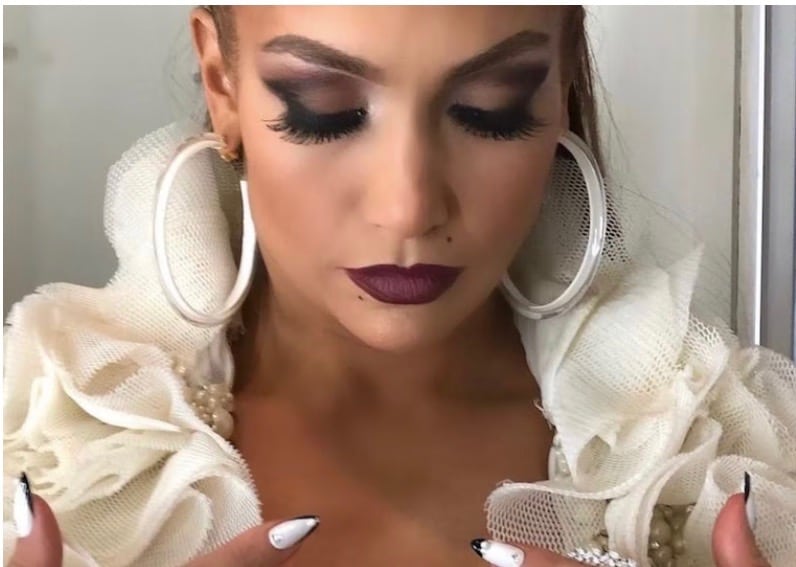 Next, we have Jennifer Lopez's excellent black French tips design idea. We know she is humble, but Jennifer is always game when sharing glamorous looks.
Tom Bachik, a celebrity manicurist, created beautiful nail art to match her fashionable outfit. It has romantic-Goth black and white French tips that make her look so appealing. The nail design has rhinestones embellishments so endearing.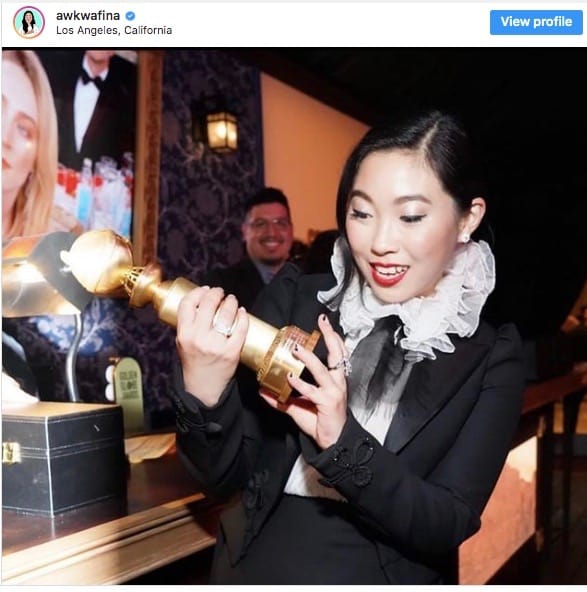 Awkwafina's 2020 Golden Globes red-carpet look is also excellent. She celebrated becoming the first Asian-American woman to receive the Best Actress award. No wonder she looked effortlessly gorgeous.
She also donned dainty half-moon tips to accentuate her fabulous outfit. Awkwafina teamed the black French tips with a nude base color for a standout look. The fantastic nail art created by Thuy Nguyen is one of the highlights of her red-carpet fashion then.
After providing all the necessary information about black French tips, you can start planning your new nail art this year. Remember to add pretty embellishments for an updated, unique style.