The popularity of blue French tip nails is notable these days. More and more beauty enthusiasts prefer nail art to classic French white-tip nails.
Next year, the nail design is also poised to dominate major beauty publications as beauty lovers post more photos wearing it. For your inspiration, we've accumulated some tips for doing blue French tip nails, including some ideas for next year, 2023.
What Does French Tip Blue Nails Mean?
Blue French tip nails have dominated the beauty industry lately, specifically in nail designs. You can see myriad photos on social media, particularly with French tip sky blue nails.
It is another version of the classic French tip white nails. This time, the point of interest is the color blue. When it comes to this look, you can also expect variations such as deep blue, light blue, sky blue, and more.
Many people ask questions relating to nail design. What does a French manicure say about you? Ladies who can adapt to anything use this style. Besides, it means you have a penchant for classic outfits.
As to why French tips are more expensive, the answer lies in the magnificent talent, time, effort, and materials needed by the manicurist. In other words, you're paying for the premium service you'll receive when getting French tip nails done.
In this article, you can expect to see more of the sky blue French tip nails variation. After all, it is a famous code on TikTok that many people have discussed since 2021.
25 Fabulous Blue Nails For A Chic Manicure
The popularity of blue French tips nails makes us research more inspiration these days. It helps us plan for our next outfit, too. Here are some of the beautiful blue French tip nail designs for you to copy.
Blue Glitter Square French Tip Nails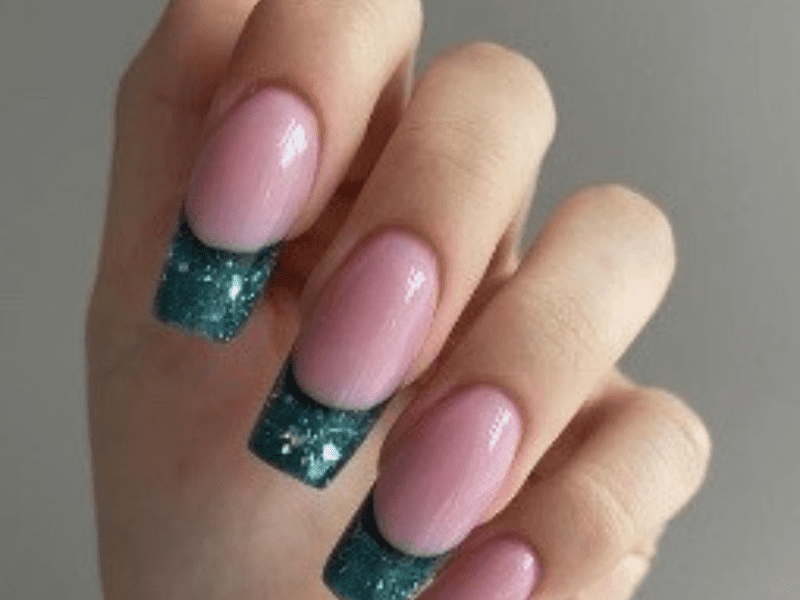 The combination of blue and dark green shades is pretty. This look is refreshing, too, with a sparkling design all over the nails. The blue glitter art is also unique.
Blue Ombre Square Glitter French Tip Nails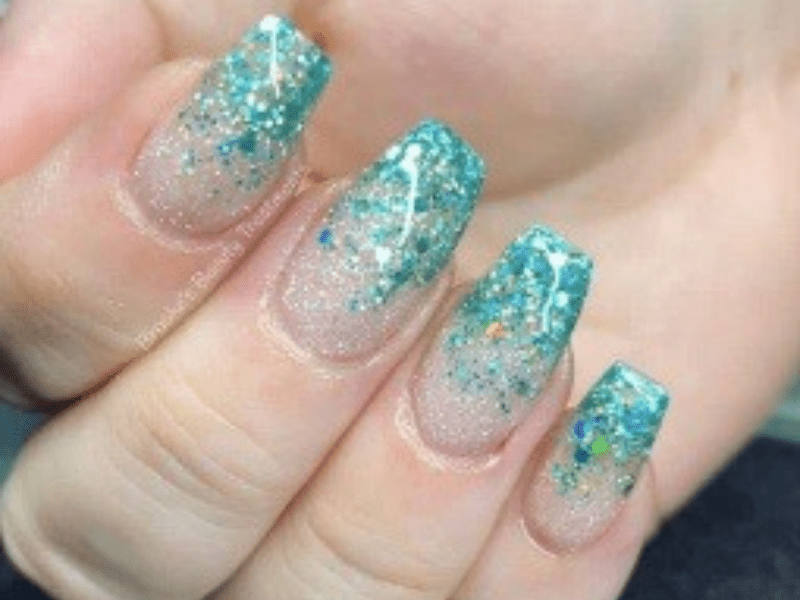 One of the prettiest nail designs is ombre, and the results are excellent if you use blue and light green glitter. The base is also refreshing, making the two sparkling colors shine.
Blue Square Glitter Side-Tip French Nails With Snowflake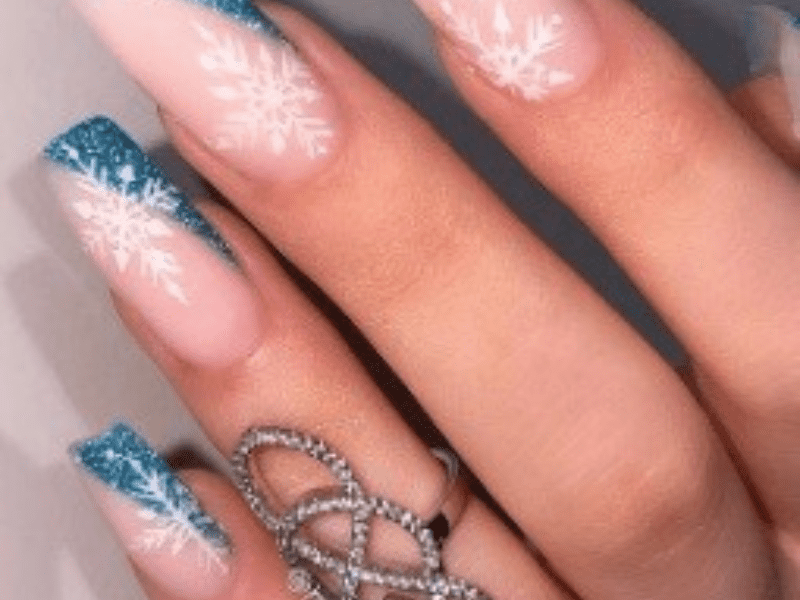 There's no need to introduce this look extensively. The design is lovely for the ladies. With snowflakes as the primary artistic point, you can't say no to these blue French tip nails.
Blue Almond Glitter Filigree French Nails With Snowflake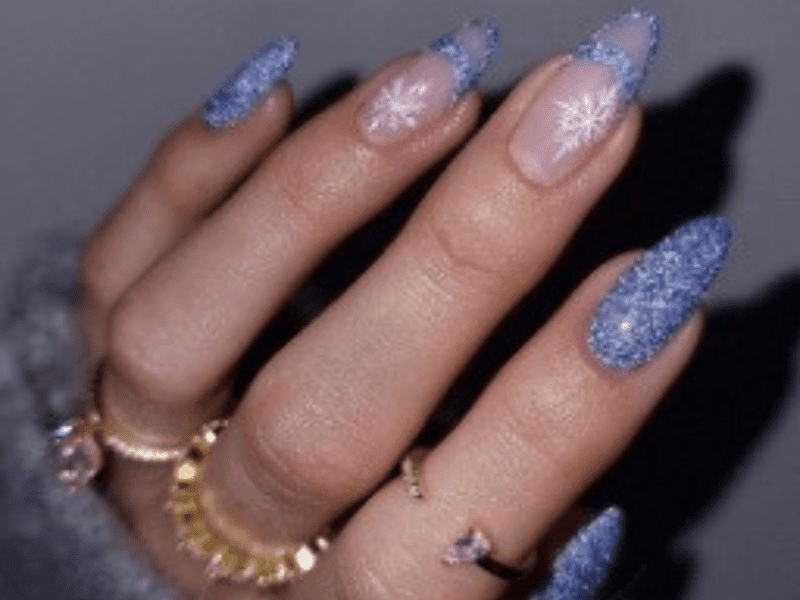 Here's another version of a snowflake nail design. The color blue makes it appealing. The almond design is remarkable, too.
Blue and Silver Inverted Square Glitter French Nails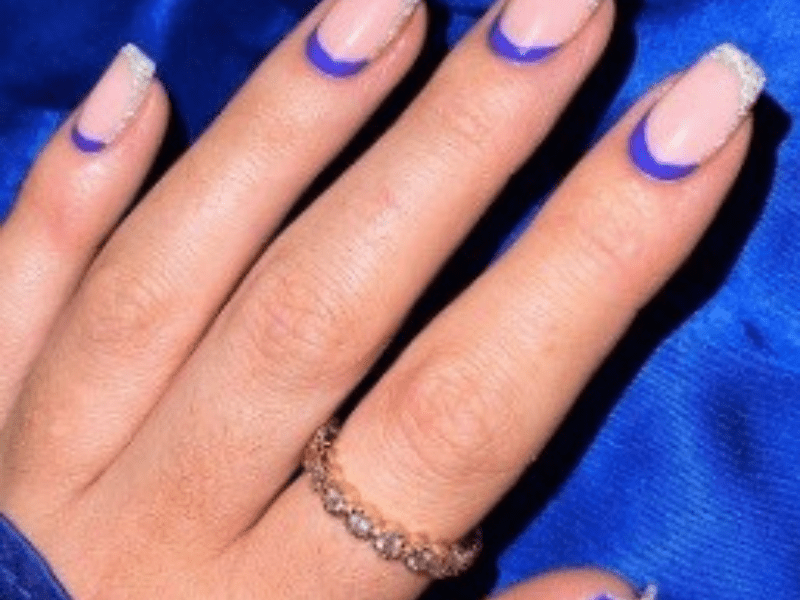 There is one way to have a unique option for the blue nail design. You can try the blue and silver inverted square glitter French nails. It looks unassuming and pretty.
Yellow, Green, Purple, and Blue Matte Square Ombre Colored French Tip Nails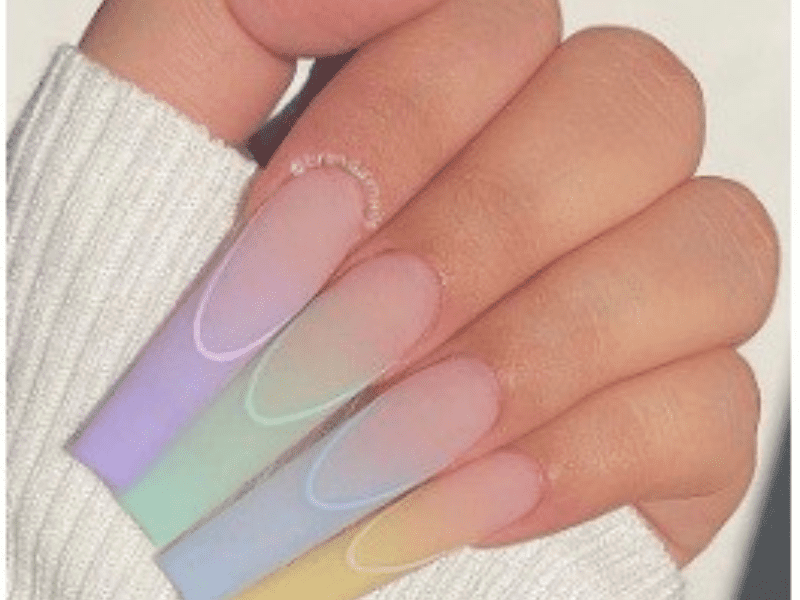 Let me share a fantastic way to show off blue French tip nails. Check this out, a beautiful color parade with a blue ombre matte look in attendance. The colors are pretty and lively.
Pink, Coral, Green, Peach, and Blue Ombre Colored Almond French Tip Nails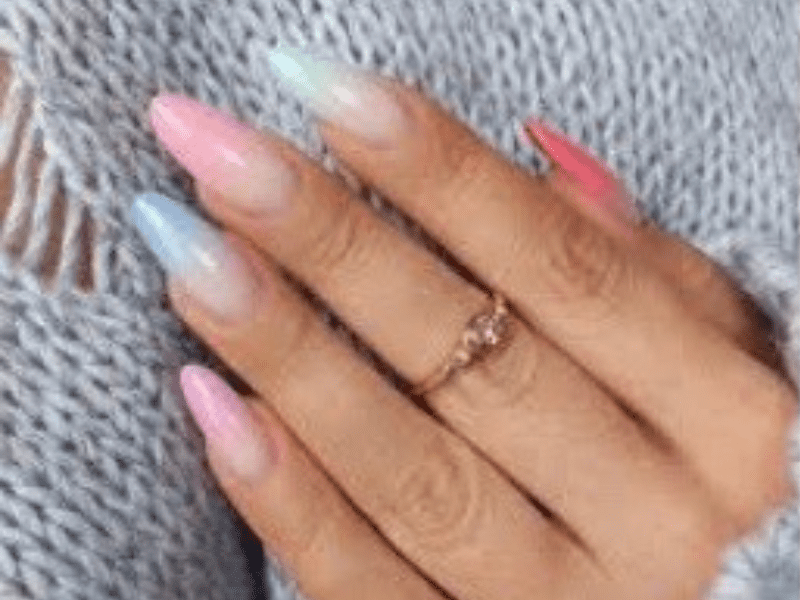 Aside from the color combination presented earlier, there is another alternative to the blue French tip nails. Try the pink, coral, green, peach, and blue ombre-colored almond designs. It's truly unique!
Pink, Peach, Yellow, Purple, Orange, and Blue Colored Ombre Square French Tip Nails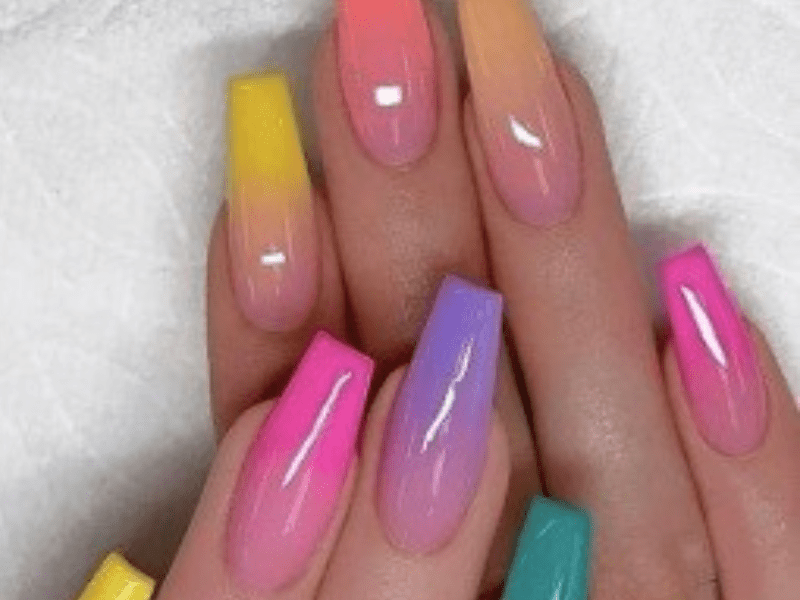 The beauty of this nail design is in its excellent color pattern. The pastels look chic and pretty. Even though blue isn't the primary color here, you can see it as attractive as the other hues.
White and Blue Ombre Short Square Nails
You can opt for this look if you want a clean, classy, and pretty nail design. Everyone loves the effect of the blue and white combination, so this is truly fantastic. Besides, this is an option for those who like short nails with blue French tips.
Blue Ombre Stiletto Matte Nails
The perfect choice for a special occasion is pretty stiletto nail art. Plus, you can choose this blue ombre stiletto matte nails for a change. The look is edgy, dainty, and unique.
Blue, Pink, and Purple Colored Patterned Square French Tip Nails With Flowers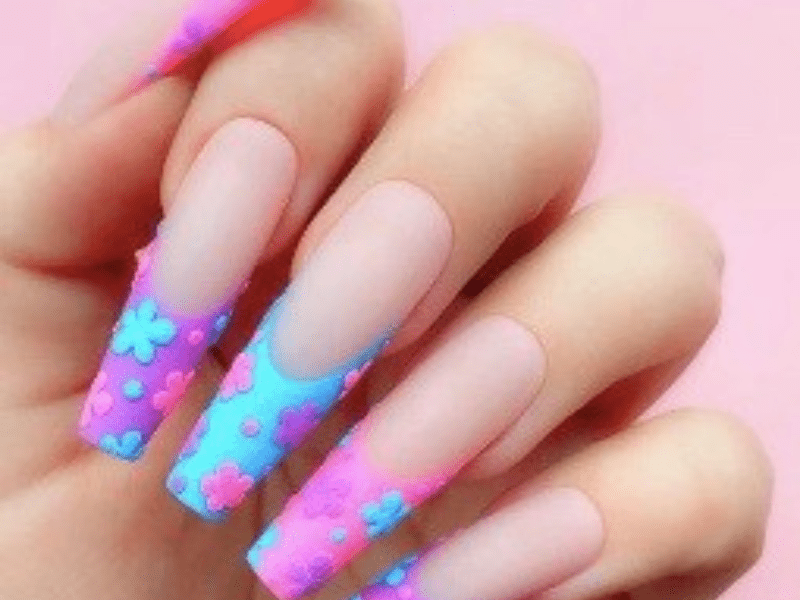 Here's an exciting twist to the blue French tips nails. Try the blue, pink, and purple colored patterned square French tip nails with flowers.
Pink, Purple, Yellow, Red, and Blue Colored Short Glitter French Moon Nails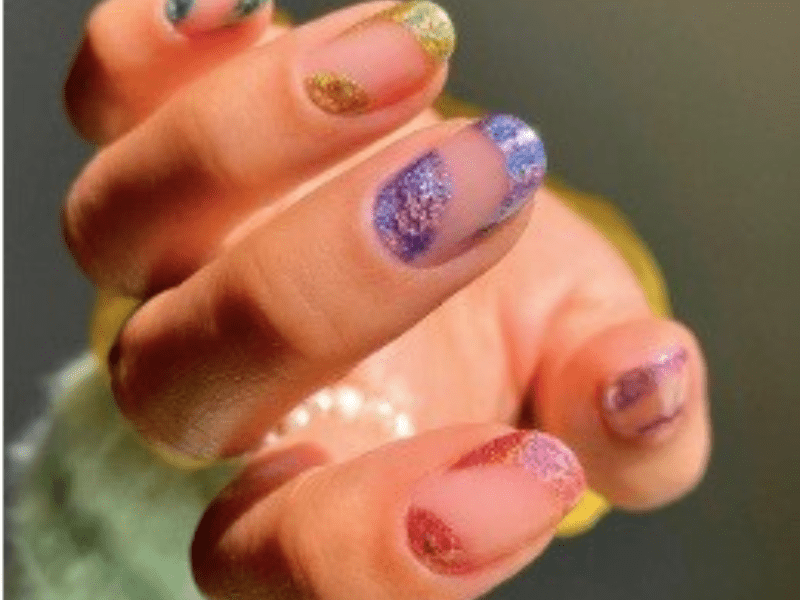 It is one of the most gorgeous looks. The moon design is also refreshing. Besides, you can wear this look when attending a party.
Pink, Blue, Green, Orange, and Yellow Colored Short Square French Nails
The abovementioned nail art is your best bet if you prefer disco-looking French tip nails. Well, the design is simple. Yet, the colors are attractive. You can't say no to this. That's for sure.
Blue and Green Two-Toned Almond Short French Tip Nails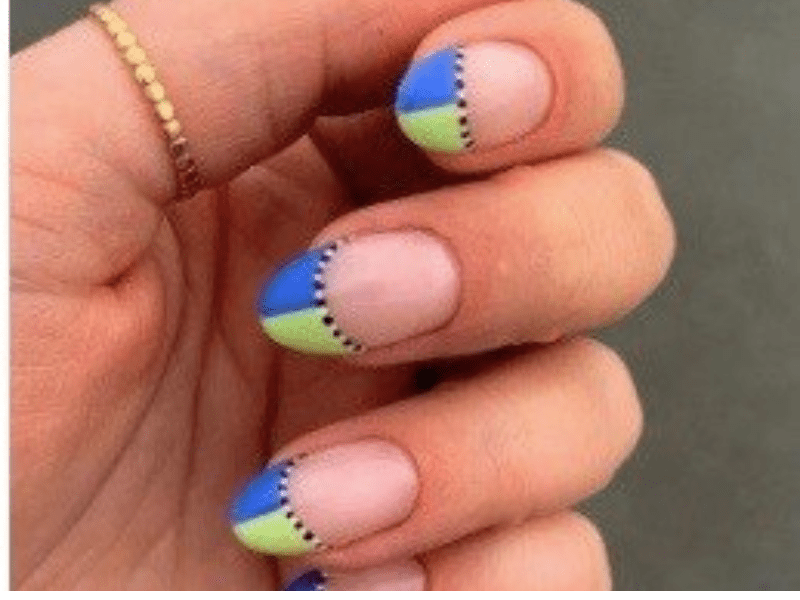 What about a dramatic two-tone nail design? Try wearing the blue and green two-toned almond short French tip nails. It has pretty black dots at the end of the two-toned line.
Blue Ombre Coffin French Tip Nails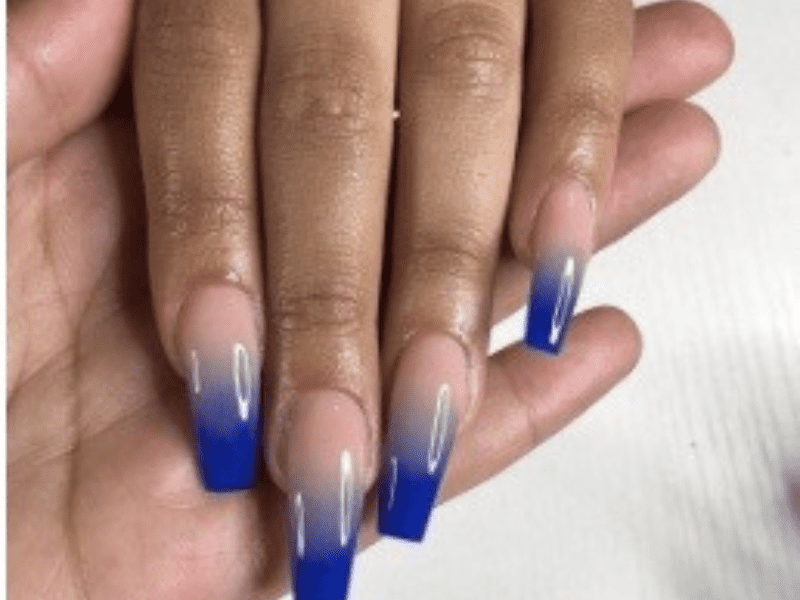 The said look is standard these days. But if you want an unassuming nail design, you can opt for the blue ombre coffin French tip nails. This is the perfect nail art if you wish for your clothing style to stand out.
Blue, Yellow, Purple, and Green Colored Square Acrylic Nails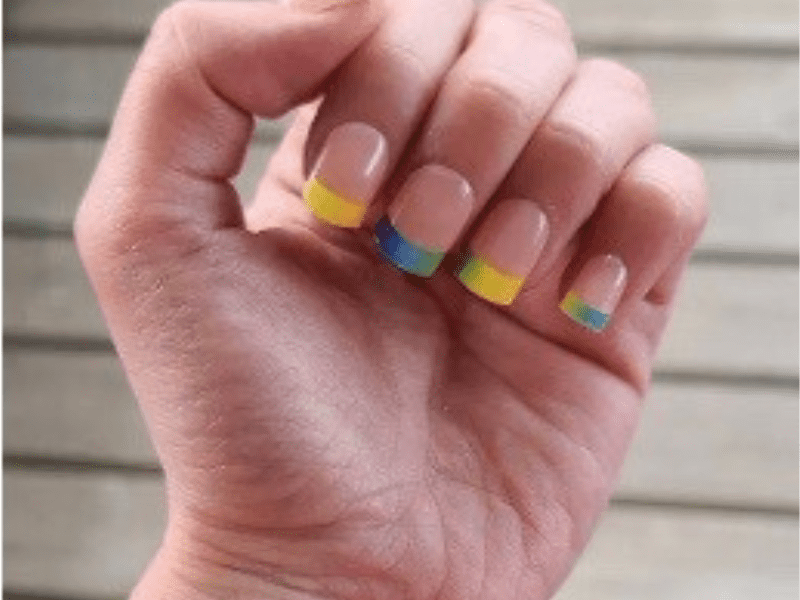 The mixture of blue, yellow, purple, and green shades is appealing. Since square nails are supposed to be simple, this one elaborates on its simplicity by adding beautiful colors. Remarkable, isn't it?
Blue and Orange Acrylic Coffin Deconstructed French Tip Nails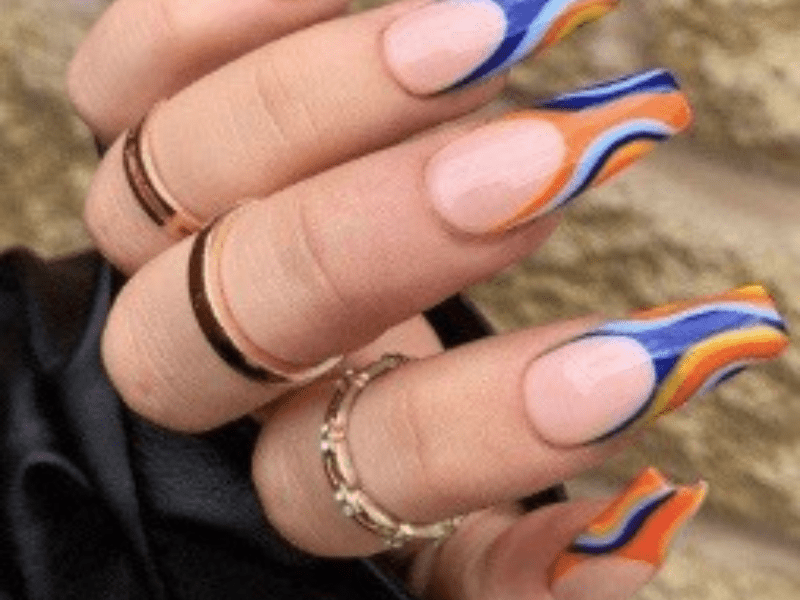 This one is for you if you're looking for distracting yet beautiful nail art. The blue and orange acrylic coffin deconstructed French tip nails look busy and complicated, yet it is genuinely fantastic.
Blue Pointed Acrylic French Nails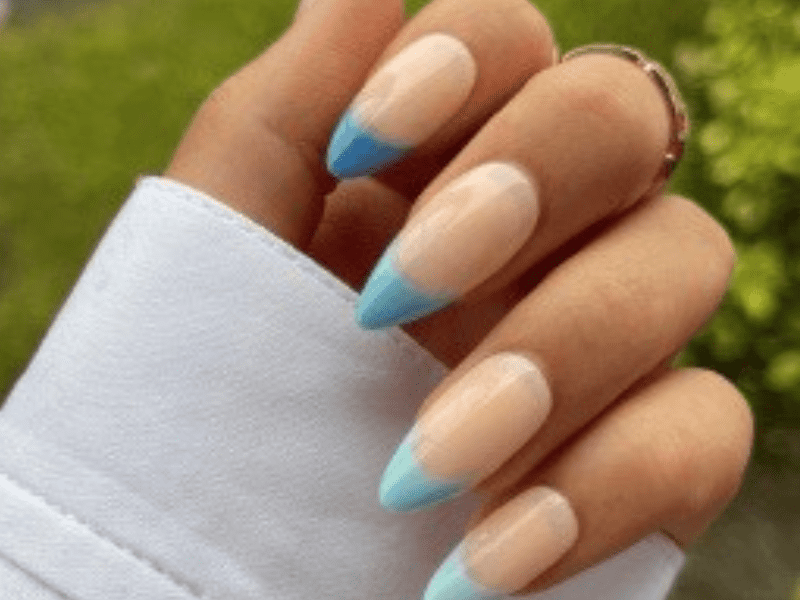 The blue pointed acrylic French nails design is perfect for plaid outfits. After all, the color combination isn't busy, and it looks relaxing. It's also ideal for wearing with black and white clothing pieces.
Gold and Blue Acrylic Inverted Glitter French Nails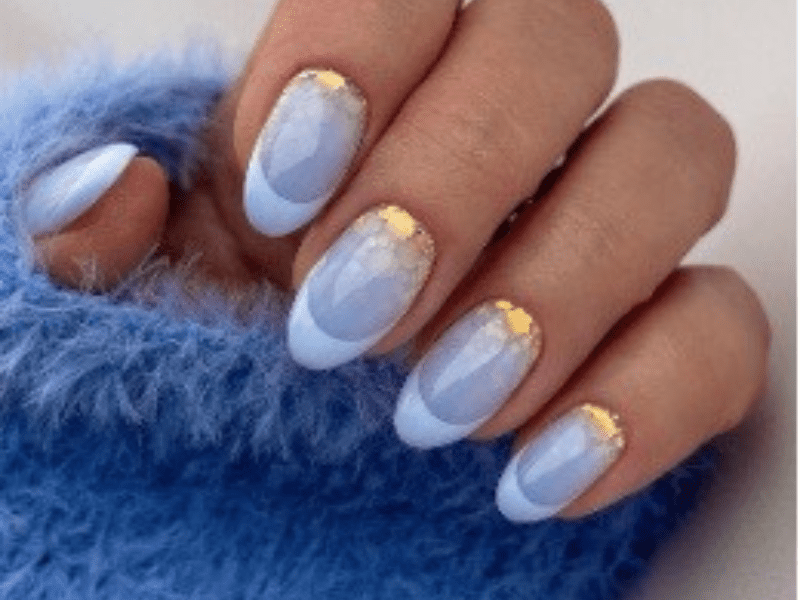 You'll have a wow factor if you wear gold and blue acrylic inverted glitter French nails. The combination of chic shapes, sizes, materials, and styles is remarkable. It looks stunning, too.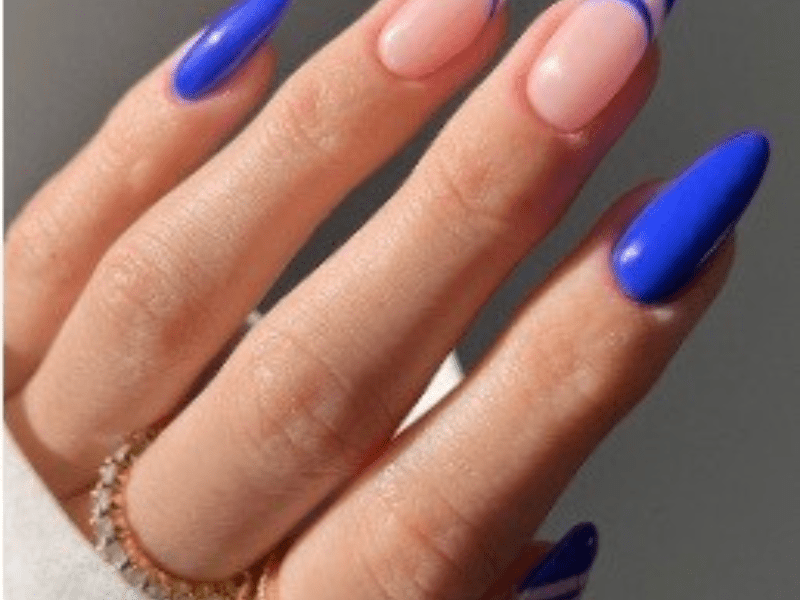 A combination of blue nail polish and almond shape is refreshing. Try wearing the blue almond double nails and match them with your trendy outfit. It will indeed look beautiful.
Blue and White Swirls Inverted Side-Tip Double French Nails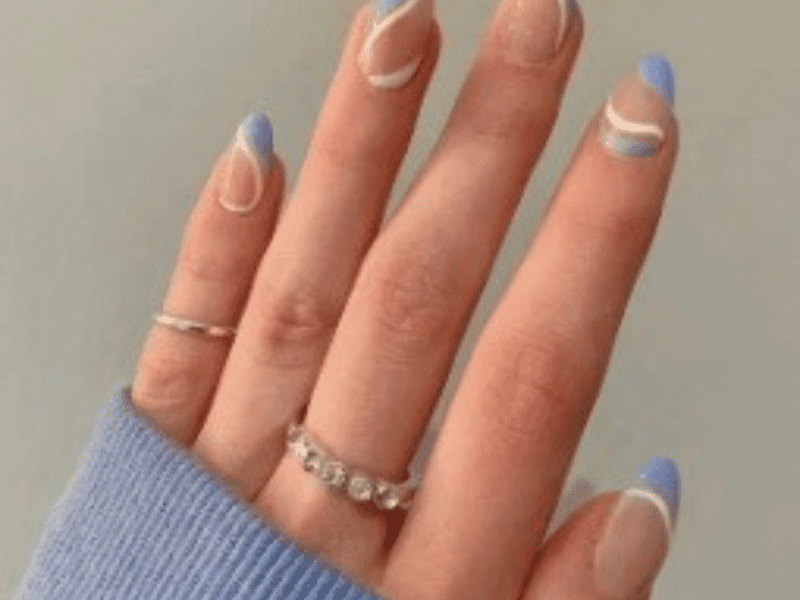 Well, this is one of the unassuming nail designs out there. It isn't dull, and the color combination is classy. You can easily match this with any colorful outfit for a day off.
Blue and White V Coffin Two-Toned Nails with Flowers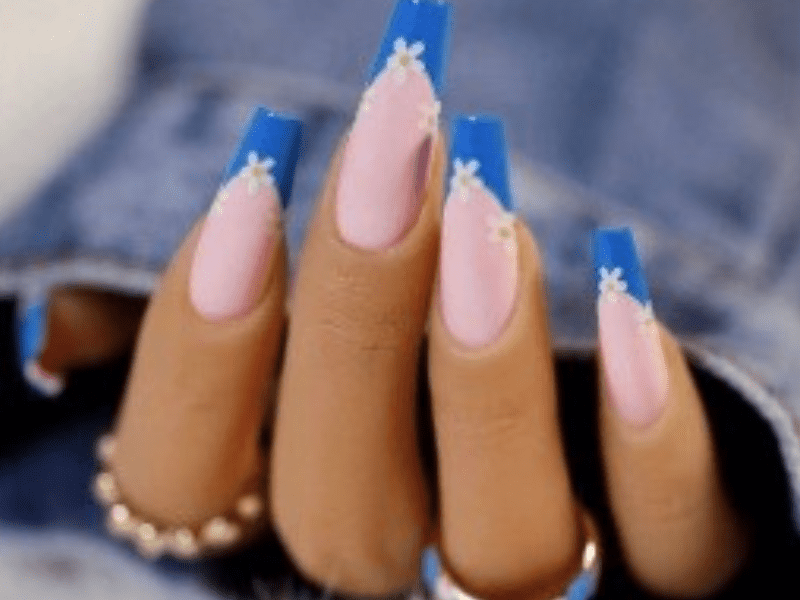 Many people love the beauty of nail design with flowers. Especially if the primary color is blue, the look is timeless. Have you tried wearing this type of nail art?
White and Blue Side-Tip Double Swirls Almond French Nails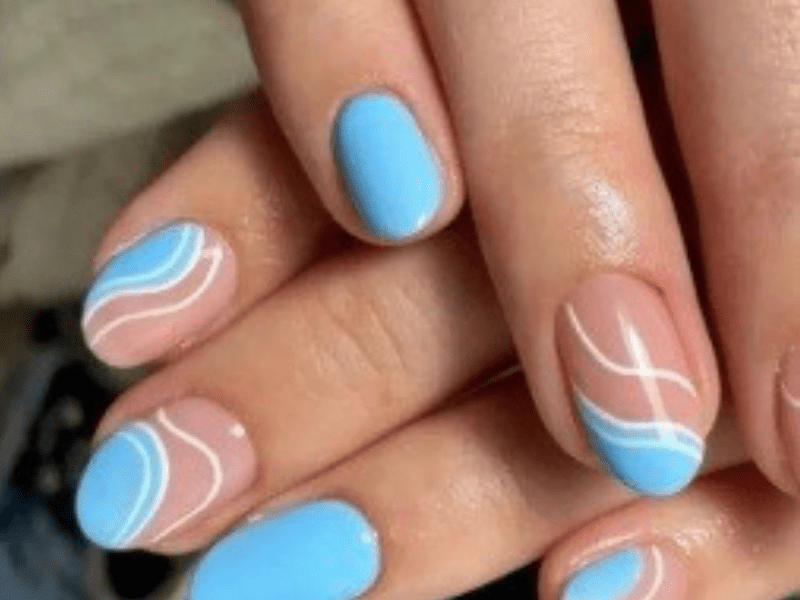 What about wearing a side-tip double swirls almond design? The look is unique, clean, and fantastic. In addition, the white wheels added beauty to the design.
Blue Square V French Tip Nails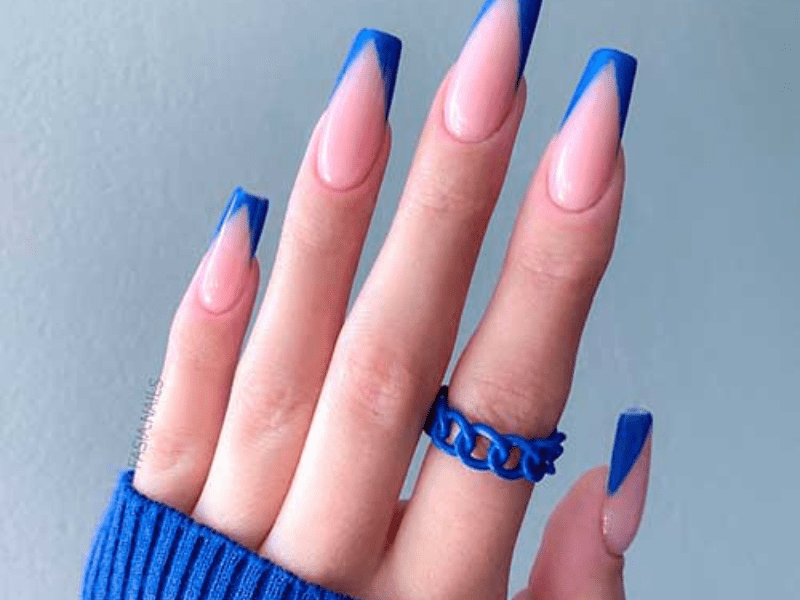 The beauty of V French tip nails is electrifying. It is bold, pretty, and remarkable. Besides, you can easily do it at home by using the right tools.
Silver and Blue Square Two-Toned Nails with Hearts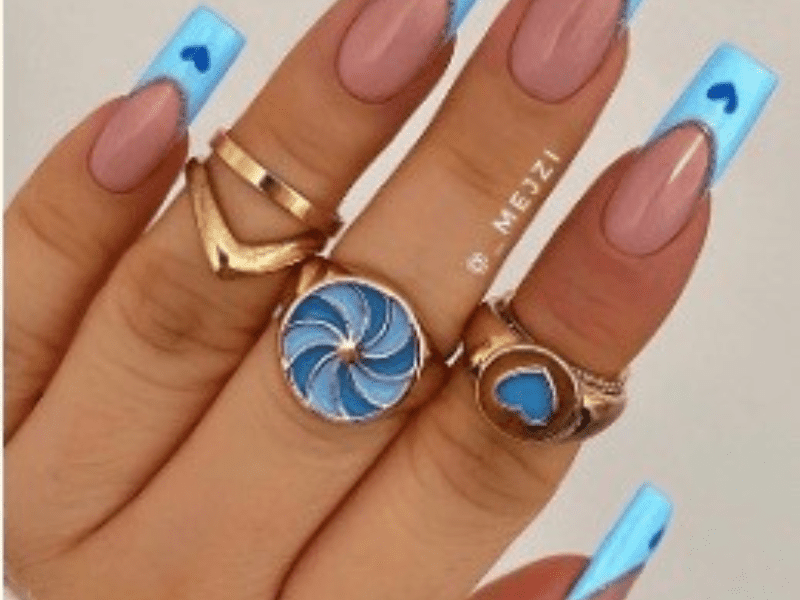 These days, two-toned nails are overly famous. They're refreshing, artistic, and chic. No wonder many fans of French nails use this look to brighten their outfits.
The Popularity And Meaning Of Sky Blue French Tip 1.5 On TikTok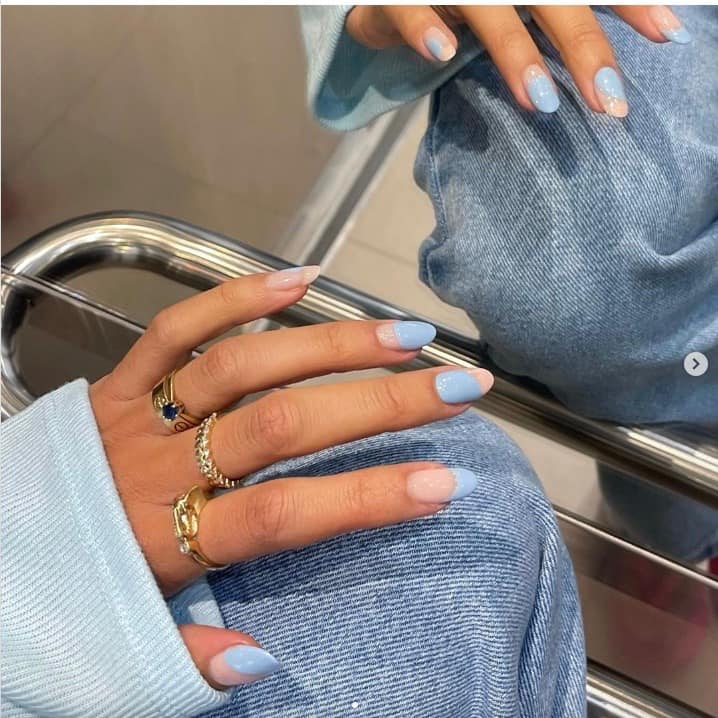 The light blue nails trend meant a person wearing it was dating. However, another popular trend on TikTok is "French Tip 1.50." We're going to talk about it in this portion of the article.
The sky blue French tip 1.5 trend is prevalent in TikTok. Here's the definition of the look. First, the nails are sky blue in tone. Second, the nail style is French tip. Third, the length of the nail is 1.5.
The popularity of this nail design stemmed from a story wherein the lady asked her lover what color of nails she needed to have, and the male partner stated, "Sky blue French tip 1.5."
Now, the main reason behind its popularity is that if a man gives a reply that specific, it means he is cheating. After all, men are supposed not to know anything about nail art.
The fad started in June 2022. On TikTok, you can easily see short-form videos about it. Many boyfriends post on social media about it, indicating as a trick that they were cheating on them by stating the said unambiguous response.
One of the videos has a narration, "She asked me what nail color she should get, so I told my girlfriend 'French tip sky blue 1.5,' and now," and then the girl's response is included in the video.
For example, one person wrote: "My girlfriend asked me what nail color she should get. I told her, 'French tip sky blue 1.5. Now, I'm blocked.' Or you can see this: 'Next time your girlfriend asks for a nail color, say 'sky blue French tip 1.5,' and wait for a reaction."
There are many reactions to the said trend on TikTok. Do you think it's essential to mention a specific length when designing a nail? Many people stated that it is an impractical and over-the-top request. All you have to do is note the color and the type of nail tips. Others show a sample of what they want. That's it, and the manicurist already knows what to do.
In sum, the fame of this trend on social media is amusing. Boyfriends who trick their girlfriends have used it, making a girl believes he's cheating on her. Isn't it interesting?
Reasons To Don Blue French Tip Nails This 2023
There are various reasons to try blue French tip nails. Here, we've gathered insights from multiple sources on why this variation of French manicures is remarkable.
It is trendy.
Many people follow the trend, especially when it is popular on social media. From the time black French tip nails were, other colors followed suit on our radar, including blue French tip nails. No wonder it is one of the most popular nail art at present.
It is visually appealing.
The beauty of blue nail polish is famous. You cannot help but notice numerous celebrities wearing the color to match their outfits. Since it looks pretty when paired with different textures, sizes, and outfit designs, you'll find it easier to follow the trend to look fresh and tidy.
It is easy to do at home.
At home, creating your nail design is therapeutic. Many people do it to lift one's mood. Besides, you can easily copy blue French tip nail tutorials posted online, especially the fantastic nail tutorial videos on YouTube. You'll find it also fulfilling to do your nails.
It is perfect to match different outfits.
There are various reasons to wear blue French tips nails. However, the most exciting purpose is to match it with classy outfits. The color stands out with black and white, and even with plaids, hounds tooth, and more.
How To Create French Tips Nails According To Celebrities?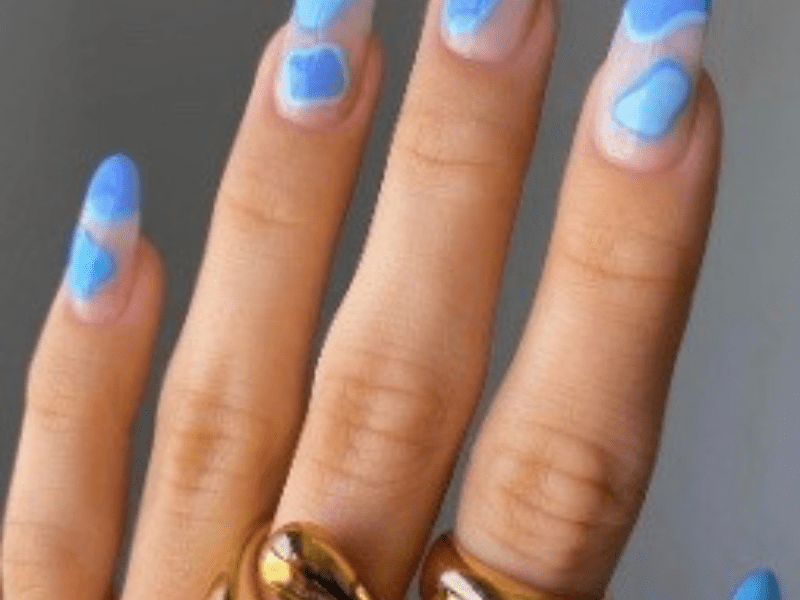 There are numerous ways to create French tip nails. Primarily, your manicurist can give you ideas. However, you can also do this at home. One of the exciting ways to don the look is to look for inspiration. For example, you can check articles about celebrities who love wearing blue manicures.
Bella Hadid and Beyoncé rocked this nail design but preferred French white tip nails. After all, it is classy and timeless. But, for the sake of having more options, we think it's rewarding to learn to apply blue French tip nails.
When Kate Hudson donned a glacial blue manicure, everyone who knew it appreciated her look. It is more beautiful, fresher, and perfect for next year's styling alternatives.
Many people noticed her style when she attended the recently concluded Michael Kors runway show. She sat on the front row, wearing a plaid suit and her blue manicure.
Kate's manicurist, Alicia Torello, shared some insights about the look. She believed that glacial blue and plaid are one of the best combinations for fall.
In addition, she revealed that Kate Hudson love trying out new and fun nail designs if it is perfect for her outfit. One of her favorites is a French manicure.
If you want to take your style to the next level, you can opt for the modern tweaks of French tip nails. For instance, you can incorporate lines and shapes into your blue-tipped nails.
Besides, Torello explained that adding a straight line to your manicure is fabulous. It is not only visually appealing; the design element is easy to copy at home. She said that using tape in applying blue color, for example, is one way to master French tip nails.
Many celebrities also prefer the blue-nails shade, aside from Kate Hudson. The most popular one is the simple French manicure in cobalt blue. Besides, this is one of the most affordable French tip manicures.
In addition, Chillhouse founder Cyndi Ramirez-Fulton promotes press-on nails. It is most illustrated with the checkerboard blue tip. Besides, you can also opt for the asymmetrical nail design. Danish content creator Amaka Hamelijnck shared an example of this look. She opted for a pale shade of blue and preferred the raindrop design.
Well, 2022 has come to an end. However, the 50 shades of blue nail art trend are still ongoing. It will continue this year, 2023. One of the famous nail designers, Queenie Nguyen, presented a more vivid blue French tip design. It has an accent dot and a crescent moon at the bare cuticle highlight. She uses blue nail polish for almost the whole nail.
Here's another trick: the two-tone French tip in white and blue. It looks easy to copy at home and is clean and feminine.
Then, there's a look that celebrities raved about last year. The deep blue hue is also a favorite nail color. Betina Goldstein, a celebrity manicurist with clients like Olivia Rodrigo, shared a royal blue nail color with an ultimately skinny metallic tip.
You can choose the blue-swirled nail art if you prefer powder blue. Many celebrity manicurists recommend this nail art. The said look is also popular in the gaming community. Who wouldn't want to try the swirling shades of blue on one's nails?
9 Nail Trends You Can Still Wear For Every Season In 2023
We can't deny that blue French tip nails are still popular even this new year. If manicurists lose their creative vibe, it's always easier to play on blue nail polish designs.
For example, you can look for fresher inspiration if you wore many pastel colors last year. If you turn to shades of blue, you can incorporate different shapes and designs with your French tips.
Last year, Anastasia Totty, the owner of Artistique Nails, stated that it is inspiring to add bright swirls to your nail design. She even revealed that the look dominated 2021 and continued to inspire beauty lovers in 2022. So now that the new year is dawning, it's still on trend to wear it.
First, you can incorporate graphic design. Nail arts can sometimes be complex, so wearing graphics is a statement. This year, smiley faces mini hearts, and more dominate nail design charts.
Second, add embellishments to your French tip nails. The usual materials include stones, metallic pieces, detailed encasing, and more. Remember to add slanted tips for a change.
If you continue wearing shades of blue in 2023, try adding heavy metal accents. Think outside the box and add metal elements to your French tip nails, such as foils, glitters, and more.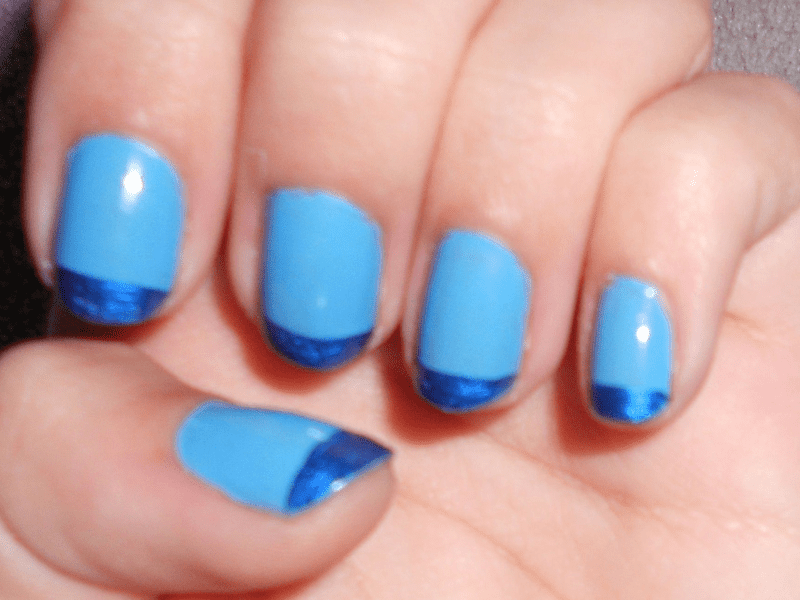 Well, the blue French tip nails style is popular these days. Many people post their favorite blue nail art on social media. If you're eager to join the trend, you can check the inspiring designs mentioned in this article. Stay chic!