Given the recent racial conflict that has unfolded, will she be able to convince people that she is not a racist?
The "Real Housewives of Salt Lake City" star Angie Katsanevas has come under fire after taking a photo with a "White Lives Matter" supporter. Because of this, multiple social media users have accused Katsanevas of being insensitive to the "Black Lives Matter" movement and its fight against racial injustice.
On Monday, people in attendance at Katsanevas' fashion exhibition in Salt Lake City immediately spotted that the real housewife was hanging out with a man sporting the "White Lives Matter" shirt. The interaction between them was also caught in a photo that is now circulating online.
Not only that, but the owner of Lunatic Fringe Salon also took a photo with him and posted it on her Instagram story. Simon Shaner is the name of the individual who was identified after she tagged him.
Fans of the hit reality program immediately expressed their disappointment on Twitter, with one user writing, "Angie K is really out here parading her "White Lives Matter" friends with NO shame… GET HER OFF MY SHOW! #RHOSLC."
A second user even compared her to her fellow housewife of the same name, Angie Harrington, saying, "Angie H would never post with a white lives matter person like Angie K did. She's an accepting/loving queen 😍❄️ #RHOSLC."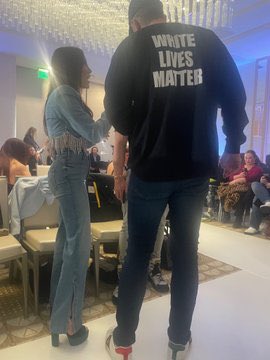 Furthermore, some critics said that Katsanevas was being insensitive by posing for a picture with a "White Lives Matter" supporter. According to them, she is allegedly endorsing racism and white supremacy by doing so.
Additionally, the Bravolebrity is reportedly attempting to exclude all black models from the fashion show due to the beauticians supposedly not understanding how to "do black people's hair," according to a source obtained by Instagram user Mr. Housewives.
A black model is even seen in a video sitting alone in the corner while the other models and beauticians are seated nearby. However, it was all alleged, so perhaps there is a reason behind this one.
Katsanevas' choice to pose for a picture with a "White Lives Matter" supporter demonstrates that she is ignorant of the agony and grief that people of color are presently going through. This image likewise shows her lack of support for the "Black Lives Matter" movement.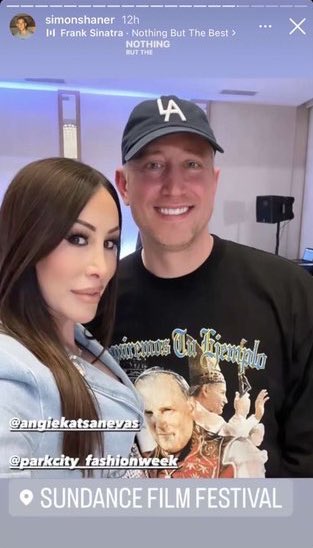 While the tv personality hasn't addressed the photo in public yet, some have speculated that she would defend herself by claiming that she was unaware of the supporter's viewpoints. Others think she would attempt to argue that the picture was taken out of context.
She could, however, decide not to defend herself at all. Possible explanations for this include her lack of concern for the supporter or her belief that she had done nothing wrong.
There is no denying the divisive nature of the "White Lives Matter" movement, so it makes sense that some people would take issue with her for taking a picture with one of its supporters, considering the present state of racial conflict in the United States.
Reactions to Angie Katsanevas Faces Criticisms After Taking A Photo With A "White Lives Matter" Supporter
Y'all these women are from Utah, hello!Angie K's husband supporting White Lives Matter is not shocking. At this point cancel the entire franchise because all of these women are hella conservative and hidden racist. It's going to be a cycle when casting women on this franchise. 😂

— juelz (@jrxdcruz) January 23, 2023
Fans cancelling Lisa & Angie K for being with a friend that say white lives matter while also wanting the OG #rhony back with Ramona who literally had to apologize for saying white lives matter in the height of the BLM movement💀. be consistent or stop trying to cancel these HWS. pic.twitter.com/wohDMZ7fqX

— J (@JustinPolls7) January 24, 2023