If you've been looking for new nail design ideas, you're in luck! We've got some French almond nail inspiration and ideas for you! From a simple almond-shaped nail to a pastel color version, we've got your style covered!
What Is Almond French Nails Design?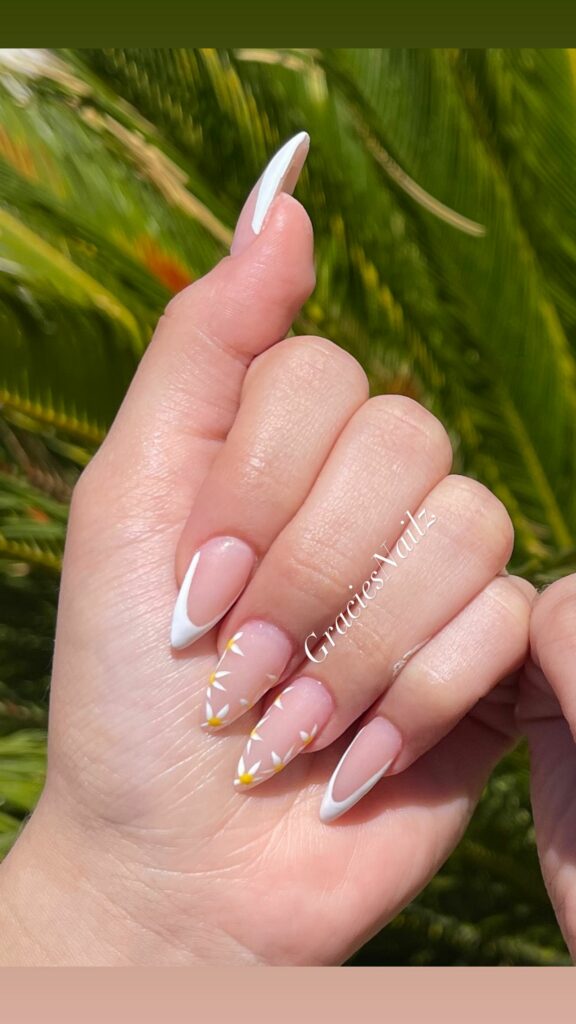 Almond French nail design is a beautiful and unique shape that can be used for various nail styles. It is very feminine and flattering. The form is perfect for everyday wear or special occasions. Almond nails will be ideal if you choose a classic, rounded French tip or a more edgy look.
Almond nails are a popular style on Instagram and Pinterest. They are versatile and can be worn long or short. Besides looking chic and stylish, they are straightforward to maintain.
Another benefit of the almond shape is that it allows you to customize it to your tastes. You can even use the form to create messages on your nails. An almond shape is a perfect canvas for nail art. With the right colors, you can have a genuinely fantastic manicure.
To achieve a type of ombre effect, you need two different shades. This can be done with the classic nude and red combo or a multi-color version. Adding a little glitter to your French tip is one way to make the ombre effect even more dramatic. These are super sparkly and can make for seriously fashionable nails.
For a more edgy look, use black or darker white for the tips. You can also experiment with other finishes, such as matte. To keep your nails chic and pristine, use a high-quality polish. Some of the best options are acrylic nails, which are durable and long-lasting.
Acrylic nails are great for creating a variety of different shapes. They are also a more cost-effective option. Acrylic nails are also very easy to apply. They are available in many forms, lengths, and finishes.
Almond-Shaped French Tip Nails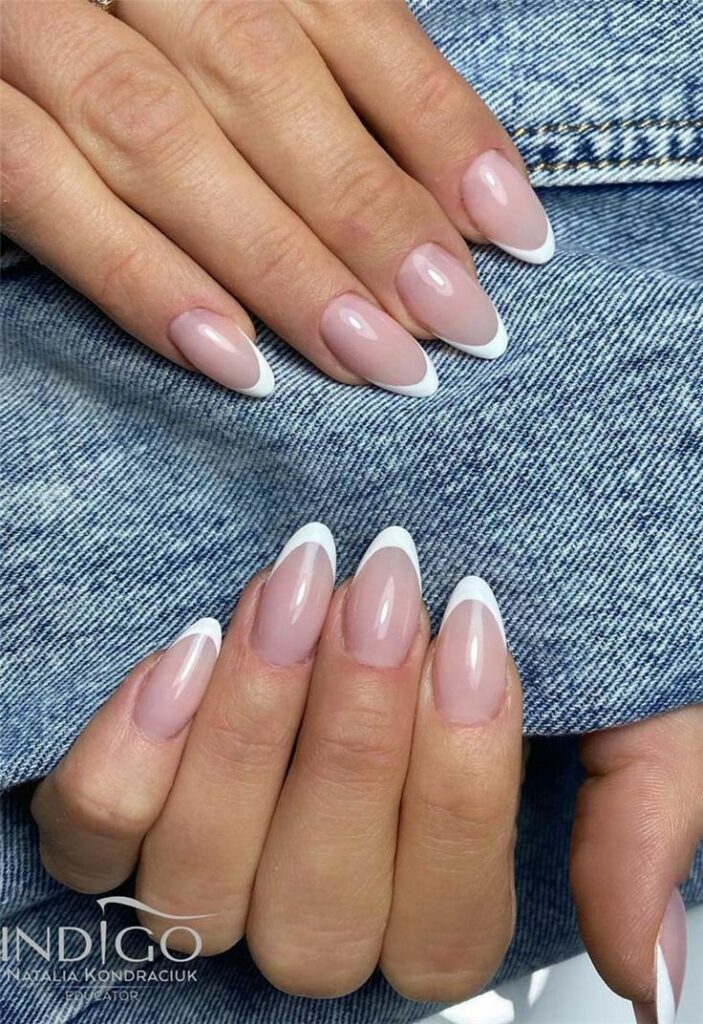 An almond-shaped nail is a classic, feminine shape. It looks great on any skin tone. They are popular because they lend themselves to various nail art designs.
A classic almond-shaped French tip manicure features a nude base with a white edge. The white strip on the tip of the nail highlights the shape of the nail. However, you can take a more modern approach by accenting the nude with black and white abstract lines.
Almond-shaped nails look especially lovely when they're longer. You can use an acrylic nail to achieve this effect. This long, slim shape elongates the fingers and gives you more flexibility with your nail art.
Acrylic nails also last a lot longer than most other nail types. You can find a wide range of colors to complement your almond-shaped nails. Try painting a few shades if you need help deciding what color to choose.
A nude base also gives your nails a stylish, sleek look. There are many different nude shades, so you're sure to find a color that suits you. Nude-colored nails are a perfect option for everyday wear.
Try a black ombre nail if you're looking for a more edgy design. These nails create a gradient effect by blending two shades. Alternatively, you can try a simple, symmetrical French tip design.
If you want to change your look quickly, consider a press-on nail. They come in a variety of styles and are easy to apply. They are a great way to add temporary length to your nails.
You can even find stickers for your nails. These fun accessories are a great way to spice up your mani and make your nails fun.
Are Almond Or Oval Nails Better?
Almond and oval French nails have become some of the most popular nail styles in the past few years. They are flattering, feminine, and highly versatile. Whether you want a manicure with a bold statement or something more classic, they are easy to achieve.
When choosing between almond and oval French nails, the choice is entirely up to you. It's best to select the shape that best suits your natural nail length. A long, slender figure will draw attention to your hands, while a shorter one can be worn for a more natural look.
For those of you who have short fingernails, oval French nails can help elongate your finger. The shape can be enhanced with cute nail art and 3D details.
One way to make your nails look longer is by choosing a light beige base. Another simple option is to add some glitter to your manicure. These are perfect for the party season.
Another great idea is to try out different fonts and colors. This will allow you to try out other trends without investing in a complete set of acrylic nails.
Acrylic nails are also durable and long-lasting. In addition to being easy to maintain, they can achieve a variety of shapes. You can opt for an oval, round, or even a V-shaped French tip depending on your preferences.
Suppose you don't know which of the two styles to choose, almond or oval, take a look at some of the designs available. You can even pick out a nail polish that suits your personality.
If you are still determining what you want, you can always wear a press-on nail. Press-on nails are easy to apply and are a quick, affordable solution for changing your nail look.
Colorful Almond French Nails To Try Now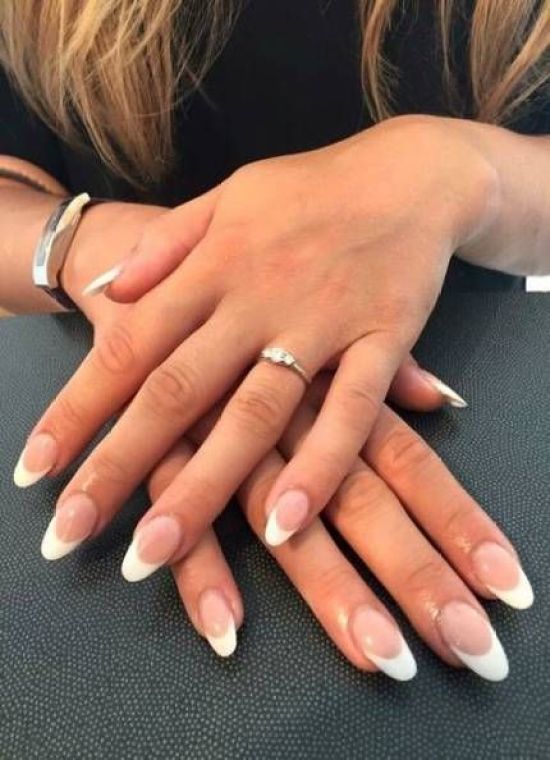 If you're searching for a fun and unique nail design, you may be interested in colorful almond French nails. This versatile and flattering shape can be worn long or short.
The shape is a good fit for almost any nail art design. You'll find plenty of choices, from cute designs to elaborate and intricate options to suit your style.
Red is a classic color that looks great on almond-shaped nails. You can choose a muted version or an eye-catching neon hue. You can also try different fonts or patterns for a change of pace. Or you can add a little sparkle to the look with diamond nails.
Some people love the versatility of acrylic nails. They can be painted in different lengths and colors. There are also gel nails for those who want a more substantial and longer-lasting manicure.
Acrylics are solid and durable. Plus, they're easy to apply and don't require any special tools. In addition, you can achieve different shapes with this type of nail polish.
Another way to play with color is through ombre nails. This means mixing two shades to create a beautiful gradient effect.
A famous spring and summer nail design is the fruit nail. Fruit is a common symbol associated with luck and prosperity. It looks incredible on the rounded French tip of your nails.
You can also try a rainbow nail, which is symbolic and connected to positive thoughts. Tie-dye nails are perfect for summer. Brown is a neutral shade that complements almost any skin tone.
Lastly, you can have an almond tip. Unlike other nail shapes, almond-shaped nails are resistant to breakage. That means you can use a wide range of colors and patterns.
Point Almond Pastel French Tips Nail Art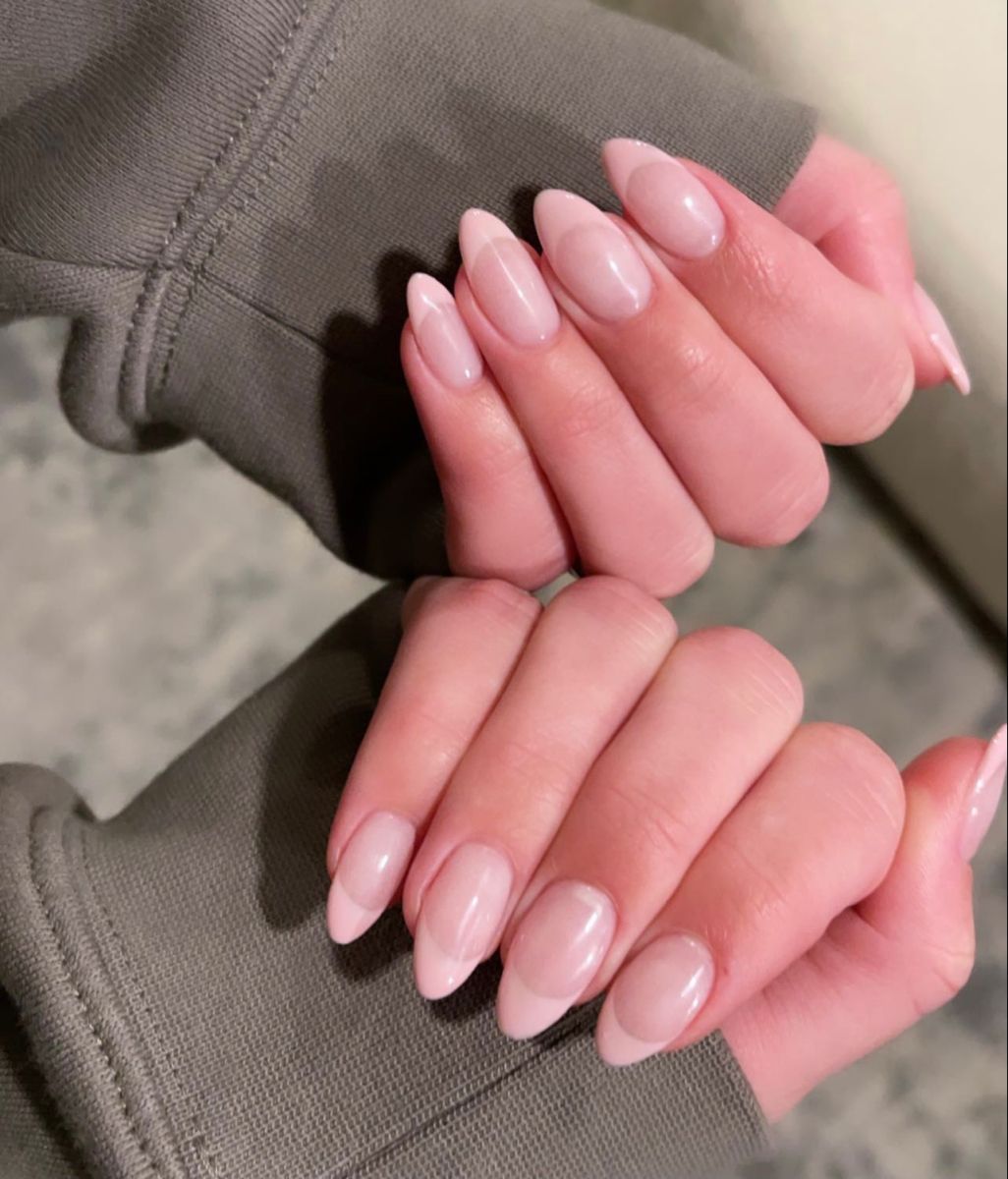 One of the most feminine and flattering nail shapes, the almond shape is highly versatile. The rounded top, softly tapered sides, and tapered tip make it ideal for long or short nails. Its versatility is enhanced by the variety of nail art designs you can do with it.
Aside from the classic French tip manicure, which is timeless, there are many other ways to style your almond nails. You can create an ombre effect with black and white or use different colors to highlight the shape. There are also 3D details that can be used with the almond shape.
If you're looking for a subtle way to accent your almond shape, you can paint your nails a soft pink or purple. These pastel shades look stunning on any skin tone. However, you can also opt for a more demi-matte finish to give your nails a glossy sheen.
You can paint your nails a deep red if you want an edgy look. Using a deep red polish, you can also opt for a 'dripping blood' effect.
For a more whimsical effect, you can try a watercolor design. You can add a few stars or delicate patterns to the plan. This is a fun look to wear during the spring or summer.
Another fun option is to create an ombre manicure. Mixing two shades will result in a beautiful gradient. Or, you can use a simple pattern. Either way, your nails will look fantastic.
Whether a beginner or an expert, you can create a perfect nail design that suits your personality. You can create an elegant design for a formal event or a fun one for a night on the town.