The Black French Manicure has been around for years, and while it's still trendy today, you may be wondering whether or not it's still a popular style in 2023. What trends and colors should you consider if you're considering a new look with your manicure?
What Is Black French Manicure?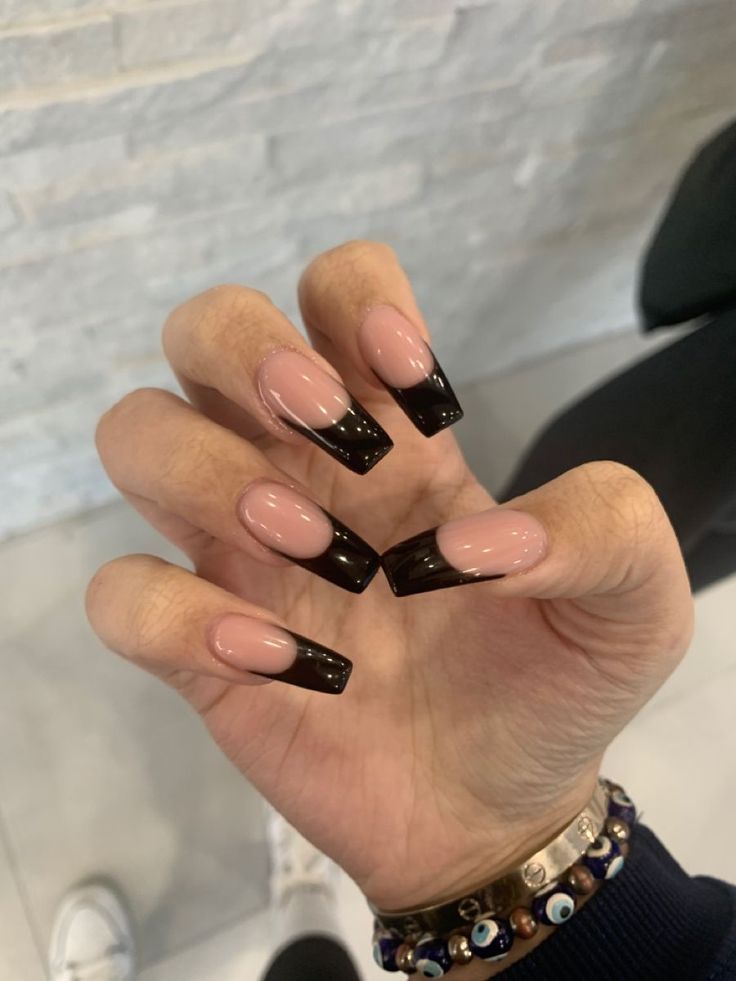 A black French manicure is a nail design with a stripe of black along the tips. It is a classic style that is popular among celebrities. The look is simple and can be paired with any outfit.
You can make this style your own by enhancing it with different designs and colors. For a more straightforward look, you can use a black base with a white tip, or you can try a dotted line of black. Adding decorations and jewels can also add a unique twist to the look.
When you wear a black French manicure, you can easily pair it with any color. The dark shade works well with every skin tone. In addition to highlighting the tip of your nail, the French manicure also emphasizes the nail bed. The matte black finish looks edgy and chic.
You will need to apply a clear topcoat over a black base coat to achieve this look. After that, you will need to create a series of lines, starting at the base of each tip. A manicurist can create a beautiful nail art design on the tips if you want a more detailed look.
Many people prefer to do their black French manicures. You can find many visual tutorials online and in beauty magazines. Others opt to have a professional do the job for them. Some of the most famous French nail styles include the Inverted and Outline Black French tip nails, which can be customized with various line sizes.
Another way to get the same effect is to have your manicurist use a nail stamp plate. This is the easiest way to rock a black-tipped nail. Your manicurist can use a variety of decorations, including stickers and jewels.
Is French Manicure Outdated In 2023?
One of the more popular manicures of the last couple of decades, this trend is on the upswing again. From the oversized tidbits by Victoria Beckham and Rosie Huntington-Whiteley to the bling donned by Ariana Grande and Rochelle Humes, the French manicure is on display. It may be time for a makeover. Thankfully, there are plenty of manicurists to do the work for you.
It has been noticed for a while as one of the oldest nail styles to grace the scene. While the classic French manicure has remained a staple in the fashion industry, the trendy fingernail has been reinvented to suit the modern woman's needs. In the past few months, the French have been on display in new and exciting forms. The latest iteration features the eponymous tidbits. These are the ones you can take advantage of.
One of the more exciting aspects of the French is the opportunity it presents for the manicurist to experiment with the latest and greatest in the nail arts. They can tailor the latest styles for any occasion. Whether a special event or a date night, the latest in the latest and greatest will leave a lasting impression. Besides, who doesn't like a little something extra on their hands?
Hopefully, you are not in the throes of a French manicure-induced migraine. Fortunately, there are plenty of other options to choose from. Hence, the most important tidbit is to find out what is most suitable for you. So, please keep your fingers healthy, and look good doing it. You'll be glad you did. Those are the essential ingredients in a winning formula.
The Best Colors To Match Black French Manicure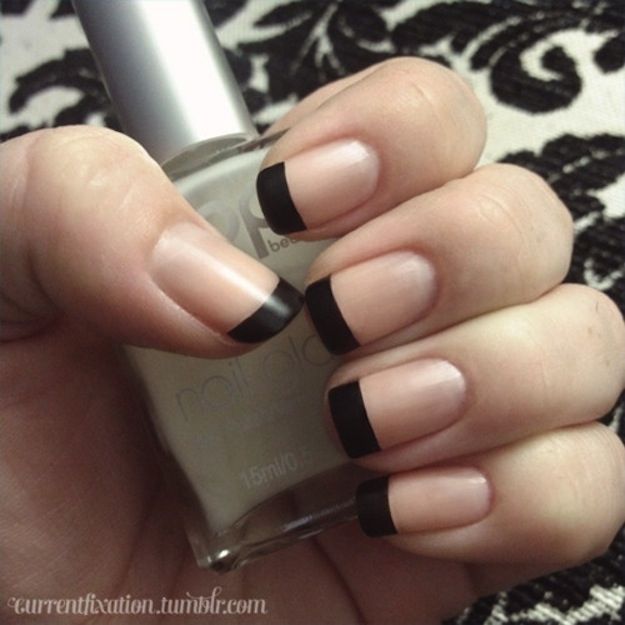 Black is a rich and robust color. It goes well with almost anything. It can be matte or shiny. You can also make it more interesting by painting it in different shapes. The yin-yang symbol is an excellent way to go.
Try ombre if you want to add color to your black nails. This is a great technique that combines two different colors to create a nice gradient. A great example of this is the classic white and pink ombre.
Another simple way to add color to your black manicure is by painting it in stripes. This is a great way to bring attention to the nail tip while maintaining a more subtle look.
Try painting your nails in a French manicure for a more dramatic look. This beautiful, classic look will always stay in style. Just be sure to choose a base color that matches your skin tone.
Consider painting your nails in a funky pattern. You can create a cute rainbow or other interesting shapes to make your black nails more fun.
One of the best ways to make your nails pop is to use a fluro polish. Fluro polish comes in a wide range of vibrant colors. Use it to add some bling to your nails or as a base coat to allow your nail color to shine.
Choosing the right colors for your nails is essential in making them stand out. You can go for a simple nude or light brown base shade or experiment with a range of pastels.
Black French Manicure Ideas 2023
You'll love these ideas for a black French manicure if you love black. Whether you're going to a party or just out with your friends, these ideas will help you make a statement.
This nail style is fun and easy. Its clean lines and subtle color make it suitable for just about anyone. You can even add sparkles if you want to. The best part is that you can wear it anywhere you want.
Another great idea is to use the tips of your nails to highlight your favorite colors. For instance, you can use the advice of your nails to add a butterfly to a brightly colored polish. Or you can create an ombre effect by painting your tips in shades of the same color.
Black and white nails are trendy for nail art. You can create a French manicure using both of these colors. Use black to create a traditional look, or you can go more modern with a black and silver French manicure.
The classic French manicure is a traditional style. You can even add rhinestones to your nails. Adding pearls is an exciting accent. Pearls represent wisdom, purity, and femininity. Wear them with big earrings or a pearl hair clip.
An alternative to the classic French manicure is the French outline tip. Like the regular French tip, this nail style is created by painting the ends over a board. However, the difference is that the end is painted thinly. This makes the nail look longer and more elegant.
Another popular nail style is to create a simple French fade. A simple French fade is an excellent way to show off the gentle side of your personality.
Trendy Black French Manicure With Sparkles
If you want a way to make a black French manicure pop, you have come to the right place. You'll find various tips and designs that will fit your taste and lifestyle.
The traditional French manicure is an elegant, classy look. It is easy to achieve and works on all nail shapes. However, you can also experiment with different color combinations to create a personalized look.
To keep the look trendy, you can add some sparkles. Use a sparkly top coat to finish off the manicure. This will ensure that your nail art stands out.
Another great option is to add some pearls. These are symbols of purity, wisdom, and peace. Wearing pearls on your nails will give you a sophisticated and feminine look. Pair them with oversized earrings or pearl hair clips.
Another fun tip is to paint your nails with a heart. A small black dot can be added to the crown of each heart-shaped end. Gold detailing can be added for a fun twist.
One of the most popular black French nail tips is the star design. Add a chunky ring or a glittery top coat for an eye-catching, dazzling look.
Another way to add a unique touch to your nails is to use a marbled swirl design. In this method, you will use a thin brush to draw a plan. Once you are finished, you can use a toothpick to mimic the design.
You can also add rhinestones to a classic French manicure. Rhinestones will give your nail art an extra special touch. Depending on the design, you may need to coat your fingers in a clear base coat before applying rhinestones.