While his musical legacy continues to live on, his former mansion has become an abandoned and neglected eyesore.
Kenny Rogers, the legendary country music icon, is not only remembered for his remarkable musical career but also for his extravagant lifestyle. With a successful music career spanning seven decades, enabling him to possess several opulent homes.
Nevertheless, one of his old houses is now an $8.5 million eyesore that has been neglected and abandoned. The said property is situated in a posh area of Atlanta. When Rogers started the rock group the "Scholars" in 1956, it marked the beginning of his career in music. 
However, as he openly admitted in a 2015 interview with Variety, his first reason for joining the band wasn't the quest for love but rather for financial success. He then bounced from band to band until ultimately finding success with "The First Edition" with the publication of the popular song "Ruby, Don't Take Your Love to Town."
Following the disbandment of The First Edition in 1976, Rogers started a solo career and worked with well-known musicians, including Dolly Parton and Dottie West. He and Lionel Richie even started creating songs together. 
One of his most well-known songs is "The Gambler," for which he won a Grammy, and another is the duet with Dolly Parton, "Islands in the Stream," which reached the top of the country, pop, and adult contemporary charts.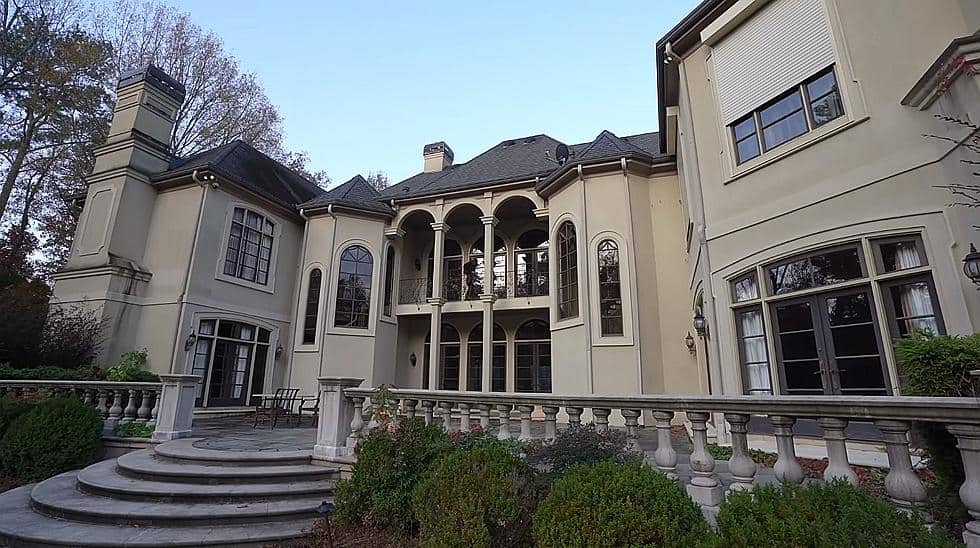 Due to health concerns, including a fight with bladder cancer, Rogers' distinguished career started to wind down in 2017. Sadly, his family reported that he passed away at home while receiving hospice care on March 20, 2020, at the age of 81. Rogers had accumulated a $250 million net worth at the time of his passing.
Throughout his lifetime, Rogers made investments in high-end real estate, including two opulent homes in California's Beverly Hills and Bel Air. In addition, he had some residences in upscale areas around Atlanta, Georgia. A large estate with 15,000 square feet, six bedrooms, seven bathrooms, a four-car garage, a cutting-edge gym, and a full-sized bar was one of them.
Rogers reportedly lived in this lavish property, built in the 1990s, until he sold it in 2006 to a wealthy Nigerian family for an astounding $8.5 million. The purchasers, who were reportedly in the dermatology industry, eventually ran into financial difficulties and owed the federal government millions of dollars in past taxes. 
They made the decision to go back to Nigeria as a result, leaving a family member in charge of the property. According to YouTuber BigBankz, the caretaker started renting it out for events instead of keeping it up, including weddings, crazy parties, and even music video shoots for well-known rappers like Offset and 21 Savage.
As a result of the numerous noise complaints from worried neighbors brought on by the loud character of these gatherings, the police intervened and shut down the illegal operations around 2019. Since then, the house has been abandoned; its exterior is covered in overgrown weeds, its walls are filthy, and its in-ground pool is now green with algae.
Viewers couldn't help but express their outrage at the mansion's appalling condition when BigBankz uploaded a YouTube video showing off Kenny Rogers' old residence. There were several comments that both expressed displeasure with Rogers and respect for his unique manner.
One observer criticized the sight of dead goldfish in the fountain while looking at the run-down premises, showing a disregard for the grandness of the house. Others remarked on the sharp contrast between the home elements that were uniquely Rogers' style and the changes made by the succeeding dynasty. Even though the mansion is in disrepair, many admirers expressed optimism that it will be bought and renovated.
While some people marveled at the property's magnificence, others talked about the difficulties and costs of keeping such an opulent mansion. They hoped that the house would be revitalized by a buyer with both riches and a sincere dedication to repair, making it once more a beloved and well-cared-for home.
Ultimately, it's still unclear what will happen to Kenny Rogers' abandoned house. However, the story of a music legend's previous residence deteriorating serves as a depressing reminder of the transience that may come with even the most extraordinary achievements.