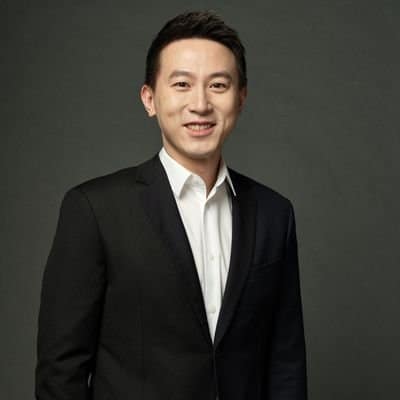 Shou Zi Chew is one of the most respected Singaporean entrepreneurs. He is an investor,  Harvard University Alumni, and current Chief Executive Officer (CEO) of one of the most famous social media sites nowadays, TikTok. Shou replaced ByteDance and TikTok founder, Zhang Yiming in May 2021 who held the spot ever since the inception of TikTok and its parent company. 
Shou Zi Chew is also one of ByteDance's executives, as Chief Finacial Officer (CFO). ByteDance is the parent company that created the now-famous social media application. 
Shou Zi Chew's Net Worth (2022)
In 2022, Shou Zi Chew is estimated to have an impressive net worth of $200 Million dollars. His high net worth can be attributed to the fact that aside from being an executive in a multi-million dollar company, the majority of his income comes from investments, dividends, and different businesses. (1) 
Chew's impressive net worth is dwarfed by the founder of TikTok's net worth of $49.5 billion.
According to some sources, Shou's public fortune is worth around more than $167,024, 449. This may be due to the fact that prior to holding the title of CEO of Tiktok, Shou Zi Chew was already an executive in various companies such as the Chinese company, Xiaomi (2).
Shou Zi Chew's Early Life
In contrast to popular belief, Shou Zi Chew is not from Beijing, China. He was actually born in the island country of Singapore (3). Based on his education, it can be said that Shou Zi Chew grew up in a middle to a high-income household. 
He was well-provided and was raised to be successful. The identity of his parents is not disclosed on the internet. His birthdate is also not known but different sources claim that he might be born around the years 1982-1983 which makes him around 40 to 41 years old. 
Shou Zi Chew is a very well-educated person. He has completed his education at prestigious schools both in Singapore and abroad. He has studied at The University College London, University of London, where he satisfactorily obtain his Bachelor's degree in BSC and Economics. 
In 2010, Shou Zi Chew joined Harvard University, particularly the Harvard Business School (4). He finished his Master of Business Administration  (MBA) from the said Ivy League university. 
Shou Zi Chew's Wife and Family Life
Shou Zi Chew is married to another Singaporean businesswoman Vivian Kao, they have two children together. The couple are very private individuals. In fact, both of them have private Instagram accounts and they are also very private in their other social media accounts. 
The couple is said to have met at Harvard University while both studying there. The pair were both grinding to get their MBAs when they crossed paths and eventually fell in love while at the same time getting what they were there for, the MBA. 
Vivian Kao and Shou Zi Chew met through email back in 2008 and only got to know each other the summer after their first year at Harvard Business School. They were both having their internships in California at that moment.
A brief background on Shou Zi Chew's wife Vivian Kao is that she is also the CEO of her own company (5).  The company is called Tamarind Global, it provides Financial Services. Tamarind Global manages the investment portfolio and philanthropic initiatives of a third-generation and fourth-generation Singaporean Family. 
The company strives for long-term capital preservation and growth. They focus more on the investment aspect (6). 
According to Harvard Business School Alumni, the couple has now settled in Beijing, China with their two children and their family dog. Before deciding to settle in Beijing, China the couple traveled the world and traveled to London, Singapore, and Hong Kong (3). They are also avid philanthropists donors and members of the Harvard Business School Fund Investors Society. 
As a Harvard Business School alum, Shou Zi Chew was really made to excel. Before landing his first job as a professional, Shou Zi Chew worked for Facebook founder Mark Zuckerberg before the social media platform Facebook was even called Facebook. He was still a student back then and was having his internship in the then start-up company.
After finishing his studies, he worked as an investment banker at Goldman Sachs in London, United Kingdom. His wife Vivian Kao, also worked at Goldman Sachs so there is a huge possibility that they worked there together.
From there, he started climbing the ladder of success. Eventually, he became the Chief Financial Officer (CFO) and international business president in 2019. at Xiaomi Technology, a Chinese electronics, and smart manufacturing tech company. He got the position in the company in 2015, but then he gave it up.
While working with the smartphone giant, Shou Zi Chew helped the company through its 2018 public listing by securing the company's financing.
Prior to joining Xiaomi, he worked for an investment firm called DST, founded by Israeli-Russian IT billionaire Yuri Milner. He worked there for five years. During this point, he led a team that became one of the very first investors of ByteDance, Tik Tok's parent company. 
In March of 2021, he became the very first person to be the Chief Financial Officer of the media giant. A month later, in May of 2021 Shou Zi Chew was named as Chief Executive Officer (CEO) of the social media company. 
Zhang Yiming, ByteDance founder and former CEO says that Shou, "brings deep knowledge of the company and industry, having led a team that was among our earliest investors, and having worked in the technology sector for a decade." ( 7)
Shou Zi Chew has made a lot of people admire him when he accepted the opportunity. This is because prior to him there was another person who held the position for a brief period of time and that was Kevin Mayer. 
Kevin Mayer, Chew's predecessor abandoned the company for Walt Disney. He was only CEO for three months.  According to reports,  Mayer quit the position after the company was pressured by American lawmakers over the security risks of the app. 
July 2006 to July 2008, he worked at Goldman Sachs International. 
Did an internship at Facebook back when it was a start-up. 
Director of Kingsoft Cloud Holdings Limited,  a subsidiary of Kingsoft Corporation Limited. 
In July 2015, he became a partner at DST Investment Management Ltd.
In 2019, he served as Senior Vice President, Executive Director, President Groups Global Business of Xiaomi. (8)
Shou Zi Chew's Appearance (Height, Hair, Eyes & More)
Height
5 ft 9 in
1.75 m
Weight
N/A
Hair Color
Black
Eye Color
Dark Brown
Body Type
Skinny
Sexual Orientation
Straight
| | |
| --- | --- |
| Nationality | Singaporean |
| Estimate Net Worth | $200 million |
| Religion | n/a |
| Zodiac Sign | N/A |
| Birthplace | n/A |
| Birthday | MONTH XX. YEAR |
Shou Zi Chew | Biography, Age, Net Worth (2022), Wife, Children, Family, Education, Facts, Wiki | CEO of Tiktok. Retrieved from https://www.worldtop2.com/shou-zi-chew-biography-age-height-net-worth/
Bright, Title of Post or Article. Retrieved from Shou Zi Chew Net Worth 2022 | Biography, Income, Career, Cars
Worthy. Chew shou zi wife. Retrieved from https://skinnyninjamom.com/chew-shou-zi-wife/

Global Ambition. Retrieved from https://www.alumni.hbs.edu/stories/Pages/story-bulletin.aspx?num=7824

Vivian Kao LinkedIn Profile. Retrieved from https://sg.linkedin.com/in/vivian-kao-616ba816?trk=org-employees
Tamarind LinkedIn Profile. Retrieved From https://sg.linkedin.com/company/tamarind-global?trk=public_profile_topcard-current-company
Katie Canales. Meet Shou Zi Chew, TikTok's 39-year-old CEO who got his start at Facebook and led a Chinese smartphone giant through one of the biggest tech IPOs in history. Retrieved Fromhttps://www.businessinsider.com/who-is-tiktok-ceo-shou-zi-chew-bytedance-cfo-xiaomi-2021-8 
Shou Zi Chew Net Worth. Retrieved From  https://www.businessinsider.com/who-is-tiktok-ceo-shou-zi-chew-bytedance-cfo-xiaomi-2021-8