Beau Clark is an American television personality, actor, influencer, commercial casting and advertising associate, and amateur chef known for "Vanderpump Rules," "The Chase," "Auteur," and "The Revenant." He's also known for co-hosting the podcast "The Good, The Bad, The Baby."
As of July 2022, Beau Clark's net worth is $1 million. His career as an actor and casting agent is his primary source of income. He currently works for Sandford Casting. (1) As a commercial and advertising agent, earning him an estimated $70,000 annually.
While employed as a supporting cast member on "Vanderpump Rules," Clark reportedly earned $15,000 to $20,000 per episode. He parlays his celebrity status into business opportunities to increase his net worth.
As a social media influencer, Beau endorses food and alcohol brands, leisure services, and customized apparel. He has not disclosed how much he earns for his influencer work, but as Bravolebrity, payment per endorsement could be between $10,000 to $30,000.
Beau Clark's net worth skyrocketed after he and his wife, Stassi Schroeder, purchased their $1.7 million worth. (2) mansion in January 2020. The couple's 2,900-square-foot Mediterranean-style house with a panoramic canyon view features three bedrooms and three bathrooms, a grand arched ceiling, oversized windows, and a marble fireplace. The Hollywood Hills abode includes an attached one-bedroom, one-bathroom guest house.
Beau Clark is 42 years old. He was born on March 18, 1980. Beau was born in Fort Lauderdale, Florida, United States of America. (3) Raised by his businessman father, Charlie, and psychotherapist mother, Isa. His family and close friends call him by his nickname Bogie.
Clark's parents relocated the family to Italy to attend Charlie Clark's business there. His parents divorced when he was five, and Isa was granted sole custody of Beau. She met and remarried Beau's stepfather, Silvio Bardetti, and decided to move back to the United States of America. The new family of three initially settled in Nashville, Tennessee but moved from state to state because of Silvio's job.
Beau admits to living "a gypsy kind of life" because of his family's constant relocations. He confirms he's very close to his stepfather because he helped raise him. Bardetti's influence on Beau manifests through his love of food and gastronomy. Beau has an Instagram page dedicated to his cooking and grilling skills. He posts funny videos of him cooking and giving culinary tips to his loyal followers.
Clark reconnected with his biological father, Charlie, when he was twenty-one. The pair became close, with Charlie appearing on Beau's Instagram account. As a tribute to his father, Beau and his wife Stassi decided to use his father's name as their daughter Hartford's one of two middle names. (4) The couple named her Hartford Charlie Rose Clark.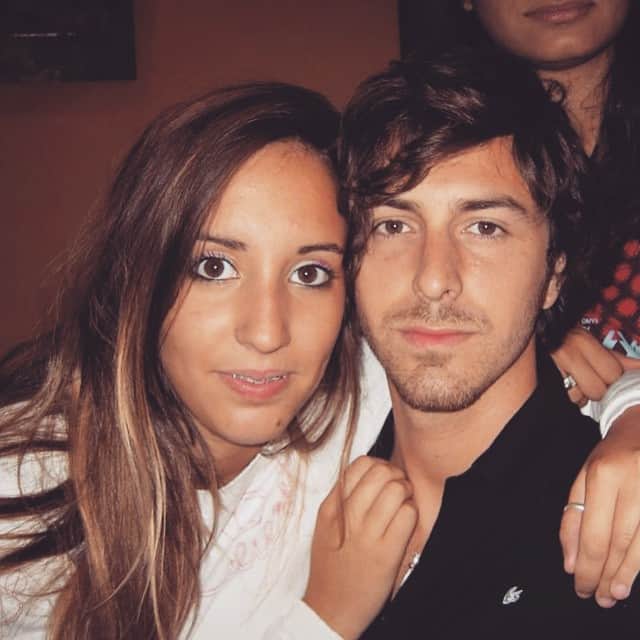 Beau Clark has one younger sister named Georgia Bardetti (5), born in 1990. The siblings are very close, and Clark credits her as one of his biggest supporters. Beau also has a cousin named Massimo, a photographer whose photos appear on his Instagram page.
Beau Clark did his formal primary education in Italy before his mother and stepfather moved him back to the USA. He has not disclosed which high school he attended, but given that his family moved around states during his childhood, it's definite that he participated in a lot of schools in between their relocations.
Clark discovered and practiced photography during his high school days. He covered school events, exhibitions, and sports competitions. For Beau's extensive and excellent work, he garnered various local awards (6) and citations. Beau's love for photography made him interested in filmmaking and television production. After high school, he flew to New York City and took a summer acting course. (7) Clark disclosed that he took acting classes to learn more about the art of directing. He liked the challenge of filmmaking so much that he later moved to Los Angeles, California, with two of his friends to try their luck in Hollywood.
Beau Clark's Wife and Family Life
Beau Clark has been married to Stassi Schroeder since September 7, 2020. The couple initially planned a destination wedding in Italy, but the Covid-19 pandemic prevented them from traveling. Clark and Schroeder settled for a simple backyard wedding (8) in their Hollywood Hills mansion in the presence of their minister and daughter Hartford.
Schroeder and Clark got introduced at the Mondrian Hotel bar by Stassi's Vanderpump Rules co-star Kristen Doute and Katie Maloney-Schwartz in August 2017. Beau admits that he wasn't impressed when Doute first showed him photos of Stassi. He confessed that he gave her a hard pass because he thought she was shallow and high maintenance based on her appearance. Nonetheless, the pair bonded over their similar sense of humor and love of Maltese dogs. Beau owns a Maltese mix named Refund (9), while Stassi is the fur mother of a white Maltese named Luda.
Clark revealed that he first told Schroeder he loved her after her December 2018 appearance on Andy Cohen's talk show "Watch What Happens Live." Stassi made their relationship "Instagram official" two months later by posting Valentine's Day pictures with Beau on her Instagram Story. The pair shared that aside from their love of dogs and wicked sense of humor, they are interested in traveling with poo-Pourri.
Stassi and Beau dated for two years before getting engaged in July 2019. Casting agent Clark proposed to Schroeder a 3.5-carat family heirloom sparkler from the early 1900s (10), which features a large European round-cut diamond stone surrounded by twenty-four smaller diamond gems in a platinum setting band. Clark shared that his grandfather bought the elegant sparkler at famed jewelry maker Tiffany & Co. in the 1940s. His aunt held onto the ring until she decided to pass it on to him. Beau knew about Stassi's love of murder stories, serial killers, and ghosts, so he incorporated it into his proposal to make it more exciting and unique. 
He employed the help of his friends in planning the event, culminating in a tour of the famous Hollywood Forever Cemetery. During the proposal, Beau pretended to pick up a random urn before dropping to one knee to present Stassi with the antique engagement ring.
On May 12, 2022, Clark and Schroeder married for the second time in Villa Miani in Rome, Italy. (11) Due to Covid19 restrictions and the cost of a destination wedding, the couple had to cut down the wedding guests list. Stassi wore a custom Galia Lahav white off-the-shoulder layered tulle wedding gown (12) with Nicole Rose jewelry pieces, while Beau wore a classic black tuxedo. Their one-year-old daughter Hartford served as a flower girl before their thirty-five-guest wedding party.
Beau Clark and Stassi Schroeder welcomed their first child together, daughter Hartford Charlie Rose Clark (13), on January 7, 2021. The pair announced their pregnancy two weeks after Stassi got fired from Vanderpump Rules. They revealed that Hartford's middle names, Charlie and Rose, were picked to honor Beau's father and Stassi's grandmother. Baby Hartford weighed seven pounds and three ounces and measured nineteen inches long.
On March 2, 2023, the couple recently revealed that they are expecting their baby number #2. The announcement was made on Beau's Instagram page as he posted two photos. The first photo was of the three of them, him, Stassi, and their baby, Hartford. Beau was holding an ultrasound baby scan picture, showing it to their daughter.
The second photo was just the couple, but Stassi's baby bump is being highlighted this time. The reality star then captioned the photo, "Yeahhhhhh, we were totally hiding the Bump 💫." In fact, his Instagram page is actually filled with his family's photographs, most of which are photos of their daughter. This shows how much love he has for his family, and now that there will be a new addition, expect their second child to be featured on social media too.
Beau Clark is an actor, podcast host, commercial casting agent, and advertising associate. He works full-time as a casting agent for the commercial casting company Sandford Casting in Los Angeles, California. Beau also co-hosts the podcast "The Good, The Bad, The Baby." (14). The paid subscription Patreon-hosted podcast centers on him and Stassi Schroeder's parenting journey. The couple promises their show is an honest and judgment-free zone for all new parents, featuring stories, tips, and advice on becoming better parents.
Clark is known for Vanderpump Rules. He started to appear on the show after dating lead cast member Stassi Schroeder. Beau confessed to not being a fan of reality shows. He added that he had never seen a series episode before meeting Schroeder. Clark agreed to recur on the show in season seven after Stassi persuaded him, and he got promoted to a regular cast member in season eight. After his wife, Stassi's firing from the reality series, he left the show.
Before working for Sandford Casting, Beau worked for other big Hollywood casting companies. In 2002, he started working at Ricki Maslar Casting. Clark stayed there for one year before moving to another company named Pam Bouvier Casting. After his time with Pam Bouvier's company, Beau moved on to work for Jeff Greenberg Casting, where he stayed for another two years. He left the company to do freelance commercial directing and advertising before landing his feet at Sandford Casting. In 2020, Clark served as the casting associate for the short film "Rogue."
Beau Clark arrived in Los Angeles after turning twenty-two. After taking a summer acting course in New York City, he and his friends relocated to LA to pursue a career in filmmaking. He wasn't planning on becoming an actor but thought he would try acting to help support himself. Beau's good looks attracted casting directors to cast him in television commercials, short films, and small features.
In 2002, Clark got an uncredited role in David Jacobson's serial killer biopic "Dahmer." Marvel actor Jeremy Renner starred as notorious serial killer Jeffrey Dahmer in the title role. Beau got cast in the documentary "William Hung: Hangin with Hung." He followed this role by playing the male lead in the music video for the American rock band Lifehouse's song "You and Me." (15)
Beau starred in five short films from 2005 to 2008: "The Darkside of Happiness," "The Chase," "Auteur," "Breakdown," and "Sex & Los Angeles. In 2009, he played the role of Jack Proctor in the romantic-comedy drama "Coyote Country Loser." Clark next showed his range in D. Kelly Prior's comedy-fantasy-horror "The Revenant." He played the role of The Hood opposite screen veterans David Anders and Chris Wylde.
In 2010, Beau starred in the Paul Bock-directed short film "The Loneliness of the Long Distance Dreamer." He confessed that he never saw the film's final cut, so when he accidentally bumped into the director, they reacquainted, and Bock sent him a link to watch the short film. The film opens with Clark's character making out with a woman, and only then does he realize that his co-star in the movie is his girlfriend Stassi Schroeder's Pump Rules co-star Kristen Doute (16).
Beau Clark runs an Instagram account (17) dedicated to his culinary adventures. He is not a professional chef but is undoubtedly skillful in the kitchen. When he is not acting, cooking, or working as a casting agent, Clark co-hosts his "The Good The Bad The Baby" podcast with his wife, Stassi Schroeder.
Vanderpump Rules Storyline for Beau Clark
Beau Clark got introduced as a recurring character in the seventh season of Vanderpump Rules. The reality television series, fronted by SUR Restaurant & Lounge boss Lisa Vanderpump, airs on the Bravo Network. It follows the careers and lives of Vanderpump's employees as they juggle the ups and downs of their personal lives and aspiring showbiz careers.
Clark was vaguely referenced during the show's sixth season after lead cast member Stassi Schroeder broke up with on-again, off-again boyfriend, Patrick Meagher. Introduced to each other by cast mates Kristen Doute and Katie Maloney-Schwartz, Schroeder and Clark started steadily seeing each other. When asked by other co-stars who she's dating, Stassi often played coy and never mentioned his name.
Beau was reluctant to join Vanderpump Rules at first. He didn't like reality television shows and had never seen a single episode of the show. However, when their relationship became serious, he realized that Pump Rules is fundamental to Stassi, and he agreed to appear in the series. Clark became a fan favorite and got promoted as a primary cast member by season eighth. The reality show portrayed him as a loyal and patient boyfriend. Lisa Vanderpump (18) and Schroeder's co-stars all sang Beau praise. They were glad Stassi finally found a great guy after her terrible relationship experiences with her exes, Jax Taylor and Patrick Meagher.
In June 2020, Stassi Schroeder and her Vanderpump Rules co-star Kristen Doute got fired (19) from the reality show after racist remarks and actions committed by the duo against co-star Faith Stowers resurfaced on the internet. Stowers accused Kristen and Stassi of calling her racist names and making multiple false robbery accusations against her to the authorities. Fan outrage over the allegations led producers of the show to immediately fire the pair, alongside co-stars Brett Caprioni and Max Boyens. Though not fired from the series, Beau Clark left Vanderpump Rules as a show of support to his wife (20).
Beau Clark's Appearance (Height, Hair, Eyes & More)
Height
6 ft 1 in
1.85 m
Weight
187 pounds
85 kg
Hair Color
Brown
Eye Color
Dark Brown
Body Type
Fit
Sexual Orientation
Straight
| | |
| --- | --- |
| Nationality | American |
| Estimate Net Worth | $1 million |
| Religion | Christian |
| Zodiac Sign | Pisces |
| Birthplace | Fort Lauderdale, Florida, USA |
| Birthday | March 18, 1980 |
Sanford Casting Company Profile Page, retrieved from https://castingdirectorslist.com/whoswho/michael-sanford-casting/
Olivia Harrison, Here's Where All The Vanderpump Rules Cast Members Live, retrieved from https://www.refinery29.com/en-us/2020/01/9151725/vanderpump-rules-cast-houses#slide-1 
Joey Keogh, The Untold Truth Of Stassi Schroeder's Husband Beau Clark, retrieved from https://www.thelist.com/294532/the-untold-truth-of-stassi-schroeders-husband-beau-clark/ 
Caroline Blair, Stassi Schroeder Reveals the Meaning Behind Her Baby's Name, retrieved from https://heavy.com/entertainment/bravo/stassi-schroeder-baby-name-meaning-hartford/ 
Johnni Macke, Vanderpump Rules' Stassi Schroeder and Beau Clark Arrive in Rome to Kick Off Wedding Week With Their 'Crew', retrieved from https://www.usmagazine.com/celebrity-news/pictures/stassi-schroeder-beau-clark-arrive-in-rome-for-wedding-pics/ 
Camille Moore, 10 Things You Didn't Know about Beau Clark, retrieved from https://tvovermind.com/beau-clark/ 
 Laura Rosenfeld, Stassi Schroeder's Boyfriend Beau Clark Has Had Some Interesting Jobs in the Entertainment Industry, retrieved from https://www.bravotv.com/the-daily-dish/stassi-schroeder-boyfriend-beau-clark-job-acting-career
Robyn Merrett, Stassi Schroeder Marries Fiancé Beau Clark: 'I Am So Proud to Be Your Wife', retrieved from https://people.com/tv/stassi-schroeder-marries-fiance-beau-clark/ 
Brienne Walsh, Most People Want to Know About Stassi Schroeder's New Boyfriend, We Want to Know About His Dog, retrieved from https://www.bravotv.com/vanderpump-rules/unleashed/beau-clark-stassi-schroeder-and-his-dog-refund 
Michele Corriston, Stassi Schroeder's Engagement Ring Is a 1900s Heirloom 'Straight Out of Downton Abbey', retrieved from https://people.com/style/stassi-schroeders-engagement-ring-details/
Lauryn Overhultz, Stassi Schroeder marries Beau Clark in Rome wedding, retrieved from https://www.foxnews.com/entertainment/stassi-schroeder-marries-beau-clark-rome-italy-wedding 
Caroline Blair, 'Vanderpump Rules' alums Stassi Schroeder and Beau Clark marry again in Rome, retrieved from https://pagesix.com/2022/05/12/stassi-schroeder-and-beau-clark-marry-again-in-rome/
Benjamin VanHoose and Melody Chiu, Stassi Schroeder and Beau Clark Welcome Daughter Hartford Charlie Rose, retrieved from https://people.com/parents/stassi-schroeder-beau-clark-welcome-daughter-hartford-charlie-rose-exclusive/ 
The Good The Bad The Baby Official Patreon Page, retrieved from https://www.patreon.com/thegoodthebadthebaby
Laura Rosenfeld, So This Is Where We've Seen Stassi Schroeder's Boyfriend Beau Clark Before, retrieved from https://www.bravotv.com/the-daily-dish/stassi-schroeder-boyfriend-beau-clark-lifehouse-you-and-me-video
 Laura Rosenfeld, Stassi Schroeder's Boyfriend Beau Clark Once Made Out with This Member of the Vanderpump Rules Crew, retrieved from https://www.bravotv.com/the-daily-dish/stassi-schroeder-boyfriend-beau-clark-kissed-kristen-doute-movie
Beau Clark's Chef Beaurdee Instagram Page, retrieved from https://www.instagram.com/chefbeauardee/
Kristie Rohwedder, Here's How Lisa Vanderpump Feels About Stassi Schroeder's New Boyfriend, retrieved from https://www.bustle.com/p/lisa-vanderpumps-thoughts-on-stassi-schroeders-new-boyfriend-are-a-good-sign-for-the-vanderpump-rules-newcomer-13246327 
Marianne Garvey, Stassi Schroeder and Kristen Doute fired from 'Vanderpump Rules', retrieved from https://edition.cnn.com/2020/06/09/entertainment/vanderpump-rules-stassi-schroeder-kristen-doute/index.html 
Nicholas Hautman, Pregnant Stassi Schroeder's Fiance Beau Clark Won't Film 'Vanderpump Rules' Without Her, retrieved from https://www.usmagazine.com/entertainment/news/stassi-schroeders-fiance-beau-clark-wont-film-vanderpump-rules/