Shamea Morton is an actress and musician who works as an in-game host for the Atlanta Hawks and as a radio personality for a local station. Shamea, a Georgia native, is the youngest of three sisters and considers her family to be very close.
Moreover, Shamea is also an in-game host for Atlanta Hawks games and spent years being a cheerleader for both the Atlanta Falcons & Atlanta Hawks. She rose to national prominence after joining the cast of The Real Housewives of Atlanta. She was also a vocalist, having performed with Shamari Fears-Devoe, who is a former cast of the show, and Keri Hilson. 
Shamea Morton's Net Worth
Shamea, an American reality star, is estimated to be worth $2 million after a successful career in television and film. Despite the fact that her annual income has yet to be announced, she is expected to have acquired a massive fortune from a variety of reality shows and films. (1)
Moreover, her husband Gerald Mwangi is a successful businessman who started employment at CompUSA as a project manager for HVAC Mechanical Building Construction Division, and steadily made progress through the ranks of the company, and eventually reached the position of the vice-president, which increased his net worth to a large degree, and is now the president of a mechanical contracting firm who has a net worth of $170 million. She can definitely live off of her husband's net worth.
Shamea Yvonne Morton was born on May 13, 1982 and was born and raised on Atlanta, Georgia. She began performing as a child and was a member of various hip hop groups and musical ensembles. 
She was not only a member but also the director of her church choir when she was four years old. She was named "Little Miss Tiny Star" at the same age because as a child, she would turn the fireplace stoop into a stage and amuse her family for hours with her electric singing powers and costume changes. Morton's parents put her in dancing courses because they felt she needed to develop a creative identity. She soon learned the art form, especially Hip-Hop and Jazz, and combined her new childhood love into her performances, transforming herself into a double threat. (2)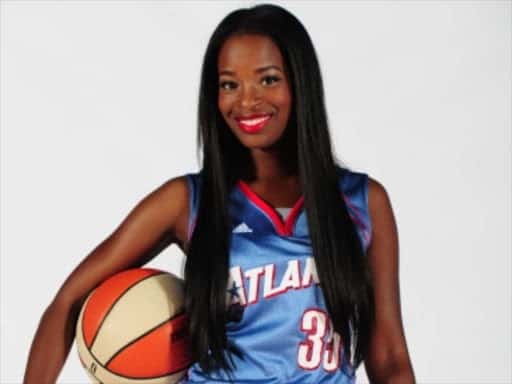 She has 2 older sisters. However, the name of her parents is not disclosed.
Shamea Morton's Education
Morton, who also studied Broadcast Journalism at Morris Brown College, holds a dual degree in Psychology and Sociology from Georgia State University. 
Before she entered college, she finished high school at Southwest DeKalb High School,  just two years behind Porsha Williams.
Shamea Morton's Husband and Family Life
 

 

 

View this post on Instagram

 

 
Earlier in the year 2017, Shamea Morton married Gerald Mwangi, the love of her life. The couple was blessed to have their first child in 2018, a daughter named Shya Nyambura Mwangi. (3)
She was previously married to King Solomon Smallwood, Jr. in 2009. However, the relation ended within a year as the two divorced. In the past, she has opened up about her experience with physical abuse with her ex-husband. We can infer that this might be the reason to their marriage falling apart.
 

 

 

View this post on Instagram

 

 
Morton was recruited into singing groups that comprised Shamari Fears-Devoe (previously of Blaque) and Keri Hilson (formerly of Pretty Tony), where they were signed to Grammy Award Winning song producer Anthony Dent (Destiny's Child, Beyonce', KeKe Palmer). Morton was also a member of the Co-Ed quartet, which consisted of two females and two boys. With the radio-friendly tune "Roll Wit Me," they blasted onto the music scene and Billboard's Hot R&B/Hip-Hop singles list.
Morton was ready to take her skills to the next level and joined the Atlanta Hawks cheerleading team, combining her passions for music, dance, and having a good time (2003-2014). She also danced for the Georgia Force Arena Football League for four seasons and cheered for the Atlanta Falcons for five seasons, serving as captain from 2011 to 2012.
Morton's big break came in 2002, when she co-starred with Zoe Saldana in the critically acclaimed picture Drumline. Prior to that, the former "Miss Southwest DeKalb" had minor roles on network television and the small stage, including BJ Hughes of the Alliance Theater's play "Olympic Village" and Elaine Hicks' "Illusions." Morton earned a leading role in the celebrated independent film "Lesson Before Love" as a result of those performances, which proved to be a turning point in her career. Rhavynn Drummer, casting director for Tyler Perry Studios, was in the audience and was so taken with the young actress that she recommended her for future employment. Morton also signed with Atlanta Models and Talent during this time and is now represented by Pantheon. Following that, she had roles in Travis Hunter's "Dark Child" and Tyler Perry's smash stage play "The Haves and the Have Nots."
Morton played Dallas Austin's baby momma in the TLC biopic "Crazy, Sexy, Cool," and she was also a waitress in Ride Along 2. She had a memorable cameo alongside Lance Gross in Perry's critically acclaimed film "Temptation." Morton also played the role of Dallas Austin's baby momma in the TLC biopic "Crazy, Sexy, Cool." In Meet the Blacks 2, she played a vampire.
Morton, who was named one of Jezebel Magazine's Most Beautiful Atlantans in 2012, studied Improv at Nick Conti's Professional Actor's Studio and attended acting workshops at Atlanta's Alliance Theater. Morton joined the Real Housewives of Atlanta cast in Season 8 and is still billed as a friend of the housewives. She has been the official in-game host for the Atlanta Hawks of the National Basketball Association for the past eight seasons. Morton will host the NBA All-Star Games in 2021. (4)
Shamea is also a radio personality who has stepped in for Ryan Cameron of The Ryan Cameron Morning Show on Atlanta's V-103 and also has her own show on Friday mornings from 1-6am. Along with Yung Joc and Comedian Shawty Shawty, she participated on the Streetz 94.5 morning show. She's done a lot of voice acting with the voice of the NCAA Championship games is among the most well-known.
Real Housewives of Atlanta Storyline for Shamea Morton's
Morton joined the Real Housewives of Atlanta cast in Season 8 and is still billed as a friend of the housewives. She has been a friend of the housewives since Season 6 bot only got upped at the 8th season.
Shamea is very close to full-time housewife Porsha Williams and considers her as her best friend, with the two backing each other up whenever they get into fights.
Porsha Williams defended Shamea when Kenya Moore lied about the latter. Williams even went on to say that Shamea played a huge role as a matchmaker to her relationship with Simon Guobadia.
She's friends with a lot of the women on the show, but her closest friends are Porsha Williams and Kandi Burruss. She has had conflicts with Phaedra Parks, Eva Marcille, Kenya Moore, and Marlo Hampton, despite her good relationship with Williams and Burruss.
She claims she's been given a peach, but owing to family duties, she declines a full-time position. Despite the fact that she is merely a fan of the show, she has appeared in two reunion specials. The first was her Season 9 reunion, which she missed owing to her feud with Parks. Parks was accused of flirting with her ex-husband by Morton. She'll also be a regular on the RHOA After Show and will appear on the season 13 reunion special.
There have been offers for Morton to join the show full-time, according to her. Burruss and Williams, she claims, can attest to the network execs offering her a peach.
While Morton acknowledges she'd like to be promoted to full-time, she claims she hasn't yet since her spouse is wary of appearing on reality television.
Despite this, Morton says she enjoys her work on the show because it allows her to have the best of both worlds. She also says she isn't rushing into the part because she has a secure life and work, and stardom isn't a priority for her.
Shamea Morton's Appearance (Height, Hair, Eyes & More)
Height
5 ft 10 in
1.78 m
Weight
137 pounds
62 kg
Hair Color
Brown
Eye Color
Brown
Body Type
Fit
Sexual Orientation
Straight
Facts About Shamea Morton
| | |
| --- | --- |
| Nationality | American |
| Estimate Net Worth | $2 million |
| Religion | Unknown |
| Zodiac Sign | Taurus |
| Birthplace | Atlanta, Georgia |
| Birthday | May 13, 1982 |
Shamea Morton Net Worth, https://www.celebritynetworth.com/richest-celebrities/actors/shamea-morton-net-worth/
Mario Fernandez, Shamea Morton – Net Worth, Age, Wikipedia, Family, Biography, https://wiki.projecttopics.org/bio/74377-shamea-morton-net-worth-age-wikipedia-family-biography.html
Shamea Morton Bio, Affair, Married, Husband, Net Worth, Ethnicity, Age, Nationality, Height, https://marriedbiography.com/shamea-morton-biography/

Shamea Morton Biography, Wiki, Height, Age, and Net Worth | Stark Times, https://starktimes.com/shamea-morton/