The pop music singer delivered a vehement tirade against "sexism" and "misogyny" after Instagram removed her X-rated photographs "without her consent."
Earlier this week, Madonna shared explicit photos of her nipples and butt in bondage-style lingerie while reclining on a bed however, Instagram took them down without "warning or notification," as she reposts the photos, but with her nipple covered with an emoji in several of the shots this time.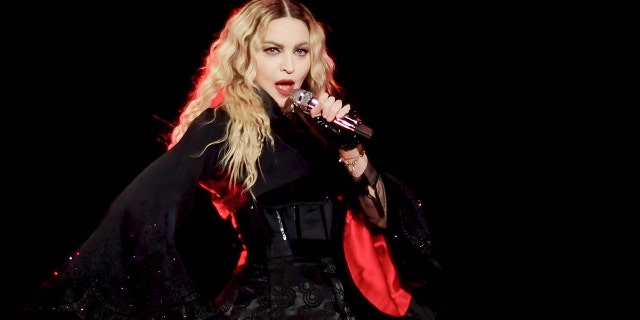 "I'm reposting photographs Instagram took down without warning or notification….. The reason they gave my management that does not handle my account was that a small portion of my nipple was exposed," the 63-year-old singer captioned an Instagram post on Thursday.
"It is still astounding to me that we live in a culture that allows every inch of a woman's body to be shown except a nipple. As if that is the only part of a woman's anatomy that could be sexualized," she continued. "The nipple that nourishes the baby!"
"Can't a man's nipple be experienced as erotic ?!! And what about a woman's a** which is never censored anywhere," she states this while pointing out the inequitable double standard that exists in society, in which males are permitted to expose their chest but women just aren't.
"Giving thanks that I have managed to maintain my sanity through four decades of censorship…… sexism……ageism and misogyny."
She concluded the post by saying, "Perfectly timed with the lies we have been raised to believe about the pilgrims peacefully breaking bread with the Native American Indians when they landed on Plymouth Rock! God bless America 🇺🇸 ♥️❌ #artistsareheretodisturbthepeace."
According to Instagram's community rules, nudity is prohibited on the site, and the female nipple is included in that definition.
"We take down content that breaks our rules whenever we find it, no matter who posts it," a representative for Meta, the umbrella company that owns Facebook and Instagram, told Page Six in a statement.
"We take down content that breaks our rules whenever we find it, no matter who posts it. While we understand not everyone will always agree with where we draw the line, our rules are designed to help keep everyone of all ages safe on our apps, while giving space for as much expression as possible."
The rep went on to say that everyone is subject to Instagram's regulations, and Madonna's photo was taken down due to the adult nudity. Meta also said that their nudity standards have evolved over time in response to community criticism on photographs of nursing, demonstrations, art, and educational or health-related uploads.
Reactions to Pop Singer Madonna Brands Instagram "Sexist"
It wasn't because it was sexist , it was removed because it was causing people to vomit #Madonna

— mcolins (@cantsignin) November 26, 2021