Friday the 13th is an unlucky day for everyone, but especially for the actress.
Actress Kelly Monaco's house caught fire, and what an unfortunate coincidence that it happened on Friday the 13th.
Prior to the tragic incident, the actress was said to be sleeping when she woke up to a blazing fire in her backyard, which was directly in front of her windows, according to TMZ.
The fire soon devoured her home, causing hundreds of thousands of dollars in damage, but she was safe.
After reviewing surveillance footage provided by Monaco, law enforcement was able to identify that the fire was started when a cigarette butt was thrown into an empty lot next to her home.
Investigators think the fire was not caused on purpose and it was doubtful whether the person who threw it would be penalized.
"Something as little as a cigarette butt can cause casualties and devastation," the "General Hospital" star added to the publication. She will be unable to return to her house for the time being because the fire damaged big portions of it.
She was also able to film the whole rescue operation, which shows firefighters marching through smoke as they battled to extinguish the fires, and she can be heard remarking, "This is how it started. Isn't this crazy?"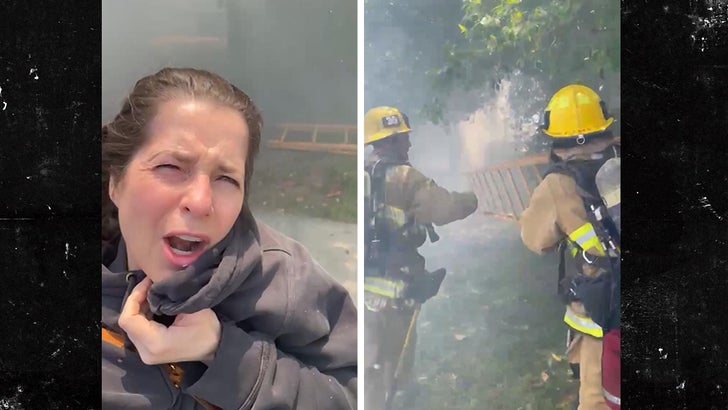 Monaco is a model, actress, and reality television personality who is best known for her role as Sam McCall on the ABC soap opera "General Hospital" and as the first season champion of "Dancing with the Stars."
Reactions to Fire Consumed "General Hospital" Star Kelly Monaco's Residence
Be careful with cigarettes. One cigarette 🚬 caused a house fire. Glad Kelly Monaco of General Hospital survived but her home didn't.

— Rosemary Potter (@1rpotter) May 19, 2022
Now @kellymonaco1 is an Everyday Hero! Sharing this impactful story about the dangers of a cigarette butt and the unbelievable speed that fire can travel could potentially prevent another fire or even save a life! #gh 💗😉💗 https://t.co/LyQ04nZ807

— pam (@pjporten) May 19, 2022