Brief Recap of New Amsterdam Season 4 Finale
Wedding Preps in the Middle of the Storm
The last episode ends with huge developments for the New Amsterdam character, including Leila and Lauren reuniting, Floyd (Jocko Sims) discovering his father, Iggy (Tyler Labine) confronting Martin (Mike Doyle), and Max (Ryan Eggold) telling Helen (Freema Agyeman) to travel to New York so they may marry.
Helen is not able to come when a Category 4 hurricane abruptly changes direction and heads straight for New York on their wedding weekend. Max is worried about her flight being delayed because she is still in England.
Despite the fact that the hospital keeps Max occupied throughout the storm, he still finds time to text Helen, who does not respond right away. The doctor receives a brief text from his fiancée, hoping she is safe on her journey. Helen was supposed to come to New York so that she and Max could get married.
Her airplane has finally landed safely. He moves ahead and arranges new wedding plans. Their wedding was supposed to be at the botanical gardens, but Max says it's not possible because of the damage caused by the storm. After that text, he opted to move the ceremony to the hospital rooftop, and he hasn't heard from her since. 
When he gets a call from Helen, he is standing on the rooftop in his suit in front of their friends. She wasn't on the flight, and she couldn't make it to the wedding ceremony. She simply doesn't want to.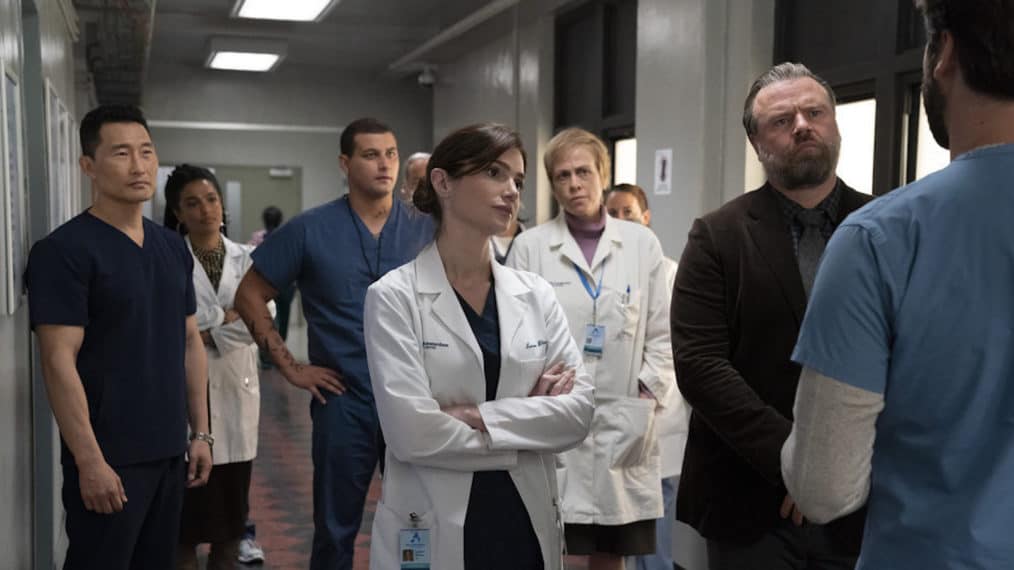 While Lauren (Janet Montgomery) and Leyla (Shiva Kalaiselvan) try to prepare for the hurricane's imminent havoc, a guy brings in a woman who claims to be suffering stomach troubles. She's expecting a child, but it's an ectopic pregnancy. Lauren notices a branding mark on the patient while staring at her and believes she is sex trafficked. They both try and succeed in getting this woman away from the man.
Martin (Mike Doyle) and Iggy's marriage is clearly on the verge of breaking apart. Martin informs Iggy that the only reason he wanted to be with him was to save Iggy, not because he was attractive. He meets Iggy when the hurricane passes and runs into his arms. Iggy claims he was in charge of the emergency response team, much to Martin's chagrin. His voice, Iggy continues, is holding him back, and he can't be who he wants to be with him during the suffering. 
Floyd Reynold was on a journey to reunite with his father, who had abandoned him. He paid a visit to his estranged father while the hurricane passed through. His father assists a resident who stays with him who is gravely hurt by re-inserting her protruding rib. His father begs him to call him with ideas for shoulder doctors before he goes, leaving the possibility of reconciliation open.
Dr Sharpe has always been a dependable character. Someone with a big heart. She has always been there for Max and is head over heels in love with him. It was ridiculous to make her abruptly withdraw from the most important period of their relationship with no explanation.
New Amsterdam Fans couldn't believe that she would do this to Max, and they made their disappointment clear on Twitter after the New Amsterdam finale aired.
Who's Leaving New Amsterdam?
Dreema Agyeman, as Dr Sharpe, was thought to leave New Amsterdam. The first speculation was when she passed out in Episode 16, Season 4, then just recently when she went to London and never came back for her wedding.
However, no one from the cast or crew has acknowledged or disputed Freema's departure from New Amsterdam. When a long-running actor quits a show, there is always some form of social media shout-outs to say goodbye. 
There were also speculations about Ryan Eggold as Dr. Max Goodwin, leaving because he might be moving to London to be with the love of his life, Helen, and He will be replaced by Dr Veronica Fuentes. Still, his future on the TV show is yet unknown, as the actor refuses to comment on rumors. 
Although Max and Helen's voyage to England seems unavoidable, series creator David Schulner addressed the matter, stating that the couple still has a long way to go and countless loose ends to tie up before saying their goodbyes.  
an American medical drama TV series 

created by

and stars

,

,

,

,

, and

premiered on September 25, 2018, on NBC

the pilot

was written by

 

based on the book Twelve

: Life and Death at

by

. 

inspired by the oldest hospital in America, Bellevue

Production companies involved are

, Pico Creek Productions, and Mount Moriah Productions 

originally titled Bellevue, after the hospital on which it is based; however, the title was changed to

.

took part at the 12th Annual PaleyFest Fall Television Previews

recognized by the World Health Organization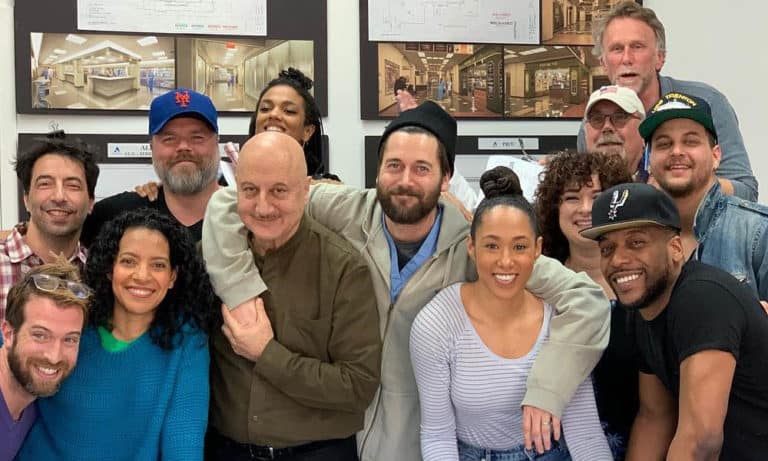 as

, the

at

Medical Center

as

, head of the oncology and hematology department

as

, head of the emergency department

as

, cardiovascular surgeon and head of cardiac surgery

as

, psychiatrist and head of the psychiatry department

as

, former head of the neurology department

Stacey Raymond as Kerry Whitaker, a paramedic

Lisa O'Hare as Georgia Goodwin,

's wife 

Vandit Bhatt as Rohan,

's son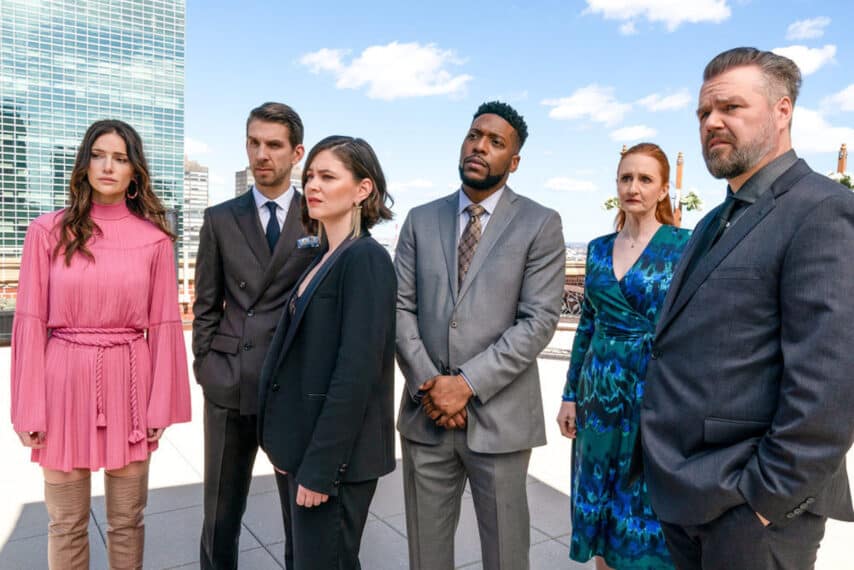 Ryan Eggold as Dr Max Goodwin, the medical director at New Amsterdam Medical Center
Freema Agyeman as Dr Helen Sharpe, head of the oncology and hematology department
Janet Montgomery as Dr Lauren Bloom, head of the emergency department
Jocko Sims as Dr Floyd Reynolds, cardiovascular surgeon and head of cardiac surgery
Tyler Labine as Dr Iggy Frome, psychiatrist and head of the psychiatry department
Anupam Kher as Dr Vijay Kapoor, former head of the neurology department
Stacey Raymond as Kerry Whitaker, a paramedic
Lisa O'Hare as Georgia Goodwin, Dr Goodwin's wife 
Vandit Bhatt as Rohan, Dr Kapoor's son 
Filmed at New York City area hospitals, including Bellevue Hospital and its surrounding area, New Amsterdam is a medical drama based on Bellevue, America's oldest public hospital. It follows the bright and charming Dr. Max Goodwin. To reform the system at America's oldest public hospital, the new medical director defies the rules. 
Dr Max Goodwin is a compassionate doctor who motivates others around him and will go to any length to resurrect the New Amsterdam Medical Center, which is understaffed, underpaid, and undervalued. In this new role, he tries to bring the patients' needs back to the forefront and sets out to deconstruct the bureaucracy and give superior care, but his colleagues are skeptical. 
Apart from Max's constant battles with medical officials, the only other major storyline at work is Max and Helen's romance. As compelling as their relationship is, it is not enough of a foundation on which to rest an entire series.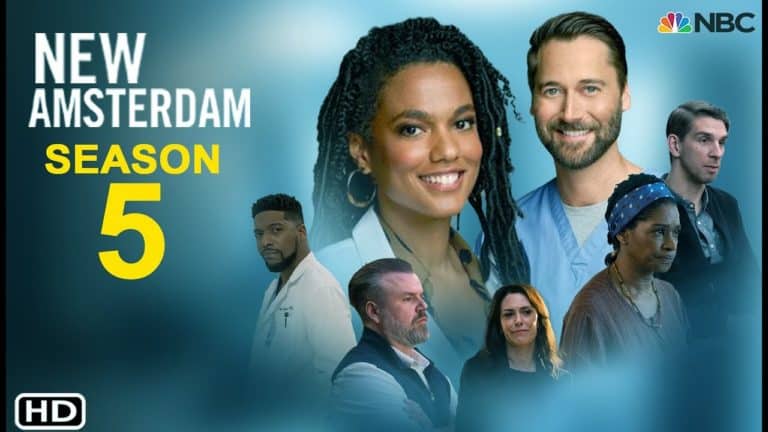 Wrapping-Up for New Amsterdam Season 5
Season 5 of New Amsterdam will be the final season on NBC, as many of you already know. It's a bittersweet conclusion,  
According to an online entertainment news site, Deadline, which first broke the news, Season 5 of New Amsterdam is planned to premiere in 2022-2023. NBC also confirmed that the show will continue to air at 10 p.m. on Tuesdays, ET slot. With only 13 episodes, the fifth and final season will be the shortest. The total number of episodes on the show will now be 92.
Following a strong start in the 2018-19 season, New Amsterdam has sunk in the ratings, now placing below most established NBC dramas, posing economic challenges given its high cost. Despite the air-pattern problems, it managed to average a 1.13 rating in adults 18-49 and 7.2 million people in Live+7 and multi-platform viewing this season.
 According to Deadline, NBCUniversal Television & Streaming's President of Scripted Programming, Lisa Katz, stated that the story of Max Goodwin and his never-ending commitment to patients at New Amsterdam has been inspirational, and they are grateful to David Schulner, Peter Horton, and the cast and crew for their incredible dedication, talent, and collaboration.
Nellie Andreeva, 'New Amsterdam' To End With 13-Episode Season 5 On NBC, retrieved from https://deadline.com/2022/03/new-amsterdam-canceled-end-fifth-final-season-13-episodes-1234976837/#recipient_hashed=111b908edf0009828858d32848705113553b05ca71534ea0e3c806fffdd09a39
NBC Insider Staff, The NBC Fall 2022 Schedule Is Here: See the Full Lineup, retrieved from https://www.nbc.com/nbc-insider/nbc-fall-2022-schedule-the-complete-list-of-shows