In the third season of the TV show, You, Joe Goldberg (Penn Badgley), and Love Quinn (Victoria Pedretti) are married and living in the fictional Californian suburb of Madre Linda with their infant son, Henry. Joe keeps repeating the cycle thing of preoccupation with a growing interest in Natalie Engler (Michaela McManus), the neighbor, while their relationship dynamic changes. This time, Love reverses the narrative to make sure Joe's obsessive behavior won't so easily shatter her goal of having the ideal family.
But after Love murders Natalie, Joe becomes fixated on Marienne (Tati Gabrielle), a librarian with whom he shares a rough upbringing in the foster system. Theo (Dylan Arnold), Natalie's stepson, develops a passionate love for Love, further straining the connection between Joe and Love at season 3 finale. Below is the summary.
Episode 1 - And They Lived Happily Ever After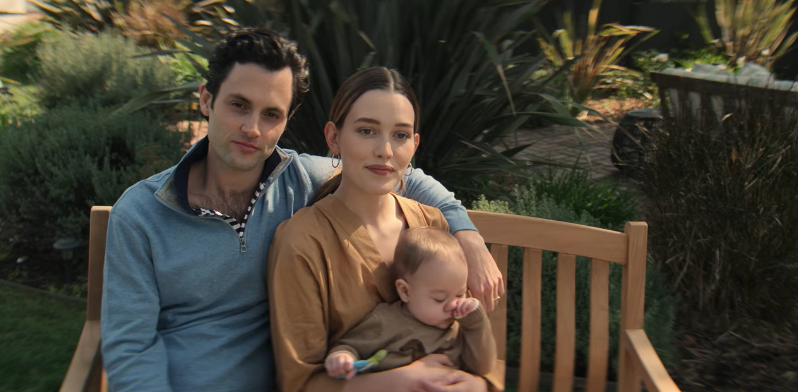 With their new son Henry, Love and Joe are overburdened, which strains their marriage. While Joe struggles to connect with Henry, their neighbor Natalie Engler, a real estate agent and the spouse of successful computer tycoon Matthew Engler captures his attention. Love becomes friends with Sherry Conrad (Shalita Grant), a local Instagram influencer, to blend in with Madre Linda's social group. Joe expresses interest in Natalie, so she extends an invitation to him for a wine night. They kiss, but Joe gets second thoughts and returns home to have their first sexual encounter in weeks.
They attend Sherry's party the following night when Love overhears her chatting with other guests about her family and the passing of her brother Forty (James Scully). After a brief discussion with Natalie, Love charges Joe with having an obsession with her, which he refutes. Love kills Natalie in the property's basement after discovering Joe's package of paraphernalia that he stole from Natalie. Later, Natalie shows Love a vacant business to begin a bakery.
Episode 2 - So I Married an Axe Murderer
To address their failing marriage, Joe and Love go to couple therapy. They plan to dispose of Natalie's body in an adjacent woodland while simultaneously fabricating a plausible explanation for her absence. While Joe befriends Marienne, who enables him to fix rare books to sell for money to Ellie (Jenna Ortega), Love happens to run into college student Theo at the grocery.
Joe and Love exhume Natalie's body and take off her wedding band, and bury her beneath the foundation of a construction site. It happens after learning during the Conrad (Travis Van Winkle) children's birthday that Madre Linda's inhabitants all wear a biosensor created by Matthew (Scott Speedman) on their rings. The two afterward make amends and promise to stop killing. Theo is revealed to be Matthew's stepson when Love opens her bakery, "A Fresh Tart," behind which she and Joe construct a new plexiglass cage.
Episode 3 - Missing White Woman Syndrome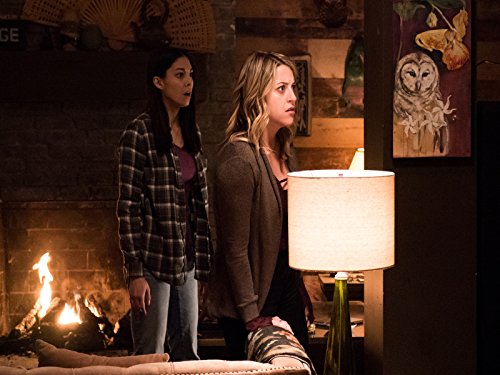 As news of Natalie's disappearance spreads, Joe and Love decide to accuse Matthew of killing her by hiding Natalie's bloody scarf inside his house. Henry gets the measles and is sent to the hospital right away. When Joe breaks into the Englers' house, he finds that he has the measles and collapses. Joe proposes that Matthew speak to the media to clear his name, which Matthew does at a vigil for Natalie.
Love initially rejects Theo's overtures, but the two later become friends in the hospital over Theo's tense relationship with his stepfather. The family's finances are in disarray as Dottie (Saffron Burrows) discloses that she and Love's father are getting divorced. Joe and Love decide against framing Matthew and burn the scarf since Henry is improving. The wedding ring of Natalie is found by the police. Gil (Mackenzie Astin), a neighbor, tells Love in her bakery the following day that Henry contracted the measles from his daughters, whom he had refused to vaccinate. He is knocked out cold by Love as he exits, who is furious.
Episode 4 - Hands Across Madre Linda
Gil is imprisoned in the bottom of the bakery's plexiglass vault by Joe and Love. Joe and Love look for incriminating evidence they may use to leverage Gil's quiet. It happens after realizing they cannot release Gil without guarantees that he won't disclose the assault. The private investigator employed by Love's family reveals that Gil's son is a sexual predator connected to a recent assault case on a college campus. After being disgusted to find that his kid had kept up his offensive conduct, Gil hangs himself inside the cage.
Love places the murder weapon bearing Gil's prints in the the forest where Sherry has organized a community search for Natalie. At the same time, Joe moves Gil's body to his house and forges a note from Gil claiming that he committed suicide out of guilt over killing Natalie. Joe and Love then decide to frame Gil for Natalie's death. The pretense succeeds, and six months are pretty peaceful. After a meaningful talk, Theo kisses Love, and Joe develops an obsession with Marienne.
Episode 5 - Into the Woods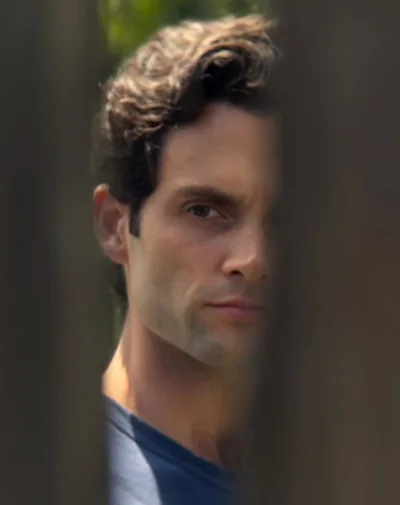 Joe and Love's therapist advises them to make new acquaintances. Therefore, Joe decides to join Cary, Sherry's husband and a self-improvement guru, and his pals on a hunting trip. Joe confronts Love after learning that she has been covering the cost of Theo's Uber rides. Love admits that Theo kissed her in the bakery and claims that Theo has no one to take care of him. Cary drives Joe into a fight during the retreat by taking him on a night hunt; Joe throws Cary over a cliff, knocking him out. Joe transports a lifeless
Carry returns to the camp, where he awakens and claims to have assisted Joe in discovering his inner fortitude. While sobbing uncontrollably, Joe hugs his newfound buddies. Theo, arrested for operating an electric scooter while intoxicated, made a call to Love from the police station. Together, the two take the scooter and have sex. After Dottie returns home and sees what Love has done, Love chooses to break off contact with Theo. To leave the house and stalk Marienne, Joe sets off the alarm at the bakery.
When Joe looks into Marienne's personal life, he learns she is a recovered addict. She is in a contentious custody dispute with her ex-husband, local news reporter Ryan Goodwin (Scott Michael Foster). Later, at the library, he steps in to break up a fight between Ryan and Marienne, but Marienne corrects him. Joe spends the night assisting Marienne in salvaging books from the library's sprinkler system after malfunctions. She shares her troubles with him, and they have a passionate kiss.
Still, in shock at Forty's passing, Love thinks she might be carrying Theo's child. Still, she later discovers she is simply menstruating. After a fight with her mother, she becomes intoxicated and has a hallucination of Forty, which helps her cope with her loss. Theo alerts Love after learning that Matthew had been unlawfully snooping on Madre Linda's inhabitants to identify Natalie's natural killer. Joe and Love concur that Love should keep Theo on hand as a resource for information regarding Matthew's inquiry.
Episode 7 - We're All Mad Here
Marienne chooses not to explore her affections for Joe out of moral obligation. To break into Madre Linda's security feeds, Matthew enlists the aid of a skilled programmer from his business. Love tries to start foreplay with Joe, who is now just interested in Marienne, but fails and then has sex with Theo again. Sherry asks Love to assist with the catering for the library's fundraiser. When Ryan confronts Joe at the fundraiser, knowing that Joe has been stalking him, Joe's plan to bring down Ryan by faking his relapse falls apart.
At the function, Love runs into Marienne; later, Sherry approaches Love and says that she and Cary want to try swinging with Love and Joe. Dottie was saddened to lose Anavrin and her vineyard to her ex-husband as part of the terms of their divorce, kidnaps Henry, and sets the vineyard on fire. Love breaks up contact with her after she is ordered to spend time in recovery. Joe learns from Dottie that her first husband, James, may have been killed by Love.
Episode 8 - Swing and a Miss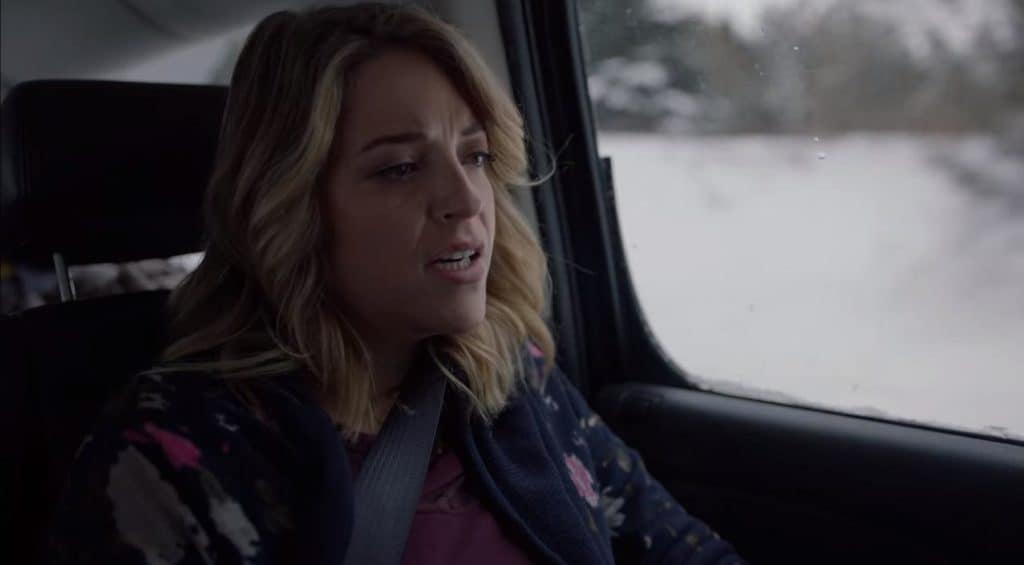 Joe supports Love's desire to go out with the Conrads in the hopes that it will reveal their marriage to be unfaithful and free him to pursue a romance with Marienne. Joe testifies in Marienne's custody hearing for the daughter she and Ryan share at her request. However, Marienne later contacts Joe and reveals that Ryan made sexually graphic images she had sent him publicly to undermine her case. Ryan's friendship with the case's judge is revealed to Joe.
Matthew catches Theo and believes Love is responsible for Natalie's disappearance after Theo searches Matthew's office and finds his database of Madre Linda's security feeds. Love confronts Joe in private as they are having sex, loudly reminding him that she killed Natalie out of devotion to her marriage to Joe. Love then witnesses Joe fantasizing about someone else.
After hearing the argument, the Conrads try to leave the house, but Joe and Love stop them and confine them in the glass cage. After understanding that violence has arousal effects on them, the two engage in intense sex.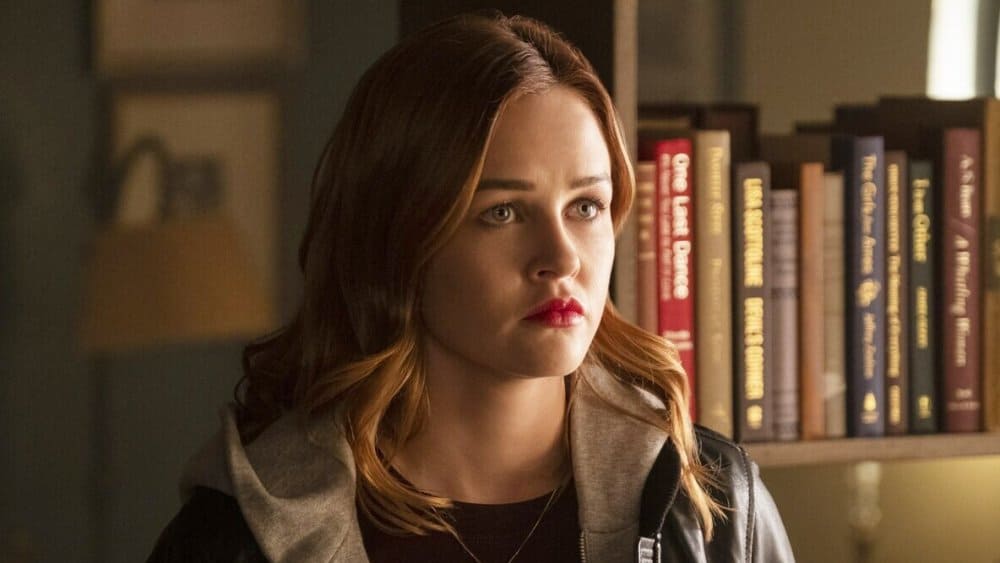 Joe discovers Cary's gun while doing some housework. Later, when Ryan is transporting their daughter to New Jersey, he finds a depressed Marienne outside a booze store. Joe urges her to keep trying for her daughter, and they engage in sexual activity. Later, Ryan learns that Joe was following him, which sparks a fight that culminates with Ryan being fatally stabbed by Joe. Sherry recommends to Love that she disclose Matthew's unlawful spying on Sherry's lifestyle blog to rescue herself and Cary from the cage.
To arrange a murder-suicide, Love gives them Cary's gun and promises to release one of them if the other one kills the other. Based on a video of their bickering, Theo offers to get a copy of Matthew's surveillance tape. He thinks Love is a victim of Joe's domestic abuse. Theo obtains a backup of the material before Matthew agrees to the legal team's demand that he delete
his video. When Theo reviews the video, he sees Joe driving Natalie's car out of the bakery. When he arrives at the bakery to inform Love, he discovers the Conrads locked inside the cage. He runs into Love on the way out, who strikes him with a fire extinguisher.
Episode 10 - What Is Love?
Love recommends the two have another child and tells Joe that she attacked Theo before locking him in the basement. When Joe learns Theo is still alive, he brings him to the hospital. Love discovers Joe's abandoned shirt is covered in Ryan's blood and knows that Joe is madly in love with Marienne. At dinner, when Joe asks for a divorce, she confronts him.
Love uses aconite to paralyze Joe and invites Marienne over, intending to kill her. Matthew finds a crippled Joe while Love is out delivering an order, and he tells him where Theo is. Love returns and tells a terrified Marienne that Joe killed Ryan. When Marienne's daughter interrupts, Love decides not to kill her.
After Marienne departs, Love gets ready to murder Joe. Still, he saves her by giving her a lethal dosage of aconite after learning about the poison and taking an antidote. Joe sets up a murder-suicide by setting the house on fire and drafting a note accusing Love of all the murders in Madre Linda. The Conrads unlock the cage with Love's spare key, preserving their marriage. Theo's recovery has brought Matthew and Theo closer. Joe hands over control of Henry to his library coworker Dante. Then, taking on a new name, he flees to Paris to look for Marienne.
At the final episode, Matthew and Theo reestablish their father-son bond. Jackson and Andrew take over the business while Dante (Ben Mehl) and Lansing win custody of Henry from Dottie, a drunk.
Add Your Heading Text Here
an American psychological thriller television series

based on the books by Caroline Kepnes

developed by Greg Berlanti and Sera Gamble

produced by Warner Horizon Television, Alloy

created by showrunner Sera Gamble with Greg Berlanti

Entertainment, and A+E Studios, in collaboration with Berlanti Productions,

currently a division of Warner Bros. Television.

premiered on Lifetime in September 2018

available on Netflix streaming