In Queens Season 1, Briana, Naomi, Jill, and Valeria are in their forties, sheltered and distant from the outside world. In the '90s, they performed as the 'Nasty Bitches. The four of them together not only rocked the hip-hop world but also became musical legends.  The foursome's reunion has opened the door to a return to prominence.
Eve J. Cooper as Brianna "Professor Sex" Robinson
Brandy Norwood as Naomi "Xplicit Lyrics" Harris-Jones
Naturi Naughton as Jill "Da Thrill" Sumpter
Nadine Velazquez as Valeria "Butter Pecan" Mendez
Taylor Sele as Eric Jones, manager of the group
Pepi Sonuga as Lauren "Lil Muffin" Rice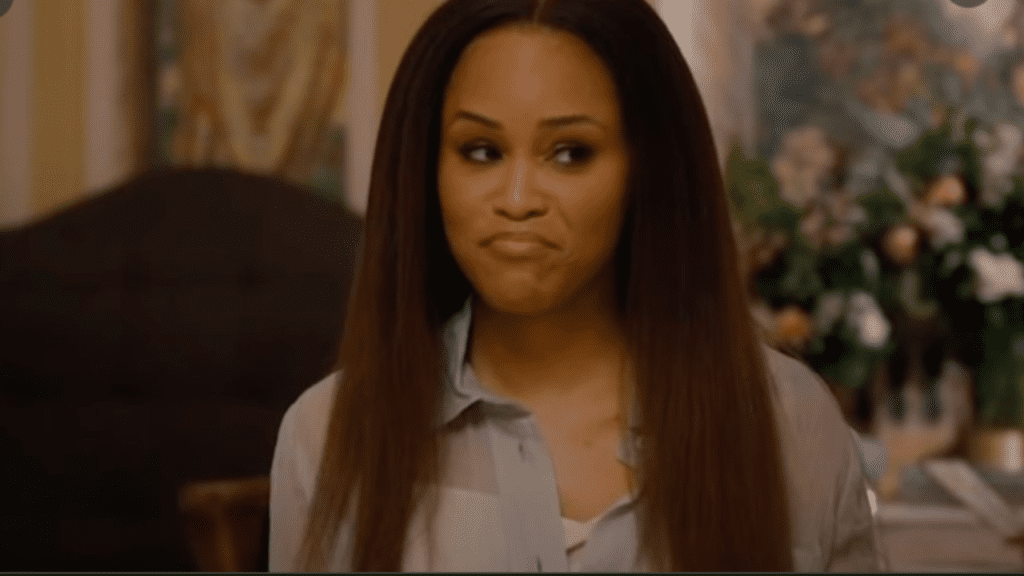 Brianna 'Professor Sex' Robinson (Eve J. Cooper) is now a married woman with five kids. She went to the supermarket and was mistaken for a member of TLC. Still, when the store played the recording, the employees did not recognize her.
She raced home but discovered her husband in the company of another woman upon opening the door. What's more upsetting is that she was a student of his and a person of color. Jill 'Da Thrill' Sumpter (Naturi Naughton) and the priest are in the confessional.
Naomi 'Xplicit Lyrics' (Brandy Norwood) is determined to pursue her goal of being a successful artist at all costs. She has given up rapping and is instead singing at bars and going on tours in search of a new audience.
The trio split up 20 years ago, and Valeria 'Butter Pecan' Mendez (Nadine Velazquez) is the only one to have maintained her prominence in some other field than rap. As the current anchor has gone off on a racist tangent, she is quickly becoming a prominent member of the talk show hosting community. She is positioned to take over as the show's primary anchor.
Episode 2 - Heart of Queens
Jill told her husband, Darren that she no longer wanted to be in a relationship with him, and he assured her that his love for her would never end. As he walks away, Lauren 'Lil Muffin' Rice (Pepi Sonuga) appears on the porch and rings the doorbell. She avoided being sent back to the rehabilitation after convincing Jill to reconsider.
They decide to take a break from Montana by flying to Los Angeles and spending time with the females there. Everyone goes to Brianna's residence, where she is still debating whether or not to leave her husband. Muffin tries to slip out of Brianna's house to hang out with friends.
After having a candid conversation with Jill, it becomes clear that the two of them are trying to avoid facing the truth about who they really are. After being rejected by her church and ridiculed publicly for being a lesbian, Muffin has decided to return to recovery.
Episode 3 - Who Are You Calling a Bitch?
When Jojo (Precious Way) has an important audition at a prestigious conservatory, Naomi goes there to support her. There is only one black girl in the room, and Jojo is worried that she won't measure up to the school's high expectations. Naomi comforts Jojo by reiterating her belief in her "black female mojo."
In her poem, Brianna laments the many things she has given up for her adulterous spouse. Brianna is torn over whether to end her marriage or give it another shot. In contrast, Jeff (RonReaco Lee) has no intention of ending his marriage.
Having decided to take Jeff back, Brianna reads her "I Forgive You" speech to him in bed, but when he doesn't answer, she realizes he's dead.
Episode 4 - Ain't No Sunshine
The doors to the church open just as Jeff's memorial service is about to begin, and everyone in the congregation looks up. Alexis (Hannah Masi) has arrived at the entrance and is waiting there. When Naomi gets to her feet to give the thrashing.
The other girls yank Brianna away from Alexis and take her to a back room. Brianna unexpectedly requests that they bring Alexis back so that the two of them can talk.
This is the first time Brianna has displayed any signs of emotion since discovering her husband's body. Brianna goes back to the temple and gives a heartfelt eulogy for her late spouse.
She is not afraid to call him out on his faults, yet she never stops loving him. She then asks Alexis to come to say goodbye to her at the casket. Alexis immediately throws up all over Jeff's funeral robe. Brianna has an abrupt realization that Alexis is pregnant.
Episode 5 - Do Anything for Clout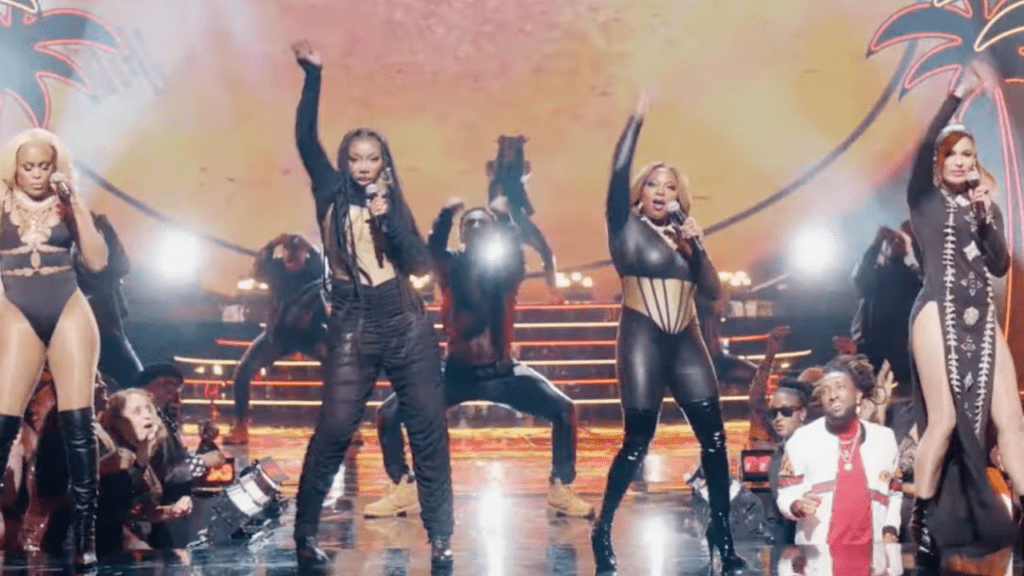 It has been requested that the ladies attend the American Music Award. To avoid a repeat of their previous disastrous performance, they have become more dedicated to their rehearsals. Jill always seems to be late, if she shows up at all.
They discover the reason at an AMA pre-party. Jill, Naomi, and Brianna dress up like drag queens and storm the stage. Behind them is a marquee, "Jill the Thrill and the Nasty Butches." When Jill begins to perform their hit from the '90s, "Nasty Girl," the crowd goes wild with outrage.
Alexis' disruptive nature has always been apparent. The threats from Jill's estranged husband have the potential to cause friction within the band. Still, the women have put aside their differences to support their friends. The Queens are united and ready to take the AMAs by storm.
Episode 6 - Behind the Throne
Eric 'E-Roc' Jones (Taylor Selé) tells Lauren 'Lil Muffin' Rice that he settled her debt with the label. He offers to help her get her career back on track as they celebrate the premiere of the video and documentary. Until they work out her housing situation, he offers for her to stay with him.
The filmmaker shows Valeria photos of her mother taking photo of her credit cards as part of the documentary. Tina (Felisha Terrell) made an inaccurate assessment of how she and Jill were doing together. She had hoped they would give their relationship another shot after Jill had hinted on the show that they were back together.
The girls go to check out the billboard to cheer themselves up. Eric gets pulled over by Jadakiss (Jadakiss), who is carrying a gun and demands cash. He offers Eric 10% of the proceeds from the Queen concert tour.
The shooter appears as they gape in awe at their enormous, stunning billboard. Eric takes a defensive stance in front of the women. Eric rushes at the assailant, knocking the weapon out of his hands before the man runs off into the darkness.
Amid the women's screams, Eric discovers that Brianna has been shot. As Lil Muffins calls 911, they work to keep Brianna awake.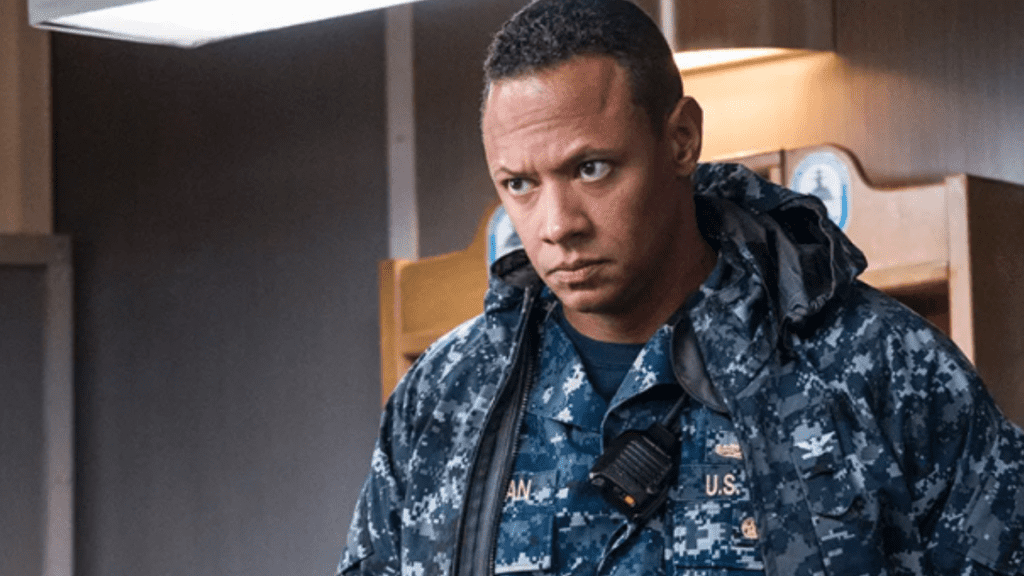 Jadakiss, angry that the FBI has been looking into him, tells Eric that he didn't pull the trigger on him and Bri but that he'll do the job when he gets out. As Jill is praying in the hospital chapel, the investigator enters with the shooter's identification.
Darren Filgo (Emerson Brooks), Jill's ex-husband, comes up to her knees in the church seat where she is praying and tells her that the bullet he fired missed her, proving that God wants them to be together and have a child.
Despite her best efforts to defend herself, her ex-boyfriend tries to suffocate her with both hands until she knocks him out with a candlestick. While hundreds of fans gather outside Brianna's improvised monument, she begins to flatline in the operating room.
Jojo tells Lil Muffins about a fresh female rap artist named Cash Mermaid. Cash Mermaid has responded to Lil Muffins' recent spat with a video and song. Cash Mermaid, a longtime fan of Lil Muffins' who has reportedly been in her DMs for years, has allegedly been seeking help on how to get on.
The only way Lil Muffins can get rid of Becky 'Cash Mermaid' Stanislovsky (Tu Morrow) is to completely ignore her, so she plans to do just that. When Cash Mermaid's label starts putting pressure on her, she calls Lil Muffins for advice.
Cash Mermaid charges at Lil Muffins, clearly searching for a fight to post online. Jojo succeeds in convincing Lil Muffins to record a response to Cash Mermaid's latest diss track, in which Mermaid uses the n-word to refer to Muffins. Muffins quickly dispose of Cash Mermaid with her hard bars.
Jill is stopped by the police after stealing narcotics from her supplier. After deciding to let her go because she failed to renew her registration, an officer discovers cocaine on the ground beside her vehicle. Jills ask her pals for help, and they come through for her.
Episode 10 - Nasty Girl Records
Jill provides her father with breakfast food and a referral to a local clinic to aid him. Her dad has turned on her and is saying she's disloyal and defiant. Jill finally comes into her own and leaves her abusive father.
Feeling confident in who she is and able to stand up for herself, when she informs him that he is using God to excuse the hatred in his heart. Zadie 'Lady Z' (Remy Ma) expresses her desire to return to the program to Naomi, saying that the audience needs to hear her viewpoint.
After Zadie and Lauren went public about their assault experiences, four additional women came forward. They testified, leading to Frank's arrest during the event on several counts of rape and assault. Eric joins the women in seeing the news of Frank's arrest.
Episode 11 - I'm a Slave 4 U
Madison Pierce (Elyse Bell) performs a song on coming into one's identity to the disbelief of Naomi and Valeria. They nonetheless allow her to sing. The women are impressed by her singing and rally around her when her mother turns up.
Jill stops her mother from taking her away by telling her that Madison is the one with financial value, not her. As she leaves, Madison expresses gratitude to her friends and family for their efforts to aid her, despite her mother's threats to have Jill imprisoned.
Valeria says she will rap in English, then breaks into Spanish once the track starts impressing Resonance. When she exits the recording booth, however, she no longer features in the song.
Episode 12 - Let the Past Be the Past
Naomi understands Robin's (Robin Givens) pain from the past. She encourages her to let go so she may create a place for positive changes in her life. Naomi informs Eric she received her master's degree from Robin, and the two of them share a passionate embrace on the couch as Naomi declares her love for Eric.
Valeria has anxiety about doing IVF due to the low likelihood of success. Thomas (Gaius Charles) refocuses on the bright side and tries to reassure Valeria that she will make a great mother. Before supper, he administers her first IVF injection, but Valeria is skeptical.
The Nasty Girls celebrate their success and express their longing for Brianna at the 20th-anniversary party for the Queen's debut album, "Heart of Queen's." A young black girl approaches the Queens and Muffin, asking them to sign her poster.
The crowd starts chanting Jill, Valeria, and Naomi's names, and they love the attention. The following day, Naomi, Valeria, and Jill's new music is being recorded.
Episode 13 - "2022" Queens Season Finale
Naomi tells Eric that she is ready to be happy with him. That is, even though he is corny, she has enjoyed watching him develop into a man and parent. Following the party, Valeria, Jojo, Jill, Lauren, and Eric sat down to discuss how well things were going for them personally.
Valeria is crushing it on her solo tour and Jill is signing a slew of fresh talent to Nasty Girl Records. Lauren is off to USC thanks to her essay preventing Ronnies' execution. Just as Valeria laments not being able to walk off the stage with the others, the girls receive a surprise photo of the four of them via text from Brianna.
Queens' next global tour in 2022 is promoted on a billboard in front of Madison Square Garden. The DJ has introduced Naomi, Valeria, and Jill and is going to raise the fourth act. Naomi calls out to the girls as the fourth spotlight is up and the stage goes black.
an American musical drama television series
written and executive produced by Zahir McGhee
ABC Signature's production for the Disney Corporation.
Premiered on October 19, 2021, on ABC
discontinued in May of 2022, following only one season