We think that red carpet events are the perfect opportunities to get inspired by celebrity outfits these days. Besides, runway looks are often displayed in movie premiere red carpet events.
Earlier today, three famous personalities rocked the ticket to Paradise red carpet premiere event in London. George Clooney, his wife Amal, and co-star Julia Roberts graced the glamorous event in London.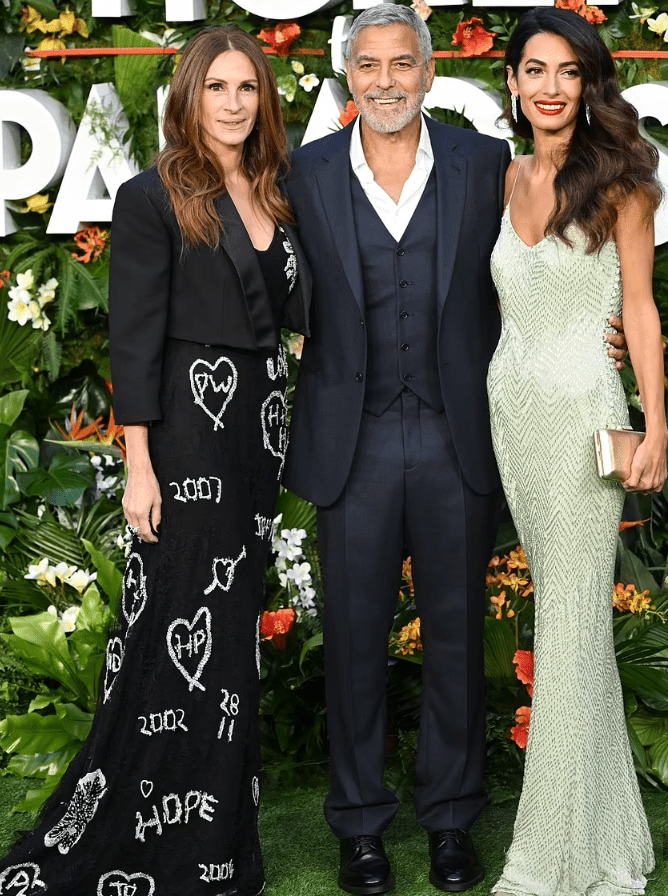 George Clooney's Dapper-Looking Outfit
George Clooney is an American actor and filmmaker. The 61-year-old actor has graced various red carpet events through the years. After all, he appeared in different Hollywood films such as From Dusk till Dawn, Batman & Robin, and more.
In 2001, Clooney's fame widened with the release of his most significant commercial success, Soderbergh's heist comedy remake Ocean's Eleven, the first of what became a trilogy starring Clooney. Knowing this, he just collaborated with his co-star in the film, Julia Roberts, after 21 years.
Recently, George Clooney looked dapper as he arrived at the Ticket to Paradise premiere in London. He was accompanied by his gorgeous wife, Amal. They greeted Julia Roberts at the event.
The actor is a picture of sophistication as he posed for photos in a navy blue three-piece suit and an open-collar white shirt. George indeed showed off his movie star aura on the red carpet.
Amal Clooney's Glittery Outfit
The lovely wife of George Clooney also appeared at the red carpet event. She elegantly accompanied her husband, George Clooney.
Amal looked out-of-this-world in a glamorous mint green gown. The outfit clung to her incredible figure and was adorned with sparkling beads.
In addition, she added height to her frame with a couple of glittery high heels. Amal completed her look with a clutched, small gold handbag.
Besides, she styled her tresses in chocolate Hollywood glamour curls. She opted for a timeless look with a classic red lip and diamond dangle earrings.
The equally sophisticated Julia Roberts soon joined the handsome couple. She is George's co-star in the film and longtime friend for 21 years since starring together in the 2001 hit, Ocean's Eleven.
Julia Roberts's Trendy Red Carpet Look
Julia Roberts is the epitome of success in Hollywood. She is also known as a stylish actress. The 54-year-old Hollywood star also appeared in various red carpet events to promote her movies.
After 21 years, Julia again worked with George Clooney after their successful movie, Ocean's Eleven, in 2001. They both appeared on the red carpet, wearing stylish ensembles.
The actress exuded elegance in a black Alexander McQueen gown embroidered with graffiti hearts and initials. This look is one of the top fashion trends this year, dubbed "loud logos." No wonder Julia Roberts chose this look for the red carpet activity.
Besides, she layered a cropped black blazer over the top and styled her signature ginger tresses in loose waves. It perfectly matched her timeless style for the fashion display in London.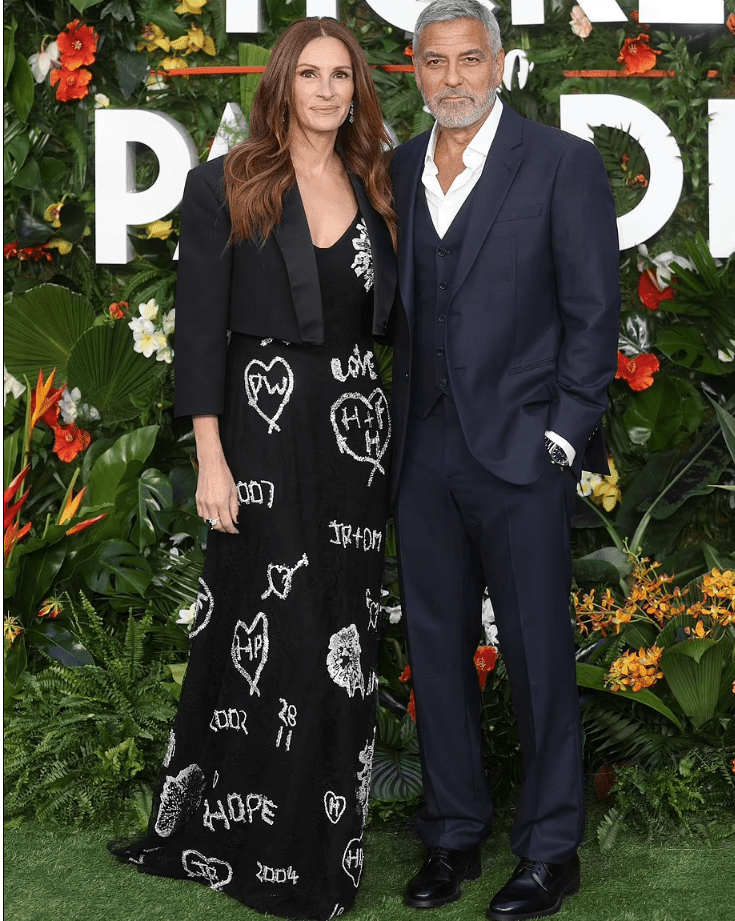 What is the "loud logos" fashion trend?
Aside from bold, traditional prints, loud logos are also a trend this year. The Editor's Note at The Vou about the movement is, "Don't stop at one logo and even clash logos – I am talking head-to-toe loud branding." You can experiment with your look to show off this trend this year.
Besides, they shared that "Logo-mania has again taken over the fashion industry, making a significant return since its last major cycle in the '90s. During that era, plastered in logos was beyond hot until it wasn't."
Aside from that, they know that "Just as strong as the fad's infiltration into the scene was its dissipation; what once was a mark of cool faded into a land of taboo trends."
Ticket to Paradise Movie
Have you come across the movie, Ticket to Paradise? It is an upcoming romantic comedy film directed by Ol Parker and written by Parker and Daniel Pipski. The film stars George Clooney and Julia Roberts, both of whom also produced it.
The film is scheduled to be released in Australia on September 15, 2022, in the United Kingdom on September 16, 2022, and in the United States on October 21, 2022, by Universal Pictures.
The movie's plot is riveting. It tells the story of two divorced parents who travel to Bali after learning their daughter, Lily, is planning to marry a local, Gede, whom she has just met. Then, they decide to work together to sabotage the wedding to prevent Lily from making the same mistake they made twenty-five years ago.
Aside from that, principal photography took place in Queensland, Australia, between November 2021 and February 2022. The cinematographer is Ole Bratt Birkeland. In January 2022, it was briefly put off production hiatus due to the rise of COVID-19 cases in Queensland.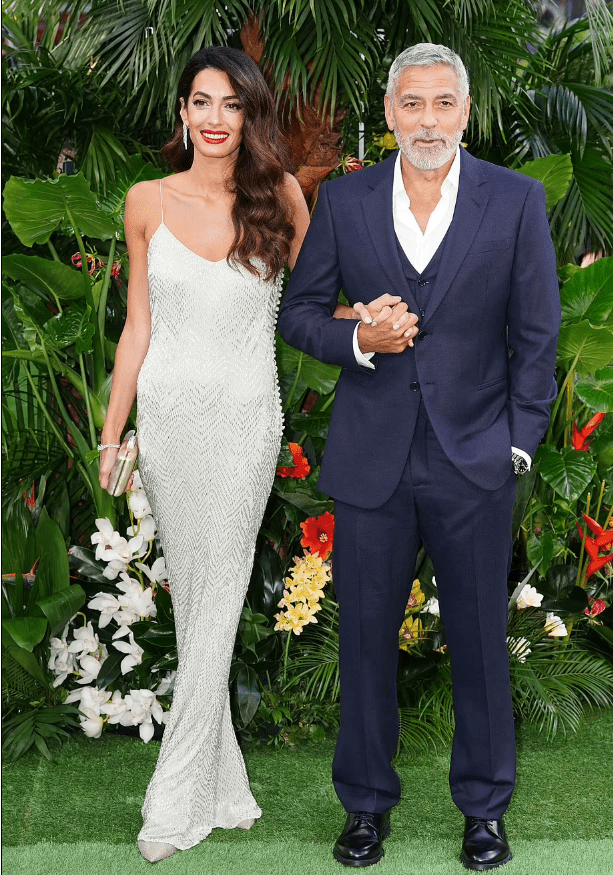 Ticket to Paradise Promotion and Interviews
Ticket to Paradise is the first time since 2016's "Money Monster" that George Clooney and Julia Roberts have shared top billing.
Before that, they played an estranged couple in Ocean's Eleven and Oceans Twelve. The movie also stars some of the brightest young stars in Hollywood.
Apart from that, keen viewers of the trailer have already identified Bachelor contestant Romy Poulier. She was seen in a small speaking role as an airline stewardess that gets caught up in the hatred between Clooney and Roberts when they are allocated seats in the same row on the long-haul flight to their island destination.
According to reports, Poulier was known as one of the "mean girls" vying for the love of Nick "the Honey Badger" Cummins and has confirmed that she has a small role in the film.
The event comes after George and Julia joked that "it took 80 takes" for them to film the single kissing scene in the romantic comedy. While promoting their latest film together, the longtime friends teased that their on-screen smooch took "like, six months" to perfect.
George Clooney told The New York Times: "Yeah. I told my wife, It took 80 takes. She was like, "What the hell?" Indeed, it's hilarious.
The American actor also revealed their roles were "clearly written" by Ol Parker, who originally wrote their characters' names as Georgia and Julian. He confided, "'I hadn't done a romantic comedy since One Fine Day — I haven't succeeded as Julia has in that forum, but I read it and thought, 'Well, if Jules is up for it, I think this could be fun."
On the other hand, Julia quipped: "We have a friendship that people are aware of, and we're going into it as this divorced couple. Half of America probably thinks we are divorced, so we have that going for us."
Do you like their outfits for the Ticket to Paradise premiere in London? Amal Clooney truly showcased an effortless look for the event. How about you? Who's your favorite fashion icon of the said red carpet display?