He can take comfort in the fact that he has a significant source of income waiting for him when he turns 55.
Basketball legend Allen Iverson is ticking off the days until his 55th birthday on June 7, 2030. But it isn't just another milestone in his life; it marks the day Iverson is set to inherit a whopping $32 million trust fund. This trust fund, set up by Reebok nearly three decades ago, is stirring much debate regarding its establishment, fiscal prudence, and potential beneficiaries.
Iverson's career in the National Basketball Association (NBA) spanned 15 seasons, punctuated by significant accomplishments, including 11 All-Star titles, the coveted league MVP, Rookie of the Year, and four NBA scoring championships. ESPN, in 2008, acknowledged Iverson as the fifth-best NBA player ever, following George Gervin, Jerry West, Kobe Bryant, and Michael Jordan.
Over his illustrious career, Iverson accumulated an impressive $154.5 million from his NBA salaries alone. The zenith of his earning season came in 2008-2009 when he raked in $20.8 million with the Detroit Pistons. Some of his significant contracts include a six-year deal for $71 million in 1999 and a four-year contract in 2003 amounting to $77 million.
Despite a rocky end to his career, Iverson amassed substantial wealth. However, his fortune expanded significantly through endorsements, adding another $50-$100 million to his net worth. Reebok, the shoe company, was the primary source of his endorsement income.
Upon winning the NBA MVP award in 2001, Iverson and Reebok revisited their partnership. Although five years left on their original contract, a unique deal was inked, ensuring three significant terms: a lifetime annual payment of $800,000 to him, a yearly income ranging from $5-$10 million for the duration of his professional career, and a trust fund of $32 million for Iverson, accessible on his 55th birthday.
Despite a staggering career income between $200-$250 million, Iverson reportedly went bankrupt shortly after retiring. The cause? His notorious penchant for extravagant spending. Known for maintaining an entourage of 50 people and squandering enormous sums on luxury items and trips, his spending habits were legendary. Notorious gambling sprees in Las Vegas and Atlantic City further drained his resources.
Iverson's financial plight became public during a contentious divorce with his wife, Tawanna. She sought custody of their five children, including child support. A court filing in December 2012 exposed Iverson's precarious financial situation. Despite a healthy monthly income of $62,500, his expenses exceeded $360,000, creating a monthly deficit of nearly $300,000.
Aware of the looming Reebok trust fund, Tawanna petitioned the court for a share of the $800,000 annual pension and the trust fund. This move brought the existence of the trust fund into the spotlight. There remains ambiguity regarding whether Iverson and Tawanna ever finalized their divorce, with some speculating that Iverson could receive the entire $32 million.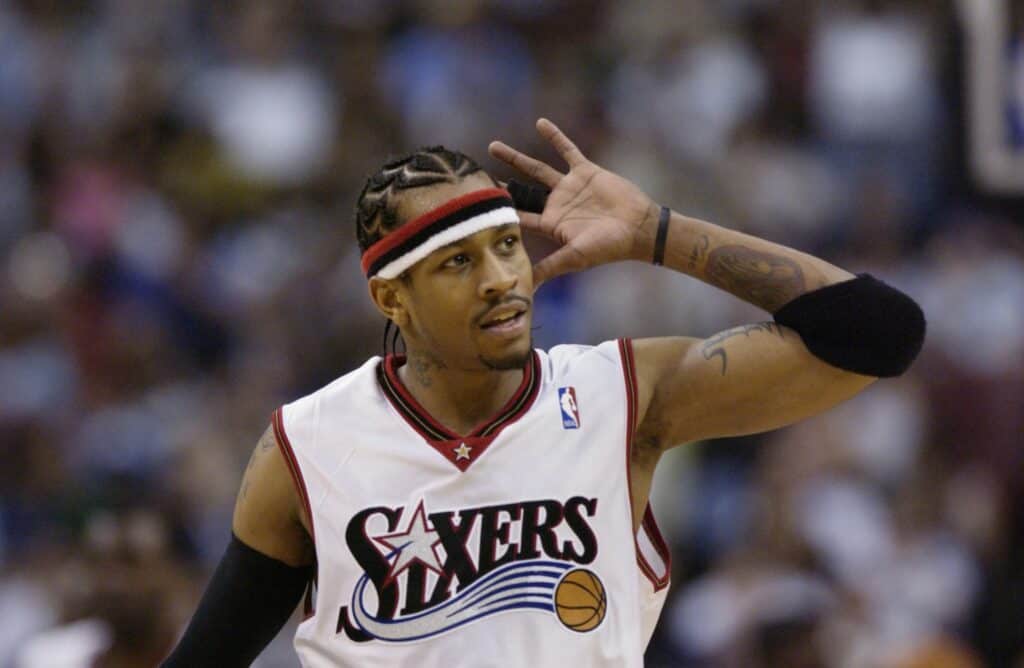 The Iverson trust fund is often compared to Bobby Bonilla's famed long-term contract. In 1999, Bonilla made a deal with the Mets to give up his $5.9 million due, instead accepting $29.8 million in 25 annual installments.
Applying similar financial logic to Iverson's case, had he invested the $32 million and earned a conservative 5% annual return, his trust fund would grow to $87 million by 2030. A more aggressive investment strategy, like putting the funds into an S&P index fund with an average return of 6% since 2001, could have grown the fund to an astounding $183 million.
However, considering Iverson's financial predicament and habits, the trust fund could be considered a sound financial decision. It provides him with a substantial annual income and safeguards his future with a significant nest egg, all without the risks typically associated with investments.
Regardless of the debates surrounding the trust fund, its existence has unquestionably added a captivating chapter to Iverson's life story, a tale marked by exceptional sporting achievement, fiscal struggles, and an awaited $32 million birthday gift.