Anthony Jay Robbins (was born Anthony J. Mahavoric) is an American author, coach, and speaker. He is known for his infomercials, seminars, and self-help books, including "Unlimited Power" and "Awaken the Giant Within." He is also known for his innovatively designed seminars "Unleash the Power Within" and "Mastery University." He writes and talks on subjects like health and energy, breaking conventional fears, accumulating wealth, optimum utilization of the available resources, maintaining and enhancing relationships, and communication.
Content of This Article
Tony Robbins's Appearance (Height, Hair, Eyes & More)
| | |
| --- | --- |
| Height | 2.01 m |
| Weight | 86 kg |
| Hair Color | Black |
| Eye Color | Light Brown |
| Body Type | Fit |
| Sexual Orientation | Straight |
Facts About Tony Robbins
| | |
| --- | --- |
| Nationality | American |
| Estimated Net Worth | $600 million |
| Religion | Christian |
| Zodiac Sign | Pisces |
| Birthplace | North Hollywood California |
| Birthday | February 29, 1960 |
Tony Robbins's Net Worth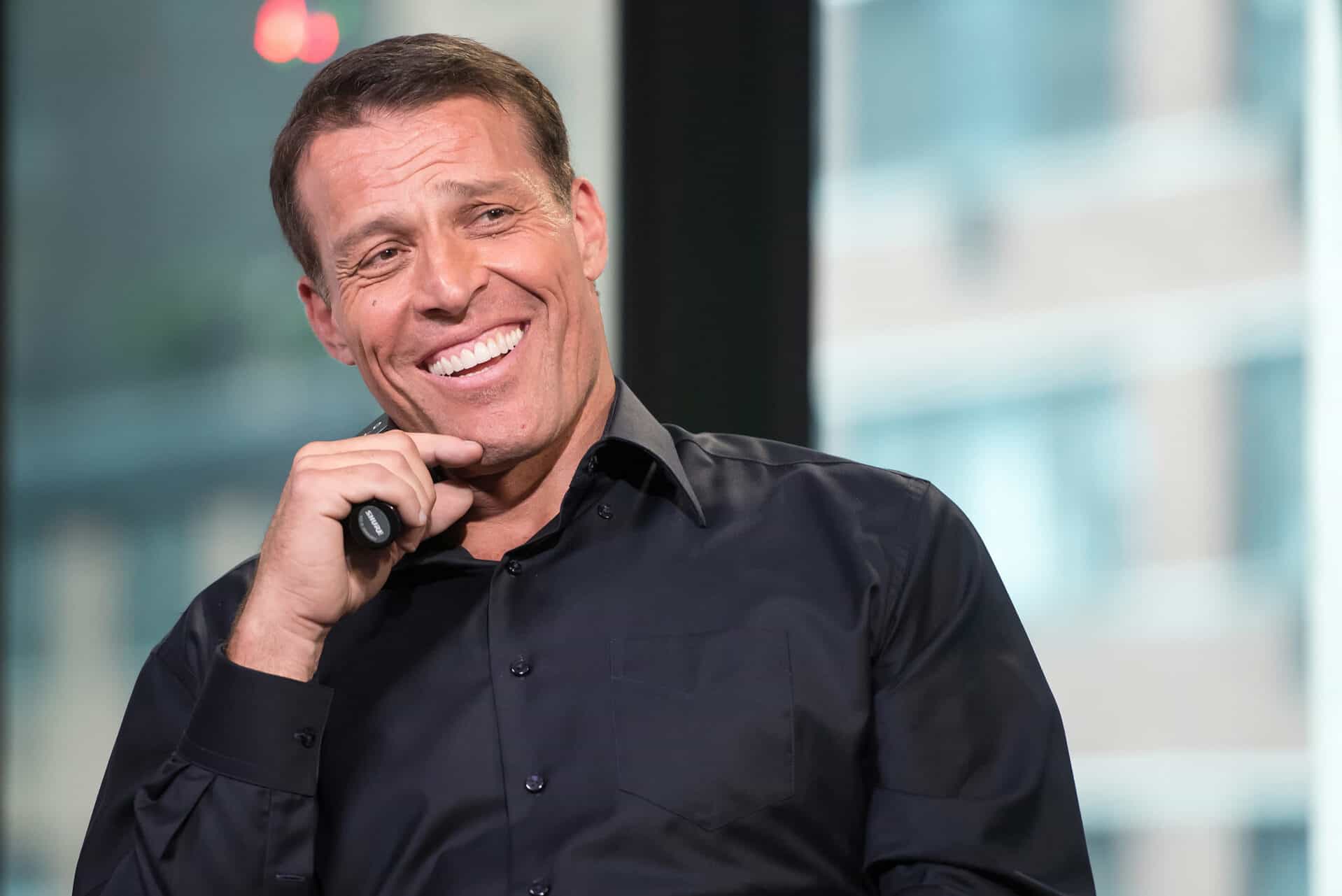 As of 2023, Tony Robbins's net worth stands at an impressive $600 million, highlighting his immense success and financial achievements. His income streams reflect the widespread impact of his work and influence across different platforms.
Early Life
Tony Robbins was born on February 29, 1960, in North Hollywood, California. When he was seven years old, his parents divorced. He was the oldest of three children. On both sides of his family, he is of Croatian descent. His mother remarried several times, including a union with former semi-professional baseball player Jim Robbins, who legally adopted Anthony when he was 12.
He described his family as "chaotic" and "abusive." He left home when he was 17 and never came back. He did not go to college and later worked as a janitor. He once questioned his landlord, a family friend, about how he achieved such success. The landlord replied that he began changing his life after attending a Jim Rohn seminar.
Education
Tony Robbins graduated from Glendora High. He gained 10 inches (25 cm) of height during his senior year of high school, a growth surge that was ultimately linked to a pituitary tumor.
Tony Robbins's Wife and Family
Tony Robbins got married to Becky Jenkins in 1982. Becky has three children from her previous marriages; Robbins adopted them. In 1984, Robbins fathered a child with former girlfriend Liz Acosta. Their son, Jairek Robbins, is a personal empowerment coach and trainer. Robbins and Becky divorced after nine years of marriage. In 2001, Robbins got married to Bonnie Sage Humphrey. They live in Manalapan, Florida.
Tony Robbins's Career
When he was 17, Tony Robbins started advertising seminars for the author and motivational speaker Jim Rohn. He then acquired firewalking skills and used them in his presentations. "Breakthrough with Tony Robbins," a reality program that followed Robbins as he assisted the show's contestants in overcoming their obstacles, premiered on NBC in July 2010. Due to the show's low viewership of 2.8 million, NBC canceled it after broadcasting only two of the six intended episodes. The OWN Network renewed the program for a second season in March 2012, with the first season's original episodes scheduled to be rerun before the new 2012 season begins. Robbins started serving as a cohost of Oprah's Lifeclass on the OWN Network in April 2012.
The San Jose Mercury News reported in July 2012 that several people had been hospitalized and injured while participating in one of Robbins' firewalking activities on July 19, 2012. Other media organizations like Fox News, The New York Times, and CNN picked up this story. Later, Robbins and some local medical experts disputed some of the claims made in these papers.
On June 24, 2016, it was reported that "dozens were burned and required medical attention after attempting to walk on hot coals during a firewalking event at a Tony Robbins seminar in Dallas, Texas." A spokeswoman for the Robbins organization stated, "Someone unfamiliar with the process of the firewalk called 911 reporting the need for emergency service vehicles […] there was no need for emergency personnel […] only 5 of 7,000 participants requested an examination beyond what was readily available on site." To secure the rights to establish the Los Angeles Football Club, a Major League Soccer franchise in Los Angeles, Robbins teamed up with a group of investors in 2014. The group started competing in 2018.
In 2015, filmmaker Joe Berlinger directed and produced the documentary Tony Robbins: I Am Not Your Guru about the Tony Robbins event "Date with Destiny" after filming it in Boca Raton, Florida, in December 2014. It premiered at the South by Southwest Film Festival in March 2016. The documentary was translated into languages for 190 countries and released by Netflix on July 15, 2016
That same year, Robbins partnered with Golden State Warriors co-owner Peter Guber and Washington Wizards co-owner Ted Leonsis to purchase Team Liquid, an eSports professional gaming organization. Robbins has worked individually with Bill Clinton, Justin Tuck, Hugh Jackman, and Pitbull. He has counseled businessmen Peter Guber, Steve Wynn, and Marc Benioff.
Tony Robbins's Assets
Real Estate
In 2013, Tony Robbins paid $24.75 million for a 2-acre property in Lantana, Florida, and subsequently spent $10 million upgrading the approximately 16,000-square-foot home. Additionally, he previously resided in La Jolla, California. In 2004, he purchased a property in La Quinta, California for $875,000. In 2017, he sold the property for $3.25 million.
Therefore, Tony owns a 525-acre luxury, all-inclusive resort called Namale in Fiji. He bought the property in 1989, at the age of 29, for $12.5 million. Also, the resort today is worth north of $50 million. In 2012, Oprah listed the resort as one of her "Favourite Things." However, in October 2020, it was revealed that a company tied to Tony Robbins bought a West Palm Beach warehouse to use as a production studio. However, tied to Anthony Robbins Companies, PB Studios LLC paid $4.4 million for the 28,000-square-foot building on Electronics Way.
Cars And Private Jet
Robbins is also a writer of several self-help books and has an extravagant collection of cars. His collection includes a Bugatti, Lamborghini, Rolls Royce, and a Range Rover. Similarly, the public speaker spent $65 million on a Gulfstream private jet in 2015.
Investments.
In addition to public speaking and authoring self-help books, Robbins is an avid investor who owns 33 businesses in various industries. His businesses generate approximately $5 billion in annual revenue. TwinLab & Metabolife, Robbins Research International, Fortune Practice Management, and Namale Resort & Spa in Fiji are among his most lucrative businesses. He also controls Tony Robbins Productions, a media production company.
Tony Robbins' Controversies
Robbins Research International (RRI)
Robbins Research International (RRI) and the Federal Trade Commission settled in May 1995 for alleged FTC franchise rule violations. In the settlement, RRI agreed to pay $221,260 in consumer redress but refused to recognize that it had broken any laws. Wade Cook filed a lawsuit against Tony Robbins in 2000, alleging that Robbins had used words protected by copyright from Cook's book Wall Street Money Machine in his talks. Cook received a $655,900 jury verdict, which was appealed. Cook and Robbins reached a confidential settlement.
2019 Sexual Harassment And Abuse Allegations
In May 2019, BuzzFeed News published the results of an investigation into claims that Robbins had harassed staff employees and fans sexually, including touching attendees at events and showing his genitalia to his assistants. Robbins denied the allegations and stated, "I have been the target of a year-long investigation by BuzzFeed. Unfortunately, your organization has made it clear to my team that you intend to move forward with publishing an inaccurate, agenda-driven version of the past, pierced with falsehoods."
In November of 2019, BuzzFeed News published a six-part article accusing Robbins of molesting an adolescent girl during his time as a "star speaker" at SuperCamp, an elite summer camp in southern California. The article claims that the events took place in 1985 when Robbins was 25 and that at least two eyewitnesses existed. Other media outlets also reported on these allegations. He denied wrongdoing and filed suit against BuzzFeed News in Ireland. In response, BuzzFeed News said they stood by their reporting and suggested that Robbins's decision to file the summons in Ireland was an "abuse" of the Irish court.
Net Worth of Other Notable Bussinessmen
Brian Tracy's Net Worth
Brian Tracy, born on January 5, 1944, in Charlottetown, Prince Edward Island, Canada, is a renowned Canadian-American motivational speaker and self-development author. With a vast library of over eighty books translated into multiple languages, some of his most acclaimed works include "Earn What You're Really Worth," "Eat That Frog!" and "The Psychology of Achievement." In addition to his writing achievements, Brian is the CEO of "Brian Tracy International," a company dedicated to counseling on various professional development topics. Tracy's foray into politics saw him as an independent candidate in the 2003 California gubernatorial recall election. Beyond his business and political ventures, he has been a trustee for the conservative think tank, The Heritage Foundation, since 2003. These multifaceted endeavors contribute to Brian Tracy's net worth, estimated to be $15 million as of 2023.