Robin Roberts is a well-known American TV presenter. She's most famous for being one of the main hosts of the show "Good Morning America," which airs on ABC. Robin started her career by reporting on sports and gained a lot of recognition while working at ESPN, later becoming a regular face on sports news during the 1990s.
In 2005, she switched over to co-hosting "Good Morning America." People love her on the show because she's friendly, does open and honest interviews, and shows a strong and determined attitude, especially when dealing with her health problems. This has made her very likable to millions of viewers.
Facts About Robin Roberts
| | |
| --- | --- |
| Nationality | African-American |
| Estimate Net Worth | $55 million |
| Religion | Presbyterian |
| Zodiac Sign | Sagittarius |
| Birthplace | Tuskegee, Alabama |
| Birthday | November 23, 1960 |
Robin Roberts's Appearance (Height, Hair, Eyes & More)
| | |
| --- | --- |
| Height | 5 ft 10 in |
| Weight | 66 kg |
| Hair Color | Light Brown |
| Eye Color | Dark Brown |
| Body Type | Slim |
| Sexual Orientation | Lesbian |
Robin Roberts's Net Worth
As of 2023, Robin Roberts's net worth is estimated to be around $55 million. Her profession as a TV news reporter is her primary source of income. Robin initially became famous for her achievements in college basketball. However, she later achieved great success as a news reporter. 
Nowadays, she is most recognized for hosting the show "Good Morning America" on ABC. Moreover, throughout her impressive career, Roberts has earned many awards, including several Emmy Awards and a Peabody Award.
Robin Roberts's Personal Life
Robin Roberts has been with Amber Laign, a massage therapist and the creator of Plant Juice Oil, since 2005. In 2014, Roberts openly spoke about her relationship with Amber and her sexuality on TV for the first time. She expressed her happiness and thanked Amber for her support during tough times.
In a January episode of "Good Morning America," Robin mentioned she's getting married this year. Both have faced cancer; Robin in 2007, and Amber completed her treatment in July 2022. And then, in August 2023, they joined "Good Morning America" to discuss their relationship's journey. They shared their first blind date memory and how Amber would change her morning route to wave through the show's window at Robin.
Regarding their engagement, they humorously proposed to each other using calamari rings during a casual dinner. Their wedding was postponed because of Amber's breast cancer diagnosis but is now back on track. Amber was excited when Robin suggested they should marry, especially after the challenges they faced the previous year.
Robin Roberts's Early Life
Robin Roberts was born in Tuskegee, Alabama, on November 23, 1960, and spent her childhood in Pass Christian, Mississippi. Her parents were Lucimarian Tolliver and Colonel Lawrence E. Roberts, who was part of the Tuskegee Airmen. Robin has three siblings: Sally-Ann, Butch, and Dorothy. Her sister Sally-Ann was a news anchor in New Orleans.
Robin was the salutatorian in high school in her class when she graduated in 1979. Then, she went to Southeastern Louisiana University, finishing her communication degree in 1983 as cum laude. She almost went to Louisiana State University for basketball, but it felt too big. On a trip back home, she saw a sign for Southeastern and decided to visit. She liked it, so she went there. They didn't have a basketball scholarship left, so they gave her one for tennis. They promised her a journalism scholarship later.
She was good at basketball in college, scoring over 1,000 points and getting over 1,000 rebounds. She's one of three women at the school to do that. In her best year, she scored an average of 27.6 points in each game. In 2011, the university celebrated her by retiring her basketball jersey, number 21.
Robin Roberts's Career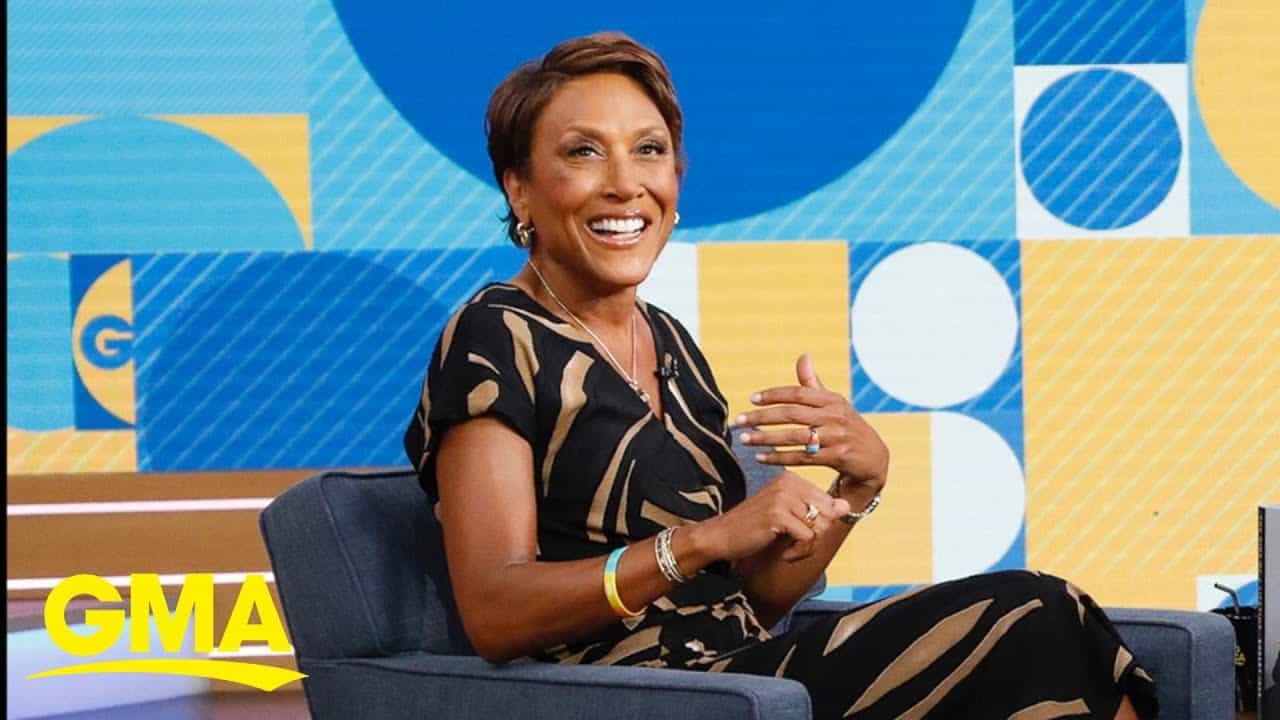 Robin Roberts started off in 1983 as a sports reporter in Hattiesburg, Mississippi. She then worked in a few more places, including Nashville and Atlanta. She got a big break in 1990 when she joined ESPN. Five years later, she also started working for ABC News on the show "Good Morning America" (GMA).
For a while, she worked on both ESPN and GMA. In 2005, she became the co-anchor of GMA. When Diane Sawyer left, George Stephanopoulos joined her, and together they helped make the show number one in ratings by 2012. She also did special reporting, like covering the damage from Hurricane Katrina in her hometown in Mississippi.
In addition, she has hosted the Oscars' preshow a couple of times and even appeared on a "Hannah Montana" episode. Robin also won awards for her impact on women's basketball and started her production company in 2014. She's produced documentaries, like one about the Tuskegee Airmen, which is special because her dad was one of them.
In 2018, Robin covered Prince Harry and Meghan Markle's wedding. She guest-hosted "Jeopardy!" for a week in 2021 and also started her own Disney+ series that year. In 2022, Robin celebrated 20 years with GMA and was honored in Times Square.
Net Worth of Other Notable TV News Reporters
Wolf Blitzer's Net Worth
Wolf Blitzer, an emblematic figure in journalism, is synonymous with CNN, having reported on global events ranging from U.S. elections to profound international crises. Beginning his journalistic endeavors in the 1970s, Blitzer's vast career has seen him in various capacities, from being a correspondent for The Jerusalem Post to anchoring his renowned show, "The Situation Room." Beyond his prolific TV career, Blitzer is also an accomplished author, having written about consequential events like the Jonathan Pollard espionage case. His personal journey begins in Augsburg, Bavaria, Germany, born to Polish Jewish refugees who narrowly escaped Auschwitz's atrocities. After relocating to the U.S., he was nurtured in Buffalo, New York, and pursued higher education, mastering in International Relations. This deep foundation, paired with his commitment to balanced journalism, has propelled him into the limelight, making Wolf Blitzer's net worth an impressive $25 million.
Norah O'Donnell's Net Worth
Norah O'Donnell, a distinguished TV news reporter, has been an influential presence in American broadcast journalism with affiliations to major networks like NBC and CBS. Notably, she has been the anchor and managing editor of the "CBS Evening News" since July 2019. Before this prominent role, O'Donnell co-anchored "CBS This Morning" and contributed to the esteemed "60 Minutes." With a reputation for incisive interviews and comprehensive reporting, she has covered a spectrum of topics ranging from politics to social issues, earning her several accolades including multiple Emmy Awards. Given her extensive and successful career in broadcasting, it's not surprising that Norah O'Donnell's net worth is estimated to be around $22 million as of 2023.