The eight people on the list included two minors, aged 14 and 16.
On Friday night, a number of eight civilians were dead in a mass casualty incident at Travis Scott's Astroworld Festival in Houston. Their deaths have yet to be determined.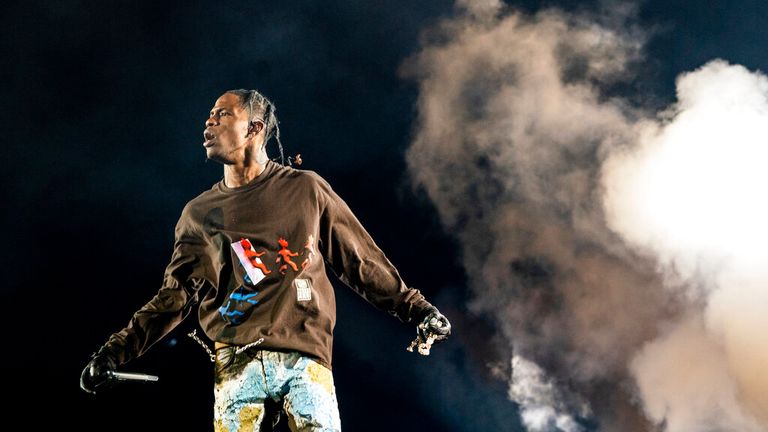 Houston Fire Chief Sam Pena, Police Chief Troy Finner, and Harris County Judge Lina Hidalgo held a media briefing to share information about the incident.
"We had at least eight confirmed fatalities tonight," Houston Fire Chief Sam Pena began. "Eight confirmed fatalities and we had scores of individuals that were injured here at this event. We had an attendance of approximately 50,000 to the Travis Scott Astroworld Festival event."
"What we do know is that at approximately 9 o'clock, 9:15, the crowd began to compress towards the front of the stage and that caused some panic and it started causing some injuries. People began to fall out, become unconscious, and it created additional panic," he added.
At least 23 victims were sent to the hospital, with 11 of them suffering from cardiac arrest. A field hospital on the location also treated almost 300 patients.
The crowd includes the artist's pregnant girlfriend Kylie Jenner and her sister Kendall Jenner, who were not injured.
Travis Scott also released a statement on Twitter, "I'm absolutely devastated by what took place last night. My prayers go out to the families and all those impacted by what happened at Astroworld Festival."
"Houston PD has my total support as they continue to look into the tragic loss of life. I am committed to working together with the Houston community to heal and support the families in need. Thank you to Houston PD, Fire Department and NRG Park for their immediate response and support. Love You All."
Reactions to 8 People Dead At Travis Scott's Concert
You mean to tell me Travis Scott continued his performance even when folks were begging him to stop because PEOPLE WERE DEAD?! Just triflin

— chris evans (@chris_notcapn) November 7, 2021
Just in case some of you didn't see it. You can clearly see two people desperately try to resuscitate two young adults and or teens during Travis Scott's festival. The look on these teens faces is heartbreaking. #astroworld pic.twitter.com/9oiegQe1sE

— THEREL3VENT🦚 (@THERELEVANT6) November 7, 2021
Just seen Travis Scott IG story, yeah he's cooked he did that shit.

— Ahmed 🇸🇴 (@big_business_) November 7, 2021
Yeah imma need Travis Scott stans to stop defending him and saying "it's not his fault" when he greenlights this behavior and always tells his fans to ignore security and climb the barricades. That ngga takes part of the blame for what happened tonight, idc. #ASTROWORLDFest pic.twitter.com/trASy6DUAb

— (Blitz) IS SEEING MY BOYS SOON💜 YOGI IS COMING 😈 (@yoongispick) November 6, 2021