Residents of Brooklyn's Marlboro Houses received turkeys from the rapper.
Bobby Shmurda stepped in to assist needy families in their quest for a delicious Thanksgiving feast. On Wednesday (Nov. 24), the rapper paid a visit to the Marlboro Houses in Brooklyn and distributed 300 turkeys to people in need.
As reporter by TMZ, the rapper reportedly stayed for many hours, visiting with volunteers and taking photos with individuals who came through for food before making his way to a Ridgewood Queens outreach program, where he and Rowdy Rebel spoke to the children about their experiences in jail and the importance of staying out of trouble.
Shmurda's turkey handout and following mentor session are not surprise gestures from the rapper, who has shown a kind side in the past.
On Father's Day, he blessed a few dads by providing them haircuts, clothing, books, and a Caribbean dinner to share with their children, who were given free gaming systems, board games, action figures, jump ropes, and footballs.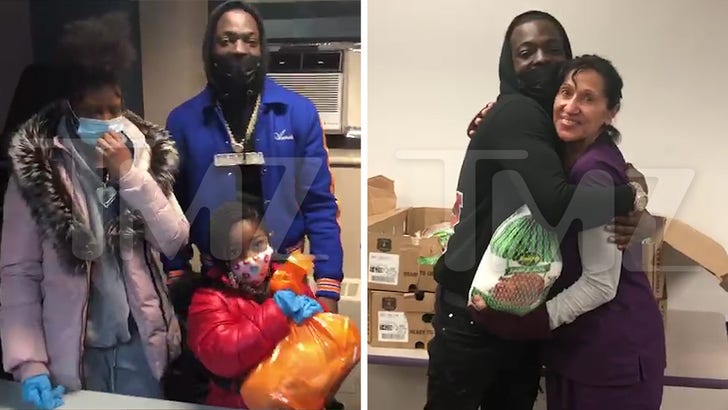 Just last month, according to Revolt, the "Hot Nigga" rapper also sent 2,000 backpacks with of pencils, pens, notebooks, and folders to seven different New York City schools, as well as encouraging messages to certain fortunate pupils.
"Please do not give your mommas no trouble this year. And please do not give your teachers no trouble this year," said Shmurda.
"I want to say that I'm proud of y'all for being brave, for being strong, and for staying in school. Always remember you guys are unstoppable. You can do anything you set your mind to."
Shmurda was arrested in December 2014, but pleaded guilty in 2016 to conspiracy to possess firearms and possession of a weapon. He received credit for about two years of time served prior to the sentence. He was freed in February 2021, although he will remain on parole for the following five years, until February 23, 2026.
Reactions to Rapper Bobby Shmurda Gives Out 300 Turkeys On First Thanksgiving Since Prison
imma just pray for him, cuz Lord knows any rapper giving back or trying to create generational wealth ends up dead…may you stay blessed and protected bobby at all times 🙏🏽

— nicky nice (@nickynice1123) November 25, 2021
🍎🌰🌽🍇🍗🍠🍗🍇🦃🍗🌽🌰🍎

Happy!😊Thanksgiving!😇

🍎🌰🌽🍗🦃🍇🍗🍠🍗🍇🌽🌰🍎

— PRINCESS KIMBERLY (@Princess022564) November 26, 2021
Who? Anyways, great job! That's cool of him.

— JOHN BLAIN DEERE (@Blain10619551) November 25, 2021