Eve proves she doesn't need
Villanelle
as she blinds Gunn with her bare hands in the last season
.
Killing Eve Season 4 Summary
An unknown interval has passed since the conclusion of the third season. Villanelle now resides in a church in rural England with the vicar Phil (Steve Oram) and his daughter, May (Zindzi Hudson), to atone for her past transgressions. Even though she is currently employed in private security, Eve Polastri (Sandra Oh) is still on the hunt for the Twelve. She finds Konstantin (Kim Bodnia), now the mayor of a Russian town, and gets a tip about Hélène (Camille Cottin).
Following Paul's (Steve Pemberton) murder, Carolyn Marten (Fiona Shaw), who had been demoted, continued her search for the Twelve and learned that its members were being murdered. She enlists Eve's (Sandra Oh) assistance after becoming frustrated with her lack of official authority and later defects to Russia in pursuit of further details.
Eve Polastri is invited to Villanelle's (Jodie Comer) baptism, but she declines. Eve receives a surprise visit from Villanelle, but she is not acknowledged by Eve for trying to change. Villanelle comes to the church out of frustration and tries to drown May in the baptismal font, but she can stop herself. Later that evening, Villanelle sees Jesus as a drag version of herself.
Episode 2 - Don't Get Eaten
Villanelle goes camping with Phil (Steve Oram), May, and their church under the guidance of the vision she saw of Jesus. After the attempted drowning, Villanelle and May seem to heal their relationship. May tells Villanelle that her father Phil crashed their car while intoxicated, killing her mother and causing Phil to be arrested. He shares this with the rest of the congregation to hold Phil accountable, but she is rejected. Later, after overhearing Phil and May criticizing her, she snaps and kills them. She gives up on her vision of Jesus and departs from the encampment.
Eve Polastri follows Hélène to a Paris apartment in the meantime. She is helped by Yusuf (Robert Gilbert), a coworker with whom she has an informal sexual relationship. After arriving in Paris, Eve meets Hélène in her residence. Eve learns from Hélène that she is to blame for the killings of the Twelve that Carolyn unearthed. To identify the Twelve's leader, she is taking these actions. Eve and Hélène concur to support one another.
Episode 3 - A Rainbow in Beige Boots
Villanelle enters Eve's hotel room upon her return to London. When Eve, who had just returned from Paris, finds her there, she declines her requests for assistance but lets her stay in the space. In a parking garage, where Eve is trying to find Hélène's car, she stumbles across Hélène's irate ex-girlfriend. Eve extends an invitation to her for drinks to learn more about Hélène's target and discovers that she was previously married to a German man named Lars (Ingvar Eggert Sigurðsson) in Cuba before her relationship with Hélène.
Eve thinks Hélène might be going after Lars. Pam (Anjana Vasan), an aspiring assassin, tells Hélène that she wants to start working so she may leave her harsh family. Hélène reluctantly agrees and designates Konstantin as her handler. Using Eve's tablet, Villanelle schedules an appointment with Martin (Adeel Akhtar), a psychiatrist friend of Eve's, and then kidnaps him at his house to coerce him into providing her with therapy. Martin explains to her that her psychopathic traits were acquired and may be reversible. When Eve returns to her hotel room, she learns that Villanelle pursued Martin. She meets Villanelle at Martin's house, and soon after that, Eve calls in armed police to arrest and detain Villanelle.
Episode 4 - It's Agony and I'm Ravenous
With the aid of Hélène, who informs Villanelle that it is difficult to quit the Twelve and gives her a new job in Cuba, Villanelle is freed from prison. Villanelle abducts Carolyn in Havana, Cuba, while she is there to question Rustem (Sebastian Abineri), a member of the Twelve. They survived an assassination attempt that Hélène had arranged. After Carolyn tells Villanelle that she has known her since she was a youngster in the orphanage, she assaults Carolyn but spares her life.
Rustem, interrogated and tortured by Carolyn and eventually slain by Villanelle, divulges the name of a restaurant. At the restaurant, Carolyn runs into Lars, who is startled to see her and departs. She admits to dating Lars and informs Villanelle that he most likely intends to travel to Berlin. While everything is going on, Eve runs into Hélène, who affirms that Lars is her goal and challenges her to find him first. Eve receives a call from Hélène while investigating a lead in Paris. She invites Eve to her apartment and teases her by telling her that Villanelle has been released from jail. Eve responds by giving Hélène a kiss before leaving the flat.
Episode 5 - Don't Get Attached
In a flashback from 1979, Lars is facilitating an anarchist gathering in Berlin where Carolyn and Konstantin are present. When Lars is brainstorming group names, Carolyn recommends they take their number of founding members-12-as their name. After some flirting, Carolyn and Konstantin decide to spend the night together. She subsequently learns that her father, a British agent, killed himself after being the target of blackmail.
Carolyn meets Konstantin at a lake after discovering that he is Russian. Konstantin claims to be a KGB spy and to have blackmailed her father. When Lars comes across the two bickerings, a battle breaks out, and Lars is knocked into the lake and goes missing, leaving no trace behind.
Villanelle departs Cuba in the present to meet Konstantin in Margate to track down Hélène. A vintage videotape of Lars and his British girlfriend is acquired by Eve. When she watches the recording, she sees a young Carolyn. In retaliation for Hélène releasing Villanelle from jail, Eve kidnaps Hélène's daughter Chloe (Anyastassia Melehes) from Paris. In retaliation, Hélène takes Eve to Margate, where she is made to witness as Villanelle is shot by an arrow and knocked out. Villanelle is carried by Eve as she runs to her.
Episode 6 - Oh Goodie, I'm the Winner
Villanelle escapes the attack, and Eve, Konstantin, and Pam attend to her wounds. According to Konstantin's theory, Gunn (Marie Sophie Ferdane), a Twelve assassin from Scotland who was also trained by Konstantin, may be responsible for the assault. Villanelle subsequently encounters Gunn, who gives her a note explaining that Hélène gave her the order to kill Villanelle but that she decided to spare her and that Hélène is currently staying at a hotel in Berlin.
Villanelle had informed Eve that Carolyn and Lars were in Berlin; nevertheless, Eve only sees Hélène and follows her to her hotel room. Killing Hélène in front of Eve is Villanelle, who was already hidden in the hotel room. Villanelle deserts Eve because she is still enraged with her for getting her incarcerated. After being informed of her whereabouts by Konstantin, she departs towards Scotland to see Gunn.
Eve finds Carolyn and confronts her in front of Lars' cabin outside Berlin. Carolyn explains to Eve that she is not one of the Twelve and is merely there to interview Lars for information. Carolyn Marten is disappointed when Eve bursts inside the cottage and murders Lars. To locate a notebook, Carolyn Marten looks through Lars' body. At the lonely Scottish island where Gunn resides, Villanelle arrives. She approaches Gunn and requests permission to stay with her.
Episode 7 - Making Dead Things Look Nice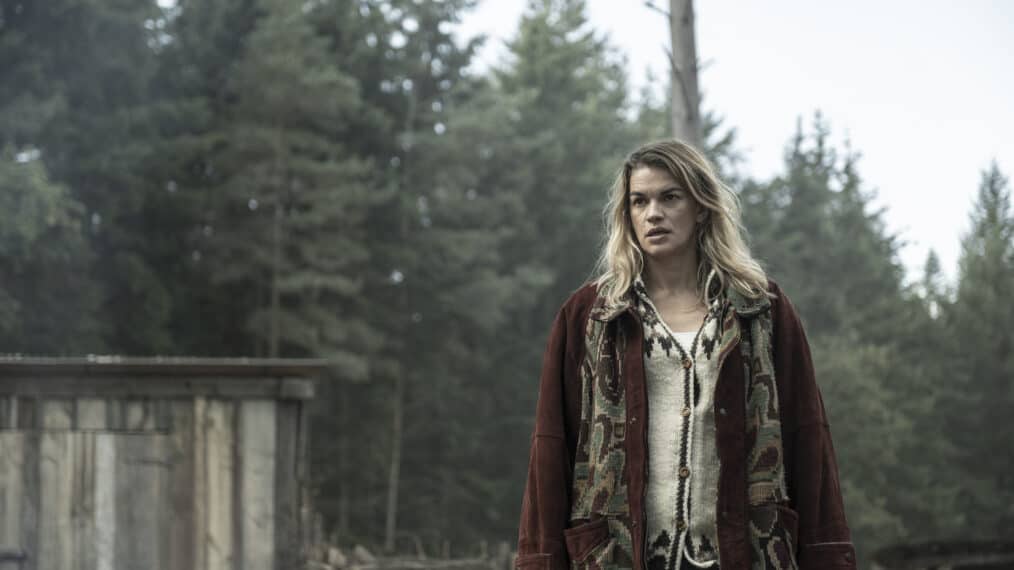 Villanelle awakens on Gunn's island and goes hunting with him. After exchanging stories, they kiss. Gunn falls in love with Villanelle right away. However, when Villanelle realizes he is still a member of the Twelve, she rejects him. She makes an attempt to flee the island. Gunn reacts by pursuing Villanelle while brandishing a machete. In the meantime, Yusuf invites Eve to karaoke, where she has flashbacks of her ex-husband and MI5 coworkers. After Eve informs Yusuf that she cannot let go of the past, he part ways with her forever.
When Eve seeks advice from Martin, he counsels her to connect with those who actually get her. Eve approaches Konstantin after seeing a mysterious message on Hélène's phone. He informs her that the news is a call to the Twelve meeting. He provides her directions to Gunn's island and tells her to travel with Villanelle. After Eve has left, Pam goes to see Konstantin and, following Hélène's last instructions, murders him. Pam is instructed by a dying Konstantin to send a letter and a love declaration to Carolyn Marten when he informs her of Hélène's passing. While Villanelle, who has hidden in the bushes, watches from a distance, Eve travels to Gunn's island, where she is attacked by Gunn.
Episode 8 - Hello, Losers
During their struggle, Eve blinds Gunn, and she and Villanelle leave the island. After Eve persuades Villanelle to assist her, they spend a beautiful day and night traveling through the Scottish countryside to the Twelve meeting in London. Pam brings Carolyn's letter from Konstantin in the interim. Carolyn Marten offers Pam a job, but Pam declines and leaves. Eve and Villanelle follow Carolyn Marten to the Twelve's proposed rendezvous location after she has followed hints in Lars' journal. The meeting location has been shifted to a boat on the River Thames, where a wedding is also happening, according to a message on Hélène's phone.
Villanelle kills the current Twelve members as Eve diverts the wedding guests when Eve and Villanelle board the boat at night. Villanelle is then fatally wounded by an elusive sniper. Villanelle protects Eve while the two dives into the Thames, where Villanelle is shot, is mistaken for dead, and sinks to the bottom, out of reach of Eve. On a walkie-talkie, Carolyn Marten, observing from a distance, declares that someone has been killed. In the middle of the river, Eve reappears and cries in pain.
a British spy thriller

TV show

made in the United Kingdom for BBC America and BBC Three by Sid Gentle Films

based on the Luke Jennings Codename Villanelle novel series

premiered on BBC America on April 8, 2018

concluded on April 10, 2022
Killing Eve Quick Review of the Previous Seasons
Eve becomes dissatisfied with her job as a protection officer for MI5 and, after rashly looking into the backstory of a witness she is managing, is fired. However, her passion for female assassins later leads to her joining an undercover division within MI6. The latter's task is to pursue and locate Villanelle, a ruthless international assassin who works for a secret organization called The Twelve. When Eve and Villanelle cross paths, a cycle of obsession is set up, pulling them away from their own missions and inexorably toward one another.
Villanelle tries to find new methods to make a living after she stops killing for The Twelve. Still, Eve, traumatized by her close encounter with death at the hands of Villanelle, quits MI6 and starts living a low-profile existence. Eve starts investigating The Twelve again after they kill someone close to her. This brings both women together again. Villanelle is forced to confront who she truly is and whether murdering is what she was built for by the unexpected visit of her former Twelve trainer.
While Eve, traumatized by her near-death experience at Villanelle's hands, leaves MI6 and begins living a low-profile existence, Villanelle searches for new ways to make a living once she stops killing for The Twelve. While Eve reexamines The Twelve after they kill a person close to her, bringing the two women together once more, Villanelle starts to question who she really is and whether murdering is what she was created for with the unexpected return of her former Twelve trainer.