To prevent their demonic father, Logan, from selling the business and eliminate any potential for one of them to take the helm, Shiv joined forces with the siblings Kendall and Roman in the last season of Succession.
Succession Season 3 Summary Recap
Following Kendall Roy's (Jeremy Strong) press conference, Logan Roy (Brian Cox) divides his inner circle into two groups: he, Tom Wambsgans (Matthew Macfadyen), Karl Muller (David Rasche), Frank (Peter Friedman), and Hugo Baker (Fisher Stevens) stay in Sarajevo (as Bosnia-Herzegovina lacks an extradition treaty with the United States). At the same time, Roman Roy (Kieran Culkin), Gerri (J. Smith-Cameron), and Shiv Roy (Sarah Snook) are transferred back to New York. Logan Roy notifies his colleagues that he will temporarily relinquish his position as CEO, and the family and business management argue over who should succeed him.
In the meantime, Kendall Roy establishes a temporary base of operations at Rava Roy's (Natalie Gold) apartment and hires two public relations specialists to help manage his reputation. He phones the majority of Waystar's inner circle. He persuades more of the top cadre to support him, but he only gets through to Frank. Shiv Roy tries to get Lisa Arthur (Sanaa Lathan), a well-known New York lawyer and personal friend, to represent Waystar in court. But discovers Kendall has already been in touch with her. Shiv's perceived failure prompts the appointment of Gerri as interim CEO.
Episode 2 - Mass in Time of War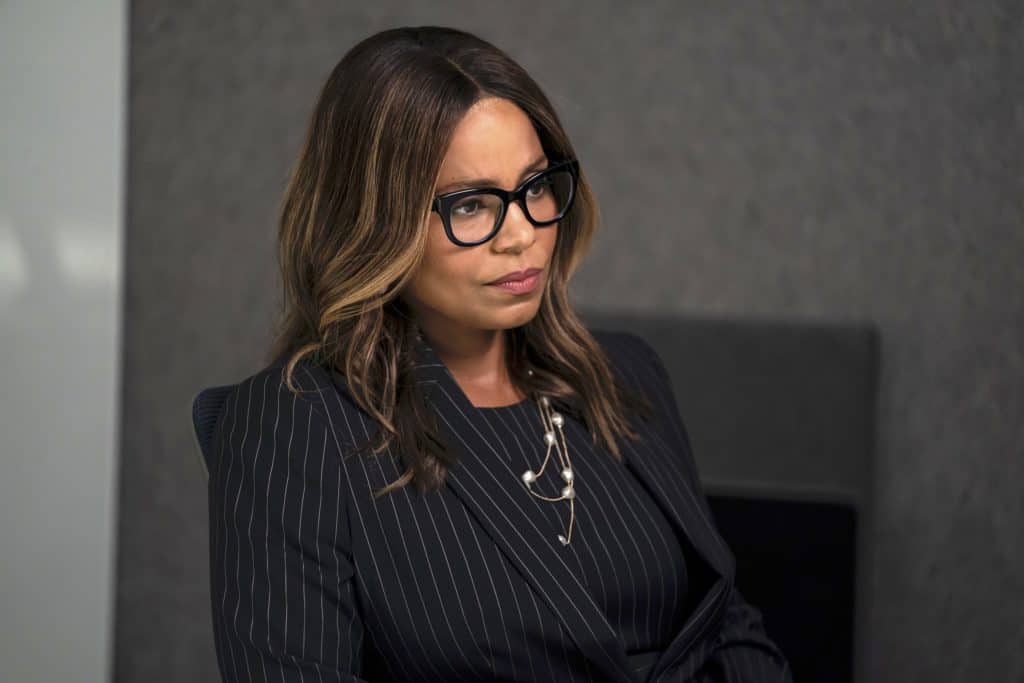 Kendall is secretly met by Shiv, Roman Roy, and Connor Roy (Alan Ruck) to convince him to drop his whistleblower effort. Kendall won't give in and tries to convince his siblings to stand with him. The conversation breaks down when Kendall states he will serve as CEO under their new arrangement. The three siblings ultimately choose to stick with Logan after realizing there is no personal gain from supporting Kendall. Before the company's shareholder meeting, Kendall also meets with Stewy Hosseini (Arian Moayed) and Sandi Furness (Larry Pine), Sandy's daughter, to discuss potential cooperation, but they are skeptical. 
Greg (Nicholas Braun) meets with Ewan Roy (James Cromwell) about hiring a personal attorney to protect him since he is concerned about facing legal repercussions for copying the cruise's paperwork. Logan's legal team urges that the two publicly seem reconciled. Therefore, he has Marcia Roy (Hiam Abbass) flown into Sarajevo. Due to her displeasure with Logan's affair, Marcia asks the business for several guarantees to gain their cooperation. Shiv is given the title of President of Domestic Operations at Waystar when Logan returns to New York, telling her that she is under Gerri's protection.
Episode 3 - The Disruption
Kendall and Logan each take action to raise their individual public profiles. Logan tries to intimidate Michelle-Anne Vanderhoven (Linda Emond), a White House aide, into giving him favors from the President while refusing to comply with the Department of Justice's upcoming inquiry. Tom Wambsgans promises to accept responsibility by putting himself in jail, but he quietly consults a lawyer.
By having his assistants play Nirvana's "Rape Me" loudly from a speaker, Kendall disrupts Shiv's speech at a company town hall intended to ease employee complaints. Indignant Shiv responds by publishing an open letter questioning Kendall's mental health and bringing up numerous details of his private life, including his struggles with addiction and his lack of a relationship with his children.
Shiv begs Connor Roy and Roman to sign the letter so it can be published, but they decline. Kendall is about to go on the late-night comedy show when Shiv's letter is posted online. It has been mocking him but decides against the last minute because of the letter's contents. Logan is coerced into helping when the FBI raids Waystar's offices.
Episode 4 - Lion in the Meadow
To persuade the President to halt the DOJ probe, Logan requests Shiv to have ATN cover the White House more severely. Shiv can coerce anchor Mark Ravenhead (Zack Robidas) into changing his editorial stance. Still, she discovers that neither Logan nor the rest of the staff treats her with much respect or support.
Tom starts to lose it due to his increasing anxiety about going to jail and the irritation he experiences from having to report to his wife. After meeting with Logan, Greg informs him that he has a contract with
Waystar's legal defense team. Josh Aaronson, a shareholder, calls a meeting with Logan and Kendall. He gives them a tour of his private island so they can hear the arguments put forward by either side. He fears that their quarrel will jeopardize his investment.
On the other hand, Kendall and Logan don't put on a united front. Logan becomes exhausted on the walk back to Josh Aaronson's (Adrien Brody) house and struggles to hold it together until he almost passes out. Later, Kendall learns that Josh no longer trusts the current direction of Waystar and sees him meeting with Stewy.
Episode 5 - Retired Janitors of Idaho
Kendall and Logan realized that going to a vote would almost certainly strip the Roys of their majority stake in the company. Kendall and Logan's factions try to broker a settlement with Stewy and Sandi at the Waystar RoyCo annual shareholder meeting. Sandi is primarily negotiating on behalf of her ailing father. Logan, who has a urinary tract infection,
initially rejects Sandy's demands. Still, as he becomes increasingly confused, the other kids and senior management are forced to negotiate on his behalf. 
Shiv and Sandi can agree to give either party an extra board seat. The two sides agree on the conditions without waiting for an incapacitated Logan to accept, delaying the vote. Karl makes the announcement to the stockholders, but Kendall cuts him off to make an impromptu statement supporting those who perished on vacation. In the wake of ATN's attacks, the President telephones the Roys to declare that he will not run for reelection, endangering Waystar's political future. Greg will not receive an inheritance from Ewan because he chooses to give his whole estate to Greenpeace. Kendall loses communication with Logan.
Episode 6 - What It Takes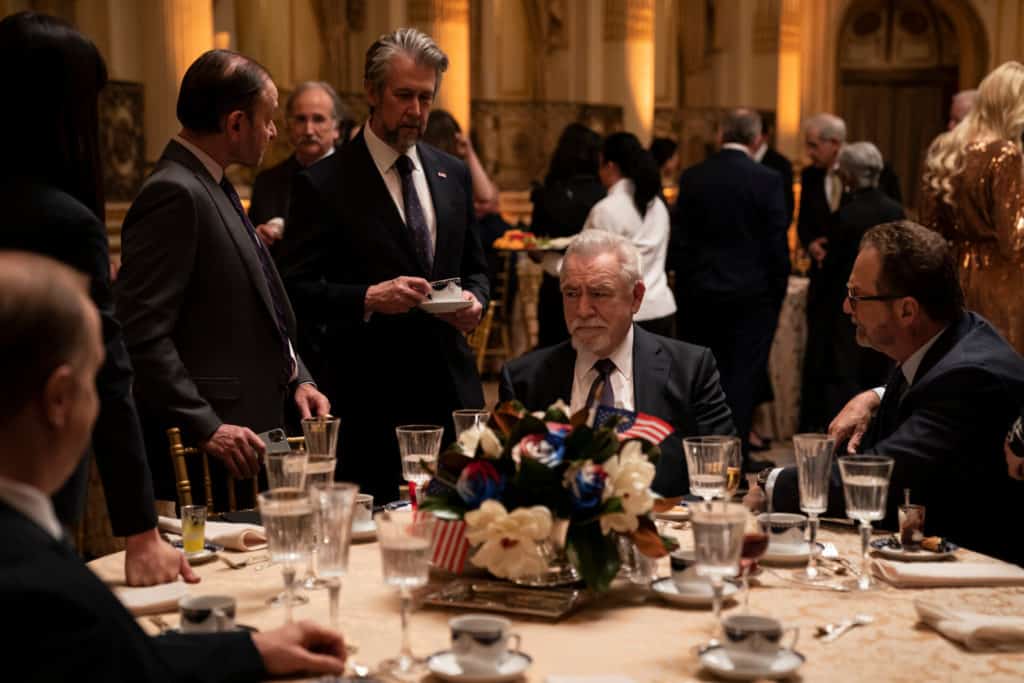 Kendall gets ready to provide the DOJ the documentation he has found regarding the cruise's affair. However, his testimony is ineffective, and Lisa cautions that he will not be successful in his legal battle against Waystar with these papers alone. Unhappy, Kendall fires LisaArthur's
(Sanaa Lathan) assistance and finds new legal counsel. The Future Freedom Summit is conservative political fundraising that the remaining Roy family members gather to select a new presidential candidate for the forthcoming election. 
Roman discovers while there that his mother, Caroline Collingwood (Harriet Walter), is marrying British CEO Peter Munion (Pip Torrens) in Tuscany. When Kendall arrives in Virginia, he meets privately with Tom to win him over. Still, Tom declines because he thinks Kendall would lose to his father like he always does. Shiv backs Congressman Rick Salgado (Yul Vazquez), a conventional conservative offering Shiv the chance to lead Waystar. At the same time, Roman has a soft spot for Jeryd Mencken (Justin Kirk), a controversial character with fascist tendencies. Logan chooses to support Mencken despite Shiv's objections.
Episode 7 - Too Much Birthday
The business learns that the DOJ investigation is waning and will probably result in a settlement. Tom is quite happy to not be going to jail. Logan discovers that GoJo's CEO, Lukas Matsson (Alexander Skarsgård), declined to personally meet with him. Logan has been working to purchase the primary streaming service. Shiv and Roman travel to Kendall's extravagant 40th birthday party to bargain with Matsson, who is also there. 
Kendall receives a gift from Roman and Logan, a $2 billion offer to buy out his shares of Waystar. Shiv is incensed to find that she has been denied benefits. When Roman meets with Matsson alone, he suggests that Waystar purchase GoJo so that Matsson will never have to report to Logan directly. Matsson shows hesitant interest. Kendall feels betrayed by the buyout offer and embarrassed by the party's empty excess. While looking for his children's gifts, Kendall experiences an emotional breakdown and needs Naomi Pierce (Annabelle Dexter-Jones) to accompany him home.
For Caroline's wedding, the Roy family journeys to Tuscany. Logan declines Kendall's offer to take the $2 billion buyouts to permanently sever his relationship with his "evil" father during their mandatory dinner meeting. Kendall then demands a sit-down with Logan. Shiv asks to have a kid with Tom out of spite, but she informs Tom before intercourse that she doesn't love him, later passing it off as foreplay. Caroline admits to Shiv that she never wanted children and advises Shiv not to have one of her own. 
When Matsson tweets that he has gotten significant funding, GoJo's stock price surges. Roman meets Matsson and learns he prefers a merger of equals with Waystar over an acquisition. Logan agrees to the revised terms, but Roman accidentally sends a picture of his penis to Logan rather than Gerri, which interferes with Waystar's meeting with GoJo's bankers. Kendall slowly lets his head fall into the water while floating face down in his pool while inebriated.
Episode 9 - All the Bells Say
After nearly drowning in his pool, Kendall is given medical attention to get well. Logan and Roman see Matsson, who suggests that GoJo acquire Waystar with him serving as CEO. At the same time, Logan leaves with a settlement after GoJo's market valuation surpasses Waystar. Roman is asked to return to Caroline's wedding. While there, he and Shiv learn that Logan has planned to sell the business without consulting them, endangering the children's chances of succeeding with their parents. 
When they tell Kendall, he sobs and apologetically confesses to being responsible for the waiter's murder during Shiv's wedding. His siblings console him. The three decide to confront their father as a group after remembering a provision in Logan and Caroline's divorce agreement giving the kids veto power over any change in corporate management. 
Shiv alerts Tom that Greg may have considerable career advancement inside the organization while he is on the way. Logan responds to his children by saying that he and Caroline had changed the terms of their divorce settlement, essentially stripping them of business ownership. Logan learned of the children's uprising thanks to Tom revealing it.
An American black comedy-drama television shows that Jesse Armstrong developed
executive producers are Adam McKay and Will Ferrell 
premiered on HBO on June 3, 2018
concluded on December 12, 2021
Critics have given it high praise for the screenplay, acting, music, production values, and analysis of its subject matter has received numerous honors and nominations, including the Primetime Emmy for Outstanding Drama Series, the Golden Globe for Best Television Series – Drama, and the British Academy Television Award for Best International Program
The Roy family, who runs the media company Waystar RoyCo, is succeeded. Logan Roy, the patriarch of the family, is now less healthy. His four children, who have varying degrees of attachment to the business, including his removed eldest son Connor, power-hungry Kendall, irreverent Roman, and politically astute Shiv, start to plan for life without their father. Each person begins vying for power within the business.
After Logan suffers a stroke in the first season, Kendall tries to seize control of the business by conducting a hostile takeover after failing to have his father's leadership put under suspicion. Logan covers up the event and blackmails Kendall into pulling his support for the takeover offer after Kendall's drunk driving kills a waiter at Shiv's wedding. As Logan misleads Shiv into thinking that Kendall will take over as CEO after him, Kendall spends the second season doing his father's bidding.
When a company history of sexual harassment and cover-ups is revealed, Logan orders Kendall to take responsibility for the wrongdoing. Still, instead, Kendall becomes a whistleblower, publicly blaming Logan. During the third season, Kendall attempts to wage a legal and public-opinion campaign against Logan's leadership while maintaining the family's company ownership. Still, his campaign loses momentum as he loses focus and ignores advice from his lawyers and PR advisors. The season ends with Logan selling the company, as his children unite against him for the first time but cannot prevent the sale.
Will there be Succession Season 4?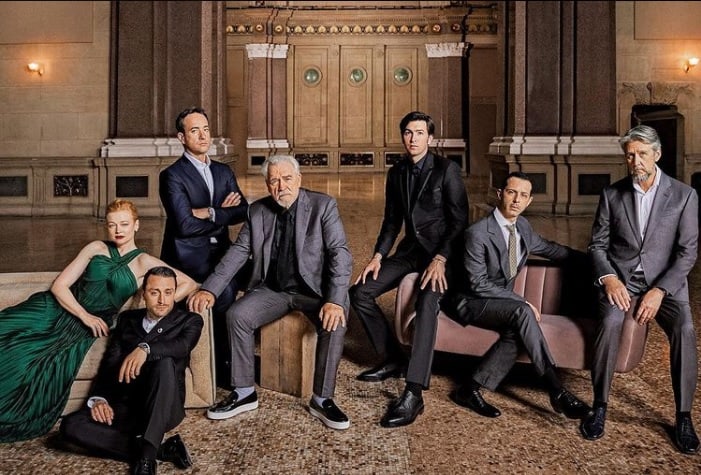 The news that Succession Season 4 will return should please all fans. As the third season was still in progress when Season 4 was announced by HBO in October 2021 and is now in development. So viewers need not wait too long to see television's most dysfunctional family again.
Showrunner Jesse Armstrong's fictionalized take on the Murdoch media empire is dark, dramatic, and often hilarious, combining tension and comedy in ways rarely seen on screen. Season 3 proved why it's one of the best HBO Max shows.
Even though Kendall's (Jeremy Strong) fate was unclear toward the end of Season 3, he is still alive, so he should return, as should his siblings Shiv (Sarah Snook), Roman (Kieran Culkin), and Connor (Alan Ruck). Of course, Logan (Brian Cox) remains at the top. Marcia (Hiam Abbass) and Willa (Justine Lupe) are also confirmed to be back.
Ten episodes will make up the forthcoming season. It is getting closer and closer for IT visionary Lukas Matsson to purchase media conglomerate Waystar Royco. The idea of this seismic transaction generates existential angst and familial strife as the Roys imagine their lives will be like in the future. A power struggle emerges as the family considers a lot in which their influence in culture and politics will significantly reduce.