The grandiose Vogue World Show held during New York Fashion Week was attended by a number of fashionable celebrities, attracting enough interest for people to anticipate seeing who would be included in the best-dressed categories. As a matter of fact, Brooklyn Beckham is one of the best-dressed male attendees of the event.
The handsome celebrity attended the show with his wife, Nicola Peltz. The couple sweetly storms the runway together, wearing fashionable attire fit for the activity. Since People covered the fashion activity, we're excited to know more about it.
Brooklyn Beckham's Outfit
Brooklyn Beckham is an English media personality, former model, and photographer. According to Wikipedia, he is the eldest son of former England footballer David Beckham and English singer-turned-fashion designer Victoria Beckham.
Recently, his lovely wife, Nicola, linked arms with him while attending a fashion event. He opted for a fantastic look in a pair of light-washed blue jeans and a white T-shirt.
He added a pair of black trainers to highlight his look. Then, he layered the black and white Varsity jacket on top. The latter featured a material trimming.
On the other hand, Nicola Peltz is an American actress. The star is widely known for her roles in dramatic films and television.
Since then, she has performed in blockbuster adaptations, her name quickly reaching the radar of movie fans. Besides, Nicola has since been nominated for a Young Hollywood Award. That cemented her status as a top-rated celebrity.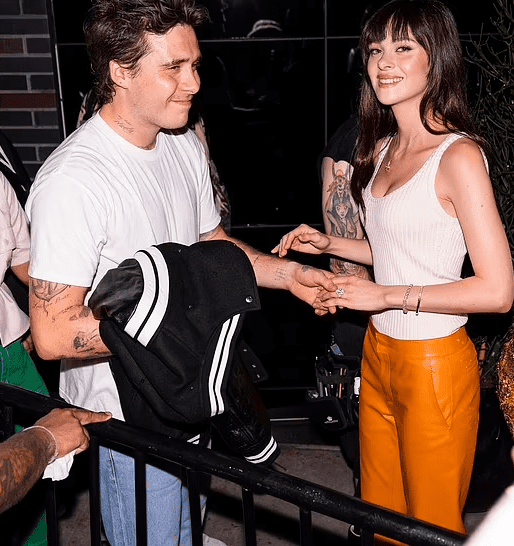 Recently, the 27-year-old heiress accompanied her husband to attend a fashion show. Nicola accentuated her look by wearing a pair of camel leather pants. The outfit complemented her 23-year-old beau, who opted for a dapper look, highlighted with a varsity jacket.
Nicola Peltz wore a simple yet stylish outfit, pairing her straight-leg pants with a cream ribbed vest. The star's chunky platform boot elevated her style.
Then, she put on a dewy makeup palette while leaving her lustrous locks down in a free-flowing wavy style.
In addition, the lovely actress accessorized with a dainty silver pendant necklace. Nicola complemented it with bracelets for the activity.
Since the event took place outdoors, it seemed easy for Nicola to look delicate and chic. It also had the air of a street fair, so the couple's outfits were perfect for the event.
These days, many fashion lovers are still looking for fantastic photos from the New York Fashion Week. Since we want to cover stylish male celebrities, too, we've just shared about Brooklyn Beckham. Do you like his outfit for the event?