Their feud has gotten physical, and a former housewife has remarked on the whole thing.
This season of "Real Housewives of Potomac" has its own dose of drama, which includes a physical outburst between Wendy Osefo and Mia Thornton during their Miami Girl's Trip.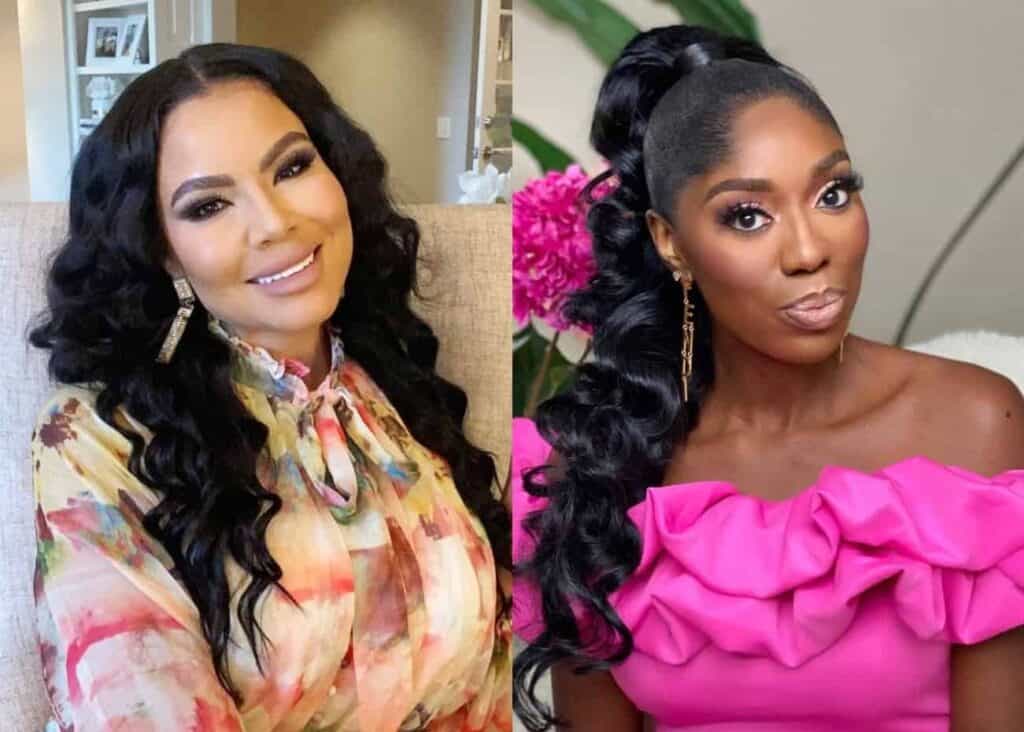 The two housewives are currently feuding on the program after Thornton tossed a drink in Osefo's face while the cast was out for dinner at Bar One Miami Beach, owned by "RHOA" alum Cynthia Bailey's ex-husband Peter Thomas.
According to Yahoo News, the show's cast was having dinner when Osefo blamed Charrisse Jackson Jordan for arguing with her to get away from her long-standing feud with Karen Huger.
"You have all this energy for me, but yet you have yet to open your mouth and say something to her," she said. "Are you scared of her?"
Thornton then decided to step in and try to help her, but Osefo proceeded to attack her as well, saying, "You were just in the car saying now you understand why Karen doesn't fuck with Charrisse. That's what you just said five minutes ago."
Thornton refuted that assertion, stating that she termed Jordan "theatrical," alluding to the latter's need for alternative accommodations during the vacation because she didn't have her own bathroom at their rental holiday property.
Thornton also addressed the political analyst about her restaurant partnership with Thomas, telling her she should have informed him about her trip to Miami.
Sources obtained by the publication stated that throwing the drink occurred shortly after and even hit Osefo with a purse, which Thornton acknowledged on social media, writing on Twitter, "Reactivated to say, My actions towards Wendy was intolerable."
While the drama was already tense, there was more to come after Osefo mentioned Monique Samuels to call out Gizelle Bryant's hypocrisy in encouraging violence in this situation while denouncing Monique for her confrontation against Candiace Dillard in Season 5.
While Samuels says she doesn't watch the show, she isn't surprised by some of the women's actions and applauds Osefo for keeping her cool. In an interview with The Neighborhood Talk, she said, "I don't know the entire story, but I applaud Wendy for not getting physical as I did after I was hit in the face with a glass."
"She had every reason to defend herself after being splashed in the face and then apparently hit with a purse, and she chose to use her words instead," she continued. "One thing Wendy said to me back then at Karen's home was she would never get physical; she would use her words. Clearly, she lived up to that statement at this moment."
Furthermore, at the Season 5 reunion, she prophesied that the latter would be the next target of derision, and she was entirely correct, adding that the hatred for some of those women isn't just for the camera, but they're also "miserable in real life."
"One thing Wendy should understand is that it's not about her actions or lack thereof. She could have sat there quietly, and they still would have found reason to ice her out."
"The same ladies who told me words or even antagonizing someone is not grounds for getting physical are defending a person who got physical over Peter Thomas? LOL!!! Just Wow," Samuels concluded.
Reactions to Why Wendy Osefo And Mia Thornton Feud Is the Most Interesting Thing on "RHOP" This Season?
Am I going crazy?? Wendy was minding her business, MIA started arguing out of nowhere. MIA threw her drink at Wendy. MIA threw something else at Wendy and now Wendy is the bad guy because she didn't quietly accept having a drink thrown in her face? #RHOP

— Jin Jarelle (@JinJarelle) November 21, 2022