Samantha Bee is a highly acclaimed Canadian-American comedian, writer, producer, and television host known for her sharp wit and biting humor. She rose to prominence as a correspondent on "The Daily Show with Jon Stewart." Her fearless and satirical reporting style made her a standout in political comedy. Bee ventured into her late-night talk show, "Full Frontal with Samantha Bee," which garnered critical acclaim for its unapologetic and often candid take on current events, social issues, and politics. Her unique comedic perspective and willingness to tackle controversial subjects have made her a prominent figure in political satire.
Content of this Article
Samantha Bee's Appearance (Height, Hair, Eyes & More)
Height
5 ft 7 in

1.7 m

Weight
139 pounds

63 kg

Hair Color
Blonde
Eye Color
Hazel
Body Type
Average
Sexual Orientation
Straight
Facts About Samantha Bee
| | |
| --- | --- |
| Nationality | American/Canadian |
| Estimated Net Worth | $8 million |
| Religion | Catholic |
| Zodiac Sign | Scorpio |
| Birthplace | Toronto, Ontario |
| Birthday | October 25, 1969 |
Samantha Bee's Net Worth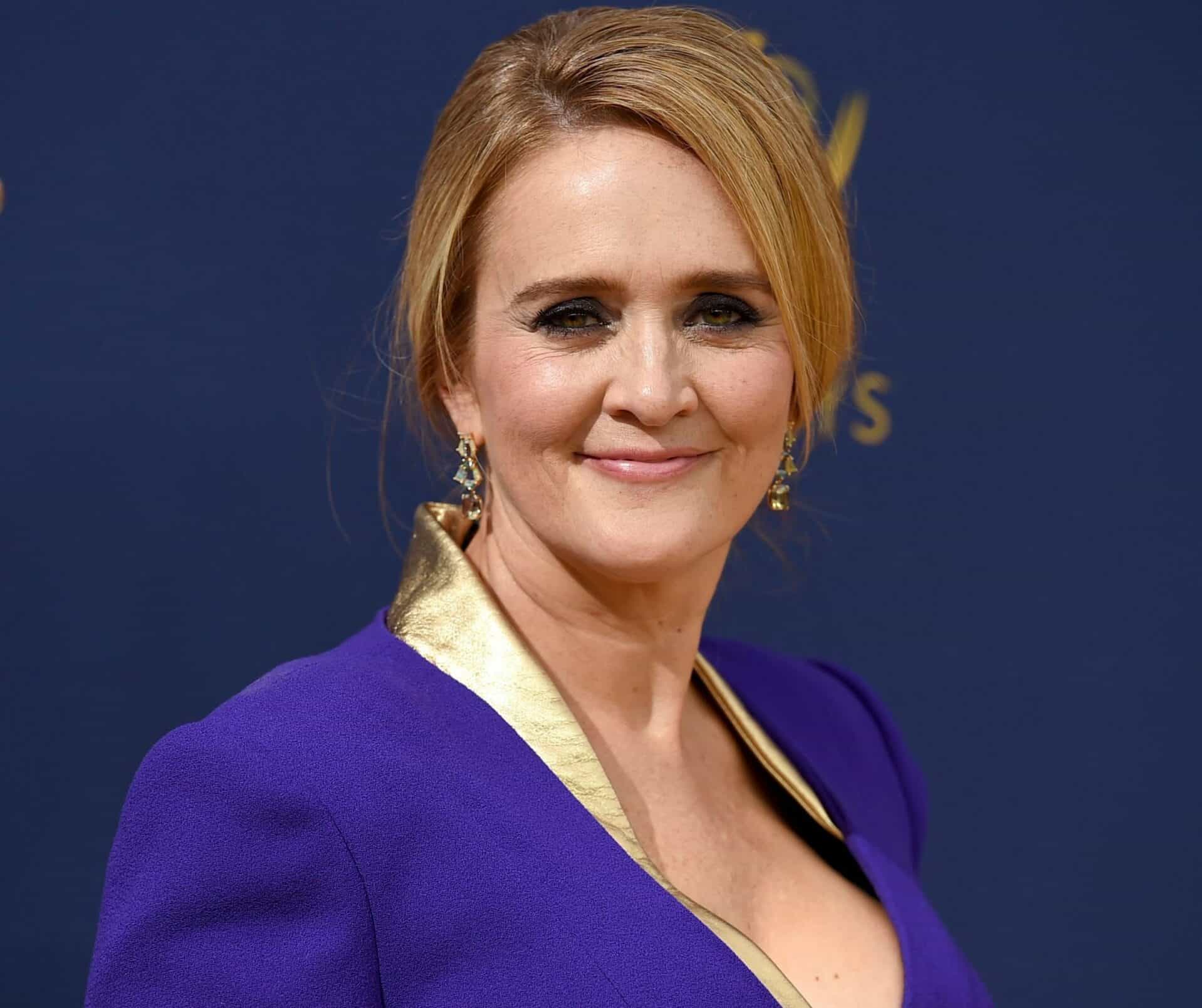 As of 2023, Samantha Bee's net worth is approximately $8 million. Bee is famous for two main things: She hosted the TBS show "Full Frontal with Samantha Bee" and worked as a correspondent on Comedy Central's "The Daily Show with Jon Stewart." In 2017, Bee was named one of Time magazine's 100 most influential people worldwide.
Early Life
Samantha Anne Bee was born in Toronto, Ontario, on October 25, 1969. Her parents, Debra and Ronald Bee, separated shortly after she was born. She was raised by her grandmother, a secretary at the Catholic school Bee attended on Roncesvalles Avenue during her childhood.
Education
Samantha Bee attended Humberside Collegiate Institute and York Memorial Collegiate Institute for high school. After finishing high school, she started her studies at McGill University, focusing on humanities. However, she wasn't satisfied with her experience there, so she switched to the University of Ottawa after her first year.
Bee decided to try a theatre class at the University of Ottawa, initially thinking it would be a breeze. This class sparked her passion for performing—she was enrolled in the George Brown Theatre School in Toronto, inspired by her newfound interest.
Samantha Bee's Husband and Family
In 2001, Samantha Bee tied the knot with actor and writer Jason Jones, whom she had first met in 1996. They live in Manhattan, New York.
In January 2006, she became a mom for the first time, welcoming a daughter named Piper. She returned to her "The Daily Show" role in March 2006.
On January 24, 2008, while on air, Bee shared the news of her second pregnancy, using it as part of a bit about media coverage during the 2008 presidential campaign. Later that year, she gave birth to their second child, a son named Fletcher.
Their family continued to grow, with the arrival of their third child, a daughter named Ripley, in late 2010.
Samantha Bee's Career
Samantha Bee began her acting journey in Toronto while working as a waitress. At age 26, she embarked on a tour with a stage production of "Sailor Moon," where she had the lead role. Bee was part of the "A" cast in this production, while her future husband, Jason Jones, was a member of the "B" cast.
Bee was among the four founding members of The Atomic Fireballs, a Toronto-based sketch comedy troupe. All members of the Fireballs were women, and they had a strong sense of mutual support. They tried to bring each other's ideas to life and perform them as much as possible.
The Daily Show
Samantha Bee joined "The Daily Show with Jon Stewart" as a correspondent on July 10, 2003. She was the only female correspondent on the show from her debut in 2003 until Kristen Schaal joined in March 2008. In addition, Bee was the first non-U.S. citizen to become a correspondent on "The Daily Show."
Bee had a knack for getting people to exaggerate their personalities on the show playfully. Her talent was recognized with a 2005 Canadian Comedy Award for Best Female TV Performance for her work on "The Daily Show." In 2011, she became the longest-serving regular correspondent on the show, surpassing Stephen Colbert's record.
Full Frontal with Samantha Bee
In March 2015, it was revealed that Samantha Bee would leave "The Daily Show" after a 12-year run. She was set to host her satirical news show on TBS. Bee officially left "The Daily Show" on April 30, 2015.
Her new show, "Full Frontal with Samantha Bee," premiered on February 8, 2016, making her the first woman to host a late-night satire show. Bee also tried to create a more diverse staff for her show, a departure from the typical late-night comedy show.
The first season of "Full Frontal" received critical acclaim, and in November 2016, it was renewed for a second season running throughout 2017. However, on July 25, 2022, Bee's representatives announced that TBS had decided not to renew "Full Frontal" for a seventh season, officially canceling the show.
Acting
Samantha Bee's acting career included various notable roles. In 2004, she had her first leading role in the Canadian independent film "Ham & Cheese," co-written by her husband Jason Jones and featuring Canadian comedians Scott Thompson and Dave Foley. She also had a minor role in Episode 15 of "Little Mosque on the Prairie."
In 2010, Bee appeared in the 12th episode of Season 20 of "Law & Order," titled "Blackmail." She played a minor role in an episode of the HBO series "Bored to Death."
Bee appeared as herself in the "Madame President" episode of "The Electric Company" and did a guest voice role as talk show hostess Pam in the Season 2 finale of "Bob's Burgers." She also lent her voice to Lyla Lolliberry in two episodes of Season 4 of "Phineas and Ferb."
During Season 42 of "Sesame Street," Bee appeared as Mother Goose. In 2009, she was part of the original cast of "Love, Loss, and What I Wore." That same year, she had a small role in the comedy film "Whatever Works," written and directed by Woody Allen.
Samantha Bee's Controversy
In a May 30, 2018, episode of "Full Frontal," Samantha Bee used a derogatory term to describe Ivanka Trump while discussing Donald Trump's immigration policy. Bee apologized the day after this segment aired, expressing deep regret for her comment.
Comedians Kathy Griffin, Michelle Wolf, Sarah Silverman, and Jon Stewart came to Bee's defense, with Stewart suggesting that much of the outrage surrounding the joke may have been more strategic than genuine. As a result of the controversy, the show had fewer national advertisements in the following week.
Bee began the subsequent episode by apologizing to any women she had offended. She expressed her frustration that one offensive word had overshadowed her criticism of the policy regarding the detention of illegal immigrant children, which had been the main focus of her commentary.
Samantha Bee's Real Estate
In 2017, Samantha Bee and her husband, Jason Jones, purchased a two-unit co-op in Manhattan for $3.7 million. This apartment features four bedrooms, a media room, and a fireplace with an elegant marble mantel.
Net Worth of Other Notable TV Hosts
Phil Donahue's Net Worth
Phil Donahue, an iconic American television personality, made significant contributions to daytime television throughout his illustrious career. Rising to fame with "The Phil Donahue Show" in 1967, the program became a staple in talk show history due to its innovative approach, marking Donahue as a pioneering figure in the industry. Spanning over decades, his broadcasting journey has been studded with numerous accolades, including 20 Emmy Awards, a Peabody Award, and induction into the Academy of Television Arts & Sciences Hall of Fame. Beyond his television endeavors, Donahue has ventured into directing, co-directing the documentary "Body of War" in 2006. His successful career has significantly impacted Phil Donahue's net worth, which is estimated at $150 million.
Tom Bergeron's Net Worth
Tom Bergeron, a celebrated American television personality, has captivated audiences with his charismatic and witty hosting style. With iconic roles on shows like "Dancing with the Stars" and "America's Funniest Home Videos," he has firmly established his place in television history. Throughout his career, Bergeron not only showcased his skills on the screen but also made significant investments in real estate, including properties in Calabasas and Old Greenwich. From his humble beginnings in Haverhill, Massachusetts, to becoming a recognized face in American households, his journey has been both impressive and inspiring. With years of dedication and hard work, Tom Bergeron's net worth has grown to an estimated $14 million as of 2023.