After nearly 5 years of marriage, the pair are now filing for divorce.
Jason Momoa and Lisa Bonet have called it quits, as the "Aquaman" star posted a joint statement on Instagram on Wednesday announcing their split.
"We have all felt the squeeze and changes of these transformational times…" their joint statement began. "A revolution is unfolding and our family is of no exception… feeling and growing from the seismic shifts occurring."
"And so We share our Family news that we are parting ways in marriage. We share this not because we think it's newsworthy but so that as we go about our lives we may do so with dignity and honesty. The love between us carries on, evolving in ways it wishes to be known and lived. We free each other to be who we are learning to become."
"Our devotion unwavering to this sacred life & our Children. Teaching our Children What's possible. Living the Prayer. May Love Prevail," the post concluded.
During an appearance on The Late Late Show with James Corden back in November 2017, Momoa joked, "Ever since I was 8 years old — I saw her on TV and I was like, 'Mommy, I want that one. I was like, 'I'm gonna stalk you for the rest of my life and I'm gonna get you.'"
"I just always wanted to meet her and she was the queen, always," he added in the same interview, explaining that they met at a jazz club through mutual acquaintances and connected over a common love of Guinness.
"We just happened to be in the right place at the right time," the actor said about his first date with Bonet.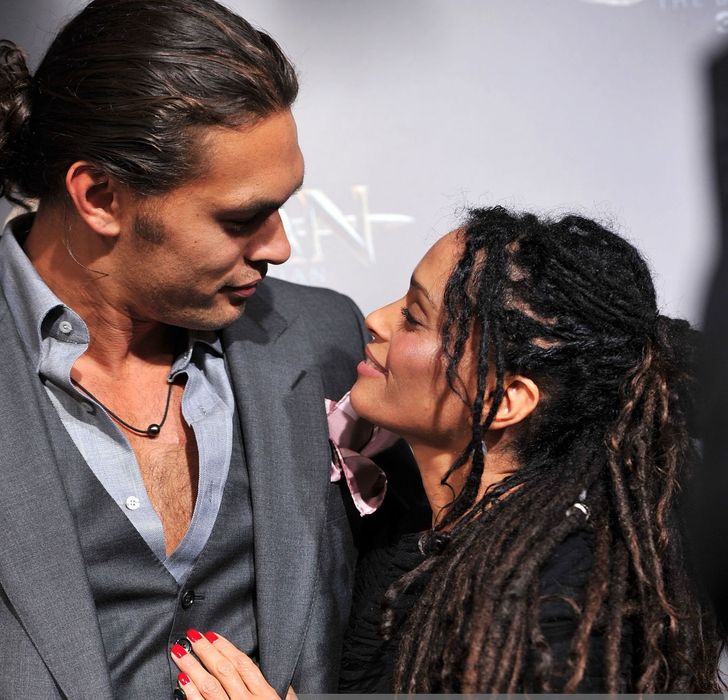 Momoa then claims that both of them hit it off over a lunch at Cafe 101 as he went on to say, "We sat down, she ordered a Guinness, and that was it," adding, "I beyond love Guinness. We had Guinness and grits, and the rest is history."
The now former couple began dating in 2005 and have two children together, Lola Iolani Momoa and Nakoa-Wolf Manakauapo Namakaeha Momoa, before marrying in a private ceremony in 2017.
Reactions to Jason Momoa And Lisa Bonet Have Ended Their Relationship
lisa bonet was really married to both lenny kravitz and jason momoa in the same lifetime

God, I see what you have done for others- pic.twitter.com/3ME4tep8ID

— Roseanne A. New Year's Baby Brown 👶🏿🎇 (@rosiesrambles) January 13, 2022
Jason Momoa and Lisa Bonet both being single again means that I have 2 minuscule chances to marry either of them. The hope 2022 needed

— leftover waffles (@TopherMichelle) January 13, 2022