She is a well-known television personality, so any reduction in her weight is apparent.
Oprah Winfrey is one of the world's most influential media moguls, but she wasn't always so successful. Oprah has seen her fair share of difficulties, including her weight loss journey that became well documented.
Despite being chastised for her weight in recent years, she isn't scared to share what has worked for her in the hopes of inspiring others who are going through similar struggles.
Oprah Winfrey's Weight Loss Tricks
The main keys to Oprah's successful weight loss:
She went to her first diet doctor when she was 23
She followed liquid diet and run 6.5 miles every day
She set another goal to maintain a healthy weight in 2005
She partnered with Weight Watchers in 2016
She kicked off her weight loss reset in 2022
Related Weight-Loss Posts
When and how did Oprah Winfrey start losing weight?
When Oprah was 23 years old, she went to her first diet doctor, and it is where her weight loss journey took off. She shed 67 pounds in the 1980s by following a liquid diet and running 6.5 miles every day. Notwithstanding her best efforts, the pounds she had worked so hard to lose regained.
She showed off her smaller form in one of "The Oprah Winfrey Show's" episodes in 1988 called "Diet Dreams Come True," wearing tightly belted jeans and a sleek black turtleneck, flexing the 67 pounds she lost on stage.
However, she later realized that maintaining weight would be so hard that it would become a lifetime dependence. In a statement to E! Online in 1991, she said: "I thought I was cured. And that's just not true. You have to find a way to live in the world with food."
Oprah claimed she gained 10 pounds in just two weeks after she resumed eating, and the weight just continued to increase more. In 1992, she revealed that she had reached her highest weight of 237 pounds.
"In 1992, I reached my heaviest, 237 pounds. I was 38. Then, four years ago, I made it a goal to lose weight, and I appeared on the January 2005 cover (left) at a toned 160 pounds," her statement to O Magazine began.
"I thought I was finished with the weight battle. I was done. I'd conquered it. I was so sure I was even cocky. I had the nerve to say to friends who were struggling, 'All you have to do is work out harder and eat less! Get your 10,000 steps in! None of that starchy stuff!'"
Oprah Winfrey's health problems caused her to regain the weight she had lost.
Oprah Winfrey set a goal for herself in 2005 to maintain a healthy weight. We can say that she was yet successful since she lost 160 pounds. However, she rapidly discovered that maintaining required far more than just eating well.
Her weight returned once again after she became aware of specific underlying health issues. "After many trips to various doctors, I received a diagnosis," she remarked.
"I had hyperthyroidism (an overactive thyroid that can speed up metabolism and cause weight loss—but, of course, didn't make me lose a single pound) and then gradually started moving into hypothyroidism (a sluggish metabolism that can cause fatigue and weight gain)."
"My doctor prescribed medication and warned me that I must "learn to embrace hunger," or I would immediately gain weight. Believe me, no part of me was prepared to embrace hunger."
"It seemed as if the struggle I'd had with weight my entire adult life was now officially over. I felt completely defeated. I thought, "I give up. I give up. Fat wins." All these years, I'd had only myself to blame for lack of willpower. Now I had an official, documented excuse," the talk show host continued.
She even posted a comparison photo of herself at that time between 2006 and 2009 with the caption, "How did I let this happen again?"
Weight Watchers and Oprah Winfrey have teamed together.
Oprah Winfrey revealed her partnership with Weight Watchers in 2016, appearing in one of their advertisements and discovering that the program helps her stay at a healthy weight while still allowing her to enjoy her favorite meals.
"Weight Watchers is easier than any other program I've ever been on. It's a lifestyle, a way of eating, and a way of living that's so freeing. You never feel like you are on a diet, and it works," she stated.
Furthermore, Stedman Graham, who is also her life partner, is her weight-loss companion. "He kept asking me what every point was, and I said, 'Why don't you just join?' For me, it's so much better when other people are also counting points."
As a matter of fact, the weight-loss firm offered her a basic endorsement agreement, but Oprah turned the offer down to secure a 10% ownership stake in the company, according to Amo Mama.
She shed 42.5 pounds after 17 months on the program with the assistance of exercise, which she despises.
Working out is something Oprah Winfrey hates.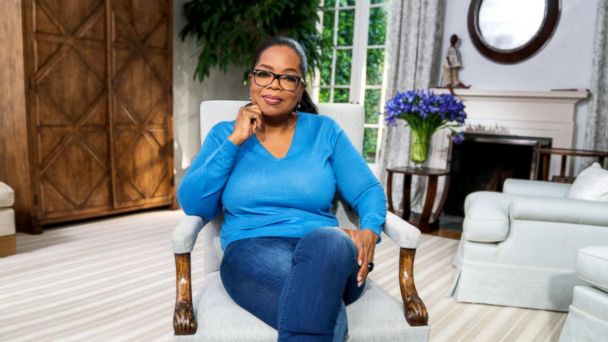 Oprah, like the rest of us, hates working out yet still does it. In an interview with Bush Hager, she said: "Here's the thing about exercise, I still hate it so much."
Considering her reservations, she "still does it," noting, "I think everyone's waiting to love it. You're not going to love it but you do the thing you need to do to make yourself feel whole and well."
Oprah Winfrey's weight-loss "reset" for 2022 begins.
Oprah just began her new year's diet "reset" by saying goodbye to the special bananas foster birthday cake she prepared for her closest friend Gayle King.
She shared a video of herself discarding leftovers in the garbage on Instagram, along with a message about her hopes to get back on track with her diet after the holidays.
"Time for a reset. I'm clearing out my fridge," she spoke. "You know we had 12 people over the house over the holidays. All stayed safe from COVID, thank God. And I gotta say, we ate every day like food had just been invented."
"So, I'm clearing out the fridge," she added. "No chance of one last piece of Gayle's delicious bananas foster birthday cake. And I know a lot of you are also ready for a reset."
The philanthropist then went on to endorse Weight Watchers to her fans, and said: "It brings you back to center. It helps me stay on track. It brings a level of awareness to what I'm eating, and that's what helps me close out the holidays, get back in control of how I want to live."
"So let's do our day one together. Not one day, not tomorrow, not next Monday, not next week. Let today be our day one, OK? Goodbye bananas foster cake," she concluded her statement. "And, oh yeah, don't forget to hydrate."