Why Did Fiona Disappear on Shameless Season 9?
Emmy Rossum's Fiona does not return to the Gallagher home in Chicago for the series finale of Showtime's Shameless, which closes the show's 11-season on April 11, 2019, despite flashbacks.
She telegraphs her non-appearance on Twitter, writing, "I'm so proud of this cast and am immensely honored to have been a part of a show as unique and impactful as Shameless. I will miss you this Sunday!"
I'm so proud of this cast and am immensely honored to have been a part of a show as unique and impactful as Shameless. I will miss you this Sunday! 💕 https://t.co/KBUofCXvnf

— Emmy Rossum (@emmyrossum) April 8, 2021
Showrunner John Wells tells Deadline, "You know, she very much wanted to, and we wanted her to. It just hit at just the wrong time with the continuing shutdown. She lives in New York, and you know, we were trying to make it work, but there were quarantine setups that were in there if she came out to LA. We couldn't figure out how to do it in a way that would work with her schedule. So, it was disappointing for everybody, and we would've loved to have her back, and she wanted to come back, but it was one of those things that couldn't get done during the pandemic."
Fiona quits the TV show after season nine in March 2019 after getting her act together, attending AA meetings, and selling her stake in a gentrification project in the South Side neighborhood for $100,000. She leaves half the money for Debbie in the Season 9 finale and goes away with the rest. Shameless never reveals Fiona's destination.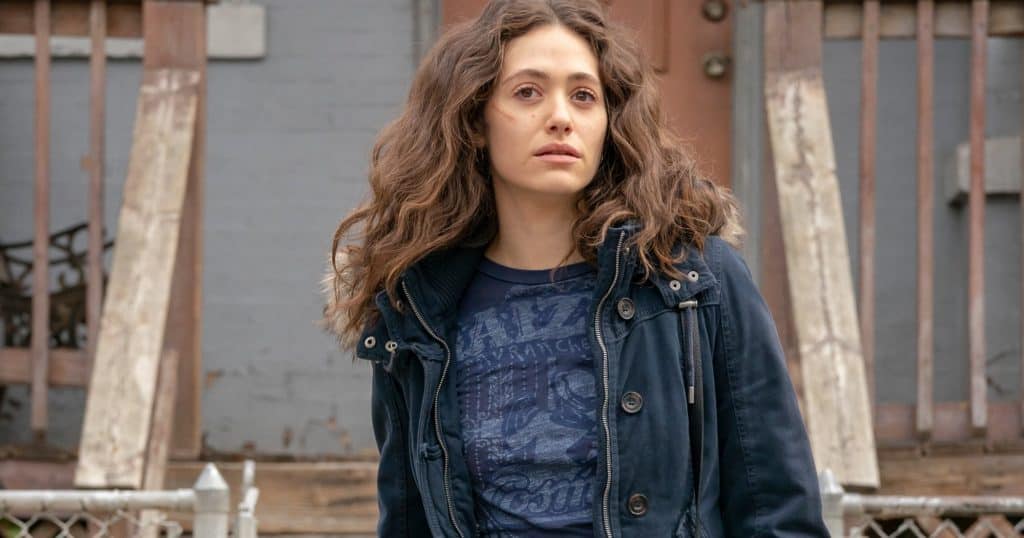 Rossum acknowledges that it was time for her to move on to new projects when she declares that Season 9 of Shameless will be her final season.
Contractual concerns among Shameless' cast report ahead of production for the show's eighth season. Despite technically receiving equal billing, Rossum claims to make much less money than co-star William H. Macy. According to Variety, Rossum wants not only equal pay for Macy but also a raise to compensate for years of unfair compensation.
How Was Fiona Written-off in Shameless?
Fiona's life goes swimmingly at the start of Season 8. The Gallagher family is grown up, so the pseudo-matriarch could now concentrate on herself. She finds solid employment as the owner of Patsy's Pies, a new love, and real estate success.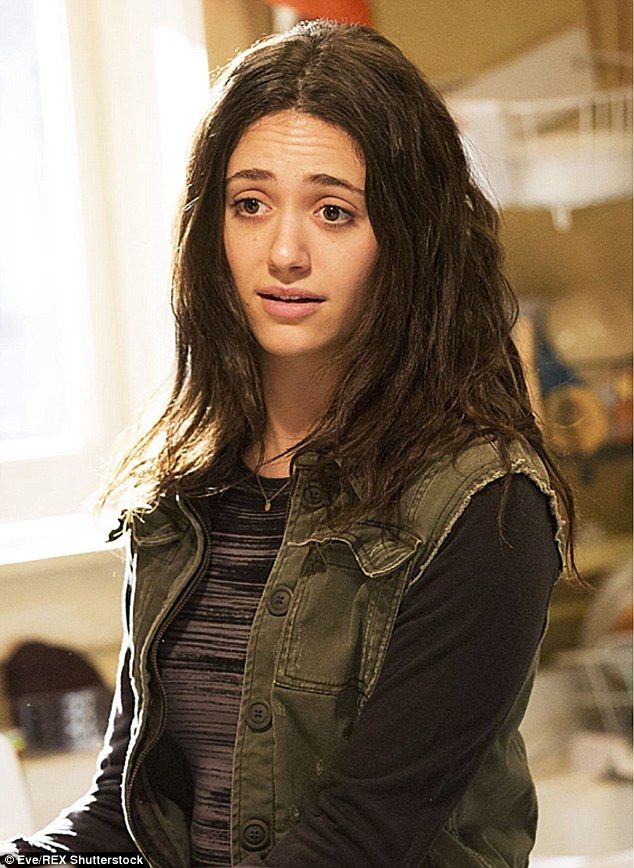 Meanwhile, she even manages to leave the Gallagher family's South Side house in favor of owning and operating an apartment complex in a more gentrified neighborhood. She appears to have broken free from the cycle of poverty. Everything comes crashing down around her.
Her latest investment has a buyer pulls out, and she cannot acquire the home without his help. She is also unable to recover the funds she invested. Fiona understands she has no alternative but to foreclose her apartment building and move back in with her family due to her financial situation.
She begins drinking extensively when her former world confronts her, becoming a reflection of the parent she detests. Fiona loses her job at Patsy's, fails to pay her portion of the bills, and is frequently in arguments. She even goes into a police chase at one point.
Her relationship was the next thing to go after all she works for goes to waste. After monitoring her boyfriend's phone to an unknown address, she is surprised to find a secret wife and child. She's understandably taken aback and reaches her breaking point and smashes her automobile while fleeing in a drunken rage. 
Her life is going nowhere and now she's hit rock bottom. She gets sober and starts attending AA meetings with the help of her brother, Lip, who is also in recovery. Later, she finds a job at a neighborhood convenience store, evoking the character's early days of working any job she could to make ends meet.
Her life of luxury reappears soon after she settles into her new job when an old investment partner visits her office. The investor who backs out of the real estate agreement earlier in the season chooses to buy the entire property and agrees to pay Fiona $100,000 as a settlement.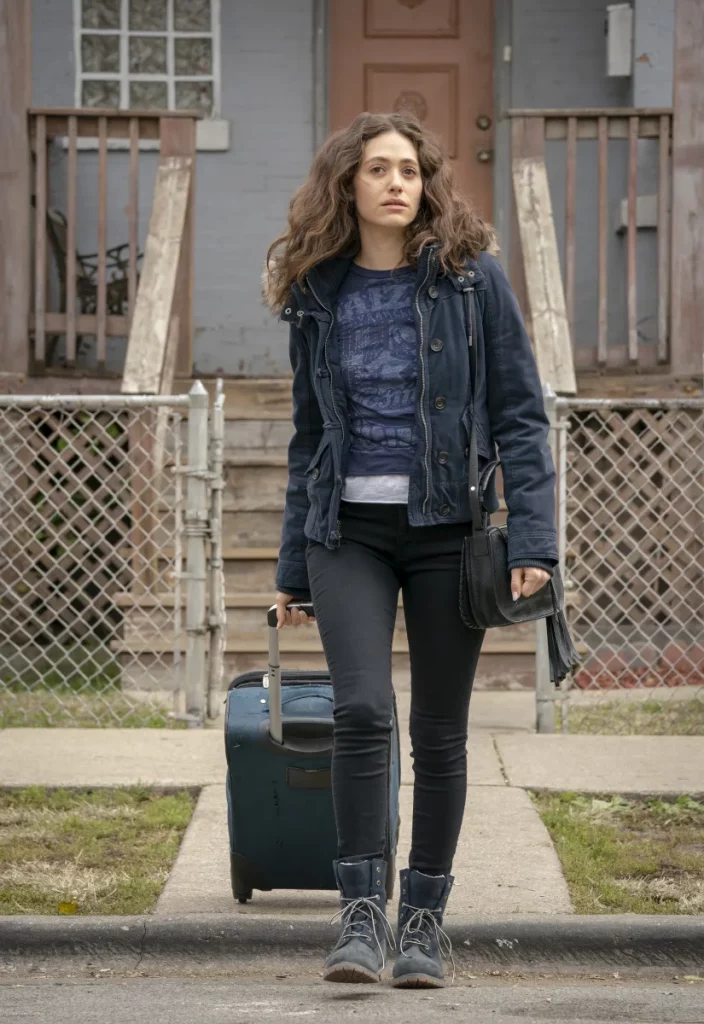 She believes it's time to leave the South Side and establish a new life for herself, with a new attitude on life. She leaves with an emotional goodbye to her entire family, including Frank, but not before giving half of her newfound money to the children she reared.
an American comedy-drama TV series developed by John Wells

airs on Showtime from January 9, 2011, to April 11, 2021

an adaptation of Paul Abbott's British series with the same name

set on the South Side of Chicago, Illinois

premiere Season 9 on September 9, 2018

became the longest-running original series in Showtime's history

receives various TV awards, including 16 Emmys and 69 nominations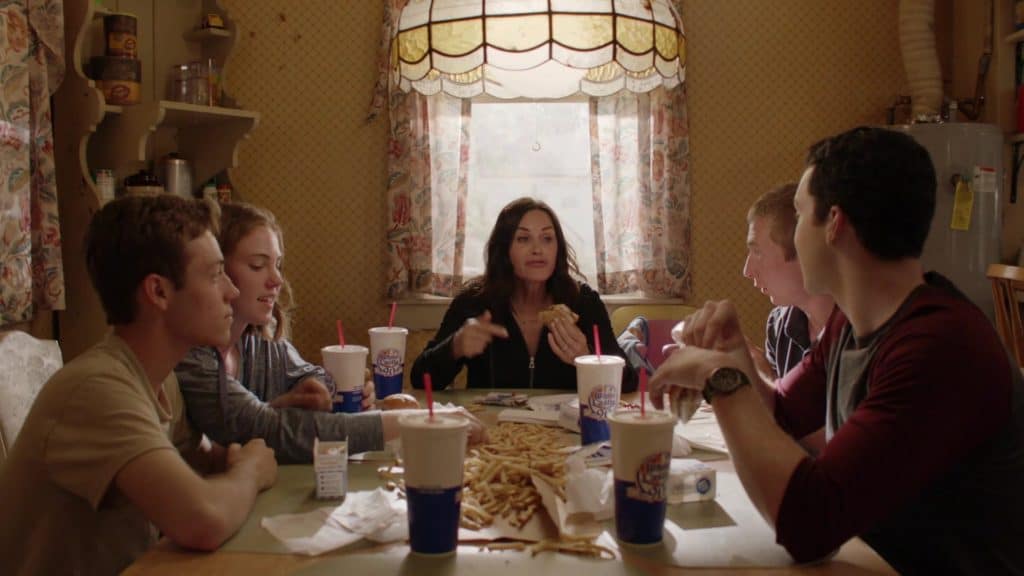 The ninth season of Shameless picks up following Ian's (Cameron Monaghan) arrest, with Fiona Gallagher (Emmy Rossum) attempting to pay Ian's bail by having the apartment complex evaluated. At the same time, Ian becomes a jail leader for LGBT inmates. With his court date approaching, Ian's supporters encouraged him to take the case to trial to further promote the Gay Jesus organization.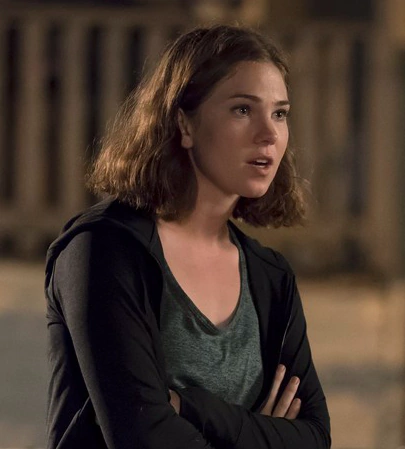 Gallagher Pleads Not Guilty
Faces a penalty of ten to thirteen years in jail, Ian Gallagher (Cameron Monaghan) decides to plead not guilty because of insanity. He is eventually sentenced to two years in prison. Ian learns that Mickey Milkovich (Noel Fisher) is his prison cellmate, and the two reunite.
Lip Gallagher (Jeremy Allen White) strives to become Xan's (Amirah Johnson) legal guardian, bribing Mercy, Xan's birth mother, to give him custody. 
Lip understands that Xan prefers to live with her mother after a poignant meeting with Mercy. He starts dating Cami's sister Tami (Kate Miner) later in the season, whom he met at Brad's (Scott Michael Campbell) wedding.
Meanwhile, Debbie Gallagher (Emma Kenney) develops feelings for Carl's (Ethan Cutkosky) new girlfriend, Kelly (Sally Carman), but she is rejected by Kelly. Frank (William H Macy) meets Dr. Ingrid Jones (Katey Sagal), a mentally ill therapist, in the emergency room. He has septuplets with Ingrid, but she left Frank for her ex-husband. Kevin Ball (Steve Howey) and Veronica Fisher (Shanola Hampton) are considering starting a family.
Fiona's and Ford's (Richard Flood) relationship is strained when she makes a deal with businessman Max Whitford (Neal Bledsoe). She invested $100,000 in a senior living facility being built in the area. Fiona realizes she owes a $25,000 expansion for the senior living facility after meeting with Max, and she cannot recoup her initial investment.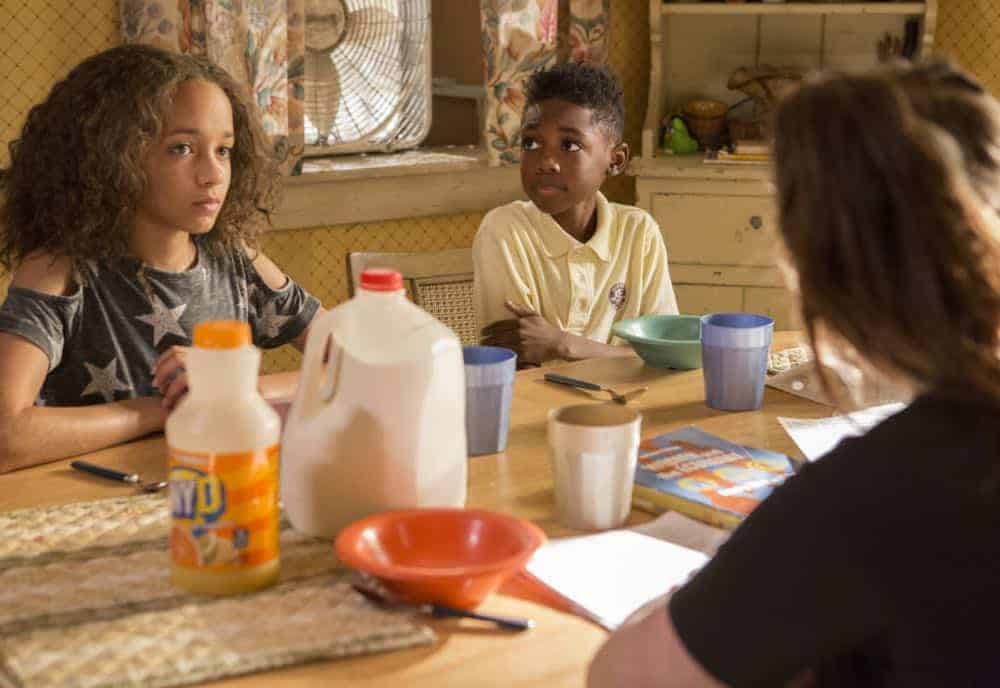 Her concerns exacerbate when she discovers Ford has a secret wife and child after following his cell phone. Fiona, drunk and enraged, terminates her relationship with Ford by crashing her car into another vehicle.
Ford's revelation makes Fiona accelerates downward spiral. She goes on a drinking binge, and Patsy's fires her due to her constant inebriation. Max (Joanna Higson) offers to buy Fiona's apartment building to keep her credit intact, but it is later demolished. Meanwhile, after being abandoned by her mother, Xan (Scarlet Spencer) returns to the Gallagher home.
When a drunk Fiona answers the door during an unexpected DCFS visit, Lip's prospects of adopting Xan are wrecked. Xan is placed in a foster family after the DCFS worker determines that the Gallagher home is unfit for her.
Jason (Patrick Davis Alarcón) reaches the milestone of 100 days sober. Fiona sips vodka in front of Jason, unaware of his sobriety, prompting him to relapse. Lip accuses Fiona of causing the event and ejects her angrily from the house.
Fiona continues attending AA meetings after the fallout with Lip. She can make amends with Lip and her old coworkers. Meanwhile, Lip learns that Tami is expecting a child and wonders if he would be a decent parent. Fiona reunites with Max for a brief moment, and he offers to buy her out of her $100,000 investment.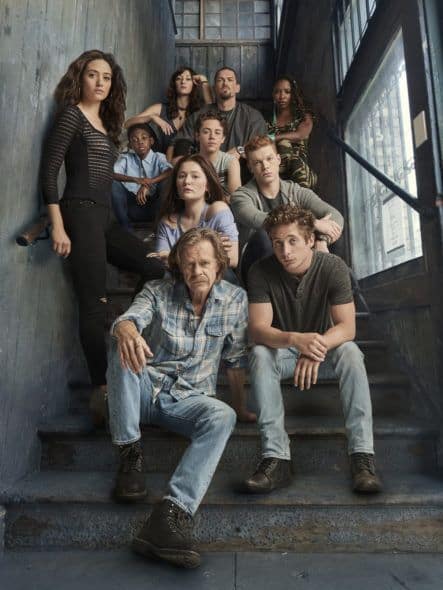 She thinks she wants a fresh start and reveals her plans to leave Chicago now that she has a chance to get her life back on track. Ian, who is in prison with her, supports her decision. She also spends some time with Frank, who thanks her for looking after the kids after Monica (Chloe Webb) leaves.
Fona's farewell party is planned by the Gallaghers, but she leaves before it begins. Debbie discovers a $50,000 envelope left on the kitchen fridge by Fiona. She boards an aircraft bound for an unknown destination, eager to restart her life.
Emmy Rossum, Twitter Post, retrieved from https://mobile.twitter.com/emmyrossum/status/1380286987127693314

Rosy Cordero, 'Shameless': Showtime Boss Says "There Was Always Hope" Emmy Rossum Would Return For Finale, retrieved from https://deadline.com/2021/08/shameless-showtime-boss-says-there-was-always-hope-emmy-rossum-would-return-finale-1234821052/