People first notice her abs when she posts pictures on her social media.
Dua Lipa is an English singer and songwriter renowned for her unique disco-pop style and mezzo-soprano vocal range.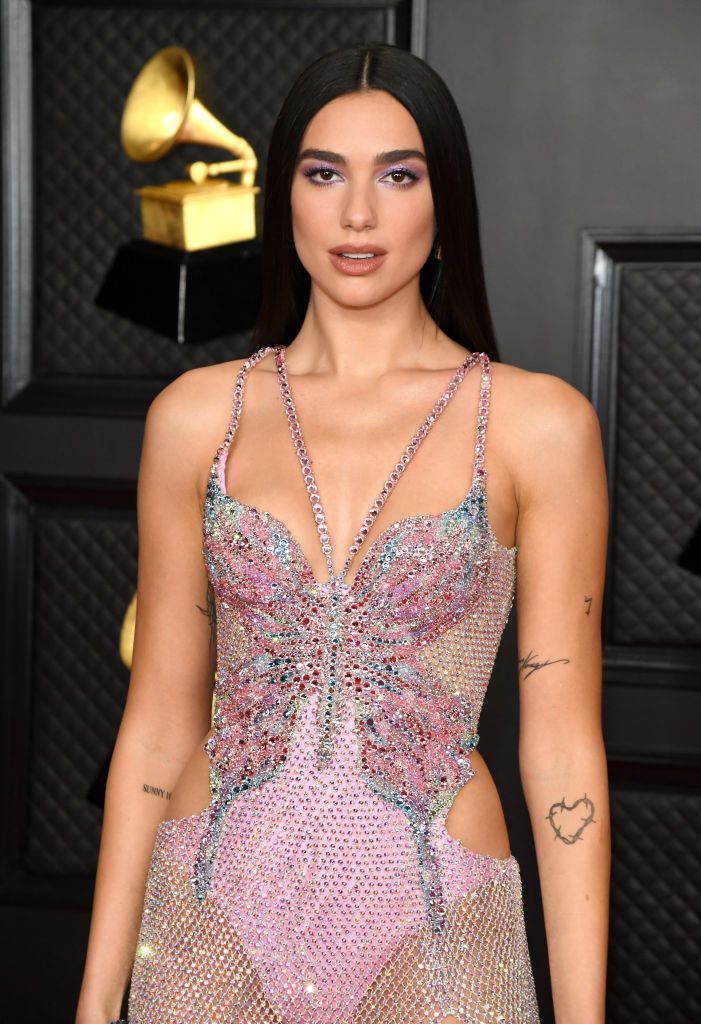 Six Brit Awards, three Grammy Awards, two MTV Europe Music Awards, an MTV Video Music Award, two Billboard Music Awards, an American Music Award, and two Guinness World Records have all been awarded to her.
Her sixth song, "New Rules," scored her first number one in the United Kingdom and the first by a female solo artist since Adele's "Hello" in 2015.
The song reached number two in Australia, number six in the United States, and number seven in Canada, making it her most successful single to date.
Aside from her music, her body is one of the things that some people want to accomplish. The singer, who is known for her curvy figure, frequently uploads images of herself flaunting her curves, and everybody is curious how she was able to achieve such a beautiful body.
Dua Lipa's Weight Loss Tricks
The main keys to Dua Lipa's successful weight loss:
She previously trained with coach Peter MacIver, or known as PMAC of the Women's Health Collective expert panel
Her exercises consist of three to four sessions, each lasting an hour
She does a combination of cardio and weight training
She does 20-minute hill sprint and 40-minute full body workout in every routine
Before every session, she warms up for 10 minutes
She also loves boxing
She eats nutritious, high-protein natural foods like banana, eggs, and cashew nuts
She drinks a lot of water, takes vitamins such as Omega 3
She doesn't eat after 6 p.m.
Related Weight-Loss Posts
The workout routine of Dua Lipa.
Dua had previously trained with coach Peter MacIver, or commonly known as PMAC of the Women's Health Collective expert panel, according to Women's Health Magazine.
Good thing PMAC isn't greedy when it comes to jotting down the details of what has worked for the singer in terms of fitness, including the routines that may be applied to your own workout program.
Dua's exercises consisted of three to four sessions, each lasting an hour and incorporating a combination of cardio and weight training. She would do 20 minutes of hill sprints and 40 minutes of full-body bodyweight workouts in every routine.
It just depends on which of the two she will do along with that 40 minutes, whether she'll use equipment like balls, bands, or bars or focus on balance and agility.
"Running up the hills in Primrose' [Primrose Hill, north London] seemed impossible for Dua but: 'We overcame it by tackling one hill at a time. So instead of saying we're running up five (which is typical with all of my clients), we'd do one at a time, and she managed it," PMAC informed the publication.
Of course, a warm-up is part of her total routine. "We'd spend 10 minutes before every session to make sure her joints and muscles were ready," he continued.
Warming up before exercise improves blood flow to muscles and elevates body temperature. This can help you perform better and reduce your chances of being injured.
Dua Lipa goes for a workout with her friends sometimes.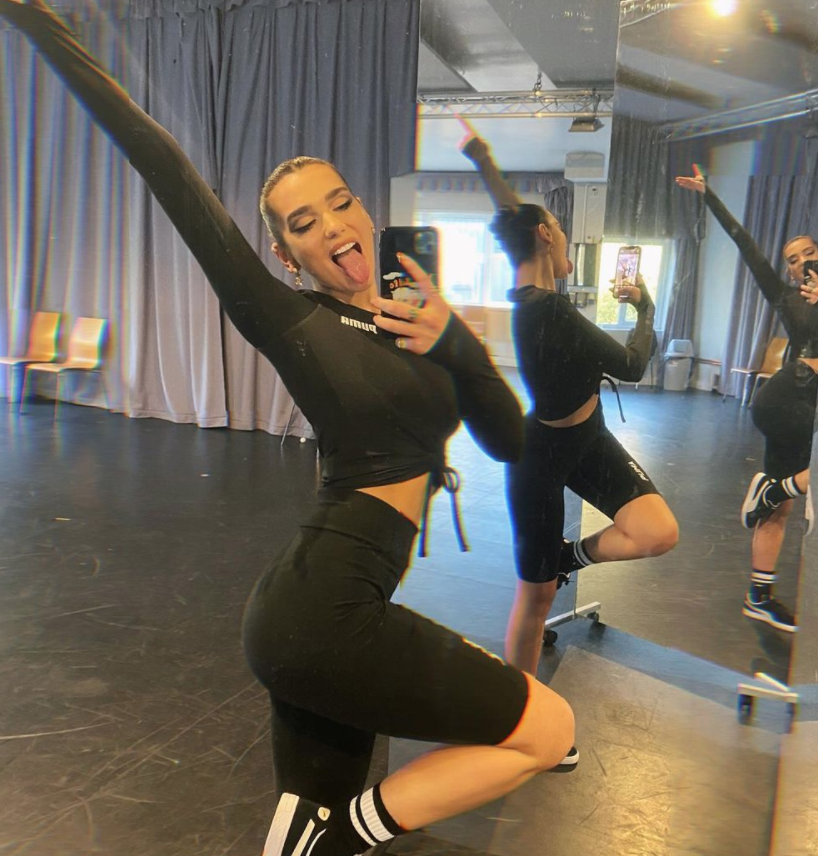 Dua exercised with her friends as well. Because the pandemic makes it difficult for us to keep in touch with our friends, video chats have made it possible. Using the Zoom app, the artist exercised with her friends.
The artist usually works out around 8:30 a.m., telling Refinery29, "Whether it's on Zoom, doing a workout with my friend Ella in L.A. who leads a kickass workout class called Sculpt With Ella, or with my best friend Bunny who comes over to train me on days when I'm feeling super lazy and need someone to get me motivated, getting physical really starts my day off right."
She also mentioned that she enjoys yoga, Pilates, and HIIT, or high-intensity interval training and that she prefers to dance for her cardio workout.
"I'm still trying to see what my boundaries are and how far I can push myself and when I need to rest," she added in a separate interview with Vogue, revealing how daily 15-minute workouts have benefited her to keep focus. "It's high-intensity interval training, but it's so quick; it's over before it's even started!"
In her leisure time, Dua Lipa exercises boxing.
In her spare time, the "IDGAF" singer does boxing sessions. "I love boxing in my spare time. I like doing it for fitness [and] I like doing it just to kinda clear my mind. I really enjoy it," she told Beauty Crew.
"I like that it's definitely a full body workout. Since starting boxing, I've probably been in the best shape ever. It's also a great stress reliever."
She likewise shared about HIIT with Marie Claire: "I try and work out as much as I can. It's such a busy lifestyle I feel like I need to try and do something for myself every day. I love doing something that's really fast and quick, like a 15-minute HIIT session which I can do before I start my day."
"I've got a really early call time. I don't want to be waking up hours before I need to to go and do a workout. So a high-intensity workout, shower, breakfast, and I'm on my way," she noted.
Dua Lipa also gets some exercise by walking her dog.
Withal, the "Levitating" singer, walks her dog Dexter first thing in the morning, and because it is still a physical exercise, it assists her in losing weight.
"I got really lucky that he and I have the same sleep schedule. If I need to catch a couple extra hours of sleep, he's right there with me, but on days when I'm up bright and early, he's ready for his morning walk," she shared.
"Our walks are the perfect way to get my mind right for the day ahead. I usually grab a bottle of Evian — gotta stay hydrated — and his leash, and we head out for a stroll around the neighborhood. While walking, I make a mental list of my intentions for the day."
Dua Lipa's fitness program is constantly changing.
Her workout routine isn't always something she maintains. Dua loves to mix things up from time to time, depending on her mood.
"When I have a tiny bit more time on my side, I love mixing up lots of different training, finding different workouts in whatever city I'm in, whether it's yoga, Pilates, boxing, or spinning," the songwriter explained to the publication.
"Whatever it is, I try to change it up every day to keep things interesting. When you're on a tour bus, every day and every place is different, so you never know what you're going to find. That's always one way to keep it interesting."
She then mentioned that she tries to mix up her workouts to keep them interesting and avoid overworking specific muscles.
For her ab exercises, she shared that she does various crunches, such as bicycle crunches and leg raises, but not when her back hurts, adding that planks are good but not her favorite.
Starting with her pre-exercise snack, Dua eats nutritious, high-protein natural foods like eggs, bananas, and cashew butter to keep herself fueled for her workouts and on-stage performances.
The singer eats a chicken salad with vegetables and a cold drink for lunch, then more veggies with fish for supper.
Dua Lipa enjoys cooking meals and, at the same time, spoiling herself with food.
Dua also enjoys cooking and does not deprive herself of her sweet tooth, as she mentioned to Refinery29: "I love cooking and being surrounded by my favorite people, though I also love ordering from the fantastic restaurants in my area."
"With all the running around I do for work, it's nice to come home, slow down, and connect with the food that nourishes my body and life."
She elaborated on her diet in the same interview with Beauty Crew, wanting to add, "I try and stay as healthy as possible whenever I can."
"I'm never one to stop myself having treats; I do love naughty treats. But I try and limit it to days when I'm not as busy because if I do eat a doughnut, it usually puts me in a food coma!"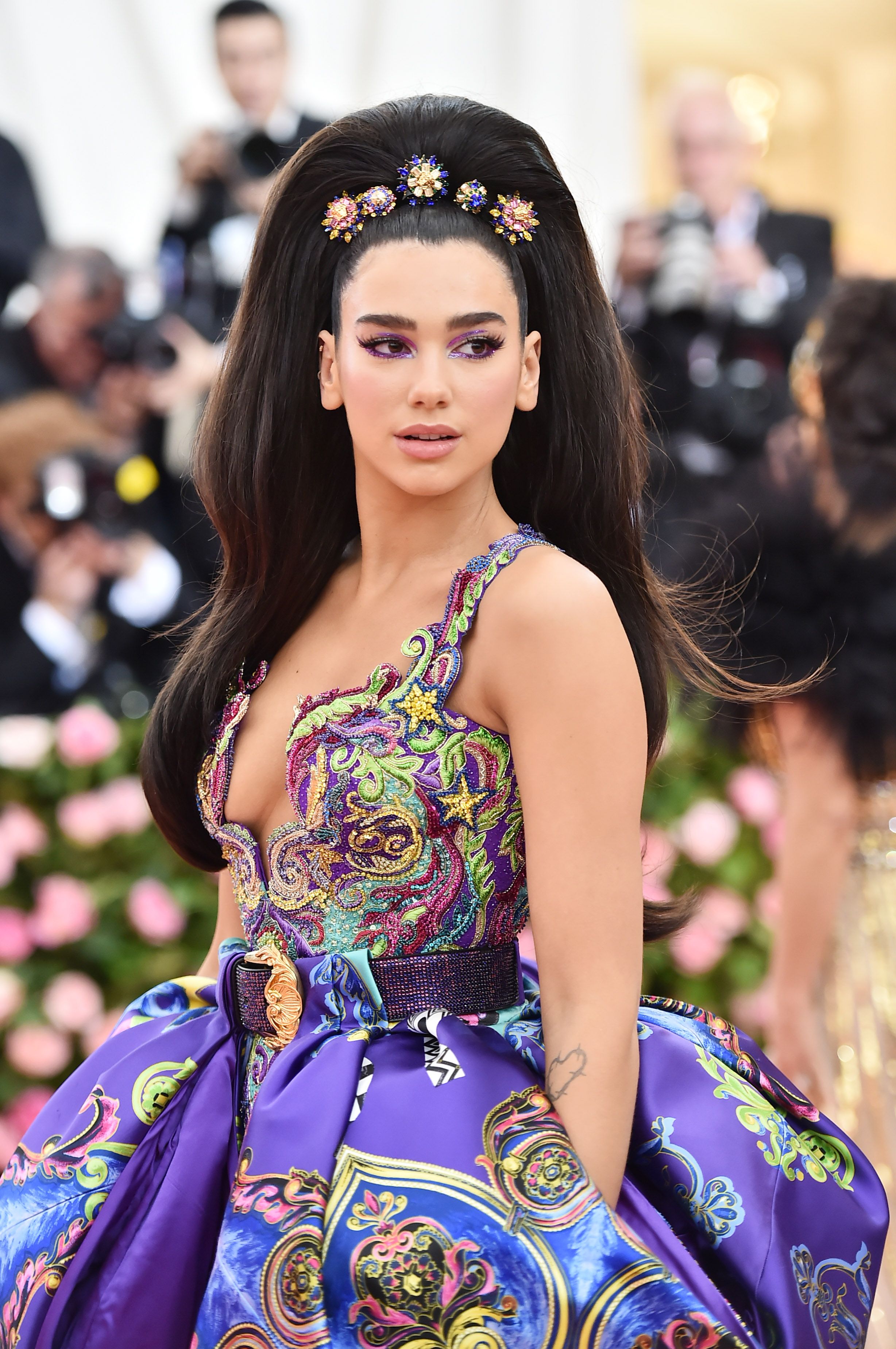 Dua has decided to divulge some secrets regarding her weight loss journey, in addition to balancing her food and workout routine, on her brand new podcast entitled "Dua Lipa: At Your Service."
"I drink a lot of water for my skin. I take vitamins, I take Omega 3," she said of her daily routine, adding that "I don't eat after 6 p.m. I fast. I feel like with my skin, it really helps."
"When I eat really late, my body does not really work through, and it takes too long to process food, and it does not prepare anything else in my body."