In Season 1, Episode 8 of P-Valley, Montavius and Autumn argued in the Paradise Room when Mercedes and Uncle Clifford entered the scene. An enormous amount of blood was oozing out from under the door after the sound of gunfire came from within the room. The fact that Autumn, Mercedes, and Uncle Clifford all survived gave the impression that Montavius had perished to the audience.
Cast of P-Valley Season 1 Finale
Brandee Evans as Mercedes Woodbine, a tough stripper, planning to leave The Pynk 
Nicco Annan as Uncle Clifford, the non-binary owner, and proprietor of The Pynk 
Shannon Thornton as Keyshawn Harris / Miss Mississippi, a dancer and a rapper abused by her boyfriend, Derrick
Elarica Johnson as Hailey Colton / Autumn Night, a new dancer who moves to Chucalissa after surviving a hurricane
Alphonse Nicholson as LaMarques / Lil Murda, rapper, wanna-be, and Uncle Clifford's love interest
Tyler Lepley as Diamond, The Pynk's bouncer 
Morocco Omari as Big L, an employee at The Pynk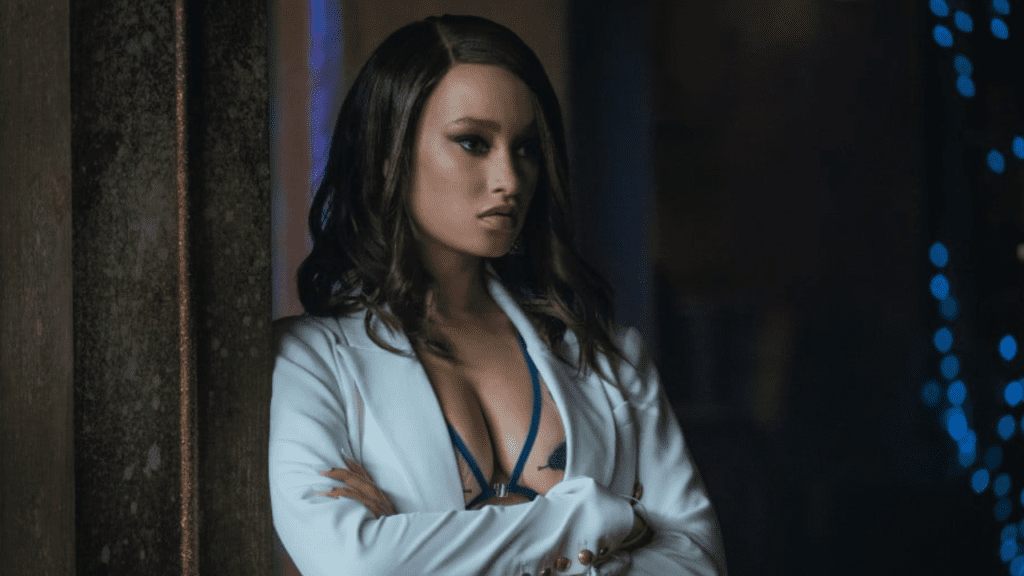 After leaving off in the last episode, the P-Valley Season 1 finale picks up with Hailey (Elarica Johnson) being forced to square off against Montavius (Cranston Johnson) in the Paradise Room. She maintains that all his money is in the bank, but he wants his $250,000 back. By making her dance for him, Montavius abuses his dominance over her.
Hailey has little choice because Montavius thwarts her attempt to flee. She tries many different methods, such as pulling off her top, in violation of Clifford's (Nicco Annan) stern "no titties or tequila" rule for the evening. Hailey is breaching the laws, but he calls Big L (Morocco Omari) and Diamond (Tyler Lepley) to the room, but they are both preoccupied with something else.
Mercedes (Brandee Evans)is courted by Coach (Sherman Augustus), who offers to take her from "the pole to the palace," in exchange for which she can receive the final $10,000 she requires for her gym. However, Mane's (Thomas Jones) friend Kelvin, who generally wears his home arrest bracelet when he wants to leave, interrupts their meeting.
He places a man's hand on Mercedes' shoulder and delivers her a missing poster with a picture of Hailey on it. Mercedes determines that he is the person who led Hailey to the Paradise Room after recognizing the ring on his finger. Mercedes rushes out the door and looks for Clifford or any male employees when she realizes Hailey is in peril.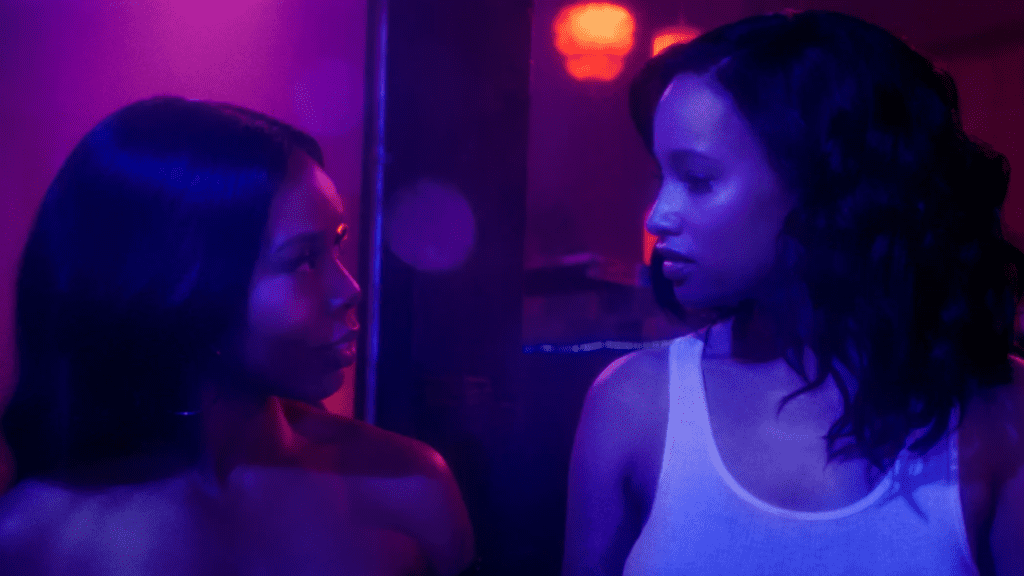 After failing to locate anything, Hailey manages to enter the space. It doesn't take long for the trio of Mercedes, Hailey, and Montavius to degenerate into violence. Mercedes claims to provide complimentary bottle service and another "pair of titties" while grabbing a bottle of champagne.
Mercedes attempts to attack Montavius while breaking a champagne bottle. He turns the tables on her and holds the glass to her neck while placing her in a chokehold. If Hailey does not assist him in recovering his money, he threatens to kill her.
Hailey hurried to collect the bag of cash, changed into her clothes, and dashed out the door to her car. Her first thought was to save herself by bolting away. But in the end, she comes back to help Mercedes.
Even though Montavius had assured Mercedes that she wouldn't, she did return, which is a testament to her growth as a person. It demonstrates that he does not know her as well as he believes. Although Autumn, Hailey's daughter, was not Montavius, he did help raise her from a young age and doesn't appear to care that she passed away.
Together, Mercedes and Hailey assault Montavius. Finally, Clifford notices the carnage on the security tape, snatches one of the weapons taken from new customers, and rushes to the Paradise Room. Three gunshots are fired inside, alerting Diamond, and once Clifford is there, chaos reigns among all parties involved. When he enters quickly to assist, he discovers a puddle of blood dripping from the floor beneath the door.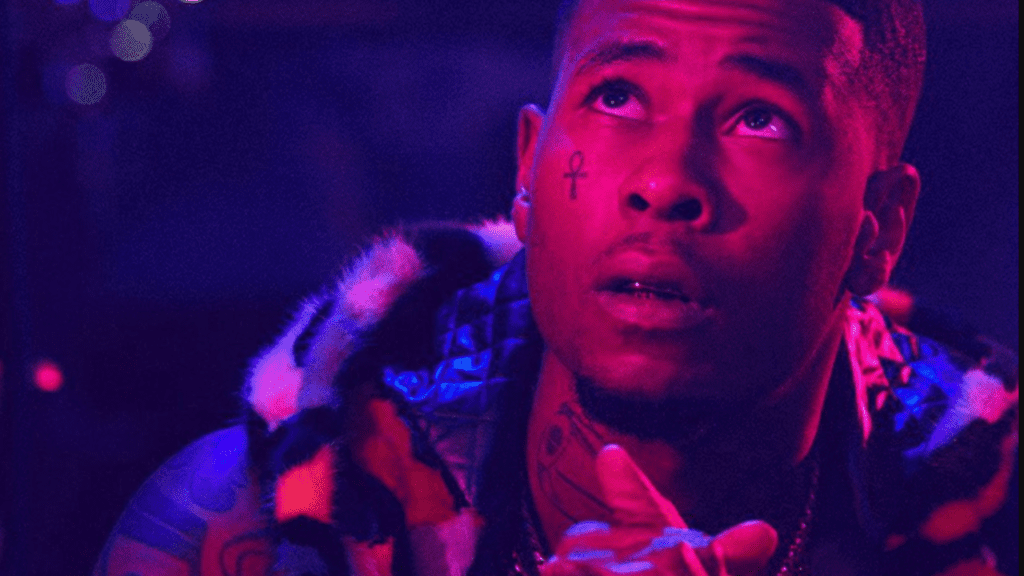 Roman Caffey (Katori Hall) , a visiting record executive, and Woddy (Bertram Williams Jr.) attend the club to see Murda (J. Alphonse Nicholson) and Keyshawn play. Although he is impressed by both, it soon becomes clear that Keyshawn's (Shannon Thornton) recruitment is his true objective. As they enter a VIP area to conduct business, Roman begins gushing to the pair about how lucrative 360 deals may help them break into the entertainment industry. He even believes he might be able to secure Keyshawn an agreement with Nike.
But to achieve it, he must be confident that Murda is real. Roman is unimpressed by Murda's decision to spend most of his money on Versace and ostentatious bespoke Grillz jewelry rather than his songs. He makes it clear to Murda how important it is for him to be genuine since people are drawn to what is genuine.
Given that we are aware of the fake nature of their connection, Keyshawn and Murda exchange suspicious looks. Clifford stops the discussion and puts a loving hand on Murda's shoulder while offering the group some alcohol. She is coldly dismissed by the rapper.
As Clifford withdraws and Murda effortlessly enters the protective cocoon of toxic masculinity, Roman wastes no time in making some mocking, homophobic remarks. Murda is informed by the club's owner when she returns to Clifford's office that she ought to have trusted the first face he gave her. She has grown to know and appreciate the LaMarques far more than his "Murda" persona.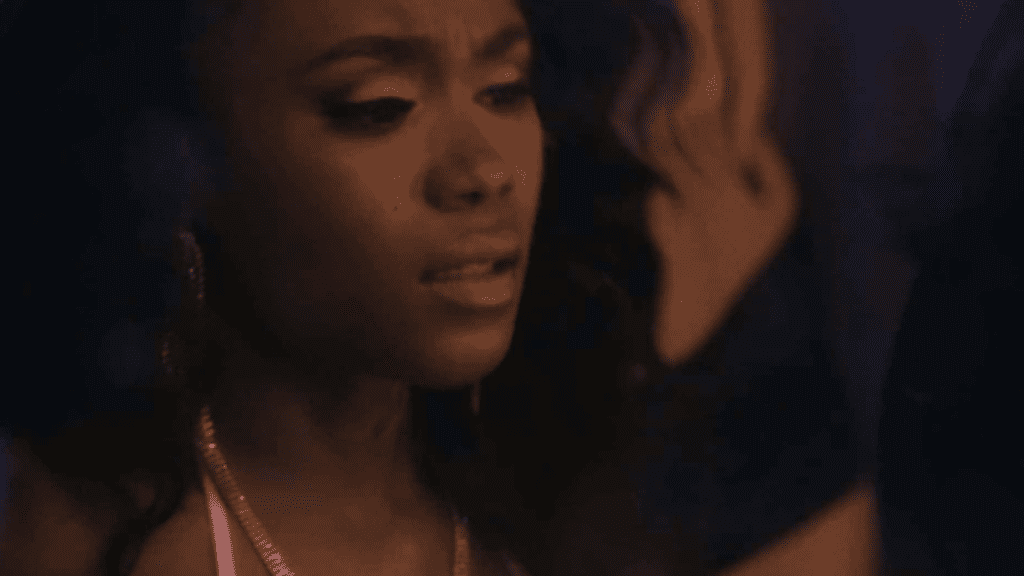 Derrick is not pleased that Keyshawn is disregarding him. She exits the meeting to locate him, knowing he'll just become angrier, and he throws her into a wall when she does. Even the fact that they are because of others doesn't seem to bother Derrick.
He commands her to accompany him home and threatens to make matters much worse if she refuses. She might suffer consequences if she does, though. Hailey tried to locate the gun she kept in her locker while looking for her money.
The rifle she had previously demonstrated to Keyshawn. It wasn't there. Keyshawn used it that night to defend herself against Derrick. When Derrick is finished in the bathroom, he tells Keyshawn to wait by the car. Diamond, though, saw the entire conversation. He confronts Derrick in the restroom, and the two fight aggressively before it overflows into the main space.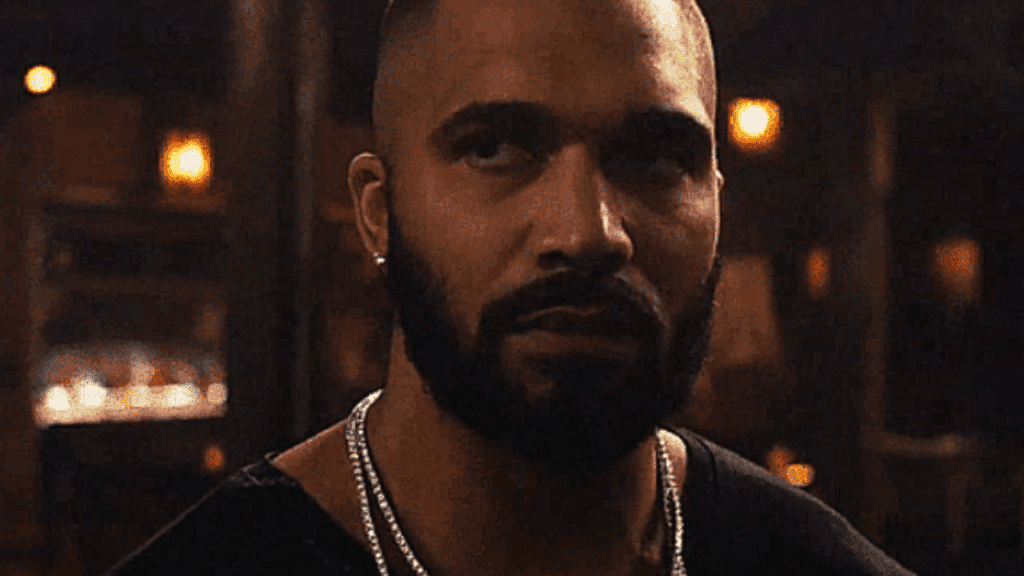 Everyone flees from The Pynk when a gun engaged in the altercation fires repeatedly. Keyshawn goes inside pleading with Derrick to stop fighting when Gidget runs into the parking lot to inform him that Diamond and Derrick are fighting. But as Derrick prepares to shoot the bouncer, Diamond gains the upper hand and pushes him into the stage.
Keyshawn, realizing she has no choice but to shoot Diamond, begs him to stop. Although it's a complex scene to witness, it's realistic in the manner that many mistreated women will stand up for their abusers. In this situation, her instinct is to defend her children's father.
When everyone is dressed in black burial robes the following day, it is not clear who has passed away. It was then made known that The Pynk's funeral was taking place. Mayor Ruffin (Isaiah Washington), Andre (Parker Sawyers), and his wife Brittany were there as the auction started. Andre eagerly started bidding on The Pynk.
They all assumed everything would go off without a hitch. But then Hailey enters, making herself look like the savior with a stylish all-white outfit. She outbids Andre for the club by bidding all $250,000 of Montavius' cash on The Pynk.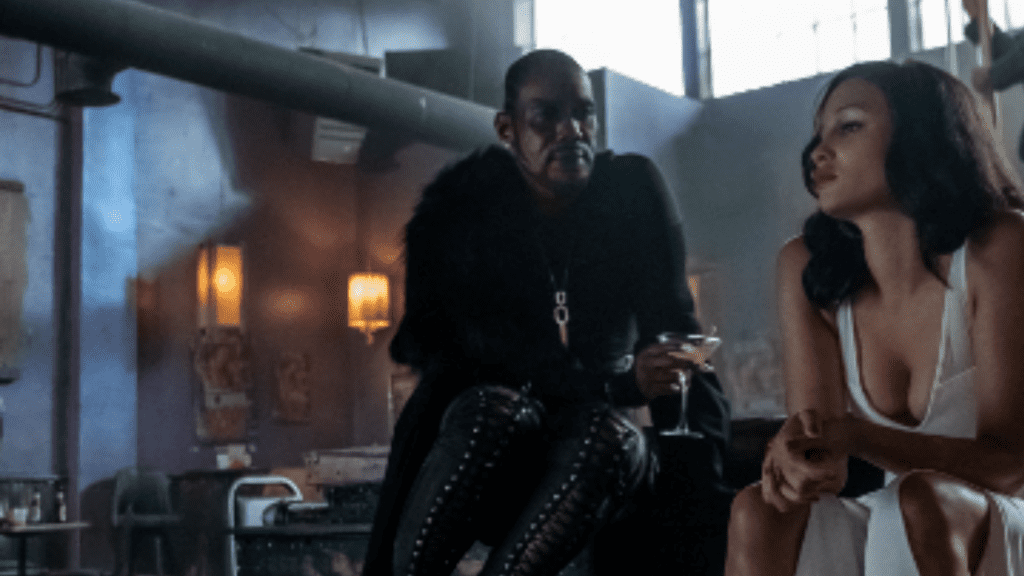 Ruffin is enraged with Andre because the casino project for the Promised Land is now probably going to fall through. I wonder whether Brittany observed how Andre and Hailey looked at each other with seemingly conflicted emotions.
Mercedes turns to her mother, Patrice, for consolation. Everyone is affected by trauma differently, but if we had to guess,  Mercedes was the one who actually shot Montavius. Patrice, who is meant to adore her more than anyone else, is rejected. When Patrice confronts Mercedes with her statements, she remains as unpleasant as ever.
She does return to her actual family at The Pynk in the closing minutes. She asks Clifford whether "it" has been handled in total, and he assures her that it has. I'm not sure what "it" is. My best assumption is that it concerns Montavius and his improbable demise.
The last statement of the season is then made by Hailey, who is now Clifford's partner. "The Pynk is open for business now."
American drama TV series 
created by Katori Hall
an adaptation of Hall's play Pussy Valley
focuses on some individuals who work at a strip club in the Mississippi Delta
premiered on Starz on July 12, 2020
got positive reviews and nominations for the NAACP Image Awards, TCA Awards, Independent Spirit Awards, and GLAAD Media Awards