In Season 2 of Below Deck Sailing Yacht, the crew must stay on the yacht between charters due to new safety standards, sparking turmoil and crew hookups.
To give their demanding customers the sailing experience of a lifetime, Below Deck Sailing Yacht is back for another charter season onboard Parsifal III with returning Captain Glenn Shephard from Season 1 in charge of a brand-new crew.
Cast of Below Deck Sailing Yacht Season 2
Glenn Shephard – Captain
Colin Macrae – Chief Engineer
Gary King – First Officer
Natasha De Bourg – Chef
Daisy Kelliher – Chief Stewardess
Dani Soares – 2nd Stewardess
Alli Dore – 3rd Stewardess
Sydney Zaruba – Deckhand
Jean-Luc Cerza Lanaux – Deckhand
Episode 1 - Running On Fumes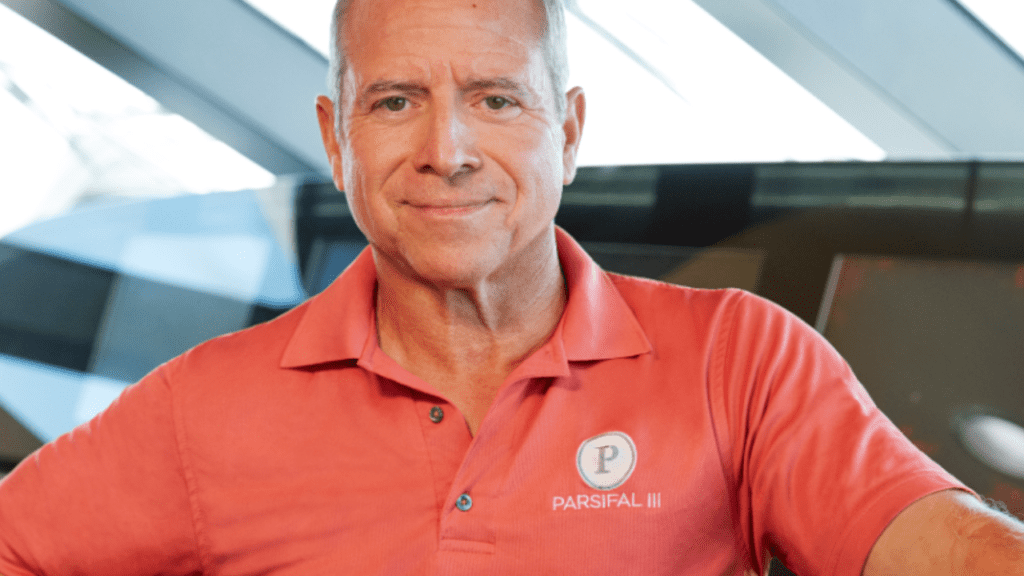 Parsifal and Captain Glenn Shephard have returned. They are in Croatia this time and prepared to board a brand-new crew for a crazy season filled with outrageous pranks. Gary King, the First Mate, who has extensive experience and controls his division with an iron fist, is in charge of the deck crew. 
The deck staff messes up when they accidentally wash the teak with gasoline. Chief Engineer, Colin Macrae, swoops in to save the day. The primary guest's strict vegan requirements challenge chef Natasha De Bourg, who has experience working at numerous Michelin-Star establishments. 
When the passengers get into a drunken altercation, the season's first charter takes a serious turn for the worse. The visitors' eagerness to set sail the following morning causes Daisy and Natasha to disagree about providing breakfast on the heel. 
Episode 2 - Nookie Mistake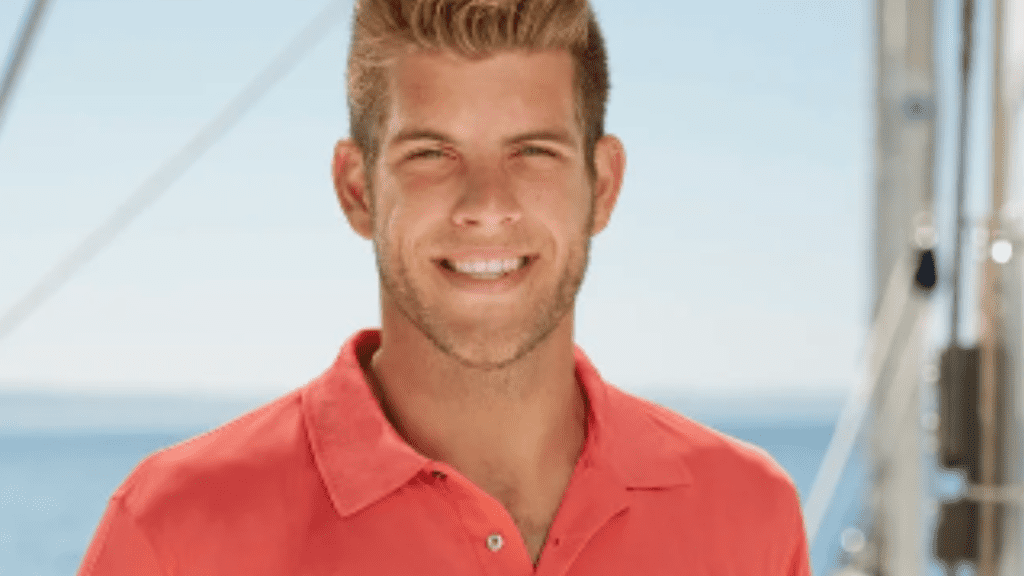 After losing two guests, deckhand Jean-Luc Cerza Lanaux tries to bounce back, but his inability to sleep in his cramped berth affects his work and attitude. When everything is said and done, the crew has put together a wild 80s rock party that offers the visitors plenty to mullet over. It doesn't make sense that Chef Natasha De Bourg and Chief Stew Daisy Kelliher would argue over pita bread. 
The principal charter guest, Nikki's father, blesses the group with good winds as Captain Glenn pushes the boat vigorously during a boisterous sail. During the crew's first night off, they completely lose control. First, Mate Gary King takes a reckless decision that could seriously affect the deck team.
Episode 3 - Smoldering Secrets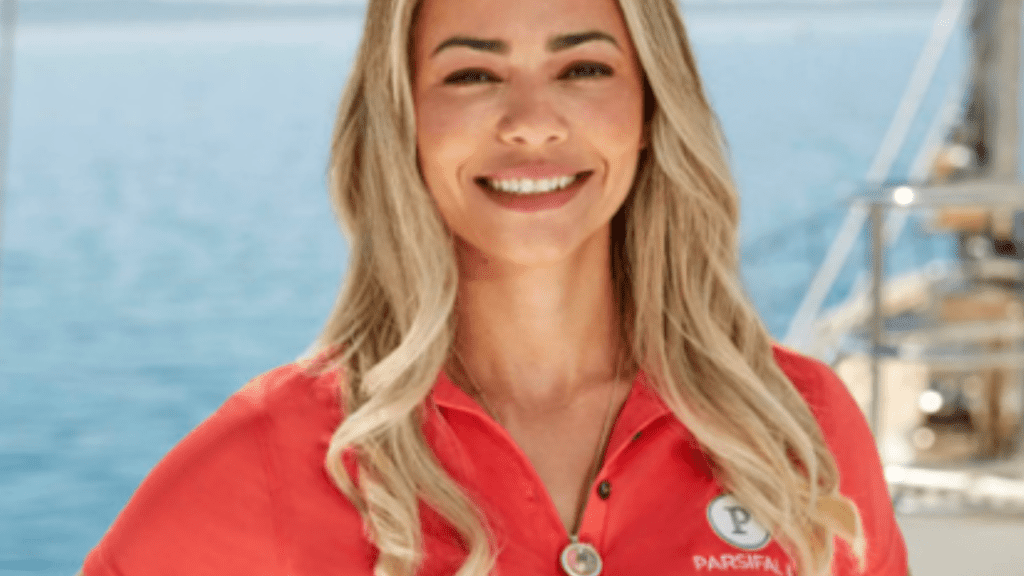 The cast of Parsifal struggles to remember what they did the night before while feeling groggy. Dani Soares investigates while Gary and Sydney Zaruba minimize their relationship. When Daisy learns that the deck team has been utilizing previously cleaned guest areas, her annoyance with them increases. 
Charter 2 is without its Primaries due to a family emergency, but four demanding visitors prove to be just as tricky. Gary almost loses it because of a sail problem. Still, his growing annoyance with Jean-Luc pushes him over the edge even further, leading to a bed switch request. The staff is concerned for the future of their season when a visitor awakens with a fever.
Episode 4 - Barrie'd Alive
The Parsifal group is anxiously awaiting the outcome of a crucial test. However, after darkness falls, they take advantage of their unplanned time off by playing a sinister round of Truth or Dare. Sydney intervenes when she observes Alli Dore and Gary's flirtations becoming more intense. Yet she wasn't expecting the outcomes.
As the third charter of the season begins, a fussy, modern family pushes the team into meltdown. As Daisy and the stews scramble to fulfill a barrage of nonstop drink orders and the deck staff hesitates to offer respite, tensions between the interior and exterior simmer. With a dinner service that makes everyone uneasy, Natasha loses her cool.
Episode 5 - Hollandaze and Bustiers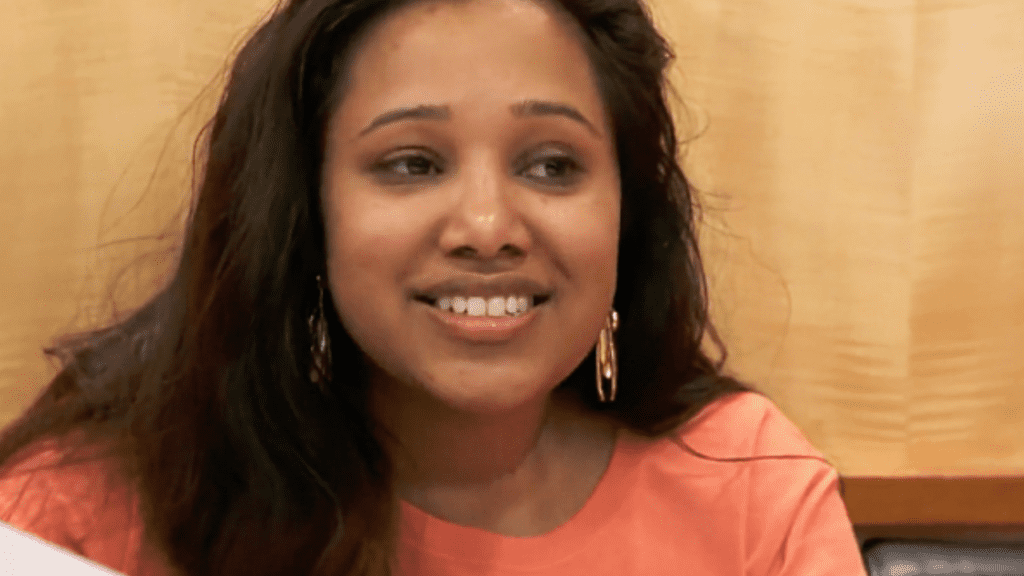 Primary Barrie gives Natasha crap at every meal, but she never loses her motivation to keep the galley running. With Sydney following closely behind, Gary cannot spend alone time with Alli. The tender breaks, leaving nine guests stranded on the beach, ruining a beach lunch. 
The department heads almost fight over a hollandaise sauce disaster as Natasha and Daisy disagree on how to serve the visitors. Dani is exploring Jean-Luc as a potential romantic partner after several heart-to-heart conversations. The deck team reluctantly wigs out and performs a drag act that gets the guests going.
Episode 6 - Throuple Trouble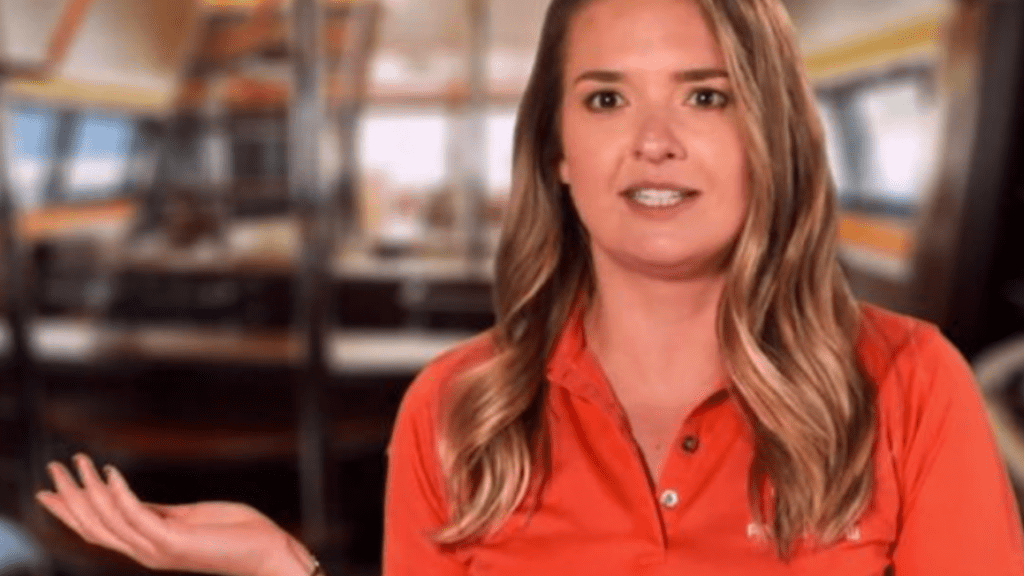 Daisy is still in conflict with Gary and Natasha and feels abandoned by everyone. When Parsifal enters the charming port of Hvar, Captain Glenn and the deck crew must act rapidly to complete a tricky docking. Daisy jumps through hoops to organize an expensive proposal for Barrie and Scott. The chemistry between Dani and Jean-Luc is still growing. 
Plates fly during a lunch service under sail, but Natasha perseveres and eventually receives praise from the particular primary, Barrie. Everyone becomes defensive after a contentious tip meeting. And Gary, Alli, and Sydney go overboard during a wild, late-night skinny-dipping session.
Episode 7 - The Scorning After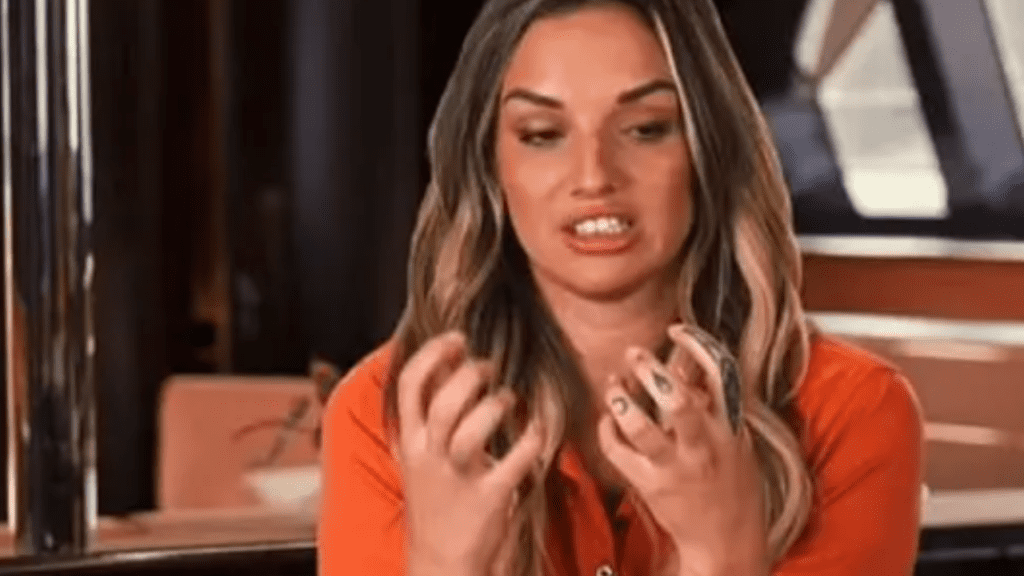 Sydney fully commits to Gary during a late-night skinny-dipping incident. The fallout spirals out of control as Alli reaches her breaking point, and emotions run high on a morning packed with hangovers. Thanks to a raucous group of returning guests, trouble is brewing for the staff. 
Sydney finds that Jean-job Luc's is faltering due to Dani and Jean-Luc becoming increasingly intimate during the late-night shift. Natasha faces off against her biggest enemy: eggs. The chef, however, loses his cool when Daisy offers Natasha some constructive criticism.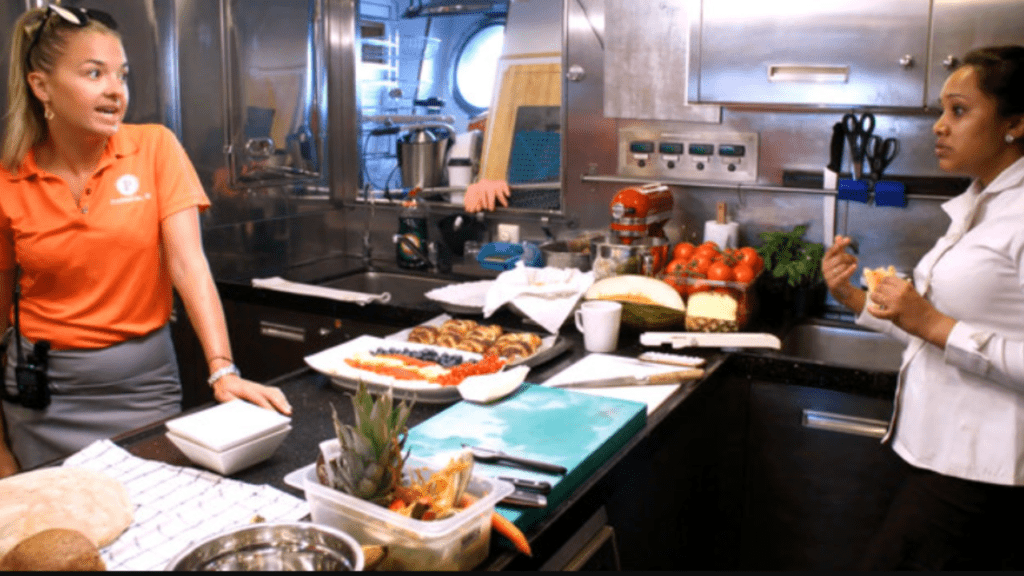 Daisy's constructive critique has Natasha fuming, so she whips up a dessert that steals the show and leaves Daisy dumbfounded. Gary and Colin serve as the clients' blackjack dealers. But until JL abandons Colin, everything is amusing. 
Sydney becomes irritated as Gary pursues Alli relentlessly. But when a cloud of smoke breaks gone awry, resulting in the horrific death of a cake, the group breaks apart.
Episode 9- Panic On a Track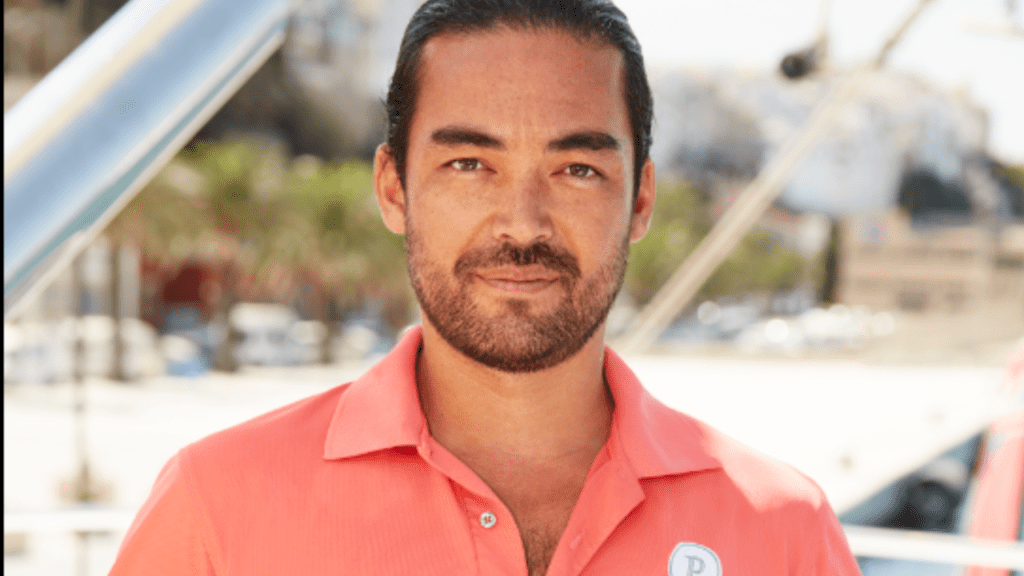 After a contentious night out, the team tries to get over their disagreements and hangovers. When Parsifal is pushed toward the dock by a gust of wind, the deckies react quickly. While sailing, Dani muses over the future and experiences a panic episode. Colin gets devastating news from home in the meanwhile. 
In more ways than one, Alli senses the pressure to air Sydney's dirty laundry. The group scales a staggering number of stairs to host a picturesque cocktail hour atop an old Croatian tower. However, not even an urgent request from Gary can sway Jean-Luc from his dinner when the crowd becomes too hot.
Episode 10 - Knotty Knotty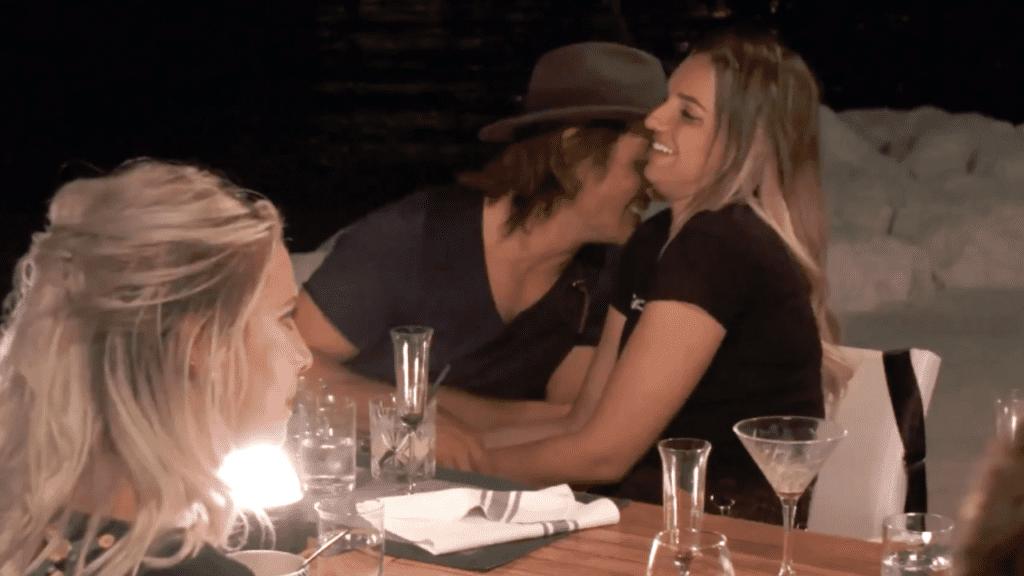 Glenn is perplexed by how the inside pulls off a murder mystery supper for the visitors. The guests' departure could be delayed, and Jean-Luc could become separated from his hands due to an anchor tangle. The group has a lovely evening out, but Sydney's enjoyment is marred by Gary and Alli making out at the table. 
Back on board, Gary and Jean-Luc fight over who should do the deck work as Dani and Alli take matters into their own hands-and each other's. The evening finishes with Alli and Sydney fighting despite an unexpected love interest.
Episode 11 - Crash Boom Bang!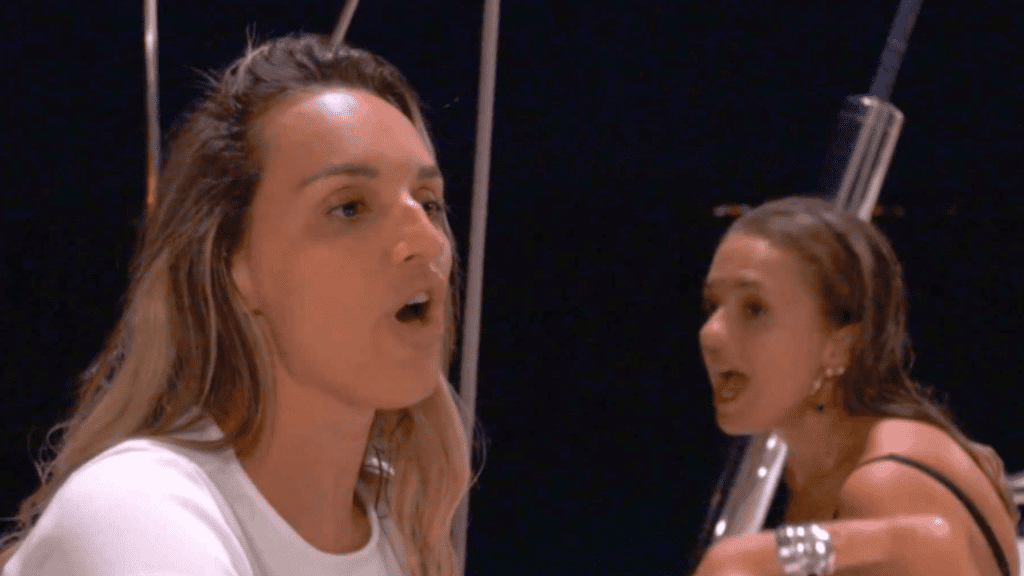 The team is happy to have a much-needed day off together, but things become tense when the couples' PDA is on full display. Sydney throws bombs into the lovers vs. non-lovers argument, reigniting Daisy and Gary's internal versus external conflict. 
Parsifal is at the dock when strong winds blow him into the port. Gary significantly contributes to Glenn's efforts and the deck staff to save the boat. The crew strikes the dock again just as they begin to feel in control of the situation.
Episode 12 - Total Ship Show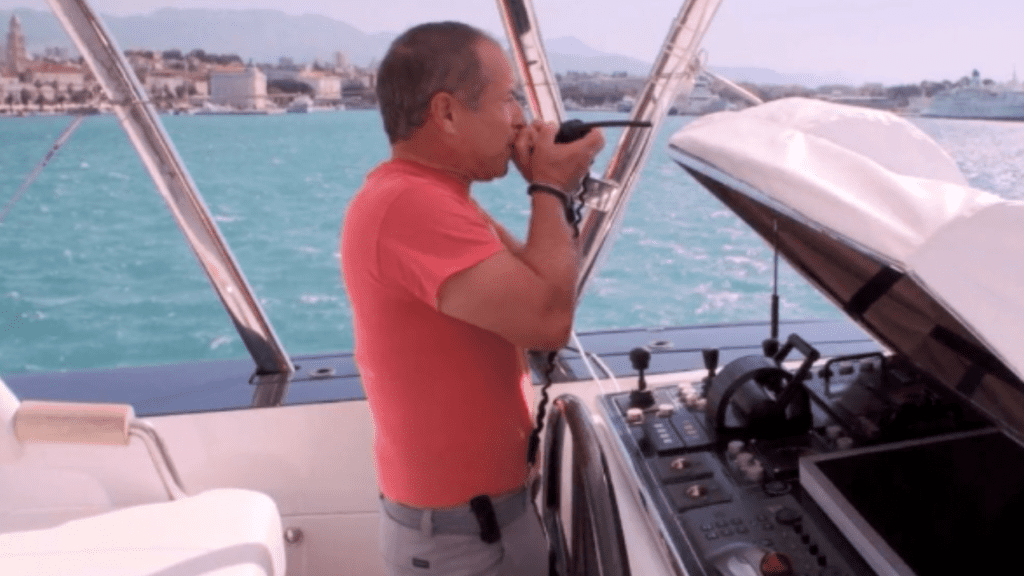 Glenn is still in shock from the boat crash's aftermath. After surveying the damage, the crew makes every effort to get the boat and their attitude charter-ready. However, a demanding set of female visitors further deepens the crew's downward spiral. 
A thunderstorm threatens the guests' first supper. Natasha only makes things worse when she chooses on the spur of the moment to omit courses from the menu, leaving the diners clamoring for more. Things start to become out of control when Jean-Luc admits to Dani that he might have given her an STD.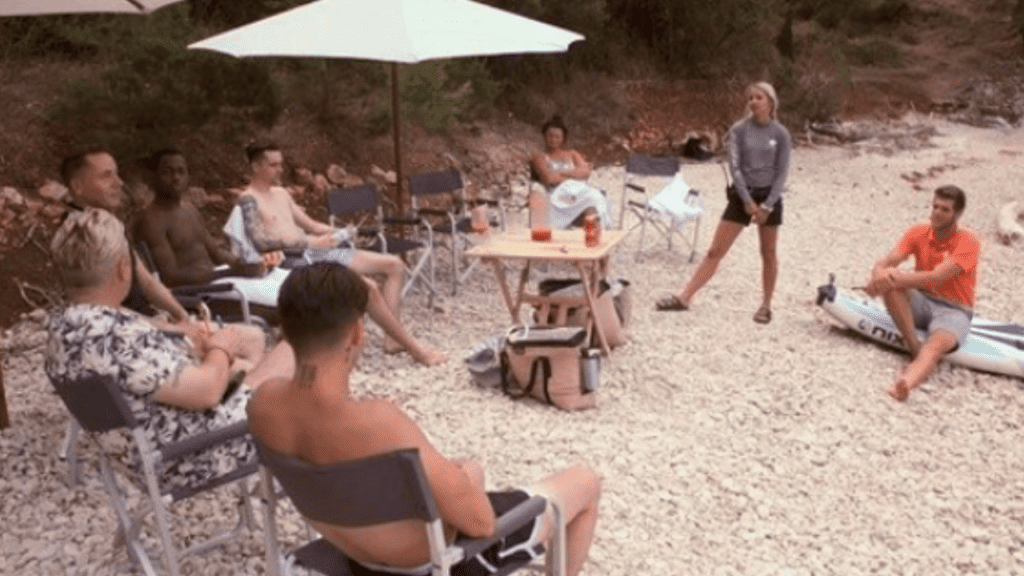 As the guests struggle over lunch, the catfight continues. Daisy prepares a supper with a mermaid theme later that evening, and Jean-Luc dresses in sparkly leggings and feeds himself as dessert. Gary is shocked by the difficult choice Alli makes. 
Colin agrees to play the music while Sydney is entrusted with creating a song about women's empowerment. Things become unpleasant when the main overhears 
Alli moaning about her mother and tells Glenn about the transgression. The rosé runs out at a dangerous beach picnic, and Glenn becomes angry as the Parsifal team starts to fall apart.
Episode 14 - No Shirt, No Clue, Big Problems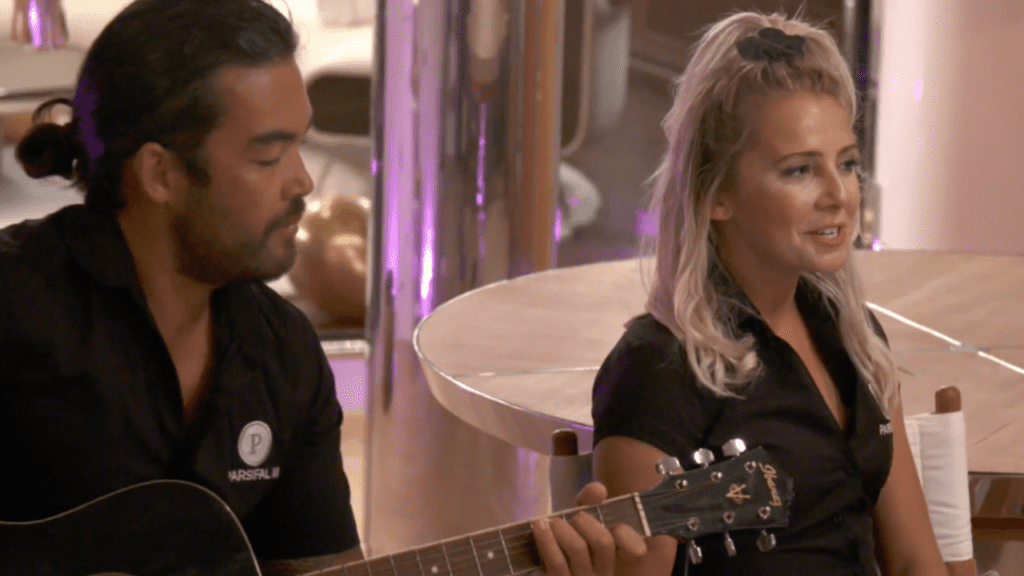 Captain Glenn maintains a steadfast watch over his crew because he is tired of them making trivial errors. When the women present can't stop criticizing one another, a Women's Empowerment Dinner takes an odd turn. The atmosphere is immediately lifted when Sydney and Colin give the audience a performance of an original song. 
An evening sail catches Natasha off guard, and she never quite catches up. Dani and JL take their relationship seriously, but there are still some unanswered questions. After trying and failing to get Alli back, Gary decides to try again and make even worse choices.
Episode 15 - Sexual Heeling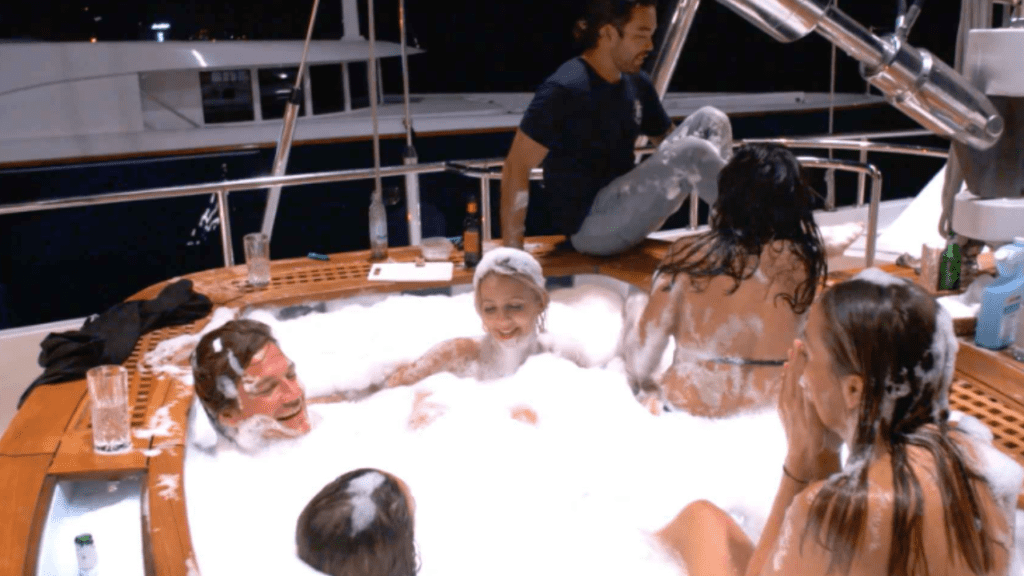 Daisy tries to mediate a yelling conflict that results from an embarrassing jacuzzi party, but she is unsuccessful. Colin organizes a much-needed meeting with the department heads that leaves everyone inspired. However, the final charter is in peril if the test is positive. 
Dani and Jean-relationship Luc's take a big step forward after Jean-Luc arranges an extravagantly romantic evening for her. And the Parsifal crew goes into meltdown when Captain Glenn says that an unusual, last-minute charter is coming aboard.
Episode 16 - Last Call for Parsifal!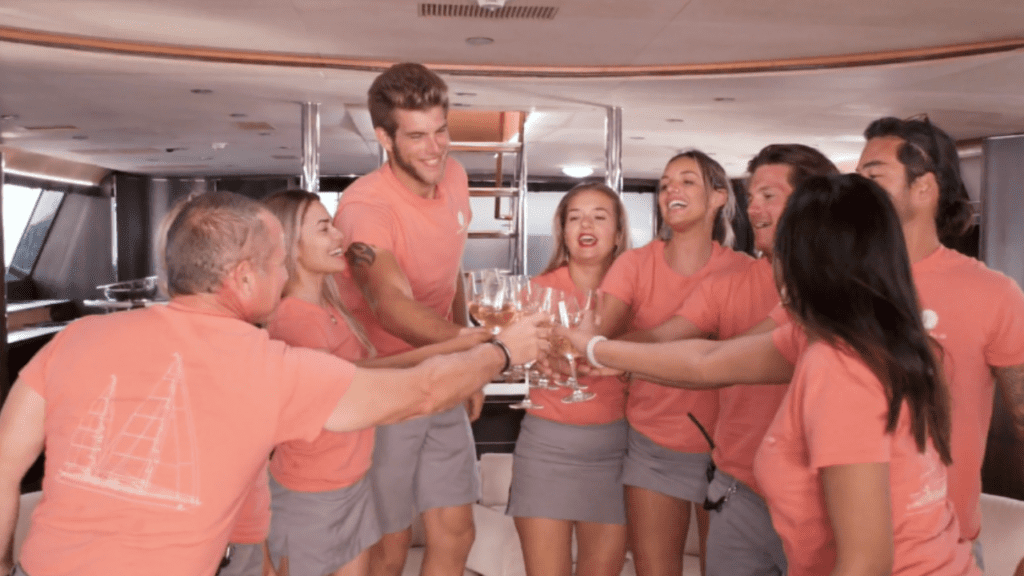 The Parsifal crew is concerned about being evaluated by their fellow crew members when a charter party of super-yachts arrives. The Parsifal crew, however, considers going down as the guests get tipsy, and Captain Glenn keeps a watchful eye on his party-loving crew. The last night after the charter is spent at a charming castle when Daisy discloses a secret that causes fireworks to go off in all directions. 
Back on board, Gary transforms the hot tub into a wet and wild bubble party, and the crew forgoes fighting for fun. Most of the crew bids farewell, but Natasha, Gary, Alli, and Sydney remain on board to assist Glenn in making an ocean voyage. Even after the season is done, the drama continues.
Below Deck Sailing Yacht Season 2 Quick Facts
an American reality TV series 
developed as the first spin-off of Below Deck
aired on Bravo TVlast sea from March 1, 2021, to June 28, 2021
executive producers are Mark Cronin, Jill M. Christian Sarabia, Goslicky, and Dan Volpe
under the production of 51 Minds Entertainment
consists of 18 episodes