The Chastain ER goes into a tailspin after being attacked by cyberterrorists, and Kit is trying to decide whether to pay the ransom. The Raptor manipulates the patients brought into the ER during the attack in a unique way, rendering them all helpless. Conrad works on adjusting to life as a new father as Devon and Leela joke about while moving their romance forward.
Cast of The Resident Season 5
Dr. Conrad Hawkins portrayed by

Matt Czuchry

Dr. Randall Bell portrayed by Bruce Greenwood

Dr. Devon Pravesh portrayed by Manish Dayal

Dr. Kit Voss portrayed by Jane Leeves

Dr. Leela Devi portrayed by Anuja Joshi

Gigi Hawkins portrayed by Remington Blaire Evans

Barrett Cain

portrayed by Morris Chestnut

Nicolette 'Nic' Nevin portrayed by Emily VanCamp

Marion Clark portrayed by by Ana Mackenzie
Marion Clark (Ana Mackenzie) informs Conrad Hawkins (Matt Czuchry) that they just got Gigi Hawkins (Remington Blaire Evans) situated and would prefer he didn't disturb her again. Dr. Leela Devi (Anuja Joshi) is visibly upset when Dr. Devon Pravesh (Manish Dayal) notices her and leads her into a seclusion room.
Dr. Randall Bell (Bruce Greenwood) assists Dr. Kit Voss (Jane Leeves) while she manages the hydrogen sulfide situation by thinking about a potential Barrett Cain (Morris Chestnut) replacement all day. Conrad receives a visit from two police officers in advance of Nicolette 'Nic' Nevin's (Emily VanCamp) return from a spa weekend, telling him that Nic was involved in a car accident on the way home.
Episode 3 - The Long and Winding Road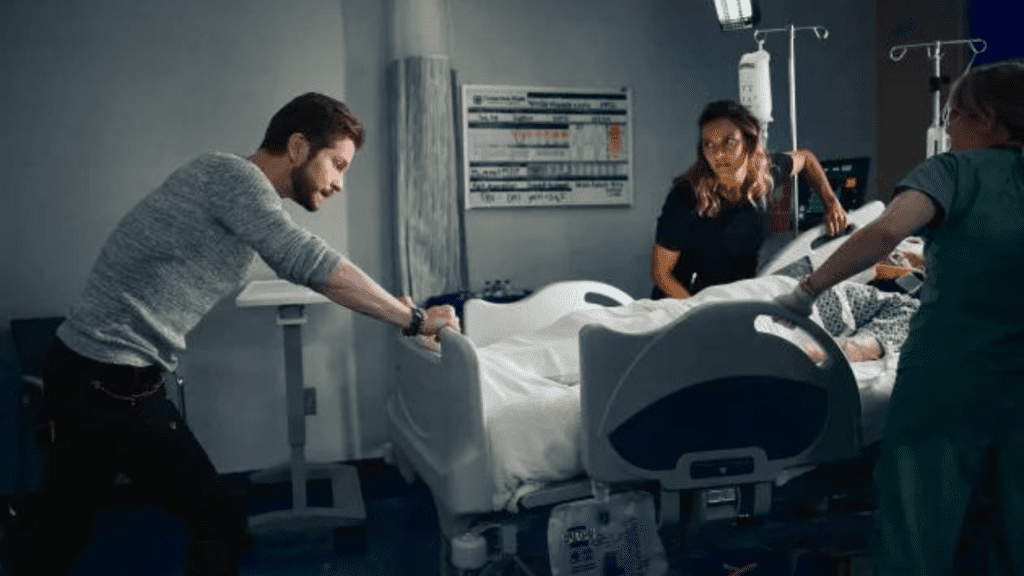 Nic's health keeps worsening while the distraught staff tries to help her, and Conrad is left in denial about how awful it is. With the assistance of Nurse Ellen Hundley (Denitra Isler) and Jessica Moore (Jessica Miesel), Devon is forced to proclaim Nic brain dead after her brain herniates, and a troubled Kyle Nevin (Corbin Bernsen) accuses Conrad of failing to save his daughter.
Officer Winnaker (Jason Dauglas) stops AJ while AJ is with Trevor Daniels (Miles Fowler), which causes Trevor Daniels and the officer to argue about the officer's racial actions. During the argument, Winnaker gets hit by a motor scooter and suffers serious injuries.
Episode 5 - The Thinnest Veil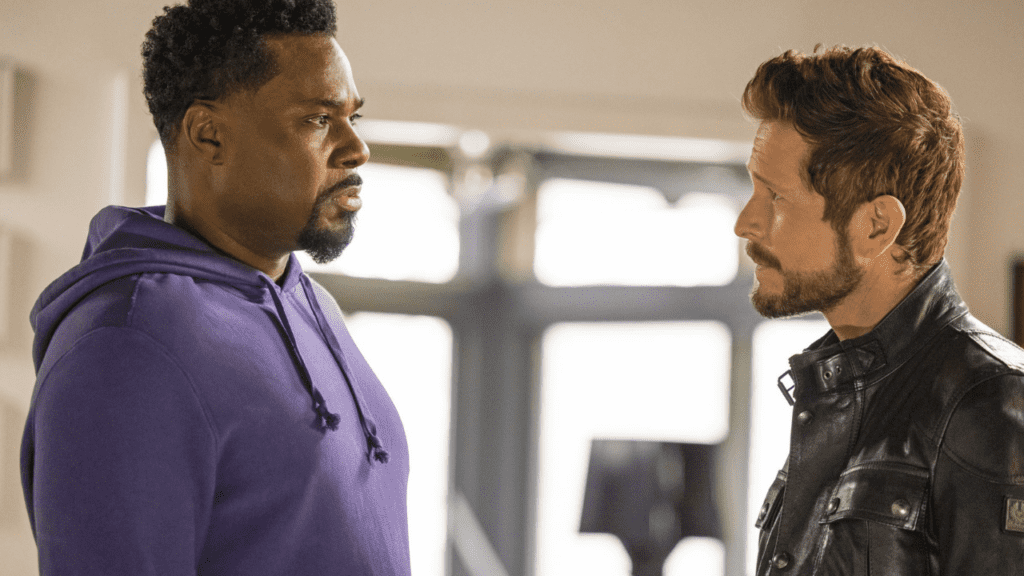 They are all successfully treated after Conrad and AJ discover that Holly (Erin Ownby), one of the younger coven members, accidentally poisoned everyone with foxglove. Conrad speaks about Nic's passing to the coven leader Magdalena Axenburg (Heather Mazur), who had lost her young son years earlier.
Episode 6 - Ask Your Doctor
Conrad sends Donna Jackson (Shannon Wilcox), a patient with terminal lung cancer, to cure a broken finger, Chastain. While AJ has become a best-selling novelist, Kit and Bell's relationship and Devon and Leela's are seen to have endured.
Episode 7 - Who Will You Be?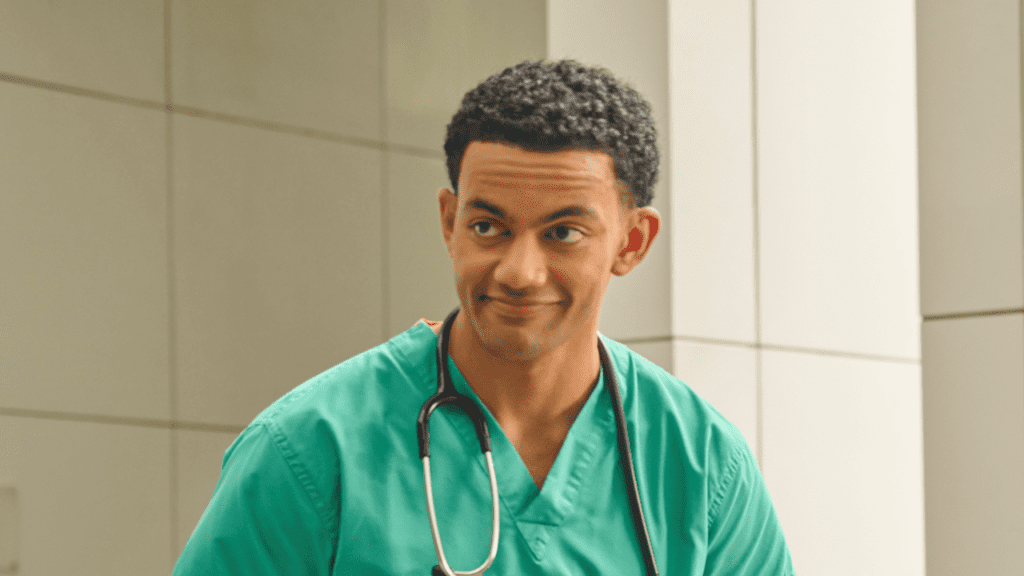 As an intern at Chastain for the first time, Trevor, the son of Billie Sutton (Jessica Lucas), quickly annoys Devon with his haughtiness and seeming lack of empathy. As a result, Trevor threatens Devon with termination by offering an alcoholic a drink to make a point.
Episode 8 - Old Dogs, New Tricks
Devon meets up with the senior couple once more. While his wife is exhausted, George Criforth (Richard Kline) lacks an appetite. Due to Celeste Henderson's (Salli Saffioti) low oxygen levels and George's Parkinson's, they decide to make everything work.
Episode 9 - He'd Like to Put in a Central Line
Wyatt (George Hampe) needed a pacemaker after collapsing, but he doesn't want one, so he's ready to take the chance that he won't pass away without one. Before she scrubs in on an operation, Leela tries to help Britt decide whether or not she should have surgery.
Episode 10 - Unknown Origin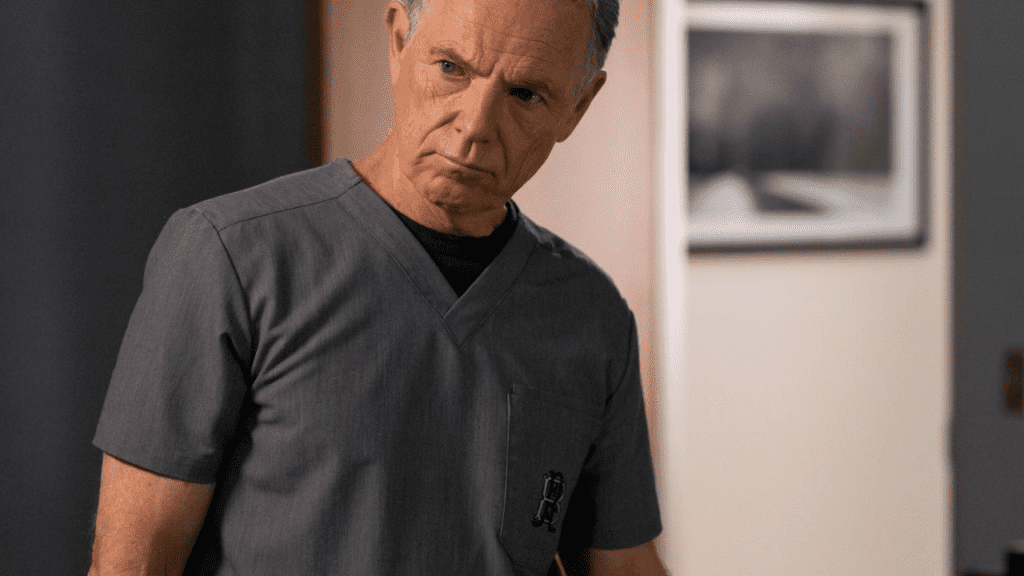 Dr Bell's tests have mostly returned positive results, but who must still do more testing. Conrad is invited to join the initial Go Flight team. The new doctor who has joined them is a badass who assumes command immediately. Creole is the only language a pregnant lady speaks, but Cade (Kaley Ronayne) is proficient in it.
Hannah (Darla Delgado), a young woman with heart failure who received Nic's heart, is treated by Conrad and AJ. Conrad later determines that Hannah has a fistula, causing Hannah to forget to take her anti-rejection medication. Gigi and Sammie become close during Jake Wong (Conrad Ricamora) and Sammie Ackerman's (Chedi Chang) Lunar New Year visit.
Episode 12 - Now You See Me
Devon and Leela are out purchasing new shoes when they start to worry that Roxie Cabot (Samantha Jane Williams), a fat woman, might be having a heart attack. Devon worries when Leela pursues dual board certification in cardiothoracic and neurosurgery. Bell is in a race with Dr. Robert Porter (Scott Cohen) for a position on the State Medical Board.
Will, Jessica's brother-in-law, requires exploratory surgery. Leela is thrilled that Bell is on board for it, so he updates her about his condition. AJ, Conrad, and Trevor try to figure out what's wrong with Charli Martinez (Jordyn Aurora Aquino), who seems to be internet famous and is experiencing effects from potential plastic surgery.
Episode 14 - Hell in a Handbasket
Billie explains to Bell and Kit that she must isolate herself to protect her son, but she withholds his identity. When Billie calls the meeting to retract her complaint, Bell and Kit arrive to offer their support. When Trevor comes, he claims to be Porter and Billie's son and asks them to run his DNA.
Episode 15 - In for a Penny
Albert is Devon's first clinical trial participant, but Albert Nolan (Michael Hogan) experiences many health issues due to the therapy. Devon struggles to comply with Albert's desires, but with Conrad's assistance, he can ultimately support Albert during treatment. Mariana Gonzalez (Elizabeth Grullon), an architect, receives therapy from Leela.
AJ learns that the stint brought on Dr. Aaron Kranepool's (Gregg Henry) heart attack. Aaron Kranepool confides with Conrad about his sorrow and how he likely feels betrayed by Nic by moving on. When Billie demonstrates the DBS to Eliza (Christina Brucato), she appears interested.
Episode 17 - The Space Between
When it appears that Gigi's best friend Peter Shafer (Henry Charnaux), age six, will require a craniectomy. Conrad learns through Gigi that Peter Shafer has a rare illness that prevents his body from processing proteins and that the protein shake he shared with his father has made it worse. Zach Brooks (Alan Aisenberg) has a future in geriatrics.
Conrad dons his detective hat and goes to the pharmacy that filled both prescriptions after another patient enters the emergency room after overdosing on medication written on his behalf. Then AJ brings Carol Austin (Denise Dowse) home, where he gets everything ready for her.
Episode 19 - All We Have Is Now
AJ struggles to accept Carol Austin's approaching demise while remaining by her side for several days. After encouraging AJ to find love and raise a family of his own, Carol finally dies away while she is sleeping. Leela wants to have the eggs frozen, and Devon's offer that he be the donor sparks friction between him and Leela.
Episode 20 - Fork in the Road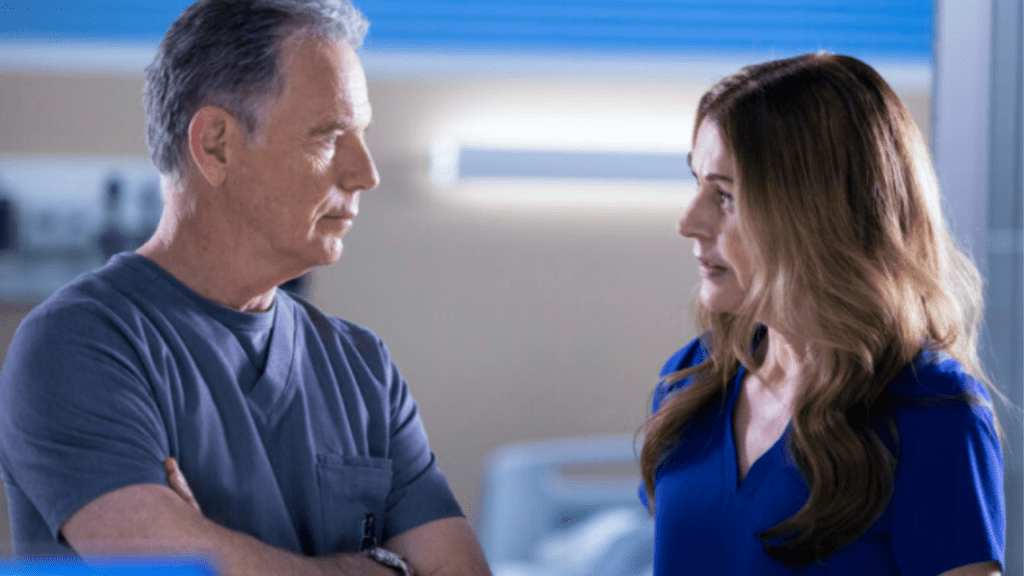 Then, Kit casually offered that they get legally married. Bell seemed to like the idea a lot, and they spent the rest of the show amicably making compromises on potential wedding details. However, the same cannot be said of Devon and Leela's relationship.
Conrad finds out that his employer, Dr. Kincaid "Cade" Sullivan, has quit when he arrives at work. Cade requests Conrad's hand since she believes she is about to pass away. Conrad notifies everyone about it immediately before she takes a turn. When Conrad and Billie open it, they discover that Cade had two units of her blood at her old employment (Atlanta General), but it froze.
Episode 22 - The Proof Is in The Pudding
Kit asked him to scrub in after he had already left Cade in her hospital room. Ian Sullivan claims that Conrad wants to have Cade all to himself. Billie confesses to AJ that she is in a relationship, but he is unaware of it. Marco Anza's (Jeremy T. Thomas) operation went well. Ian returns to his hotel room and passes out on the carpet.
Conrad thinks about his future while remembering a special occasion that includes a vital talk with Nic. Additionally, Ian, who passed out, is given a terrible diagnosis that makes him dependent on the Chastain medical staff. Devon is given a good career opportunity outside of the state. The Padma receives the news she longs to hear as Kit and Bell celebrate their engagement.
an American

medical drama

and Fox Broadcasting Company television show

produced by Amy Holden Jones, Hayley Schore, and Roshan Sethi

based on the book Unaccountable by Marty Makary

highlights the lives and responsibilities of the employees at Chastain Park Memorial Hospital

season

5 premiered on September 21, 2021

concluded on May 17, 2022