Users interpreted the footage of the man brandishing his axe after a few mobs attacked him as "another day in NYC."
A guy got detained after a viral video showed him brandishing a hatchet during a brawl inside a Manhattan McDonald's. On Friday, just before 2:30 a.m., the event happened inside a McDonald's on the Lower East Side at 114 Delancey Street.
The footage shows encounters between a few individuals; Michael Palacios, the named suspect, was beaten up by the crowd and appeared to have initially let them do so. Later, he unexpectedly takes out an axe and begins smashing a few items in the fast-food establishment.
According to the police, the suspect, Michael Palacios, 31, got into a confrontation with three unidentified individuals. "I waited for them to finish what they were doing, and I just did what I wanted to," Palacios said.
Palacios claims things worsened when a security guard disregarded his plea to use the restroom. And he said that after speaking to a customer, things got out of hand, and he allegedly started threatening people, breaking a glass wall, and hitting one of his attackers.
Palacio also confesses that he was drunk during the incident.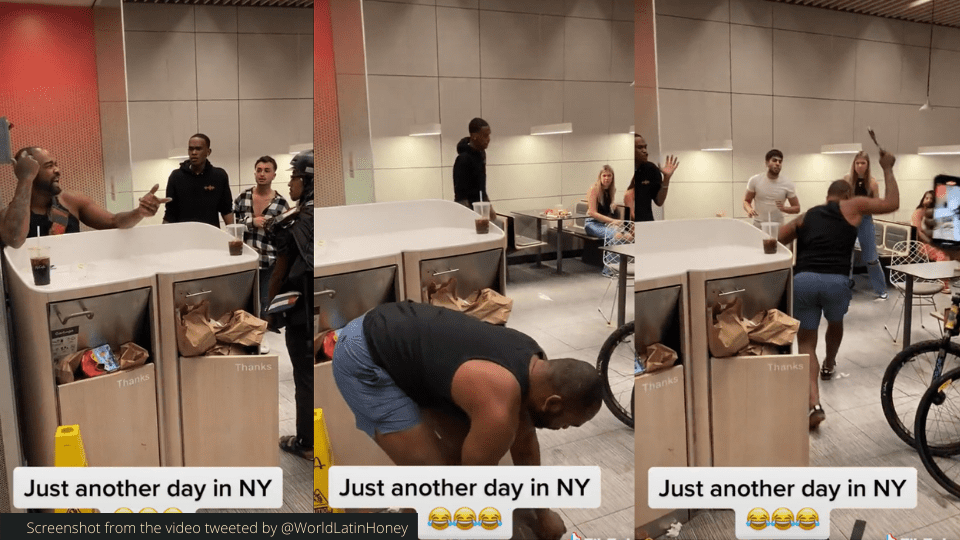 The video posted on Twitter is currently garnering 25.1 million views and 305.6k likes. Twitter users shared varying opinions about the video they had just viewed.
One user wrote: "If you see someone reach into their bag after getting jumped, you should be concerned and looking for an exit," while another replied, "I was surprised they stuck around to see what he pulled out."
Another user expressed his unlikeliness regarding funny reactions from different users, saying: "And people laughing?????? This world is ending," which got a reply, "Bruh, let me tell you about human history. This is mild."
Although it's unclear whether police are looking for the three individuals, Michael says he has no interest in filing a complaint. Following his arrest, Palacios was charged with criminal mischief, three menacing counts, and two illegal weapon possession charges.
Reactions to Video Of A Man Brandishing His Axe Inside Manhattan McDonald's Gone Viral
If you get in a heated argument with someone and they go to get something out of their bag or car, leave. Leave as quickly as possible. https://t.co/19QN4jCDgO

— Jon Fitch 🏴‍☠️ (@jonfitchdotnet) September 18, 2022